Hello friends! Guess where I spent last weekend? At PlannerCon in San Francisco, California! If you have been following me for awhile, you know I LOVE fun conferences. And although I've been to several blogger conferences, this was my first for all things planning. And it was very exciting.
I filmed a vlog over the weekend to share my experience with you. But while we're waiting, I thought I'd share this layout that I back-filled after PlannerCon ended. Because I was so filled with planning energy, I've been planning up a storm post-event. And for the week of PlannerCon layout in my Happy Planner, I decided to experiment and play! And the results surprised me…
Note: This post contains affiliate links. If you make a purchase from one of these links, I may make a small commission at no extra charge to you. Affiliate links help me keep creating awesome free content for you! Please do reach out if you have any questions.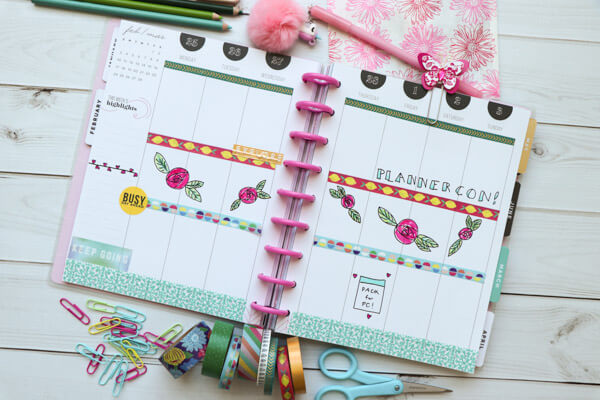 I started using a roll of turquoise washi tape along the bottom edge. I didn't even know I had this, and I'm not sure where it came from lol!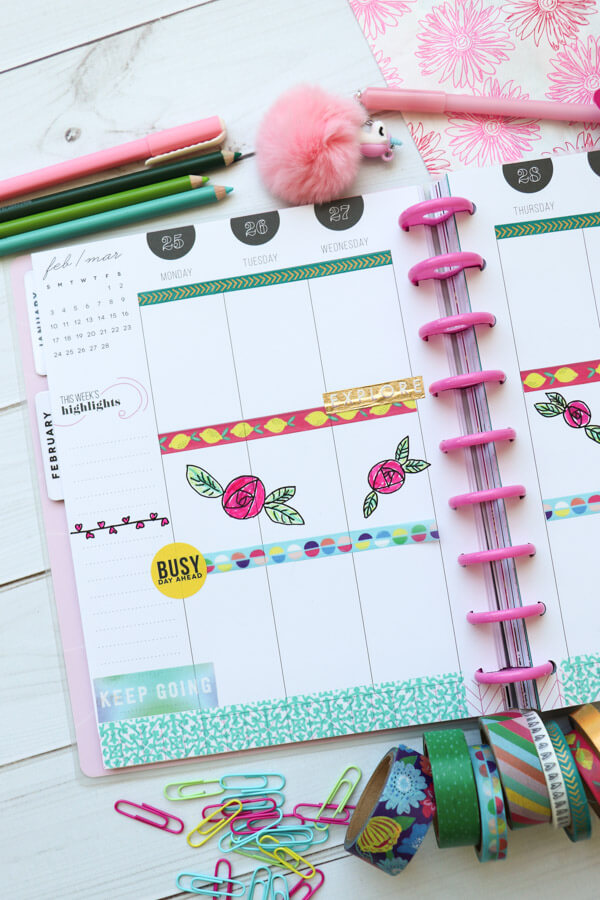 From there, I added a "Keep Going" piece of washi tape from the PlannerCon 2019 de-stash table. I just happened to be standing there when a lovely lady dropped it off. The colors! The message! I knew I'd make a good home for it.
Later, I'd add another de-stash washi – the "Explore" in gold.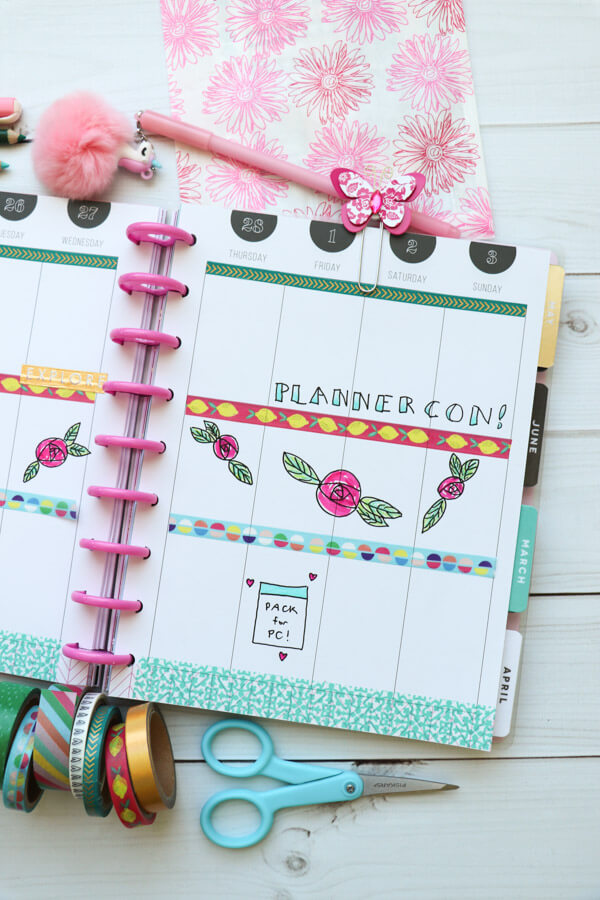 Amy Tangerine Washi Tape
And I got a full set of Amy Tangerine washi tape at her workshop about creation a vision board in a traveler's notebook. So, I used these fun patterns to add even more color to the spread.
Thank you, Amy Tangerine and Mommy (that's what Amy's mom goes by)!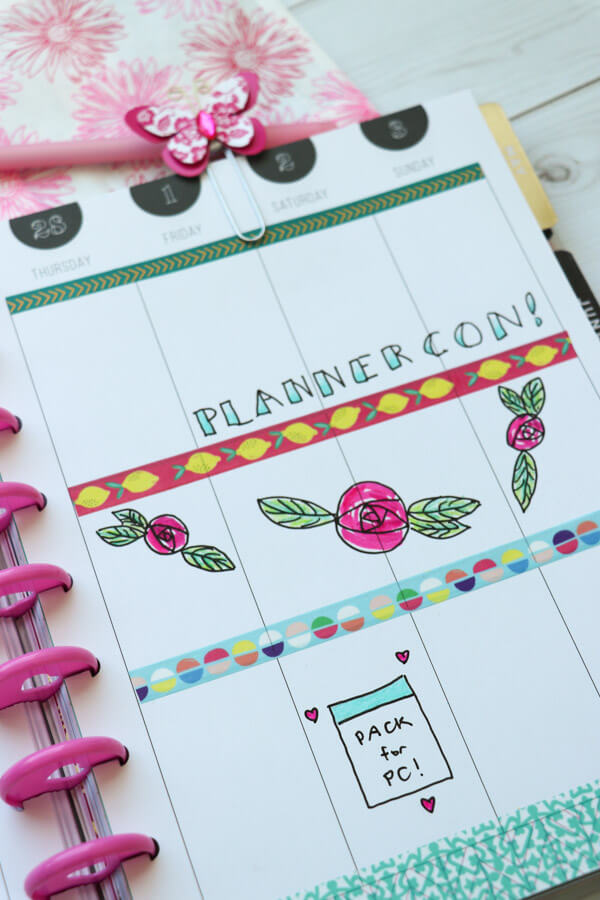 One thing I haven't done much in my planner is draw. Which is funny to me because I was such an artsy kid. I used to draw all kinds of doodles in my school notebooks. So, I thought I'd play around with doodling and did one rose outline using one of my new Micron pens. And then I added another. And then more! Enough to basically fill in the middle section. I used a couple markers to fill in the pink areas.
And I added a tiny heart divider in the left column.
Additionally, I drew a large "PLANNERCON" in the top area of the weekend.
And finally, I drew the event box as a reminder to pack on Friday night. Since I was still a bit in recovery from being sick earlier in the week/the previous weekend, I opted to start my conference Saturday morning and had to miss prom. Boo.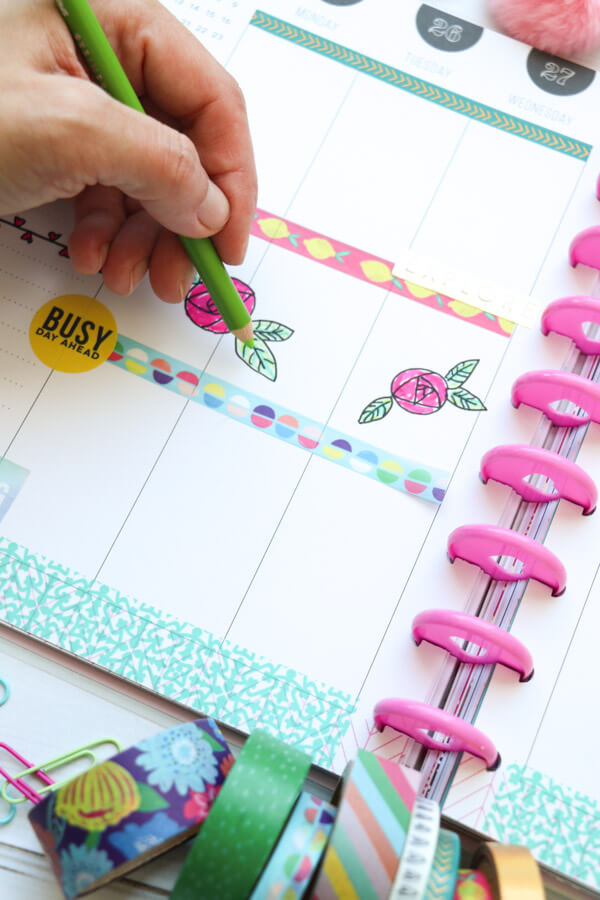 Using Art Supplies in My Planner
And using the turquoise and two green colored pencils I got from a Sweet Stamp Society subscription box at one of the workshops, I filled in the leaves. Wow! I liked using colored pencils to fill in lines SO much more than markers. Maybe it's because I used to use colored pencils a lot as a kid?
Though I did also use markers quite a bit, so…it's a mystery.
I'm definitely ordering a set of colored pencils this weekend, and I'll update you with what I get. This could be the start of something great!
And I've subscribed for a Sweet Stamp Society subscription box, so that will be fun to share with you guys too.
Loving those pencils, Nicole. Thank you!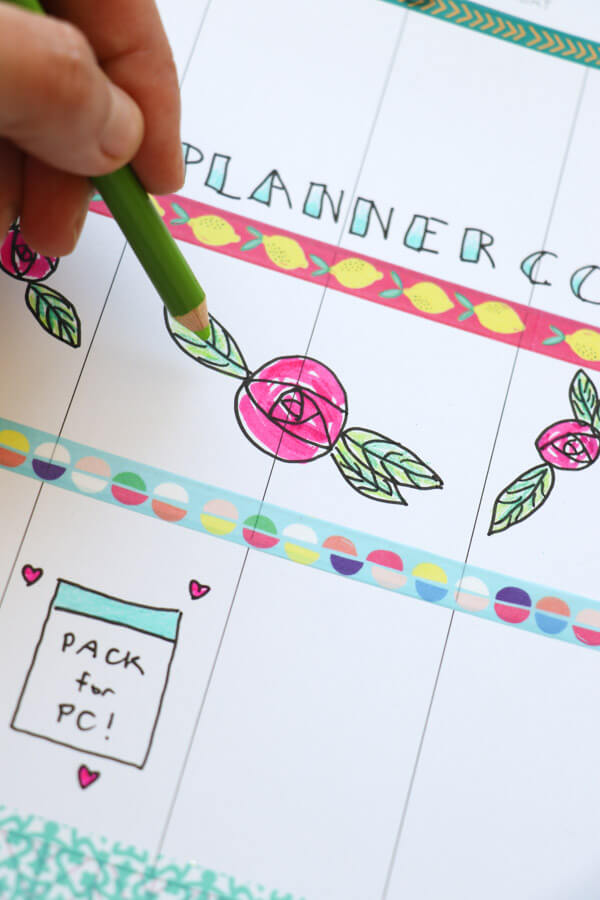 One of the cool things about PlannerCon was seeing which supplies everyone used. I love to know what's the best of the best so I can get it, test it, and tell you guys about it!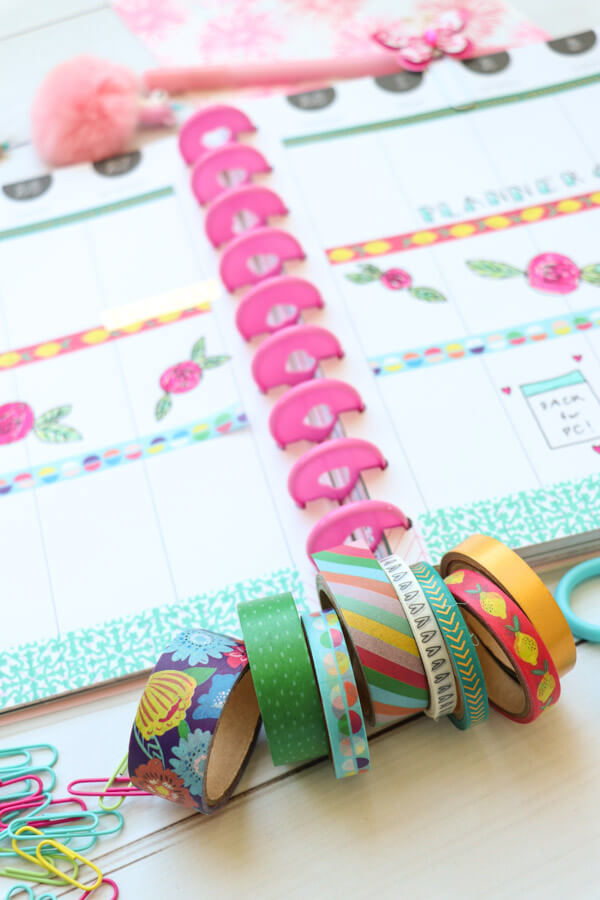 So I also got to experiment a bit with some new pens and markers I've recently ordered.
Stay tuned on the blog for more about this!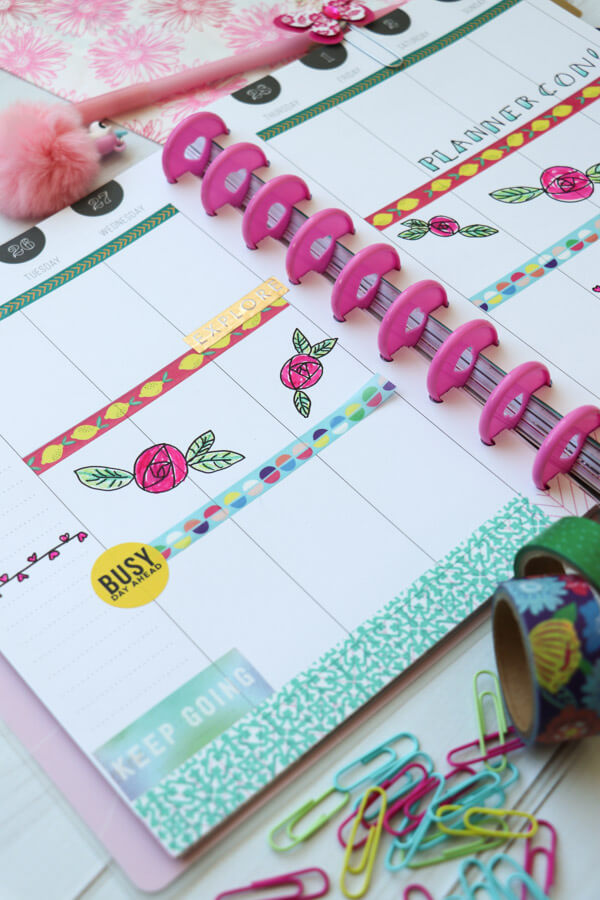 Oh and how cute is the butterfly paper clip at the top? One of my fellow PlannerCon attendees gifted it to me. Thank you, Ashley (IG: clearwings.crossing)!
Shop This Planner Decorations Post
I'm going to do some detailed posts with reviews and what not. But in case you're just too excited to wait, here are some links for what I used in this spread:
More Planner Fun
Check out my Happy Planner 2019 Haul here
Find some Happy Planner January (weekly and monthly) planner decorations here
And get more Planner Decorations Ideas here
***
Thank you so much for stopping by! Hope you enjoyed this blog post and these planner decorations in my Happy Planner Weekly Layout for PlannerCon 2019!
Like this planner post? Please consider sharing it with your family and friends using the share buttons at the end of this post. Cheers!