So someone you know and love is graduating, and you want to gift them something special. Something that will uplift them and encourage them to move forward to the next phase of their life with optimism, positivity, and an appetite to take on the world and make magic happen! Whether you're separated and needing to send something to them directly or you just want it shipped to yourself, I have ideas for you. Here are must have high vibe graduation gifts you can ship!
Please note: This post contains affiliate links. If you make a purchase from one of these links, I may make a small commission at no extra charge to you. Whilst I don't own each of these items, I did select them personally for their high vibeness (plus I checked the reviews…like I do for everything I buy online). Question? Email me any time!
Inspirational Jewelry
(for inspiration they can wear)
Jewelry is always a nice graduation gift. Gift your graduate with something sentimental that also has uplifting words they'll be able to look at frequently to remind themselves to go after their dreams. And maybe (probably!) think fondly of you in the process. The first piece featured is a "Going Places" necklace and the other has one of my favorite quotes (at least part of it) – "Go confidently in the direction of your dreams" by Henry David Thoreau.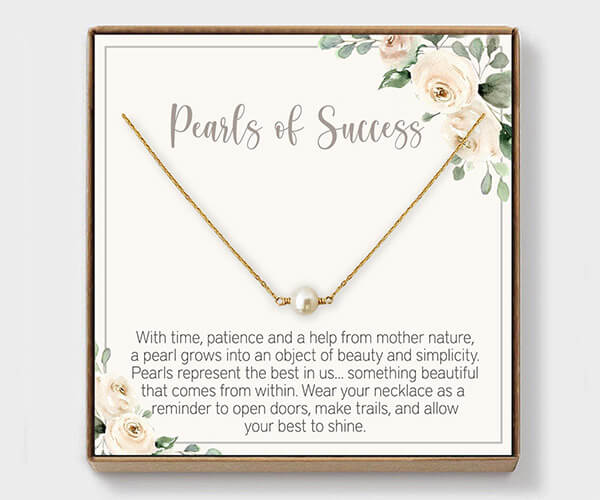 Pair a beautiful necklace with an inspirational note for a winning combo. This Pearls of Success necklace by DarlingSentiments is available on Etsy here.
Personal Development Books
(to help them reach their next level and beyond)
Think and Grow Rich is a classic that is highly recommended by many famous success people, like "Shark Tank" judges Robert Herjavec and Daymond John. This is a mix of manifestation meets career success (both traditional and entrepreneurial). I wish I'd gotten this when I graduated. The mindset approach is great for building a big future.
This book helps someone navigate their way to a career and life of fulfillment with fun graphics, unique language, and deep questions. The main theme is – it's not about figuring out WHAT you want to do in life. It's about this question: how can you choose a career and life that makes you FEEL how you truly want to feel? Ooh…good stuff!
For a life of true fulfillment, your graduate will want more than paper success. Why not start them out with this short and easy book for success AND inner peace by the legend, Dr. Wayne Dyer. PS: His audiobooks are amazing, informative, and very soothing.
So your graduate can learn about manifesting money and develop a healthy relationship with it. A surprising challenge for so many people that keeps many underperforming and under-earning too!
Travel Gear
(to help them take on and see the world)
Now your graduate may be more advanced than I was back when I graduated, but I had absolutely nothing in the way of travel gear. So, why not help your graduates travel dreams (both personally and professionally) by gifting them a luggage set? I have two of these rolling spinning trolleys, and I love them. Travel cubes are a game changer – they make packing SO much easier. And why not throw in a cute luggage tag for good measure.
For a sentimental touch, you can throw in this classic by Dr. Seuss. Sure, it's a "kid's book", but the story is a classic!!
Real Kitchen Supplies for Real Food
(to inspire them to eat well so they can live well)
Encourage your graduate to nourish their bodies by giving them the tools to do so. A nourished body leads to a nourished mind. Perfect for going big in their career. Time for them to pass on their plastic plate ware and cutlery and upgrade to real kitchen supplies for real food enjoyment. Not to mention, it's kind of hard to launch your take-over-the-world strategy when you're getting your basic living conditions set up. Green Pans are a chic staple. Food storage containers make it easy to keep a well-stocked pantry. Simple white plates are a basic platform to launch a full kitchen from.
Kitchen Gifts That Inspire
(because good vibes are great everywhere)
Since we're so heavily influenced by the things we see regularly, why not get good vibes flowing in as many rooms as possible. Sure, you could go with plain white mugs (to go with those plates), but why not jazz things up with some inspirational mugs that can be savored with morning coffee (or tea!)?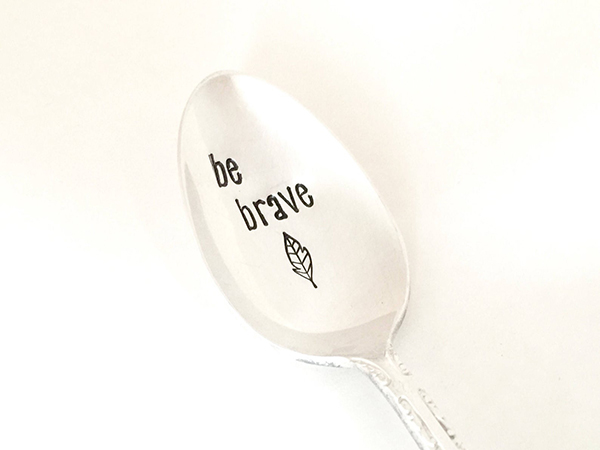 If your graduate has plenty of mugs already, could they use this positive-message, hand-stamped spoon by MountainBirdBanners? This is available on Etsy here.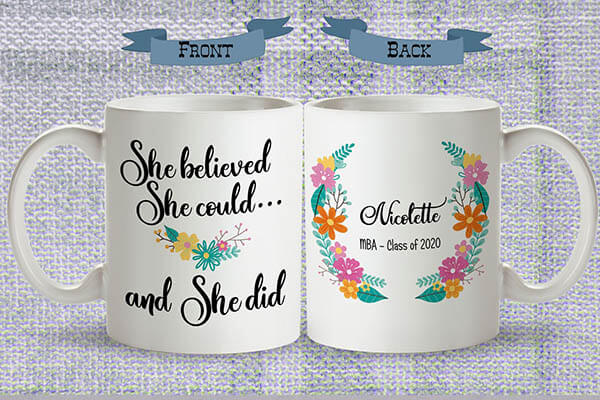 Here's a cute and encouraging mug that can be customized with your graduate's name and their class year! This beautiful customizable mug by GraceStop is available on Etsy here.
Journals
(for documenting their journey to greatness)
Who doesn't love having a journal nearby for documenting your journey to greatness, working through self-doubt to build confidence, or even just to have some fun doodling. The Five Minute Journal is well known for facilitating the gratitude practice of many worldwide (including me, though I use the phone app). Here are some inspirational-themed journals to enjoy.
Affirmation Cards
(to keep the good vibes flowing)
Affirmation cards are great for raising your vibe and keeping it high. Plus, they're fun to use! Include a hand-written note reminding your graduate to use these daily…or when they're needing direction in life.
Home Inspiration
(to stay in good vibes)
Home decorations and what not can be a tough gift, especially if your graduate has a particular theme in mind for their new future home. But some things are pretty universal.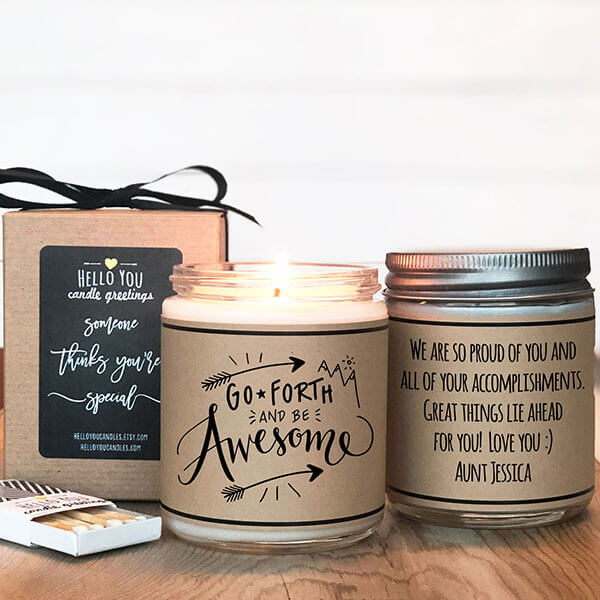 How about an inspirational soy candle. The label can be customized too! This Go Forth and Be Awesome candle by HelloYouCandles is available on Etsy here.
High Vibe Crystals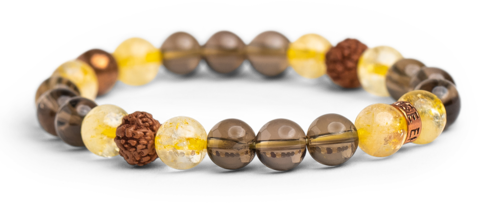 Crystals make great gifts and are also great for bringing positive energy to ones life. This Remover of Obstacles bracelet by Energy Muse can help clear your graduates path to success!
More High Vibe Inspiration
How to Reset a Bad Mood Quickly and Easily
How to Use Music to Raise Your Vibe and Manifest Easily
***
Thank you for reading! Hope you enjoyed this post about Must Have High Vibe Graduation Gifts You Can Ship!
What's your favorite graduation gift that you've received?