Planner friends, this post and video are for you! I'm merging two of my loves in one amazing way. Yes, I'm showing you how to use your planner to manifest your dreams! And you can use pretty much any planner for these Law of Attraction tips and tricks. We're talking about How to Use Your Planner to Manifest. Let's jump in!
Please note: This post contains affiliate links. If you make a purchase from one of these links, I may make a small commission at no extra charge to you. I love these products, so I'm happy to recommend them. Feel free to reach out if you have any questions!
*VIDEO* Use Your Planner for Law of Attraction Techniques
Click here to watch how to use your planner to manifest your dreams if the above player doesn't work.
Like this video and post? Be sure to like the video and share it with your friends because that really helps me out.
7 Ways to Use Your Planner to Manifest Your Dreams
So, you want to manifest your dream life, and you're looking for more ways to do so? Here are 7 fun and easy ways to work with the Law of Attraction in your planner. Which planner? Pretty much any planner. I'm using my trusty Erin Condren LifePlanner, but you basically just need some empty writing spaces. And most planners I've seen have plenty of that! Use this to jumpstart some ideas on how you can get your manifestation juices flowing. Here are 7 ways for How to Use Your Planner to Manifest.
#1 Get Into Playful Energy
If you're an OG TCL peep, you know that I LOVE planners. The planners I use are fun and uplifting on their own. But I also enjoy decorating them with washi tape, colorful pen ink, multi-colored highlighters, and stickers. Even if you're not into planner decorations, I feel like you can make using your planner a fun time so it raises your frequency and gets you aligned to easily attracting your desires. Woop!
>> Related: My current fave washi tape is by Simply Gilded – get a discount with my referral link here
#2 Make a Mini Vision Board
Use a blank page or cover up a quote or other page with a mini vision board. The new Erin Condren LifePlanner has a great dashboard area that I've also seen in some Happy Planners. You could use this area and fill a page with your favorite magazine cut-outs, stickers, and what not to have a monthly vision board or even just one at the front or back your planner for the whole year. Sprinkle them in wherever you like. It's your planner, so do what you feel called to do.
>> Related: Here's the repositionable roller tape that I used for my mini vision board
#3 Capture Law of Attraction / High Vibe Quotes and Affirmations
If you're like me, I'm always listening to manifestation, Law of Attraction, and high vibe audiobooks, podcasts, YouTube videos, and what not. I'm always picking up fun quotes and affirmations, and I like to note those on a lined page. Again, there's a great monthly dashboard area in the new ECLP, and I like the idea of seeing what I was focused on from month-to-month. Not to mention it's convenient to have quick access to your affirmations of the month near your other monthly-related pages. But it would be just as effective to use the notes pages at the back of your planner.
#4 Track Your High Vibe / Manifestation Habits
Planners are famous for habit tracking! Whether you're using a bullet journal or other planner, there's usually a space somewhere for habit tracking drawings or stickers. I mean, you could even just put a star on each day of the monthly layout for super simple tracking. The main point here is that it's a great idea to track your manifestation habits to stay on top of them.
>> Related: Manifestation Habits That Changed My Life
>> Related: A similar habit tracker sticker (looks like the shop I got mine from closed!)
>> Related: A square habit tracker sticker
Speaking of manifestation habits…
#5 Note Your Daily Gratitude Practice
You guys have heard me talk A TON about the power of gratitude for raising your vibe and helping you successfully manifest. It's my #1 manifestation habit. Use a box in your weekly layout to write down a grateful thought for the day. You can label some of the daily boxes to keep your habit in check. I've done this with the top box of a vertical weekly layout. It's also fun to look back at what you were grateful for at different points in your life.
#6 Decide What You Want (Manifestation Step #1 of My 3 Step Process)
Use a weekly layout box or the column of your monthly layout to write down a list of what you're currently manifesting. Remember to write it down with words that indicate you're confident it's yours (or on its way to you). I'll make a bullet list of my ideas and sometimes I'll detail one out with more specifics so I get exactly what I want.
>> Related: Click here for my simple 3-step process to manifest anything
#7 Track Aligned Action Steps
Once you know what you want, make a list of action steps you'd do if you knew your manifestation was 100% certain. More on aligned action steps in that post about my 3-step process (see link above or below).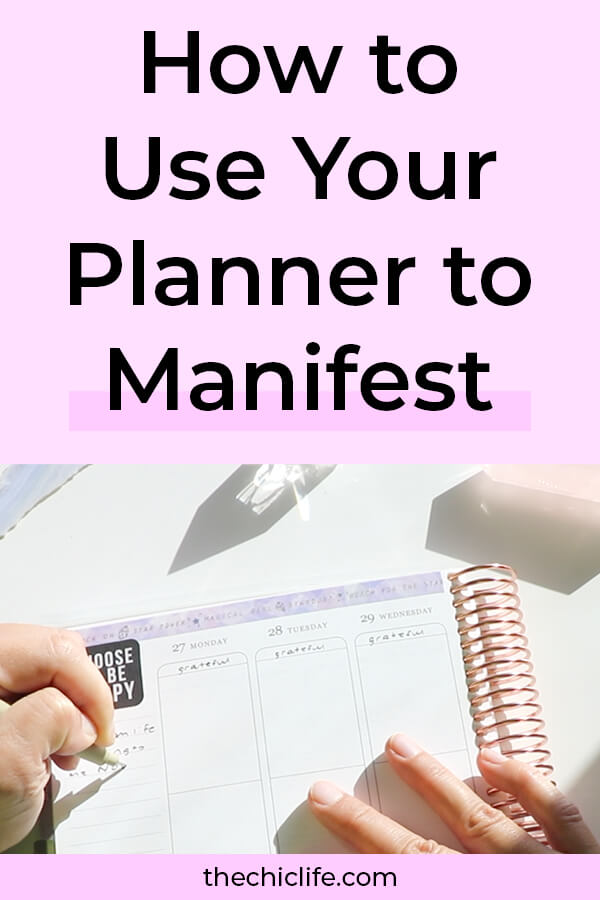 Summary
Planners are a really fun and easy way to manifest your dreams! Use these ideas to get started and feel free to put them in other places in your planner so it fits where you like. Remember to be playful and enjoy the process. Hope you enjoyed learning about How to Use Your Planner to Manifest.
"The more playful you are, the less resistance you hold" ~Abraham Hicks
***
FREE Manifestation Training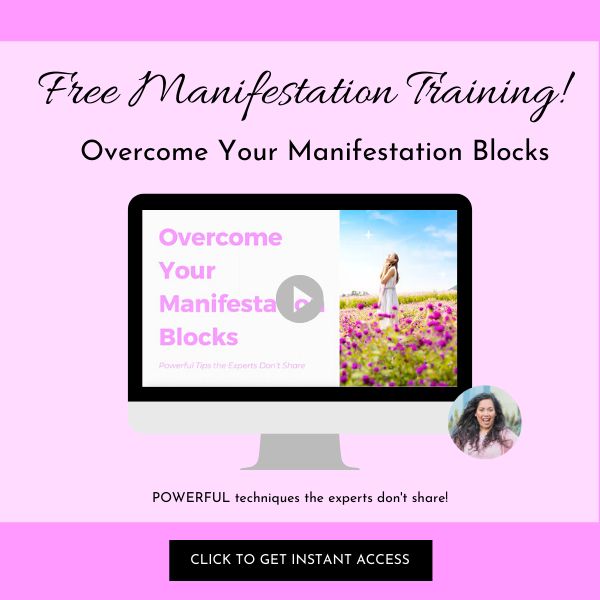 ***
More Manifestation Tips
How to Manifest ANYTHING (My Simple 3-Step Process)
Manifestation Habits That Changed My Life
Manifestation Tips for Beginners
***
Thank you for stopping by! I hope you enjoyed this post about How to Use Your Planner to Manifest Your Dreams.
Which tip are you going to try first? Comment below!