Ahh it's fall. One of the most magical times of the year. If you're like me, it's time to eat all the pumpkin things. But what to do if you're too busy to spend hours in the kitchen? Enter this Healthy Pumpkin Pie Stovetop Oatmeal Recipe. Yes, stovetop oatmeal takes longer than instant, but sometimes it's nice to take a break from a hectic work week to treat yourself to a homemade bowl of oats. Of course, this recipe can easily be modified for other techniques, so no matter how you cook your oatmeal, you're good to go.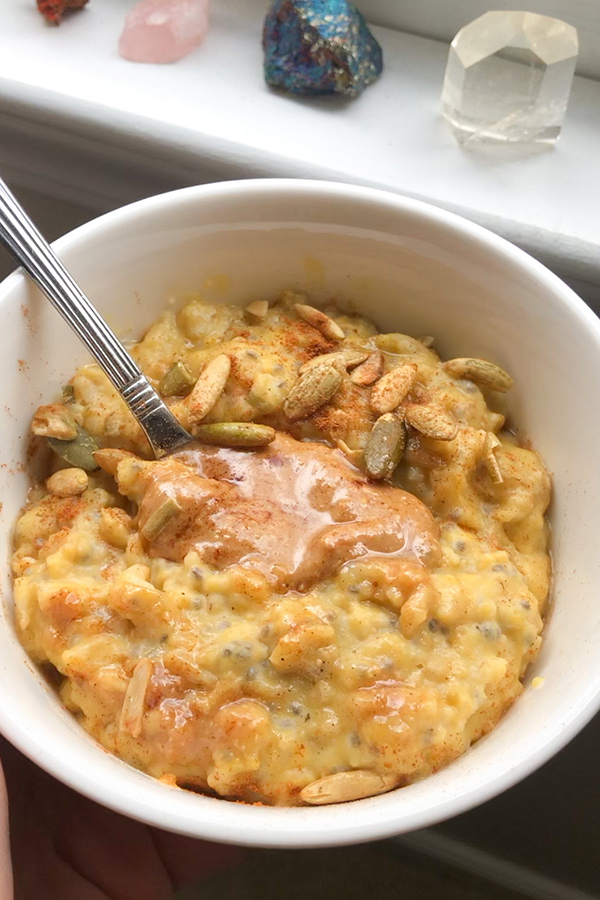 Easy Pantry Breakfast – So Simple!
This is a super easy recipe you can make using ingredients from your pantry. Everything is shelf stable except for the milk and maple syrup, and there are even canned milks you could use if you were really not into going to the grocery store. And you could use another sweetener.
Pantry Ingredients Needed:
Oats
Canned Pumpkin
Chia Seeds (optional health booster)
Vanilla Extract
Pumpkin Pie Spice
I love a simple recipe. When my schedule is finally less busy, I start feeling lazy and go for the simple things. Just me?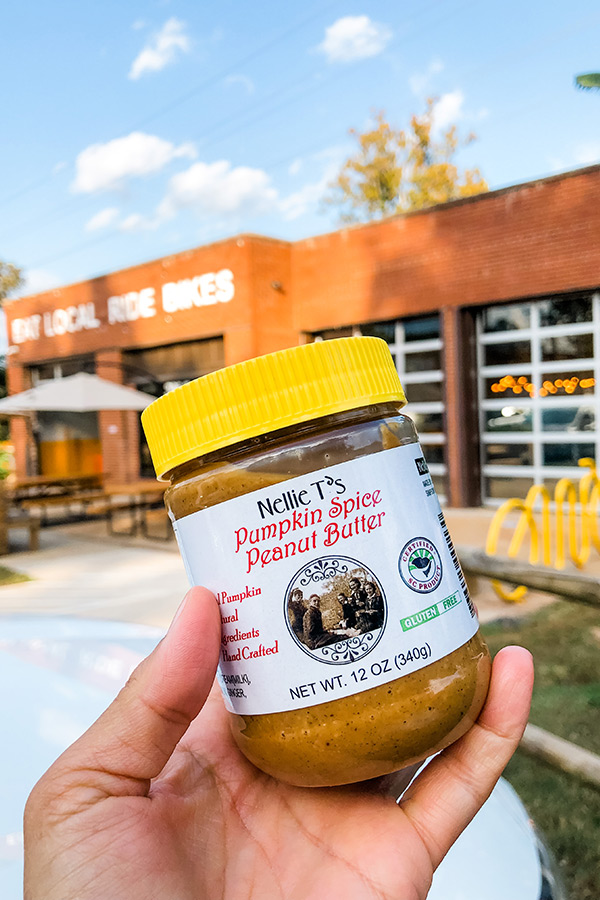 The Perfect Fall Oatmeal Topping – Nellie T's Pumpkin Spice Peanut Butter
So this is not a sponsored post or anything, but I found the most epic fall oatmeal topping at my local grocery store, Swamp Rabbit Cafe & Grocery.
Adding nut butter on top of your oatmeal is a great way to make your breakfast/snack more filling and also bring some healthy fats to your daily eats. This Pumpkin Spice Peanut Butter has a really lovely flavor. I'm looking forward to trying it with other oatmeal flavor combos. I think it would be amazing with a bowl of chocolate oatmeal. Yum!
Nut butter is not a traditional flavor with pumpkin pie, but I love the addition for flavor, fullness, and festive fun factor.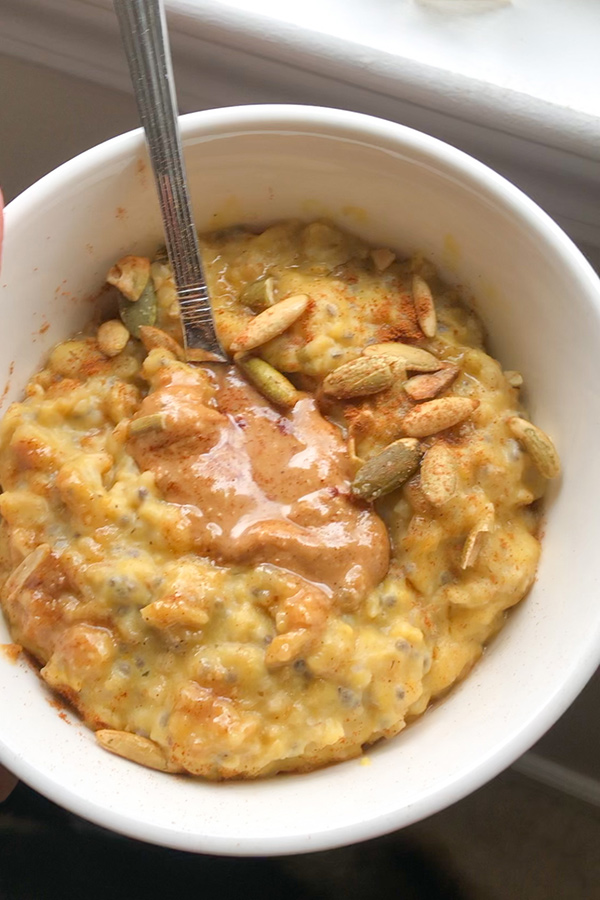 Microwaved Healthy Pumpkin Pie Oatmeal Recipe
If you want to make this recipe in the microwave, you can totally tweak it to suit your needs.
Here's what you'll want to do:
Combine all the oatmeal ingredients in a bowl (tip one larger than you think you'll need because it REALLY expands in the microwave) and stir to combine.
Cook according to your package instructions (the time needed depends on the type of oatmeal you got [instant, rolled, extra thick, etc.] and can vary by manufacturer.
Top with toppings
Enjoy!
Healthy Pumpkin Pie Stovetop Oatmeal Recipe
This Healthy Pumpkin Pie Stovetop Oatmeal Recipe is an amazing festive fall breakfast (or snack) recipe idea.
Print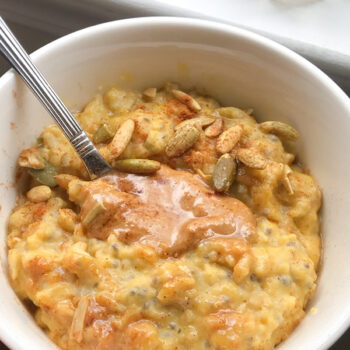 Healthy Pumpkin Pie Stovetop Oatmeal Recipe
---
Description
This Healthy Pumpkin Pie Stovetop Oatmeal Recipe is the perfect fall breakfast to cozy up with. Find a snuggly spot on your couch, grab your fuzzy blanket, and enjoy fall food heaven.
---
Stovetop Oatmeal
1/3 cup

rolled oats

1/3 cup

water

1/3 cup

oat milk (or milk of choice)

1

heaping tablespoon canned pumpkin

1 tablespoon

chia seeds, optional

1 teaspoon

maple syrup

1/8 teaspoon

vanilla extract
sprinkle pumpkin pie spice
Toppings (Optional)
spoonful of pumpkin spice peanut butter (or nut butter of choice)
handful pumpkin seeds
dash of cinnamon
---
Instructions
In a small pot, combine oats, milk, water, pumpkin, chia seeds (if using), maple syrup, vanilla extract, and pumpkin pie spice. Stir together and turn heat to medium low.
Cook oats, stirring occasionally, until they reach your preferred texture & consistency, about 6-8 minutes. Note: There are many types of oats – the thicker, the longer they will take to cook. Check the cook time on your package to be more exact on preparation time.
Pour oats into a serving bowl and top with peanut butter, pumpkin seeds, and cinnamon (if using). Enjoy!
---
Notes
Customize the ingredient amounts to suit your hunger / portion preference and preferred flavors.
The toppings are optional – feel free to add your favorites.
Use a vegan milk to keep the recipe vegan. Oat, almond, and soy will yield a nice creamy texture and flavor.
Recipe Card powered by
More Pumpkin Recipes
Who else is feeling the pumpkin and fall vibes!
Thanks for stopping by! Hope you enjoy this Healthy Pumpkin Pie Stovetop Oatmeal Recipe!
***
Reader question: What are your favorite toppings for healthy pumpkin pie stovetop oatmeal? Let's share ideas in the comments!