If you're looking for an easy, healthy pumpkin dessert recipe (or snack!), you're in the right place. This is one of my favorite LAZY recipes that actually tastes good. In fact, you need 0 cooking skills to prepare this one. So it's a way to look like a talented chef without the need for any culinary training. Seriously, if you can stir ingredients together, you're good. I present my Healthy Pumpkin Pie Chia Pudding Recipe. It's vegan, clean eating, easy, and delicious.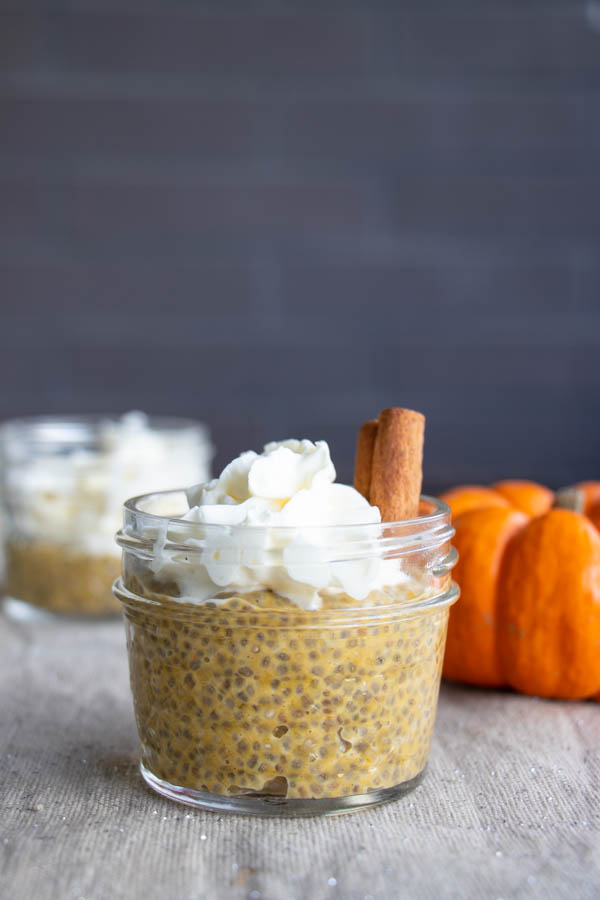 No Bake / No Cook Fall Dessert Recipe
You seriously need 0 cooking or baking skills to make this recipe. All you have to do is measure the ingredients, stir them together, stir a second time, and then wait.
When you're ready to serve, spray on some whipped cream and stick a cinnamon stick in the top, and you have a show stopper fall dessert. Seriously – that's all I did for these photos.
1, 2, 3, WIN!
Sure, cute little glasses help, but almost anything with a cinnamon stick in it looks next level fancy. Who's with me?!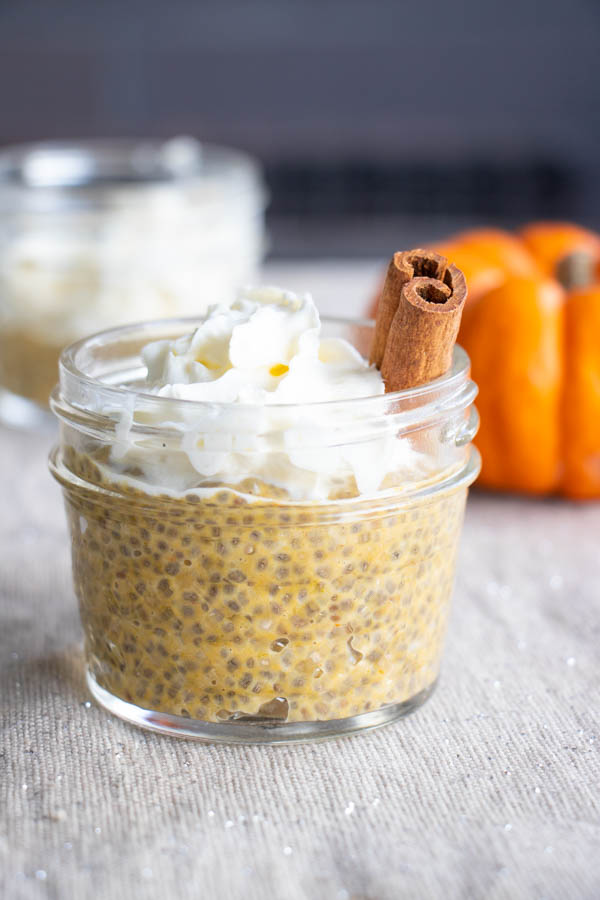 This Is a Great Make-Ahead Dessert for Entertaining
Because this recipe comes together beautifully overnight and is served cool, this is a great make-ahead dessert for entertaining. Whether you're wanting a simple, healthy dessert for your big Thanksgiving meal, entertaining visiting family, or hosting in general, this will make your life easier.
So many dishes taste best when they're fresh-baked/made. Why not let your attention go to those on your big day and have this ready to go in the fridge.
If you're short on time for your next pot luck – chia pudding to the rescue. I think it takes about 5 minutes to mix up, and you're pretty much done. Not too shabby.
Plus, as I mentioned in the previous section – the serving is so simple and looks so good with ease.
The only thing I think I'd add to how I plated this is a sprinkle of cinnamon on top. Yum!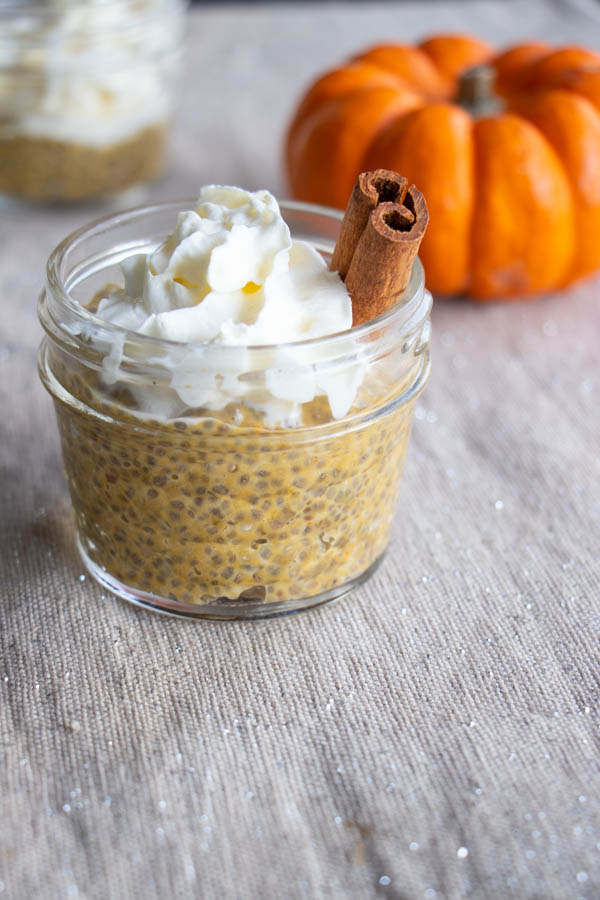 Food Prep: Healthy Fall Dessert (Or Snack) Idea
If you're making food for yourself or your family, this is a great food prep idea. You can make a big batch and store the leftovers in the fridge.
And I know food prep can get overwhelming when you have so many things cooking. That's one reason this is great because you can set it and forget it. This also requires very little effort and attention.
I love having a jar of this ready to go when I'm wanting a simple snack or my dessert craving calls.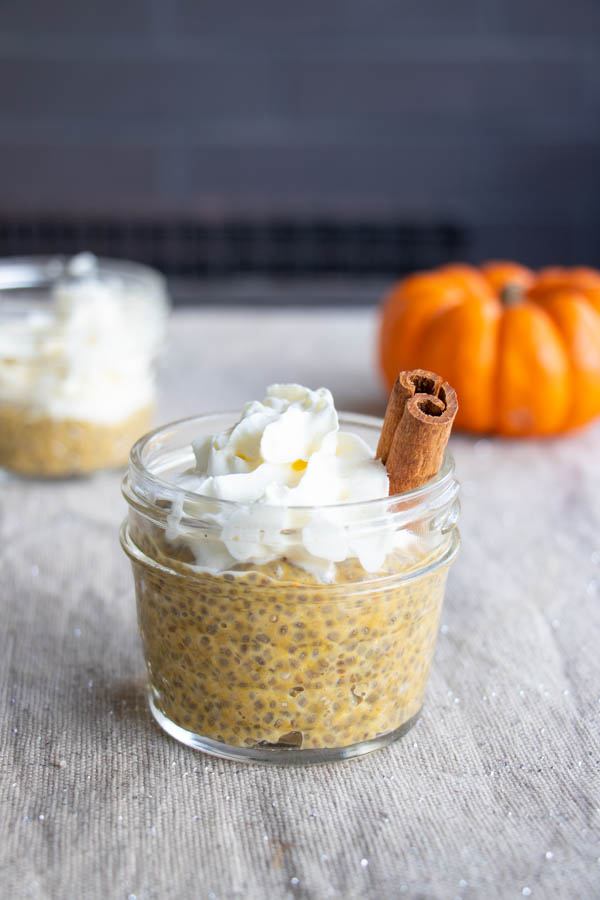 My Parent's Review
My mom was my first taste tester for this recipe. She's not a huge pumpkin pie fan, so I wasn't sure what to expect. I made a small bowl for her using So Delicious coconut whipped topping, and when she tasted it, her eyes lit up, and she said, "this is goooood!"
My dad is not a fan of chia pudding overall. Something about the texture. He also doesn't like oatmeal for what it's worth. But I gave him an even smaller sampling, and he said, "I guess this isn't too bad", which translates to "pretty good!" coming from someone who doesn't like chia pudding. It probably helped that he actually does like pumpkin pie quite a lot.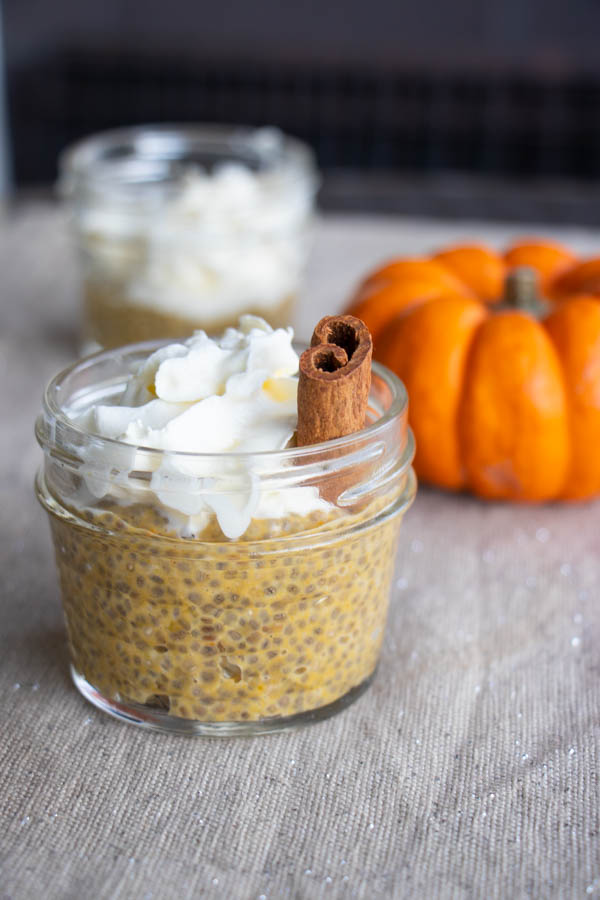 Lazy Fall Recipe Using Canned Pumpkin
As for me, I'm always looking for fun ways to use canned pumpkin when fall hits. Even though my schedule isn't nearly as hectic now as it used to be a few years ago, I can be pretty protective with my time.
These days, I'm still not feeling the hours-long recipe projects like baking chocolate layered pastries. They look like fun, but I'd rather spend my time creating content for you, enjoying a new movie on streaming, or going ice skating.
These super quick, tasty recipes are much more up my alley.
Plus, I know a lot of The Chic Life community is pretty short on time. I get a lot of feedback from you that you appreciate how simple my recipes are – from ingredient lists with relatively easy things to simple preparation.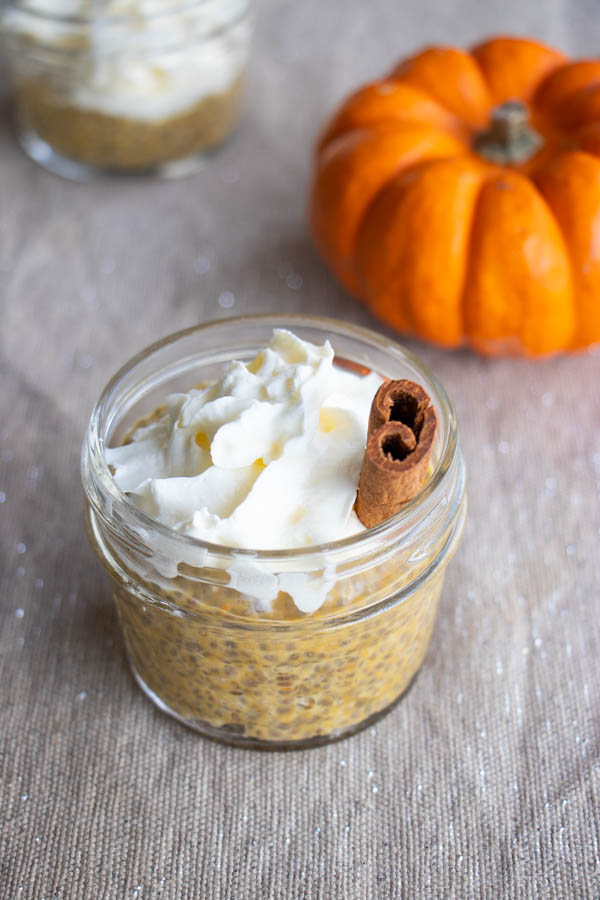 Your Feedback 😉
Speaking of feedback, it's always nice to hear what you're enjoying and what you'd like to see more of. You're always welcome to comment here (or on another recipe), DM me on Instagram (I'm @thechiclife), or hit reply to one of my email newsletters.
I'm probably going to be sending out an end-of-year survey to see what you're most interested in getting from me via blog posts, YouTube videos, Instagram posts, and beyond.
Now that I'm switched from mindset, manifestation, and high vibes back to healthy living, I'm trying to figure out what you most want to see. Feel free to share your thoughts.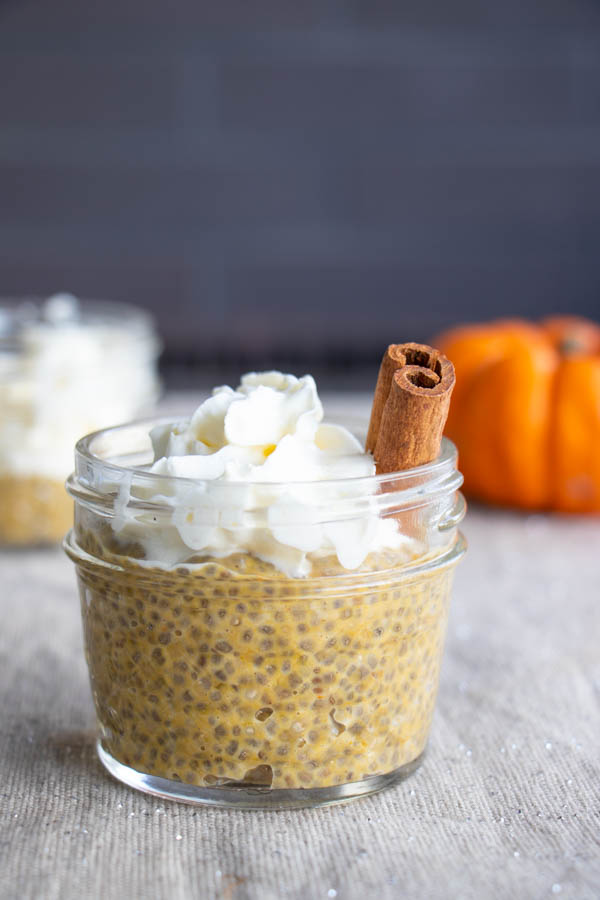 PS: Did I mention this is a great use of leftover canned pumpkin?! You know how sometimes you use a lot of a can for some other recipe, and you have that little bit, and it's like, "What the heck do I do with this?" You only need 1/4 cup of leftover canned pumpkin to make this Healthy Pumpkin Pie Chia Pudding Recipe. If you have less, you can stir that into this Healthy Pumpkin Pie Stovetop Oatmeal Recipe.
PPS: This is the last thing I shot in San Francisco before moving cross country earlier this year. I actually had forgotten about this photoshoot. I took these on my patio and really love how they came out. I'll miss that place and my SF friends (especially the doggos – I lived near a dog park, and we had an amazing community).
Print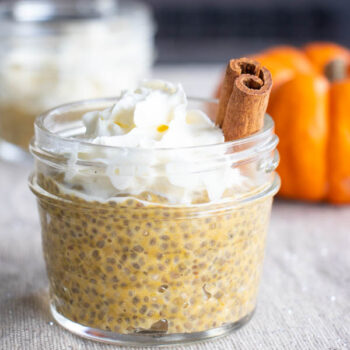 Healthy Pumpkin Pie Chia Pudding Recipe | Vegan, Gluten Free, Clean Eating, Easy, DELICIOUS
---
1 cup

oat milk (or milk of choice)

1/4 cup

canned pumpkin

1/4 cup

chia seeds

1 tablespoon

maple syrup

1/4 teaspoon

vanilla extract

1/8 teaspoon

pumpkin pie spice
Toppings (Optional)
Whipped cream
Dash of cinnamon
---
Instructions
In a mason jar or medium sized bowl, add oat milk, canned pumpkin, chia seeds, maple syrup, vanilla, and pumpkin pie spice. Whisk well until the ingredients are evenly distributed. Cover jar or bowl and place in the refrigerator.
After about 20 minutes, remove the lid and give the chia seed mixture a good stir. Note: They like to stick together, but if you stir them now, they'll stay pretty evenly spread out.
Wait overnight (or at least until the liquid has been soaked up enough, about 4 hours). Serve and enjoy!
---
Recipe Card powered by
More Healthy Pumpkin Recipes
Healthy Pumpkin Pie Spice Granola
Coconut Pumpkin Pie with Creamy Coconut Sauce
Pumpkin Pie Spiced Green Smoothie
Healthy Pumpkin Chocolate Chip Muffins
***
Thanks for stopping by and checking out my Healthy Pumpkin Pie Chia Pudding Recipe | Vegan, Gluten Free, Clean Eating, Easy, DELICIOUS.
If you try my recipe, be sure to tag me on Instagram or leave a comment and let me know how it went for you. I always love to see your creations. I seriously get so excited when someone tags me on Instagram, and I get to see how their version turned out. Cheers!