So…I may have been watching too many hip hop videos on Youtube lately, like the ones I featured awhile back on TCL, but I just love the style of all the dancers.
I wanted to bring some of that funky style into some of the Zumba classes I go to by cutting a new t-shirt into a hip hop inspired tank top.
I did a play on this video tutorial, which was fun to watch.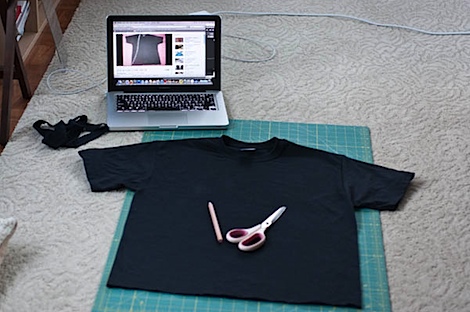 Materials:
I started with an over-sized t-shirt from Michael's craft store. It was on sale for only $2.50. Score!
Very sharp scissors. It's best to use a pair that have only been used to cut fabric (those used on paper will be more dull and won't cut as even a seam).
Step 1: Cut lower seam off of bottom of shirt. I only took off about 2 inches, but the exact amount you'll want to cut off will depend on your personal preferences. To estimate, put on the shirt, or hold it up at the level you plan to wear it and figure out how many inches to take off the bottom. Then snip away!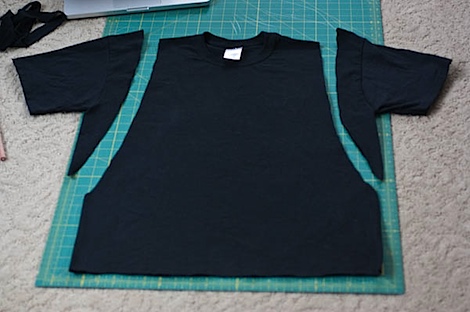 Step 2: Use sewer's chalk to mark long lines down the side – from the top of the shoulder and down the side. The photo above shows where I cut, since the lines were too hard to see alone. Remember, you can always cut more off, but you can't really put any more back on. Cut through both top and bottom layers, following chalk lines, to remove sleeves and some fabric from the sides.
Step 3: Put the tank top on and see if you think you need to cut more off. When I tried mine on, the top area was very boxy and masculine looking. I decided to trim off a bit more from the sides to get the shape I wanted. Remember, you will cut out some of the neck in the next step.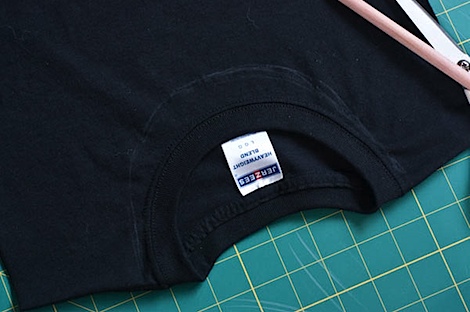 Step 4: Use sewer's chalk to mark how much of the neck you want to cut out. Cut out neck area, cutting through top and bottom layers. Try on the top and see if you need to cut any more from the neck area. Note: you will be stretching out the neckline, so it will get a little larger.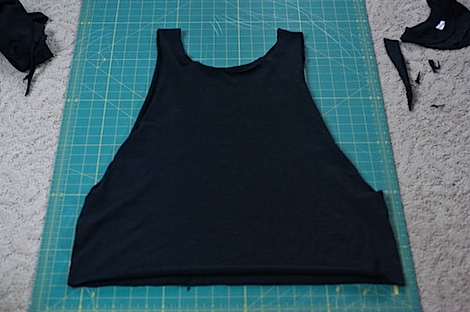 Step 5: Stretch neck area and sides.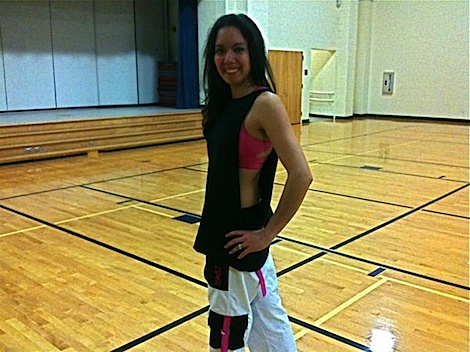 The finished product! I love this top because it's comfortable and an understated way to be sexy. The long cuts in the side give you lots of breathing room, too. Be sure to wear a fun and colorful sports bra underneath (and you will definitely want to wear something under this tank top – it's definitely not meant to be worn alone).
Can you believe this only cost me $2.50 and a few minutes?!?
I had so much fun wearing this to Zumba on Monday!
Speaking of Zumba, I just registered for Zumba convention 2011! I'm so excited!!!!!!!!!!!!!!