I don't know if you've ever tried making your own nut butter before, but once you go homemade…you pretty much don't go back. I still like my Barney Butter and Maranatha, but they just can't top the from-scratch stuff.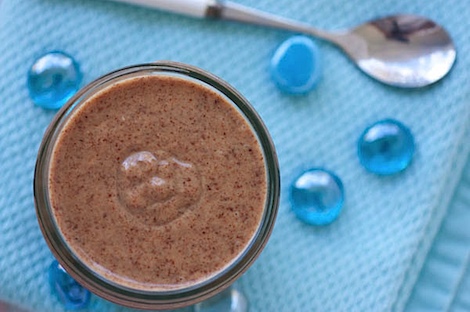 You guys have probably noticed how I've been drooling over that whipped cinnamon honey I picked up recently at the farmer's market. I basically use it as much as I can.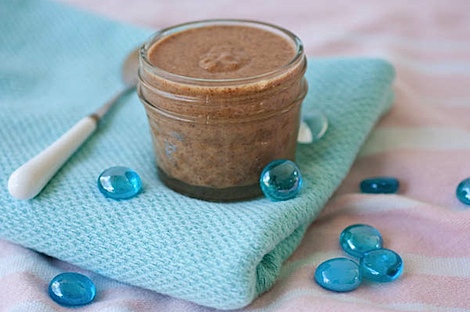 Many of you guessed that I actually used the whipped cinnamon honey in the almond butter I made. I actually only used the flavor combo for inspiration. I didn't use any of the actual whipped cinnamon honey.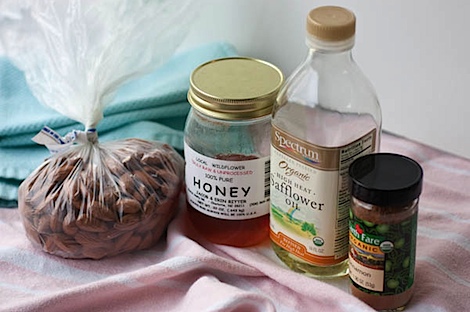 Somehow, I was thinking about how much I liked the whipped cinnamon honey…
…and then I thought about how honey roasted peanuts used to be my absolute favorite style of nut to eat when I was kid…
…and then I thought about how awesome honey roasted almonds (since I like almonds better than peanuts) would be…
…and then if I just blended those honey roasted almonds up and added in the cinnamon from my inspiration honey…
…I'd get something pretty awesome.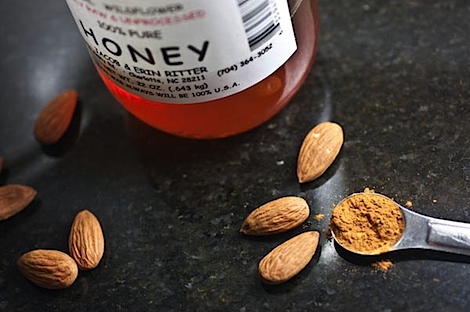 I thought about blending up already honey roasted peanuts, but I really wanted almond butter…not to mention I wanted to be able to control the ingredients myself. I researched honey roasted almonds online and all the recipes I found seemed to stem from this recipe, which actually roasted the almonds and then did a glaze in a saute pan with lots of added sugar. I decided to try something different by using as little added sugar as possible and doing the whole cooking process in the oven.
As soon as I had enough free time, I excitedly gathered my ingredients.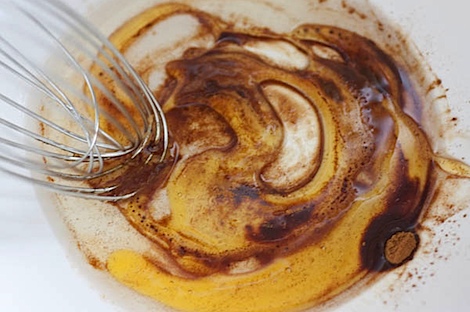 The process was actually pretty hands-off and easy. Total prep time was about 30 minutes, but with only about 5-10 minutes of the total as hands-on time.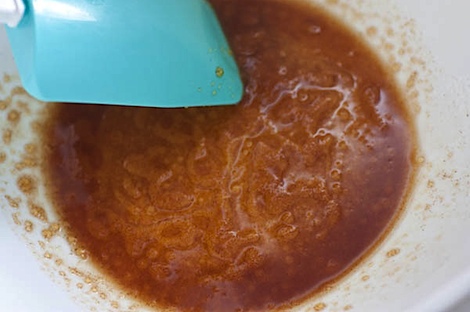 You just whisk up your glaze ingredients.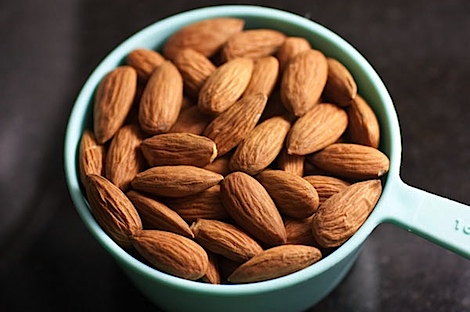 Get your almonds together.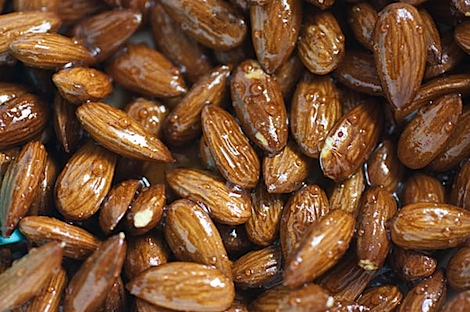 Coat almonds in the glaze.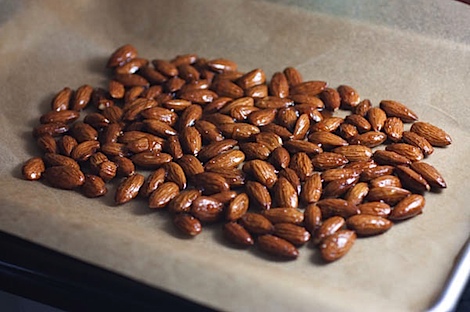 And bake your almonds for about 12-15 minutes.
(Let me tell you…your kitchen will smell absolutely heavenly as they roast away! Mmm)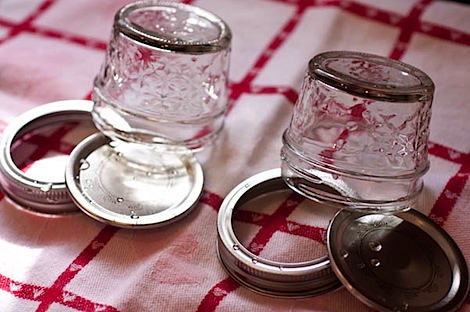 While your almonds bake and then while they cool, you can prep your storage containers…or read blogs…or a book…or watch TV. Whatevs.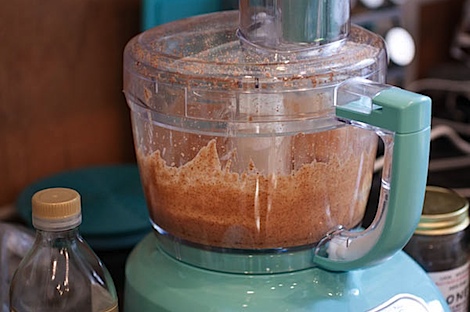 Once your almonds are completely cool (I waited an hour just because I was working on other things, but you could probably check sooner), you just blend everything up. The blending takes at least 10 minutes, so you could set a timer and multi-task again while your food processor does all the heavy lifting. Just stop the processing and scrape the sides of the bowl down once in awhile.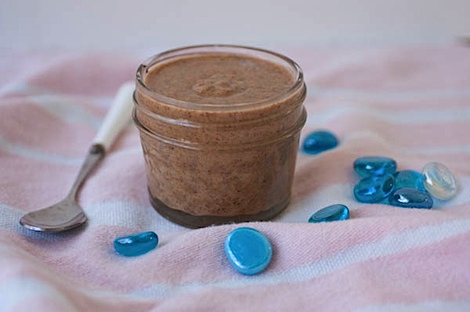 And then…you have this deliciousness to enjoy!
Honey Roasted Cinnamon Wink Almond Butter
This Not So Sweet almond butter is so good, it made my non-oatmeal-enjoying hubby happily scarf down a whole bowl the other day when I topped some oats with it. The flavor is lightly sweet with just a wink (a hint) of cinnamon to it. One thing I dislike about store-bought nut butters is that the sweet ones are often too sweet. So, I made this one with just a wink of honey. If you'd prefer your almond butter sweeter or the flavor more cinnamon-y, feel free to add more of either ingredient to suit your taste.
Ingredients:
2 cups almonds, whole and raw
2 tablespoons honey
2 tablespoons safflower oil (or other non-flavored oil, like canola, etc.)
1/2 teaspoon ground cinnamon
1/4 teaspoon salt
Directions:
Pre-heat the oven to 350 degrees F and prepare a large baking sheet with parchment paper.
In a medium-large bowl, whisk together the honey, oil, cinnamon, and salt.
Stir in almonds and continue stirring to almonds are evenly coated. Pour almonds onto prepared baking dish and spread to an even layer.
Bake almonds for 12-15 minutes, stirring occasionally, until almonds are golden-brown and glaze has darkened slightly. Once done, set almonds aside to cool to room temperature (Note – I waited an hour, but I was multitasking-it while the almonds were cooling – you may be able to use them sooner).
Once almonds are cool, pour them into a food processor bowl and process for 12-14 minutes, or until almond butter has reached your desired texture. Stop the processing occasionally to scrape the sides of the bowl down with a spatula (I also found I needed to scrape the bottom of the food processor because some slightly larger bits were sticking there). Note: I stopped my processing around 10 minutes and the texture was pretty liquid-y, but I decided to go 2 more minutes to be sure.
Optional step: Do a taste test of the almond butter. If you want it sweeter, then add 1 teaspoon of honey and process to combine. Repeat until almond butter reaches desired sweetness. Ditto to the cinnamon, if you want a strong cinnamon flavor, but I'd only add 1/4 teaspoon at a time. Remember, as my mom likes to say…you can always add more honey or cinnamon in, but you can't take it out!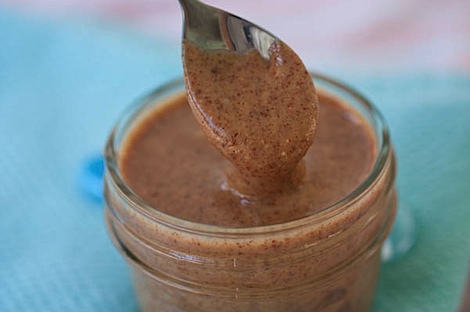 Enjoy your homemade almond butter over oatmeal, spread on toast, on an almond butter and jelly sandwich, or on banana slices.