I was thinking recently that I hadn't had granola in a long time, so I decided to come up with a fall-inspired recipe. I've made oil-free granolas with applesauce before, but I wondered if if I could use another fall ingredient – pumpkin. I've heard you can swap canned pumpkin (okay, it's available year-round, but just go with it) for other ingredients in baking, so I wondered…would it work for granola, too?
As it turns out, it does!
Oh, and in case you're wondering while you look at these photos…yeaaa, I forgot to stir in the cranberries before taking these photos. Unfortunately, I had already prepared a bowl of granola and yogurt to eat, and it was too late to re-take the photos. Oops.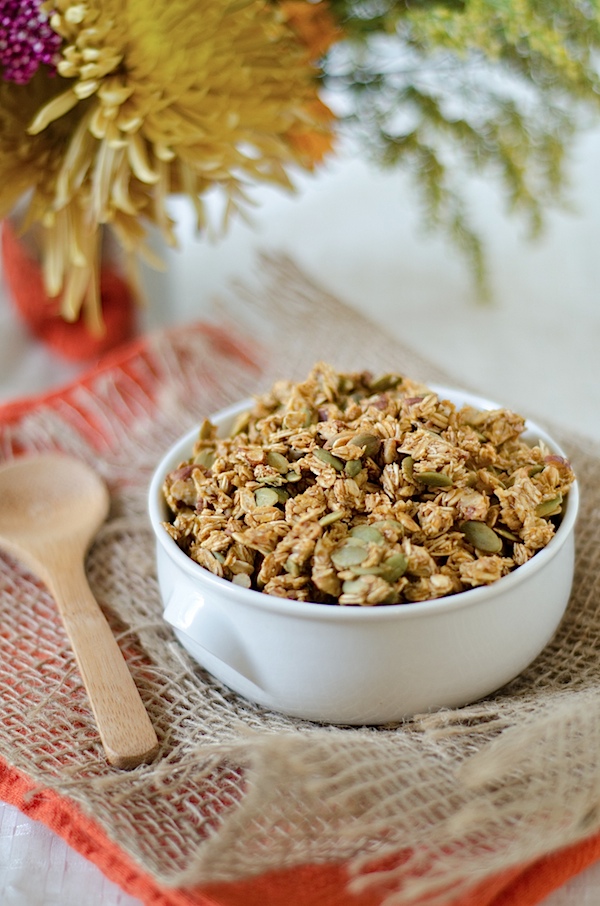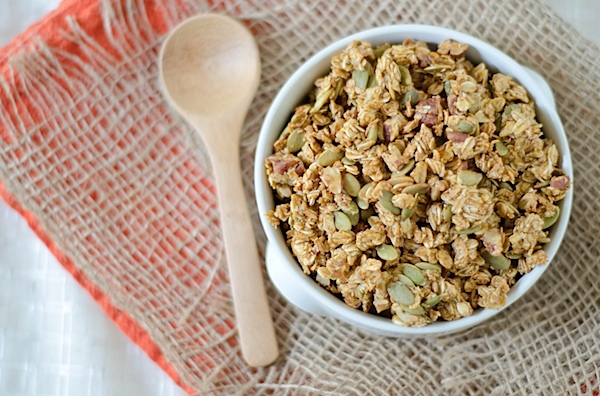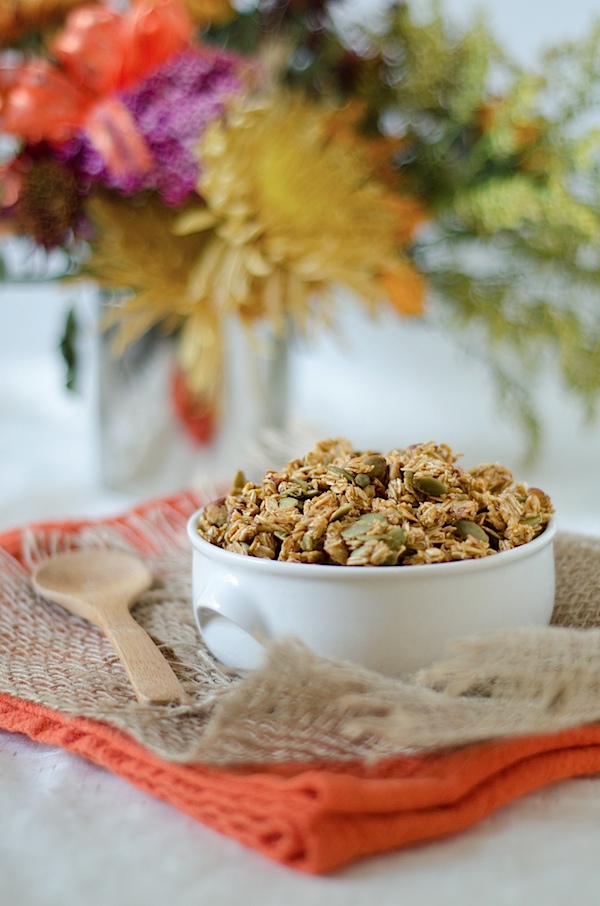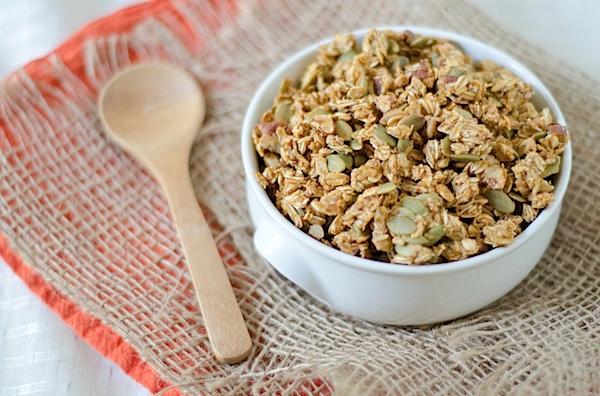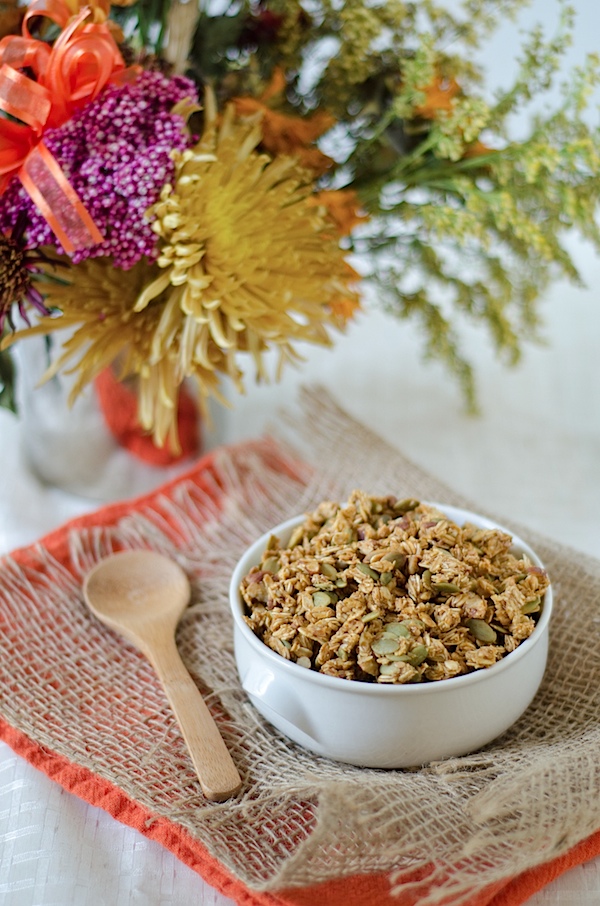 Autumn Granola: Oil-Free with Canned Pumpkin
Canned pumpkin replaces the oil typically used to make granola in this Not So Sweet, fall-inspired mix. Enjoy this with yogurt or milk for breakfast or for a snack.
Prep Time: 10 minutes
Bake Time: 45-50 minutes
Total Time: 55-60 minutes
Serves: 6-8
*Vegetarian, Vegan*
Ingredients:
2 cups old-fashioned oats, dry
1/2 cup chopped pecans
1/2 cup pepitas (pumpkin seeds)
1/4 cup coconut flakes, optional
2 tablespoons flaxseed, optional
1 teaspoon cinnamon
dash nutmeg
1/2 cup canned pumpkin (or sub applesauce)
1/4 cup maple syrup (add more for a sweeter flavor)
2 tablespoons brown rice syrup or barley syrup (or sub maple syrup)
1 teaspoon vanilla
pinch of salt
1/2 cup dried cranberries
Directions:
Pre-heat oven to 300 degrees F and line a large baking sheet with parchment paper (or use aluminum foil and spray with non-stick spray).
In a large bowl, combine dry ingredients oats, pecans, pepitas, coconut flakes (if using), flaxseed (if using), cinnamon, and nutmeg and stir to mix well.
In a medium bowl, combine wet ingredients canned pumpkin, maple syrup, brown rice syrup, vanilla, and salt and stir with a whisk to mix well.
Add wet mixture to dry mixture and stir until wet mixture is evenly distributed.
Pour granola mixture onto prepared baking sheet and spread to an even layer.
Bake, stirring every 15 minutes for 45-50 minutes, or until granola is browned to preference. Remove from oven and stir in cranberries.
Set aside to cool to room temperature. Serve with yogurt or milk.
Store remaining granola in an airtight container.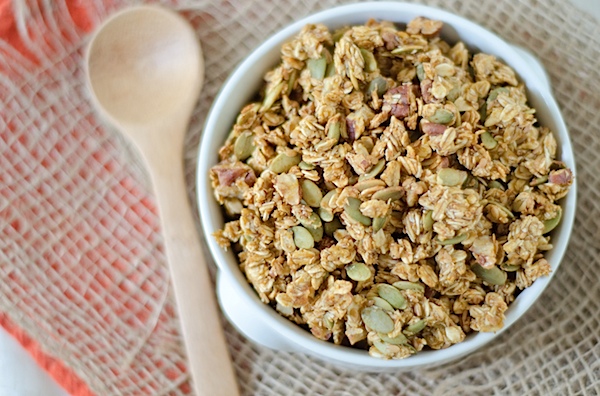 I have a quick yogurt trick to share coming up soon!
Plus, a business casual work look, more delicious recipes, and possibly a Bailey video! Check back soon…
Thanks for reading!