Finally! I have a quick minute to type up my uber-yummy Southwest Quinoa Burger (the ones I made for that cookout awhile back) recipe for you!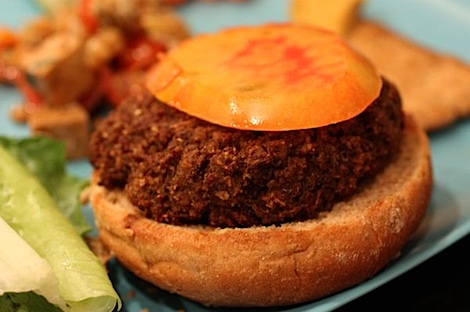 Ready for a veggie burger that won't crumble apart on you? Ready for a veggie burger full of flavor? I've got the perfect recipe…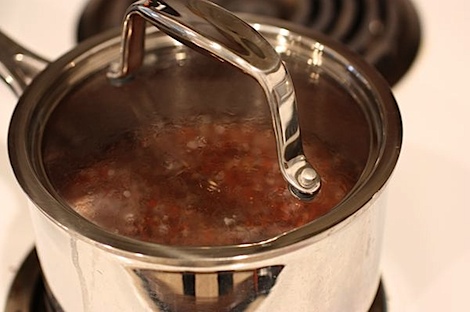 This recipe uses cooked quinoa, so you can either use leftover quinoa or cook some for this recipe. It's fast and easy.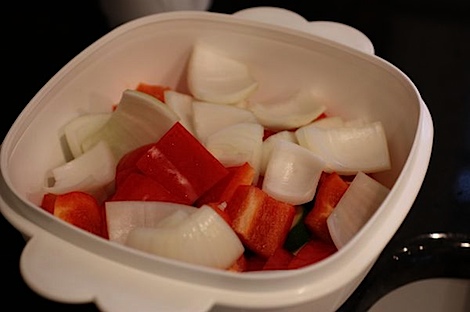 This recipe also uses lots of yummy fresh veg!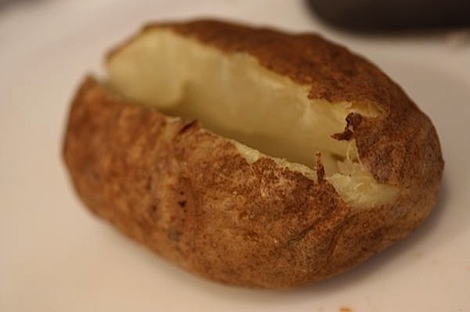 Plus a micro-baked potato
Directions: wash potato, pierce skin in several places, loosely wrap with paper towel, and microwave 5-7 minutes, till a fork easily pierces through and center is tender.
After your prep (quinoa, veg, potato), you're pretty much just a whirl away in the food processor.
I like this recipe because you can easily prep it ahead, so if you're entertaining, you can make it in the morning or the day before and you just have to form patties and bake when your guests get there.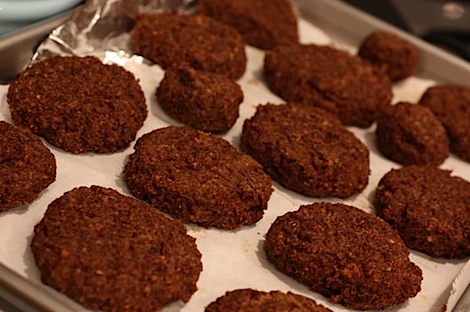 Bake away and you're done! But, if you're grilling out, you can also bake and then re-heat the veggie quinoa burgers on the grill.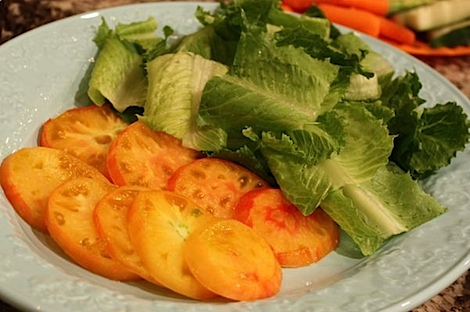 Get some fresh vegetables for toppings. I used organic romaine and heirloom tomatoes from my garden.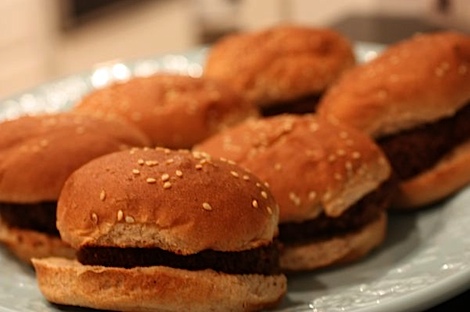 Serve on buns or not – your choice.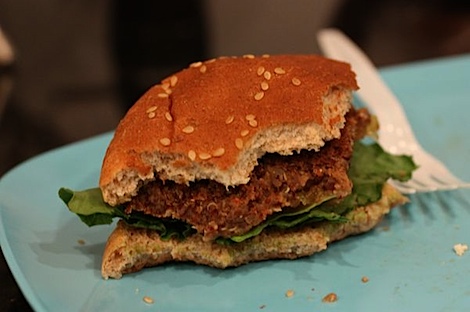 And see! No crumbles!
Reasons you should try this veggie burger recipe:
full flavor
no-crumbling factor
vegan
gluten-free if you use GF bread crumbs
a prep-ahead recipe so you can enjoy your guests if you're entertaining
re-heats nicely and makes great leftovers
Southwest Quinoa Veggie Burgers
*Vegan* *Gluten-Free if you use GF bread crumbs*
makes 10-12 medium sized patties

Ingredients:
1 dry cup red quinoa, rinsed & cooked
1 cup dry bread crumbs
1 15 ounce black beans, rinsed
1 medium potato, cooked & removed from skin – you can micro-bake it (see above for directions)
1/2 onion, chopped
1 red bell pepper, chopped
2 garlic cloves, chopped
1 tsp salt
1 tsp cumin
1 tsp paprika
1/4 tsp chili powder
dash cayenne (add more or less depending on how spicy you want your burgers)
Directions:
Combine black beans, potato, onion, bell pepper, garlic, salt, cumin, paprika, chili powder, and cayenne in a food processor. Pulse till vegetables are chopped finely and contents are mixed.
Add bread crumbs and pulse till mixed well.
Add quinoa and pulse till mixed well.
Move mixture to a bowl and let rest in the refrigerator for at least 1 hour (this will help the mixture to set and make it easier to form into patties. You can prep your recipe up to this point ahead of time if you're entertaining and move on to the next step when you're ready to cook)
When ready to cook, pre-heat the oven to 350 degrees F. Line a baking sheet with parchment paper.
Form the veggie burger mixture into patties (or balls) and place on the prepped baking sheet.
Bake 18-22 minutes, till burgers are lightly browned on top (note: if you're entertaining, you can also cook the burgers ahead of time and re-heat them on the grill)
Serve with toppings and enjoy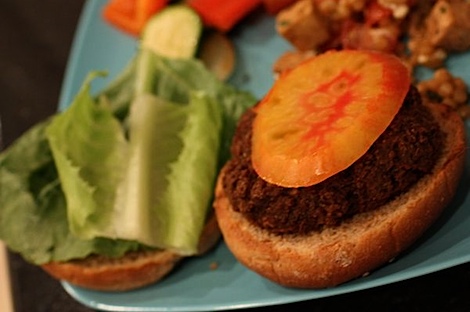 Delicious veggie burgers!