I really wanted more of that yummy Galaxy Granola (*), but I also really wanted oatmeal.
The solution?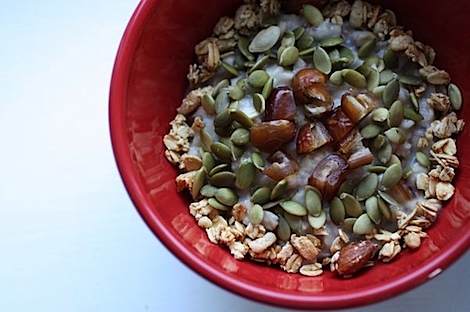 Have your cake and eat it, too – oatmeal + granola – all in one bowl.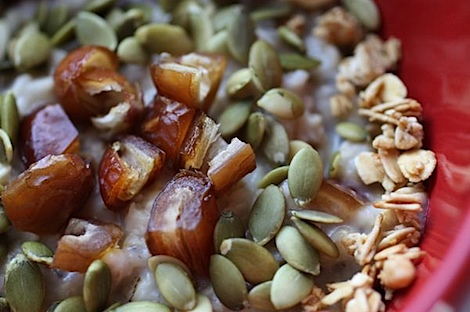 Almond milk oatmeal, chia seeds, dates, pepitas, Galaxy Granola vanilla almond.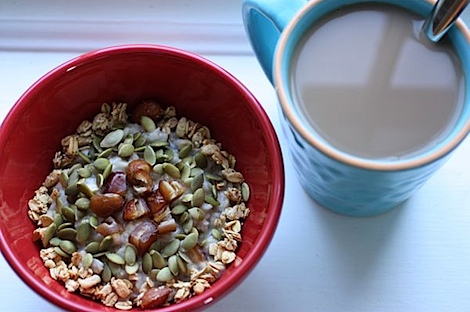 Plus Fresh Market Spring Blend to drink.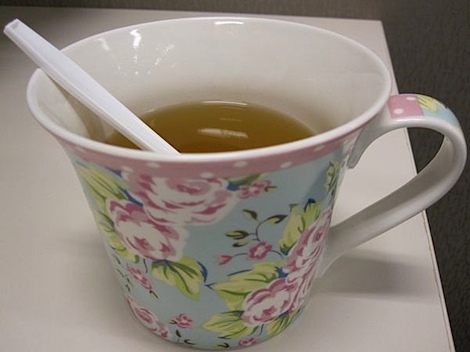 Mate Yerba hot tea with sugar.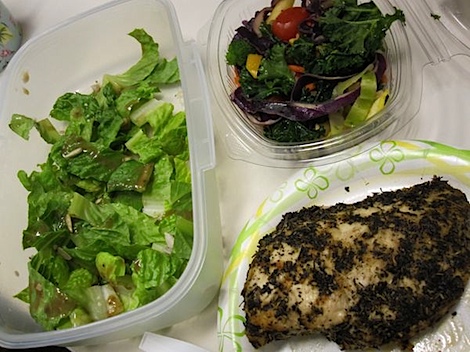 For lunch I had the lunch I was supposed to eat yesterday. I picked up a grilled chicken breast and some Live Green Salad from Earthfare when I was out shopping with Megan for her healthy pantry.
As I've said before, after recently suffering from a food-poisoning like situation, I've become extremely skittish about my food. How long had the chicken been sitting there? Did I wait too long between when I bought it and when I put it in the fridge? Yes, random thoughts pop into your mouth and I had something important to do Monday night and could NOT afford to get food poisoning again. Tonight, I'm not so worried, so I saved the food for today.
All the food seemed fine. I microwaved my chicken and also used the toaster oven to heat it up a bit. I got this cooked with the herbs at Earthfare and it was like around $2.50, which is about what it would have cost to buy the thing raw, so I think that was a pretty good deal. I also had a small romaine salad with hemp seeds and sunflower seeds plus rosemary balsamic dressing.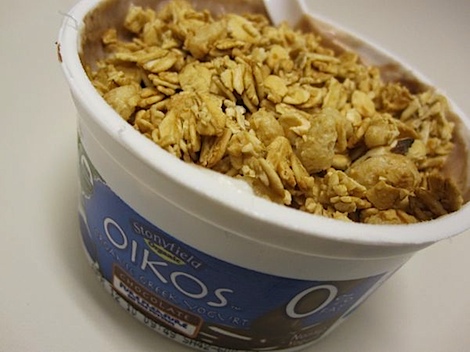 I had even more fabulous Galaxy Granola later in the day, plus one of the Chocolate Oikos samples Stonyfield sent me for free awhile back.
I've tried the Chocolate Oikos before and I liked it ok, but today I liked it more. Overall, I think I still prefer starting with plain or vanilla and adding my own flavors, but I think the pre-flavored ones are really good options for us working people who don't have a lot of ingredients at the office.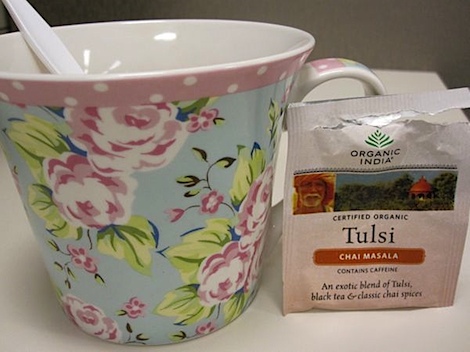 Tulsi tea – Chai Masala tea with sugar.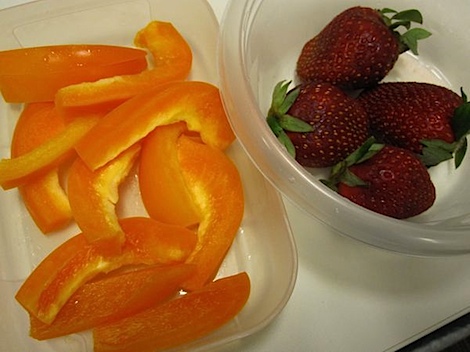 At the end of the day I had a healthful snack – half an orange bell pepper and four organic strawberries.
*
*
*
After work I had something very exciting planned – an Organic Gardening for Beginners workshop, which my sorority alumnae association organized.
The presenter was Don Rosenberg of Instant Organic Garden. Don sets organic gardens up at peoples' homes. If only hubby and I didn't spend all our money on the renos, or if we won the lottery….or if we were independently wealthy…we would totally hire Don. But since we have none of those things, we will be trying the garden on our own…WITH some tips that Don provided tonight.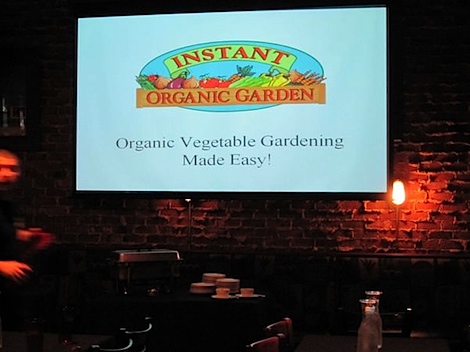 My favorite Organic Gardening for Beginners tips:
Weeds grow in bare soil so traditional tilling/gardening is more weed-prone. Boxes placed on top of your yard work better and will result in less maintenance work (because less weeding)
Miracle Grow type boosters are electric shocks of growth causing spindly growth that is more susceptible to disease, thus requiring pesticides – see the vicious cycle?
A garden needs 6 hours of sun
Eating fresh can be more valuable than eating organic since many vegetables lose nutrients quickly after being harvested
Don't grow something you can get cheaply and easily at the grocery store, grow something unique instead
There are some really interesting heirloom vegetables that would be fun to grow (not just tomatoes)
The difference between organic seeds and traditional is $2 – don't waste your money buying the organic ones – how you grow your plant is more important
When growing tomatoes – keep the leaves dry and ensure the plant gets good circulation
There are many good organic solutions for gardens and common garden problems
Imustgarden.com has some good, natural solutions to deter deer, moles, etc.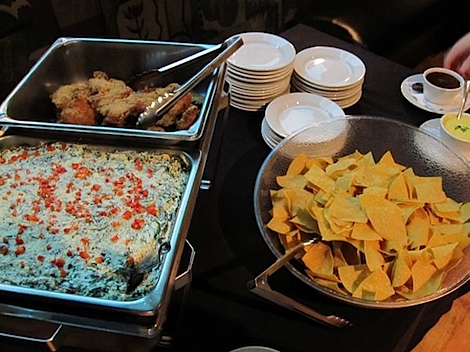 We had snacks donated by Dilworth Neighborhood Grille, since the event was also a fundraiser for the Ronald McDonald House (ADPi's charity).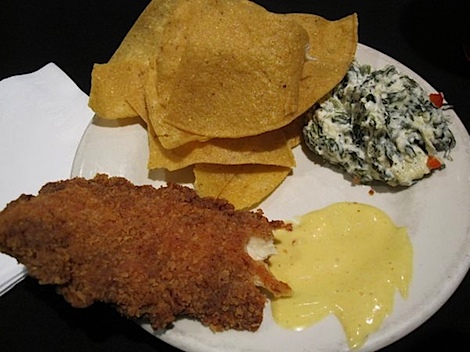 I had a chicken finger (with some honey mustard), some tortilla chips and some spinach dip.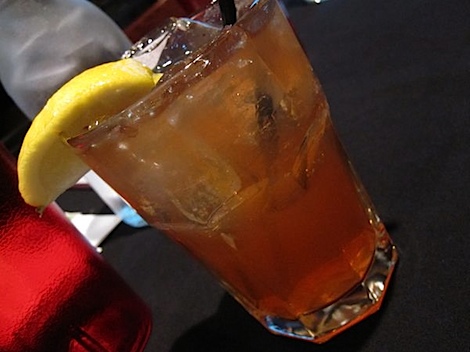 Drink of choice – lemonade and Firefly sweet tea vodka. I need more of these drinks to enjoy on my fabulous patio! Ahh, yes, I can see it now, sweet tea vodka, burgers cooking on the grill, friends playing in the yard. Yes!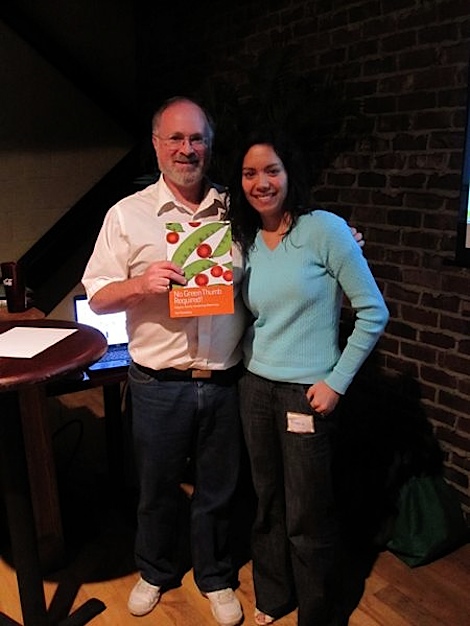 Anywho, I had a great time at the organic gardening session with Don and I learned a ton. Most importantly, I'm newly inspired to get our garden going! I think hubby and I have a weekend project now! 😉
Check out the book Don is holding – it's his and it's called No Green Thumb Required.
Additionally, Don has offered to do a Q&A with The Chic Life readers! If you have a question for Don, please leave a comment on this post and start it with "Question for Don:" and then add your comment, like "Question for Don: What's your favorite vegetable?" That way it's easy for me to see your questions. Please try to ask your question by Thursday night, as I'll probably send them pretty quickly to Don.
Thanks to Don for the workshop – I'm so glad I went, hubby and I had a great time!
After the event, I ended up getting a cup of French Onion soup from Jason's Deli. And I may or may not have eaten another Earthfare vegan WW chocolate chip cookie. Yummers!
*
*
*
I need to work on a Project Hydrate Lessons Learned post. The last week-ish sort of fizzled out when I got sick, so sorry about that. 🙁
Almost exactly a year ago today, I went geo-caching with my sister and we had a fabulous picnic and some beautiful strawberry shortcakes.
Remember to leave your questions on organic gardening for Don on this post by Thursday night. Be sure to put "Question for Don: " before your question.
Have a great week everyone! 🙂 Ima finish watching Millionaire Matchmaker!