Hubby did his anniversary celebration on our actual anniversary weekend, but my plans revolved around a different kind of schedule. So, yesterday, I mentioned I had something a little risky planned. Well…guess what?! My plan worked perfectly! Here's what went down.
I wanted to stick with tradition, so I planned to get something with "paper" for our 1 year anniversary.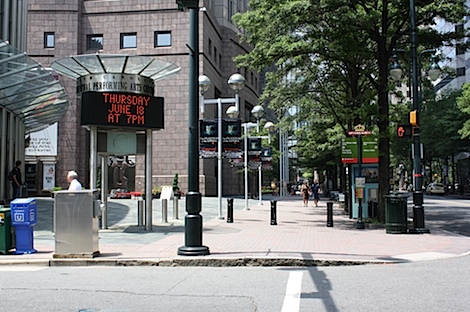 Normally, I like to do surprises for special occasions, but what I really wanted to do was take hubby to see a Broadway performance and I found out they have tickets for a mere $20 if you have a student ID. I also learned tickets for the show I wanted to see were available 2 tickets per student ID but could only be purchased 2 hours before the show. I researched some dates and found out the matinee show today (Sunday) had some seats left in the Orchestra section (normally $80), so I decided to take my chances and head to the theater to buy tickets.
My plan worked and we scored 2 of those orchestra tickets for 1/4 the price…sweet!
Want to know which show I wanted to take hubby to?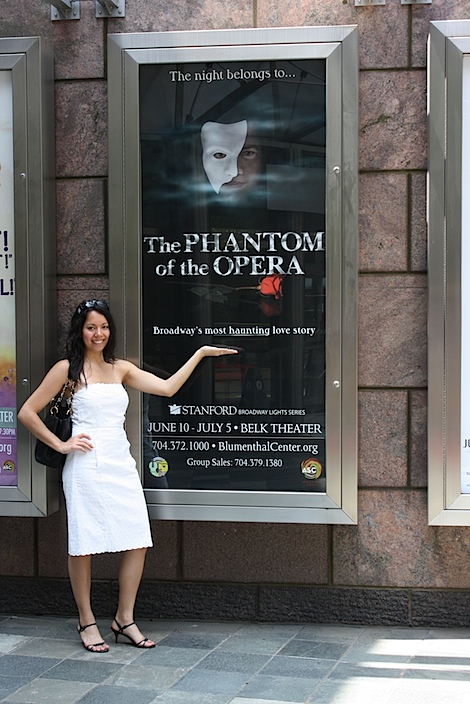 I took him to my all-time favorite show ever – Phantom of the Opera. Now, I'd never actually seen the Phantom before, but I ice skated to the music from the show when I was a kid (favorite program btw), and I've grown up listening and singing to the highlights CD, so I feel like I know it.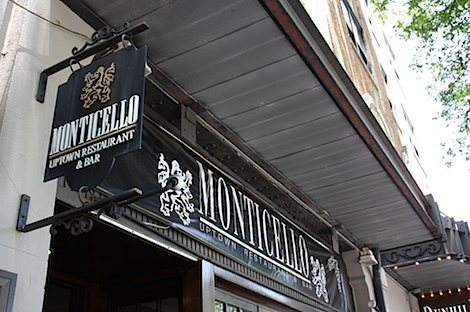 My plan was to spend the 2 hours before the show getting brunch, so we headed over to Monticello to check out their brunch.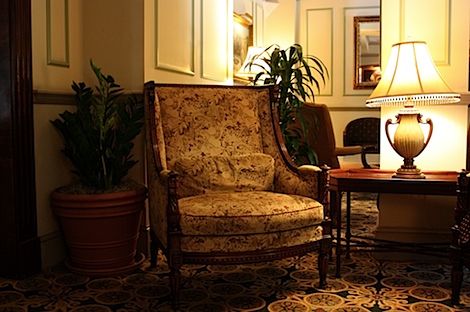 The restaurant was surprisingly busy, so we waited in the lobby area for just a bit, but not too long.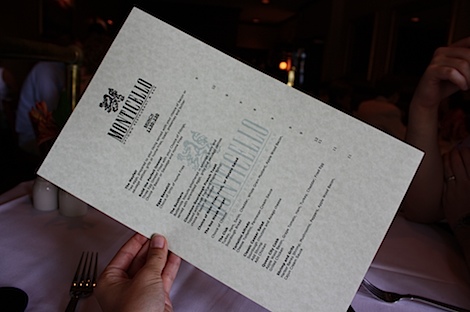 We were soon seated and had no problems selecting something from the menu.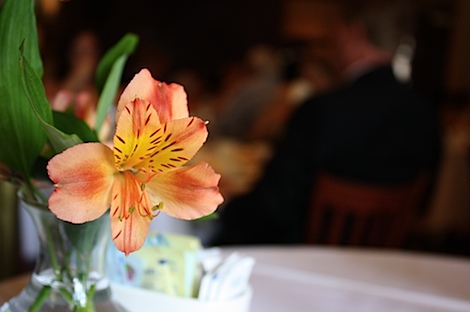 Table decoration.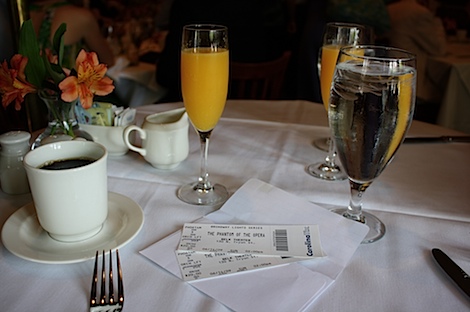 Hubby and I got mimosas to celebrate.
The mimosas were awesome. I think they used fresh-squeezed orange juice.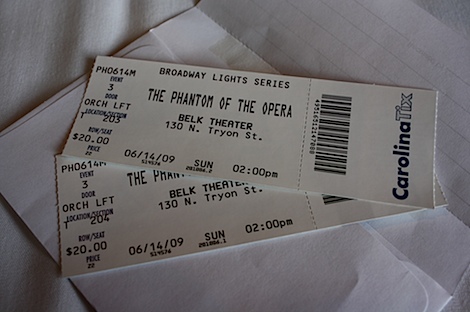 Our tickets – yay! We couldn't wait to see the show.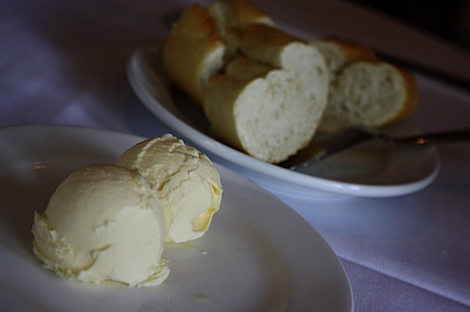 Hubby got some bread and butter before his meal.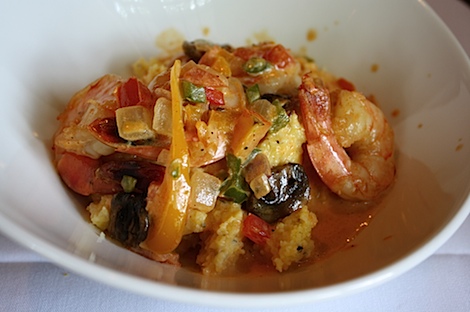 Hubby got the shrimp and grits, which I happen to really like at this restaurant.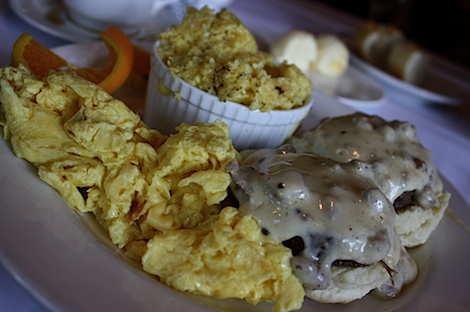 I was more in the mood for breakfast, so I got The Southern – biscuits & gravy, sausage, scrambled eggs, and grits. The whole plate was really tasty.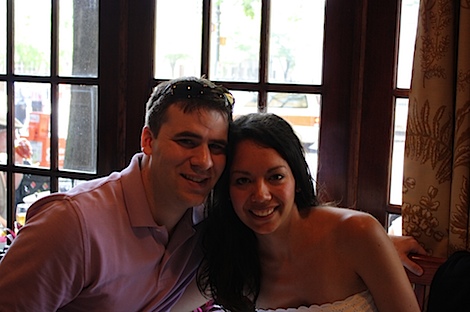 Happily full.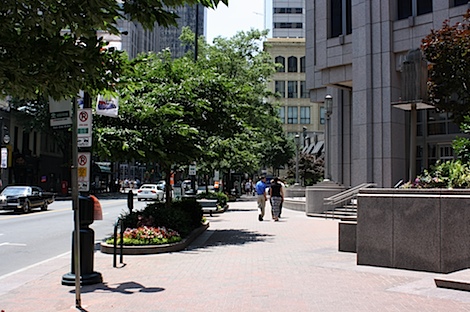 After brunch, we made our way back to the theater. The weather was beautiful outside – sunny but not too hot with a lovely breeze hitting us every now and again.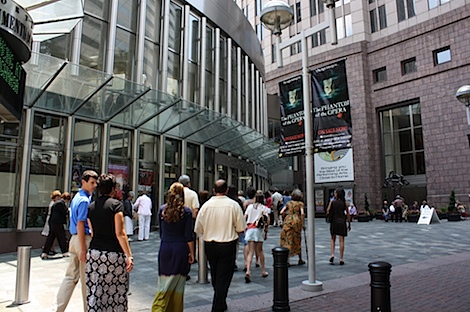 In front of the theater.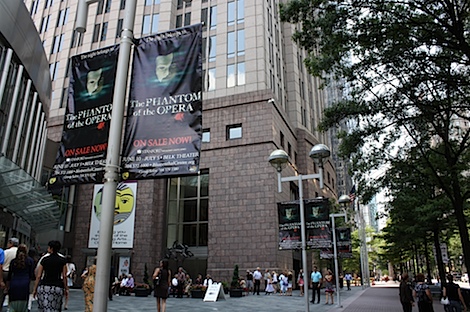 Phantom signs.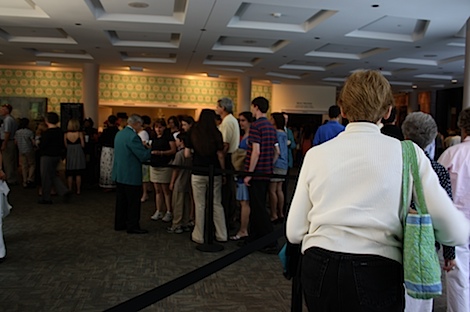 Line to get in.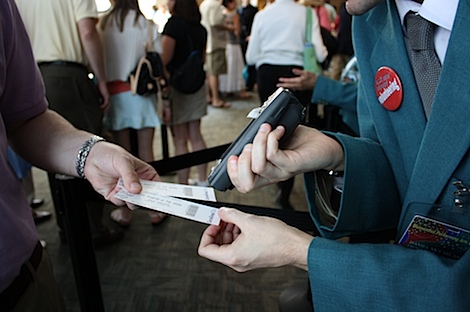 Scanning the tickets.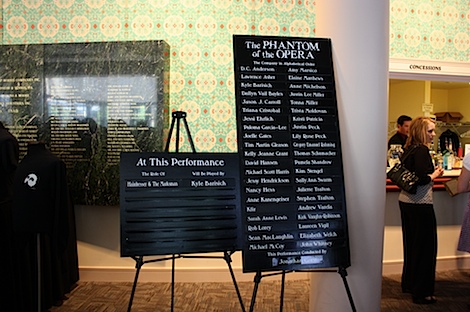 The Phantom cast list.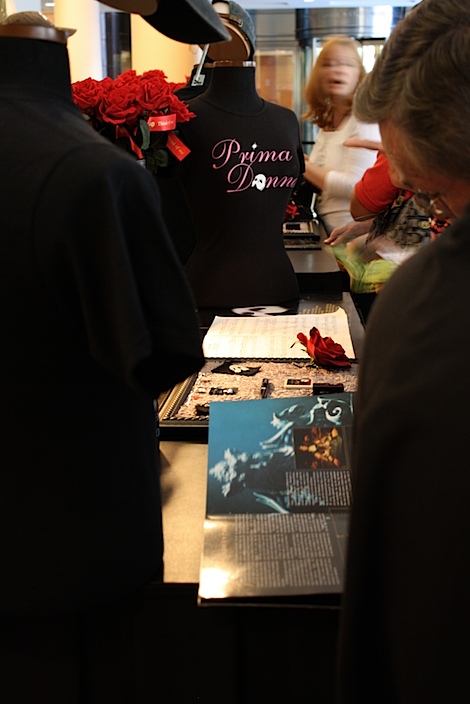 Phantom memorabilia.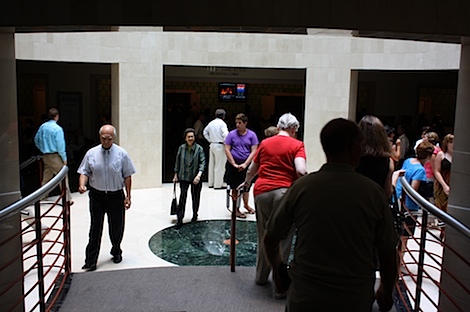 We headed downstairs for the orchestra area.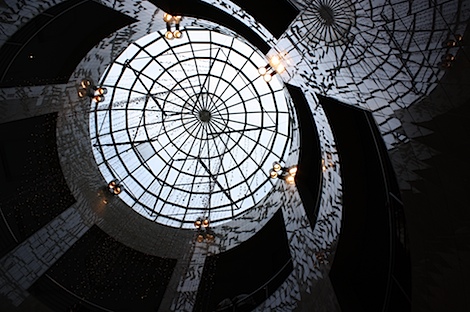 Looking up. What a view!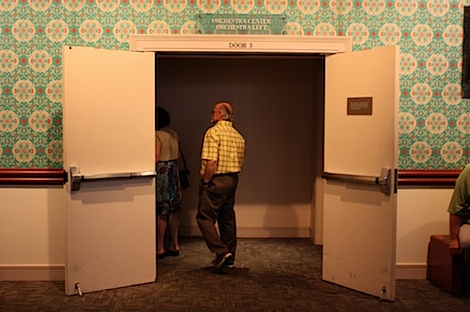 Heading into the theater.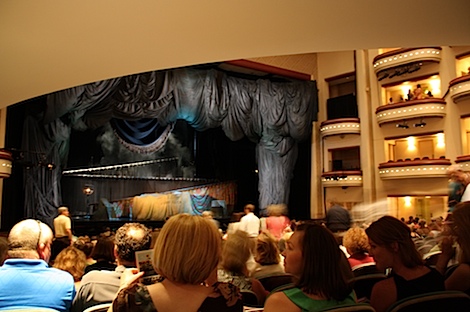 Our view – just before Act 1.
I wanted to take pictures of the show, but apparently, you're not allowed to, so I held back.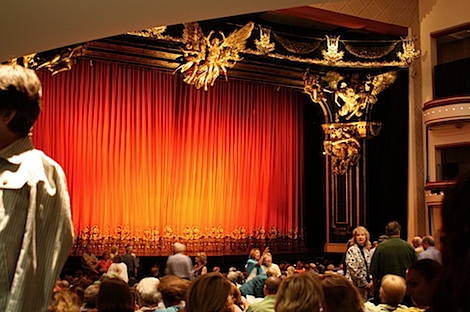 A new curtain for Act 2.
Wow! The show was absolutely amazing! When the show started and the Phantom theme song kicked on I got so excited…I couldn't believe I was fiiiiinally seeing the show after listening to the CD for 15+ years. The show was just as awesome as I thought it would be. I was so happy that the cast did such a wonderful job – I thought a lot of the characters sounded just like the CD. The Phantom and Christine parts were especially fabulous. Oh, and the ending…so cool! I was glad to see and hear the songs all pieced together with the smaller sections so the story became more cohesive for me. I can't wait to see it again, except next time I'll pay full price and buy early to get us the best seats in the house.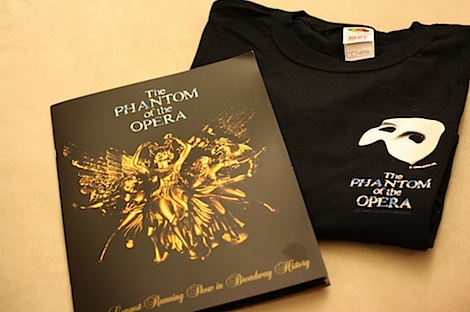 Of course, we had to leave with a little bit of Phantom paraphernalia – we got the program and a t-shirt.
Hubby said he had a wonderful time, so I think my half of the anniversary celebration was a great success. Between the 2 celebrations, we had a lot of anniversary fun. Hopefully, we have just as much, if not more great times next year!
Happy anniversary babe!