So, I bought something kind of crazy at the farmers market Saturday. Something I've never cooked with (or eaten?) before:
OSTRICH!
I was a little afraid of the little ostrich steak I bought just because I'm so unfamiliar with this type of meat, but I was excited about trying something new. I love to experiment with food!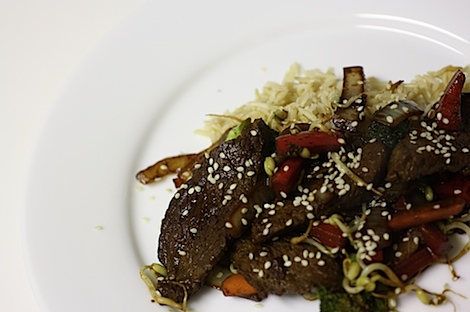 We decided to try out an ostrich stir fry.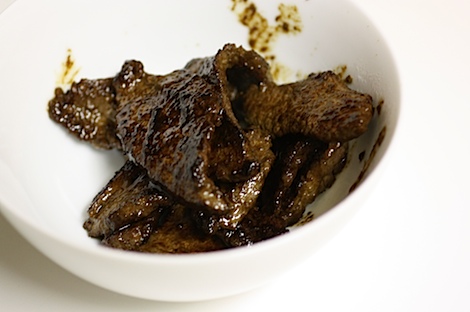 I started by doing a quick marinade and then sauteing the meat. I set the meat to the side and then got to the veggies.
The stir fry used lots of veggies, including some goodies from the farmers market: a red bell pepper and some mung bean sprouts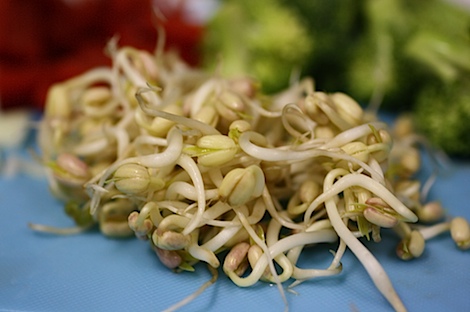 (I LOVE sprouts in stir-fry).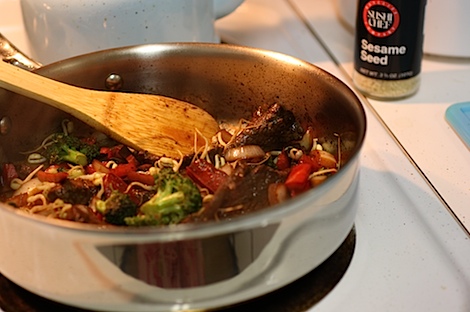 Stir frying the veggies. We totally need a non-stick pan…or a wok!! That would be awesome!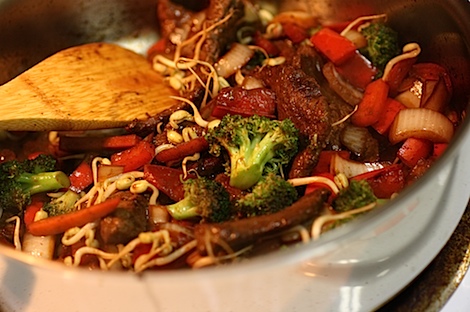 Cooking up.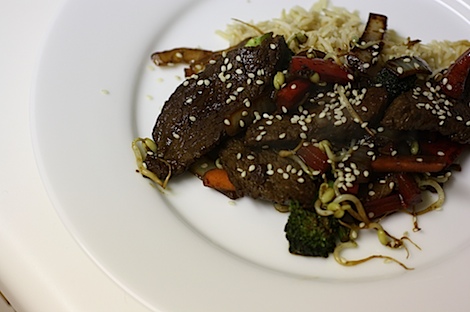 All done and ready to enjoy.
The verdict…
Ostrich = Healthy & Delicious!!
We will definitely be buying ostrich again soon. The meat is nice and tender and almost fat free (at least the piece we got was). Click here for more nutrition information on ostrich – according to this comparison, the ostrich is the healthiest meat of the bunch.
Ostrich Stir-Fry
By me with marinade adapted from Clean Eating Magazine
Serves 2-3
Ingredients:
Ostrich steak (1/3 – 1/2 lb) sliced thin (against grain)
1/2 onion chopped
1 red bell pepper chopped
1 cup broccoli florets (in small pieces)
1 baby carrot, cut
mung bean sprouts, handful
3-5 tbsp soy sauce
1/2 cup vegetable broth (or white wine)
1/2 tbsp apple butter
1/2 tbsp sesame oil
1/2 tsp garlic powder
2 tbsp peanut oil
salt + pepper
sesame seeds
Directions:
Meanwhile, make marinade by whisking 1 tbsp soy sauce, apple butter, sesame oil, garlic powder, and dash salt and pepper in a bowl. Add ostrich, stir to coat, let rest for 5-10 minutes.
Heat a pan (or wok) over medium heat. Once pan is ready, add 1 tbsp peanut oil, coat pan, then add ostrich. Cook till meat browned on both sides, about 5 minutes. Move meat to a separate plate.
Return pan to heat. Add other tbsp peanut oil. Add all veggies, except mung beans. Saute till till veggies are crisp tender, about 4-5 minutes. Use vegetable broth to de-glaze pan or just to help veggies cook (broth is optional).
Add ostrich meat and mung bean sprouts back to pan. Add soy sauce as needed. Cook for 1-2 minutes to let flavors mesh.
Serve with brown rice. Top with sprinkle of sesame seeds. Enjoy!