I thought I'd offer some pantry tips for those participating in Eat in Month (or just those wanting to eat in more).
I referenced some of my fave cookbooks and took note of key ingredients to create a shopping list for Eat in Month pantry items. I made a list on my iPhone using the Todo app (no messy papers…yay!) and took the list to the store. I picked up most of the items, but left off about 30% so hubby's eyes don't pop out of his head too much when he sees the bill (we're not used to doing large shopping trips, so our bills are typically pretty small).
I'd like to share some of my fave pantry items with you. Please note, I also have some pantry items that are part of my existing staples, so I didn't purchase all items today.
Keep a great pantry and you'll think twice about picking up the phone to order take-out – especially when you can make a delicious meal quickly and with ease.
So, besides your basic staples (flour, sugar, milk, etc.) here are some of my Eat in Month pantry items: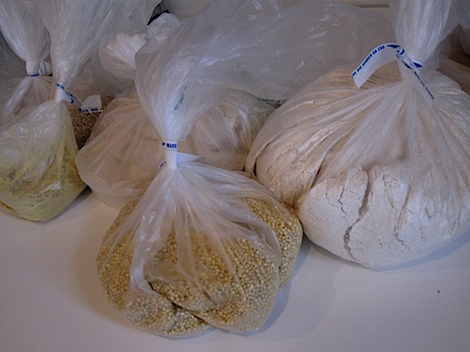 I love to hit up the bulk bins for grains, salt, sugar, etc. They can be big money savers since you're not paying for packaging – just the goods. I also like bulk bins because they allow you to sample something new (like quinoa) without investing in a large amount.
Today, I picked up spelt flour, millet, nutritional yeast, organic sugar, and wheatberries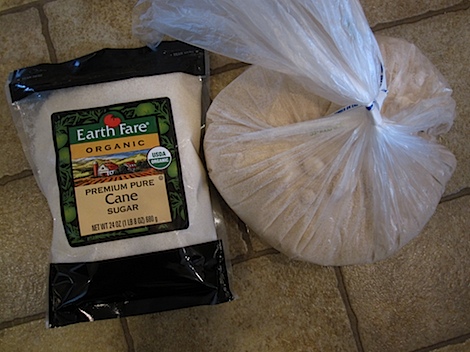 Example: sugar. While I don't have the receipts in front of me, the pre-packaged sugar was roughly $4 while the bulk sugar (organic) was just over $2.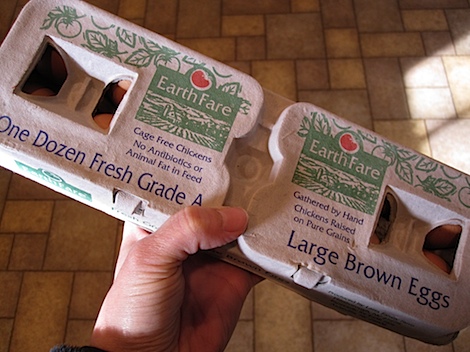 Eggs are a great source of protein and keep for a relatively long time in your pantry. When I'm feeling particularly lazy, I will often make an egg scramble with veggies and beans for dinner. You can use them in baking and other recipes. They're just great to have around!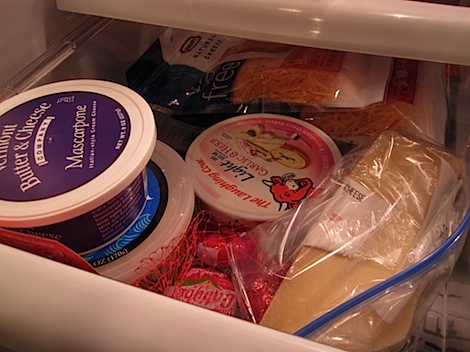 A variety of cheeses. Many cheeses will also keep a pretty long time in your fridge. They are great for snacks or toppings of entrees or salads. I like to have shredded cheese, Babybels, The Laughing Cow wedges and will spring for parmesan, feta, mascarpone for recipes. I try to get the latter group (which tend to be more expensive) when I can plan a couple meals in a row that use them.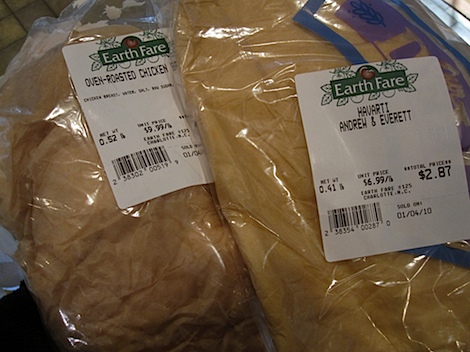 Deli meat and cheese are great to have around. Throw them on bread and you have lunch or dinner (toast it for extra oomph). Put them in egg scrambles. Make mini frittatas out of them…whatever you like! They are very versatile.
Today, I bought oven-roasted chicken (which I had shaved – I love the texture so much more than sliced) and havarti cheese.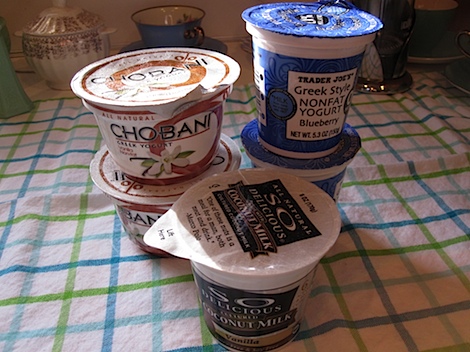 Yogurt are great for quick, no-cook snacks, breakfast, and even dessert (you can even use them for baking or sauces!). I like to buy whichever yogurt is on sale. I love having a nice variety of yogurts to suit my mood: regular yogurts (like Wallaby), Coconut milk yogurts (like So Delicious), and Greek yogurts (like Chobani).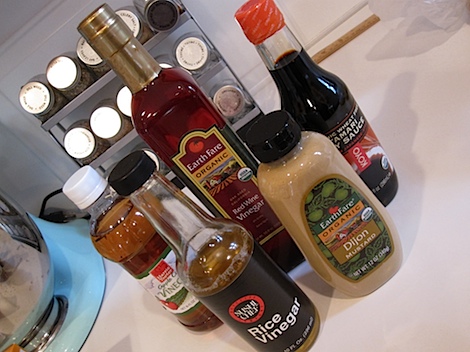 Sauces and condiments are a must in my pantry. You can use them to make salad dressings, marinades, toppings, etc.
Pictured: apple cider vinegar, rice vinegar, red wine vinegar, dijon mustard, tamari.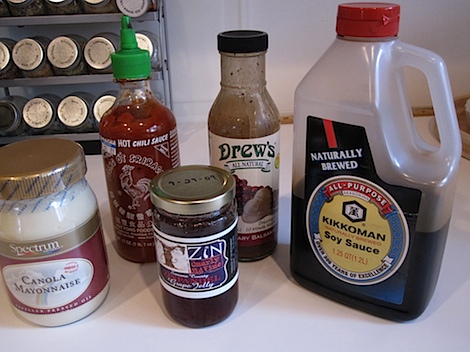 Other sauces and condiments: canola mayonnaise, sriracha, jelly, salad dressing, soy sauce.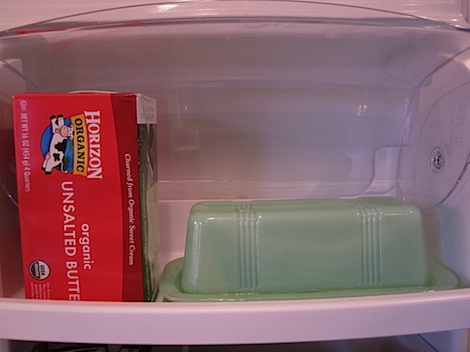 I've switched to organic butter. I think it tastes so much better! I do also have Earth Balance for recipes where I feel a margarine-based ingredient is better.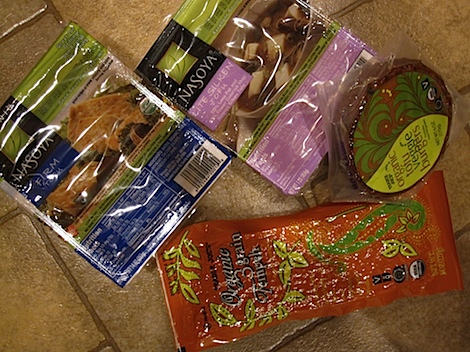 Tofu, tempeh, and other soy-based products are wonderful pantry items. They usually last a long time so you can buy them and know you just need to eat them in roughly a month (as opposed to chicken which needs to be used very quickly). I often use tofu when I'm at home and want a nutritious meal but don't want to go anywhere. (I usually only buy meats when I have a particular recipe in mind).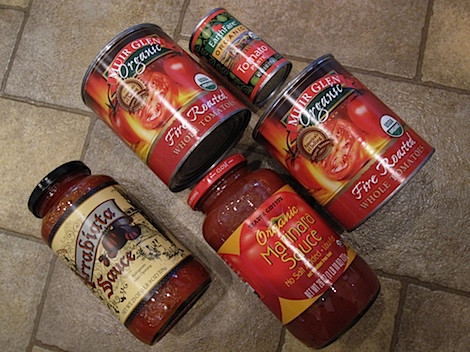 Tomato sauces and canned tomatoes make great pantry items. They last a really long time and make for a quick dinner. Add to pasta and call it dinner if you're desperate for food but don't want or have time to go to the store. Ok, that's not the best dinner ever, but I said if you were "desperate"! 😉 I've used pantry items, including tomato sauce, to make dinners like my No Fuss Tortellini Pasta bake. You can use them in pasta dishes, soups, casseroles, etc.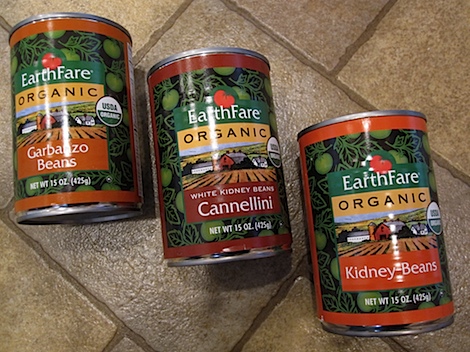 Like the tomato items, canned beans are great pantry items because they last so long and are so versatile. You can use canned beans in soups, stews, pastas, salads, or as star ingredients in vegetarian dinners.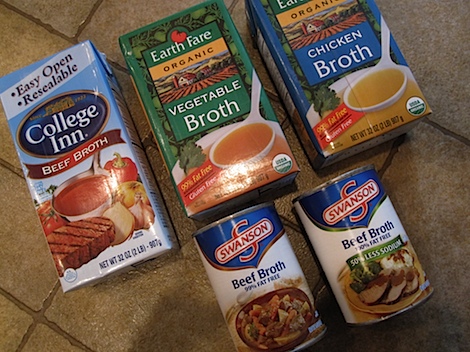 I absolutely love having broths and stocks in my pantry. You can use them to make soups, sauces, or in other recipes. I've used broth/stock along with canned beans and frozen veggies to make quick soups for lunch or dinner.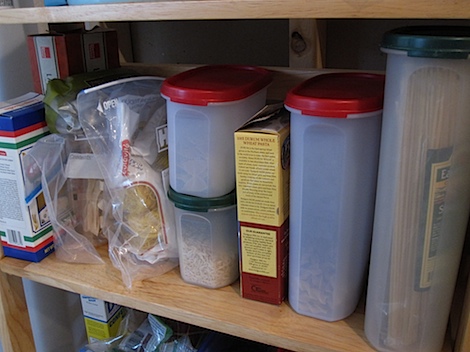 I always have lots of pastas in my pantry. These can be utilized to make regular dinners or those needed in a bind (when you don't feel like leaving the house). I like to store my pastas in tupperware to keep them airtight and so they last longer. If I run out of tupperwares, I like to keep the goods in plastic bags, but I think the tupperwares look nicer, are more efficient and are more eco-friendly.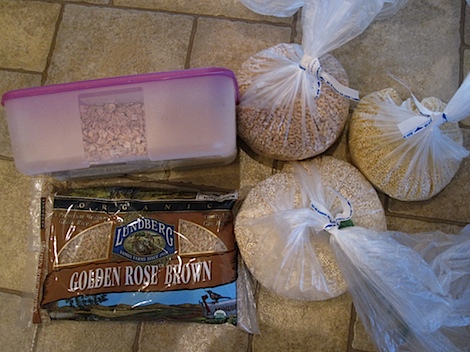 Grains are a must for me. I like to have lots: brown rice, white rice, oatmeal, wheatberries, millet, and quinoa (I think quinoa is not "actually" a grain, but whatevs). Like the pastas, I like to store mine in tupperware when possible.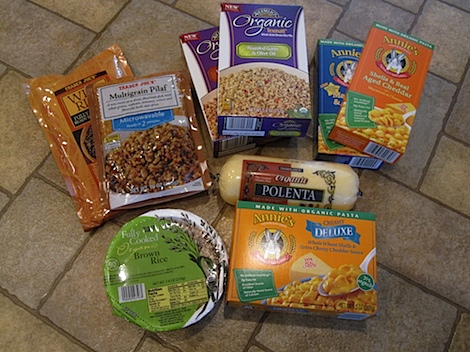 Quick grains are a life saver when you're hungry and considering ordering take-out or picking up pizza on your way home. I love boxed rice pilafs, boxed macaroni and cheese (when I don't have time for the from-scratch version), polenta, and quick-cooking rices (for when you want rice but don't want to wait for it to cook from dry).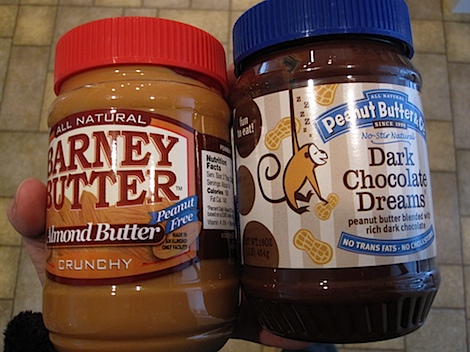 Nut butters are great quick sources of protein. Slap them on whole grain toast and you have a great breakfast. Toss a spoonful in your oatmeal to complete your carb + protein combo and to keep you fuller longer.
I typically have a PB, Barney Butter, and Dark Chocolate Dreams on hand.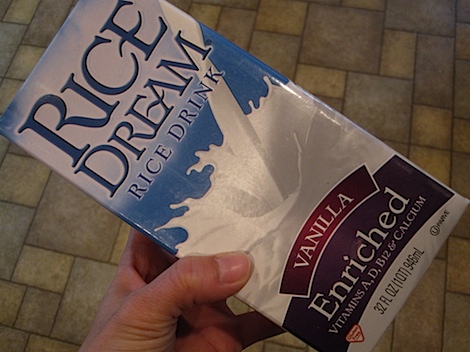 Non-dairy milks are great to have around for when you run out of milk or if you don't drink dairy (obviously! lol). I am a milk drinker, but I also enjoy drinking the non-dairy milks like rice milk, soy milk, or almond milk. These typically keep for a long time in your pantry and are great for cooking, baking, or just drinking.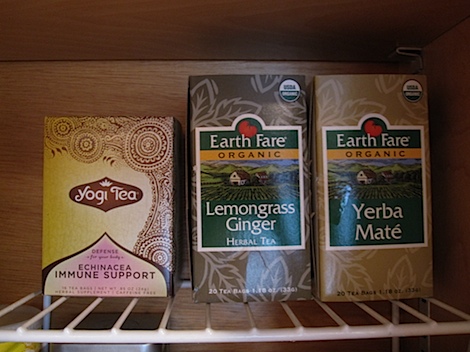 I am a big tea drinker, so I love to have a nice variety of hot teas in my pantry. I love sipping tea whilst watching my fave TV show, reading a great book, cooking, baking…whatever! Tea is delicious and good for you.
My current fave is Yerba Mate. I also have a selection of delicious Teavana teas in tins.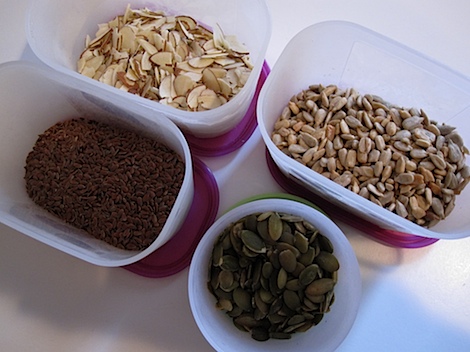 Frozen nuts/seeds are great to have around – especially for oatmeal toppings. Nuts go bad relatively quickly when left out, but frozen, they last much longer. Besides on oatmeal, I throw them on salads or use them for baking.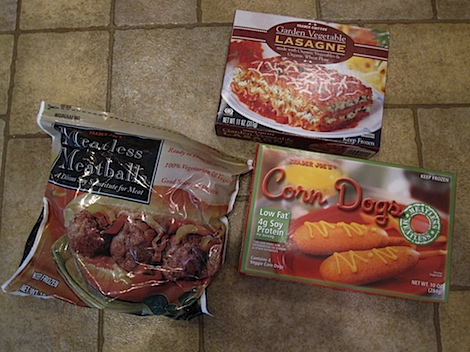 Frozen food items are great to have around for the convenience – especially because they last so long.
Pictured: TJ's Meatless meatballs, TJ's meatless corn dogs, and TJ's Garden Vegetable lasagna. You may be wondering why I have so many veggie frozen items here when I'm a meat-eater. I have some frozen meat items, but I really don't like the way frozen meat tastes. The meatless versions give me the protein without the weird taste.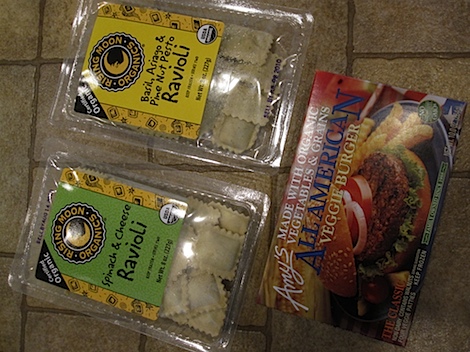 Frozen pastas are perfect because you can just add sauce and call it dinner, like my tortellini bake.
I've also used frozen veggie burgers paired with boxed macaroni and cheese and frozen veggies to make quick meals.
Oh, and not pictured but also in my pantry are frozen fruits and veggies (thanks for the reminder Rebeca). Frozen veggies are actually pretty darn close to fresh. They are typically frozen just after harvesting so you still retain a lot of the nutrients. I think frozen veggies are way better in taste, looks, and nutrition than canned (though fresh is always best IMO). I use frozen veggies as a quick veggie serving just microwaved with butter, salt, and pepper. I also toss them in pastas and soups.
As for the fruit, I use those in smoothies and desserts! I love to make fruit crumbles/crisps when I'm craving something sweet. I almost always have all the ingredients in the freezer and pantry and I like to think of crumbles as a dessert with a fruit serving (so it's kinda healthy, right?).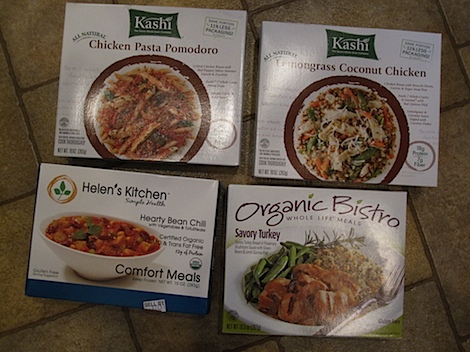 Ahh…the wonderful frozen meal. Ok, I'm actually not a fan of frozen meals. In general, I don't think they're very healthy, tasty, or great. I think they're ok in moderation but I think that people use them too much instead of trying to eat fresh food. However, I did discover a whole new group of frozen meals at Earthfare today that seem to be more healthy than your average frozen dinner. Additionally, I plan on taking all of these meals to work with me for those days when I'm at work and either forgot food at home or didn't have anything to pack. This way, I'll have no excuses to try to eat out during the day. These frozen dinners are going to be my emergency eats.
I'm going to try out some frozen meals by Kashi, Helen's Kitchen, and Organic Bistro.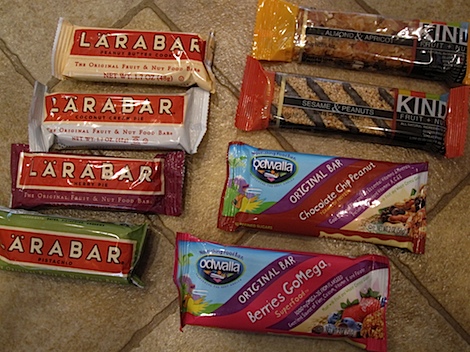 Another emergency staple – meal bars. Meal bars can be very healthy and often have great ingredient lists. I love them for pre-workout snacks, emergency fruit servings, or in a serious bind – emergency meals.
I like to buy my bars at Trader Joe's (where they're cheaper) or at other stores when they're on sale.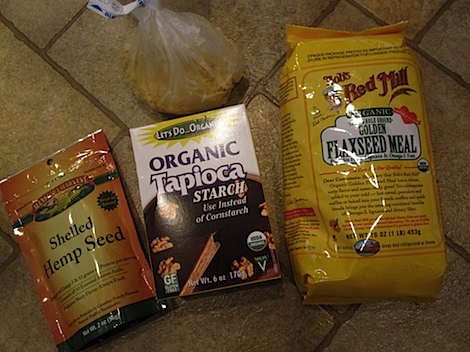 I picked up some random healthy food items that I saw referenced in some recipes in Eat, Drink and Be Vegan. I can't wait to try some vegan baking out! Some of those ingredients are expensive, though!
Today, I picked up: Shelled hemp seeds, organic tapioca starch, nutritional yeast, and flaxseed meal.
I promise, if you keep a well-stocked pantry with quick-cooking, well-rounded ingredients, you'll be less likely to order take-out and much more likely to eat in and you'll have some darn good eats, too!
What are your favorite go-to pantry items when you're hungry and short on time?