After a most-enjoyable, healthy, nutritious, and energy-providing lunch, I got ready with my friend Megan to do a zumba performance at a local park!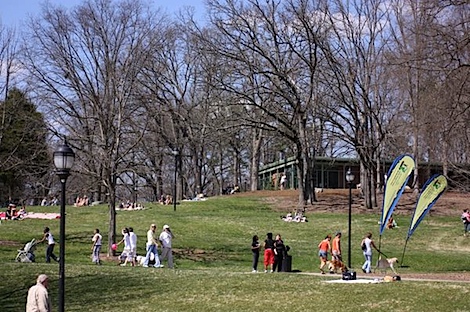 The park was packed for a special event featuring some of the local activities and organizations. We were showing off how fun a dance workout can be.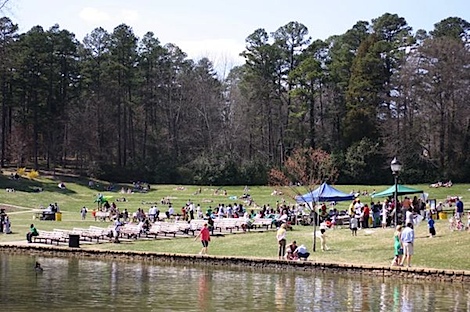 I guess everyone wanted to enjoy the beautiful weather!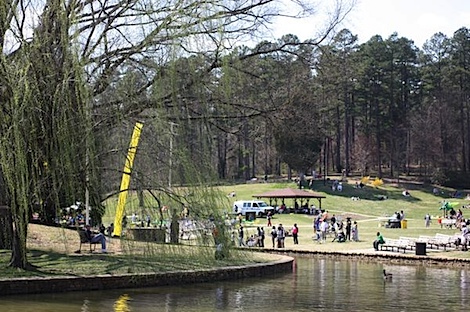 The sun was shining and the skies were blue with white fluffy clouds happily floating by.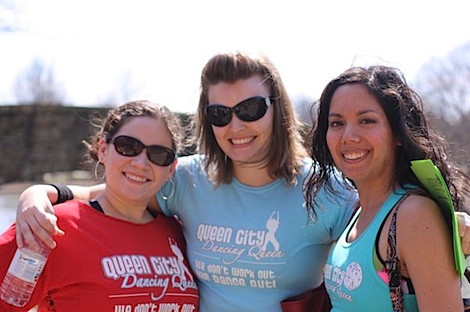 Me with some of my faves: Kat and Megan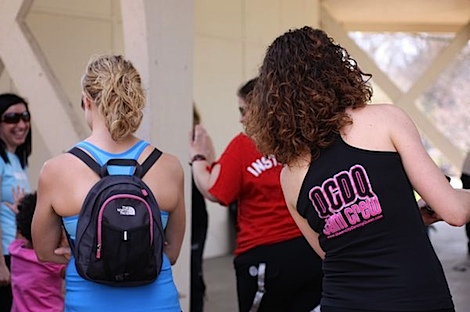 I met up with the girls I was dancing with, and we chit-chatted by the stage before it was our turn.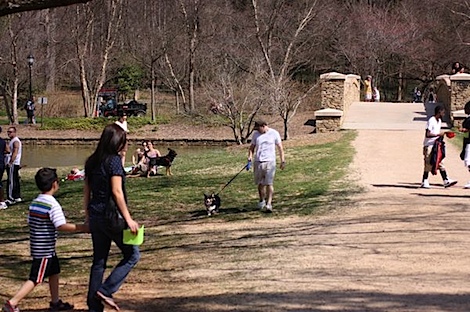 Hubby showed up with Bailey just in time to take some photos of us dancing.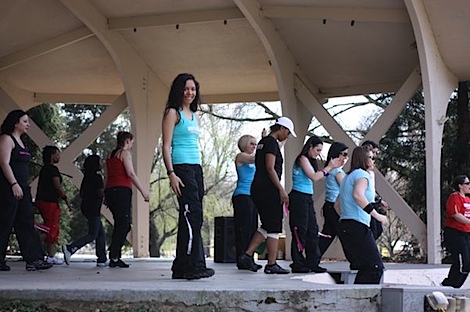 Now, I know we've talked about stage fright and stuff and how I have it big-time, but today…I was fearless! I mean I was honestly not nervous at all. I was excited and happy. It felt great to be dancing in front of so many people!
Here are some photos from our event: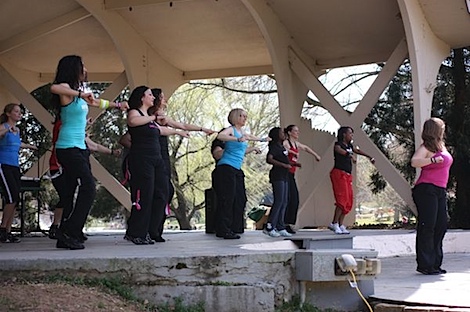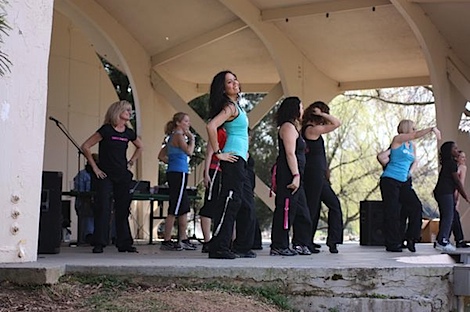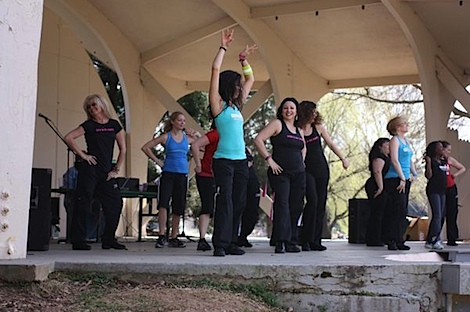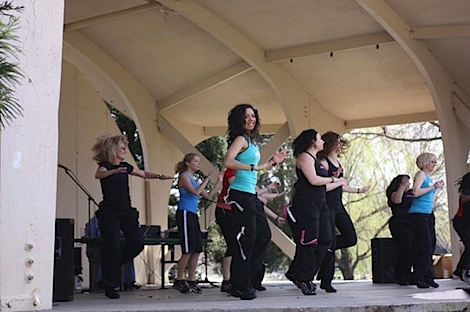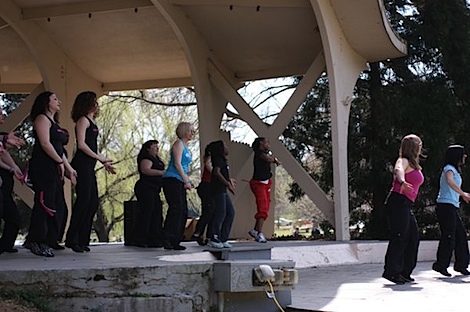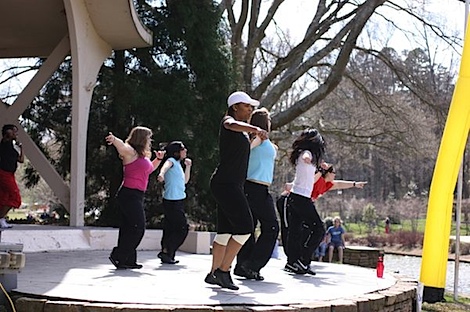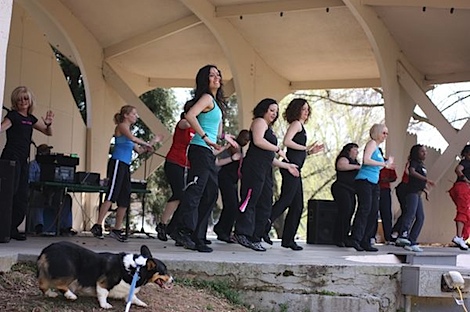 Bailey almost made a guest appearance.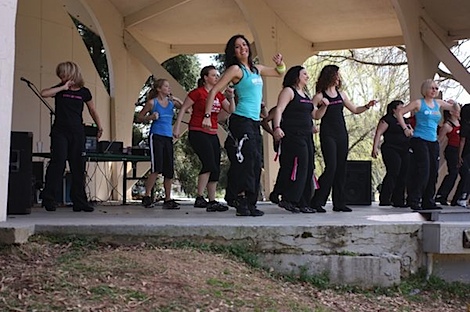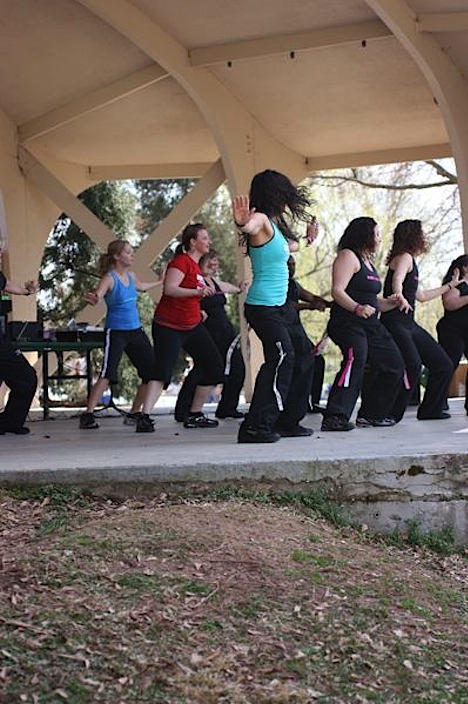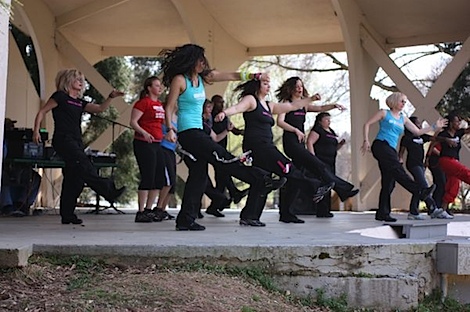 Wheeeeeeeeee! So F-U-N!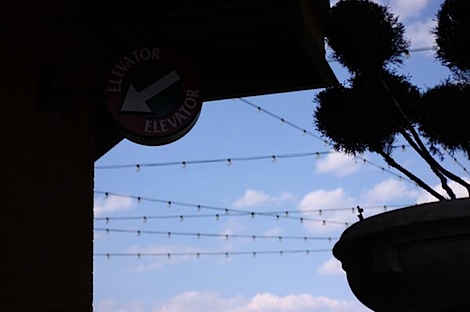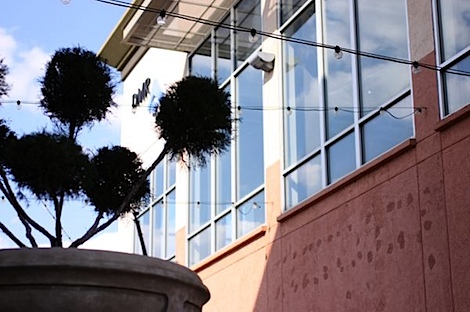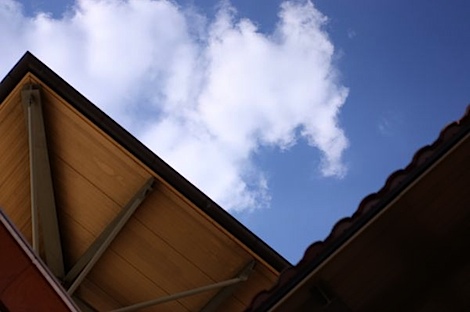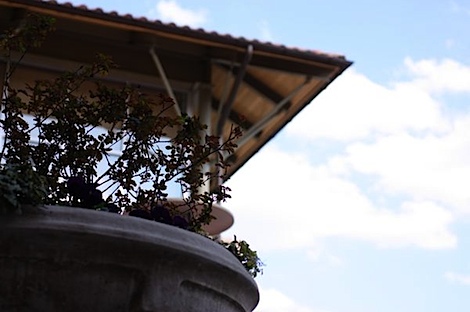 Afterwards, Hubby and I headed out to a local shopping center that has a great outdoor eating area. We wanted to enjoy the sun and the beautiful weather some more.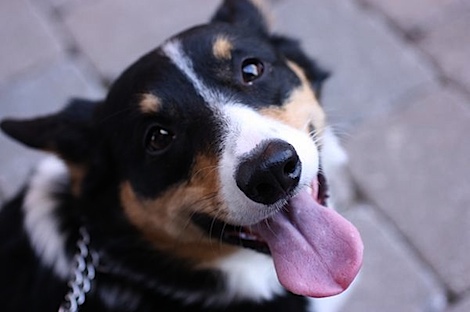 We even took Bailey with us.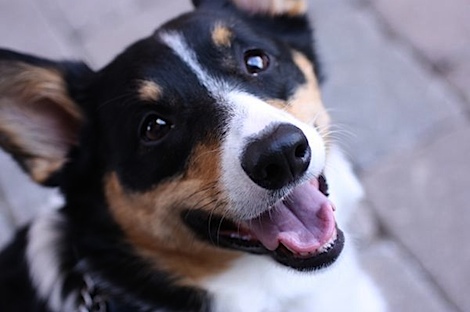 He was so stoked.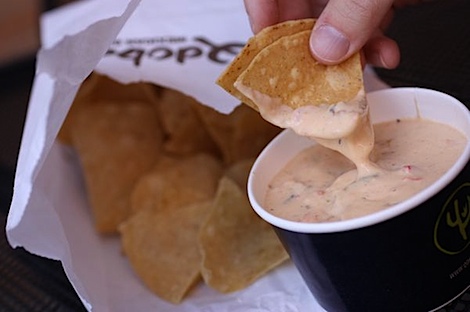 Hubby really wanted nachos but doesn't like them sans meat. So, he got chips and queso instead. I had a few of his chips.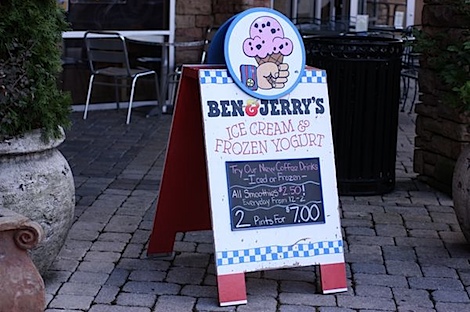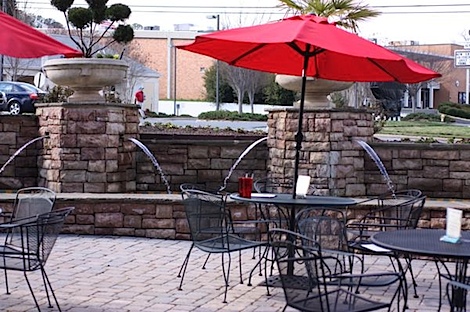 Then we headed over for something I wanted…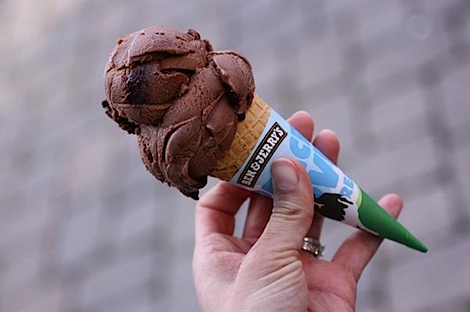 Ben & Jerry's Ice cream! Ok, actually, I got chocolate brownie fro-yo, not "ice cream". It tastes just as decadent as ice cream to me but it's not quite as bad.
Small Rant on Portion Options
I wanted a kids cone (1 scoop) but they apparently told hubby (I was outside holding Bailey) that was only for 12 and under. Why the heck can't an adult get a single scoop? I understand that adults shouldn't order from the kids menu, but they should have a single scoop on the adult one. This kind of goes to the problem I see in restaurants in general in the the states – GINORMOUS portions! Restaurants think everyone always wants everything bigger and more this and more that (and sadly they do). However, I can have a single scoop of ice cream and be perfectly content and I don't think I should be forced to purchase more than I want.
Assuming a scoop = about 1/2 cup, then according to benjerry.com, a kid's cone has 170 calories (1 scoop froyo) + 114 calories (sugar cone) = 284 calories for a kids froyo cone (remember, this is for a KID).
Now, for an adult, that's 170×2 (2 scoops froyo) = 340 + 114 = 454 calories in a "regular" adult froyo cone. I realize everyone eats a different amount of calories they try to eat, but this is more like the amount of calories I'd consider for a whole meal. And yes, I've eaten desserts and meals that I'm sure are way over this amount, but I like to do that very infrequently and my point is that one should have the OPTION to consume less calories by ordering a smaller size if they so choose.
The chocolate brownie ice cream version is worse – for an adult 250×2 (2 scoops ice cream) = 500 + 114 = 614 calories in a "regular" adult ice cream cone.
Now, you guys know I love my desserts and I love my sweets and I eat bad things and decadent foods. But, I don't see any point in eating these things unless I really WANT to. And if I don't want 2 scoops of ice cream, I should be able to order ONE.
I mean, this kind of goes to the whole, "big eyes" syndrome. My parent's use the term "big eyes" when your eyes are bigger than your stomach, i.e. you put more food on your dinner plate than you can actually eat because when you look at it, you think you can eat more than you really can. Anywho, put too much food in front of someone and they're going to try to eat it.
Again, I know ice cream and froyo is a decadent treat. I don't care about the amount of calories/fat/sugar/whatever in them. My deal is really about portion options and not being able to get small enough size (especially when one scoop is a pretty standard size at most places).
And please don't read into this little rant too much because I'm not really super mad or anything…just a little peeved. Ben & Jerry's – I still love you and your froyo, but if you put a single scoop on your menu I will love you even more. 🙂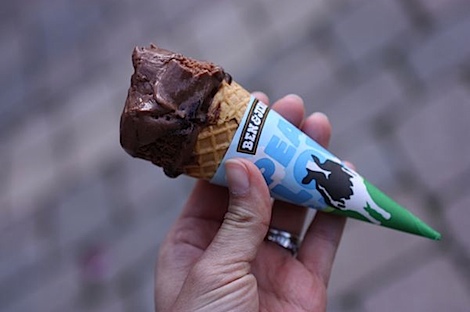 Anywho, my solution was having hubby help me out by eating off some of the top. Thanks hubby!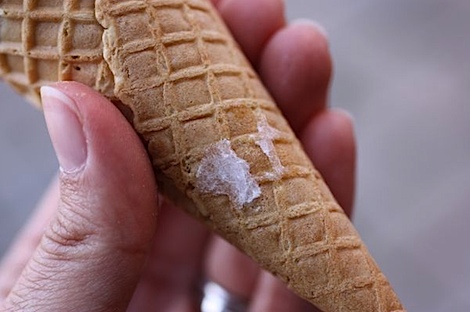 Random reader question: when the paper sticks to your ice cream cone, do you eat it? I scratched and chipped mine off. No glue for me, thanks! 😆