Aww…he's such a cute sleeper…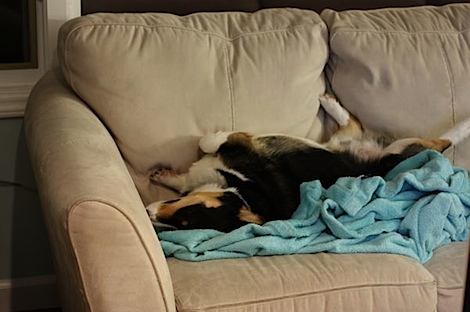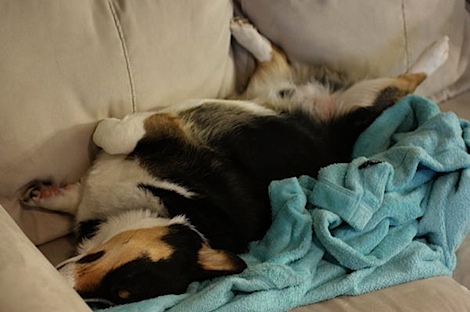 Had to share these cute photos of Bailey asleep on the couch last night while I blogged away. He's such a goober when he sleeps sometimes.
*
*
*
On to today…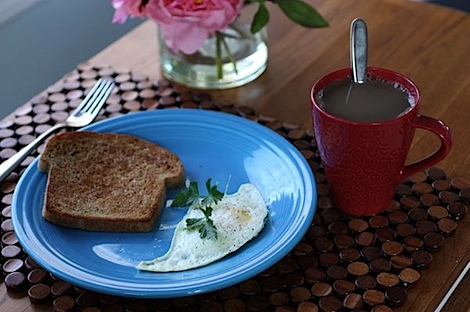 Oatmeal with coconut milk was calling my name, but so were the eggs and Great Harvest bread which are both about to expire any day.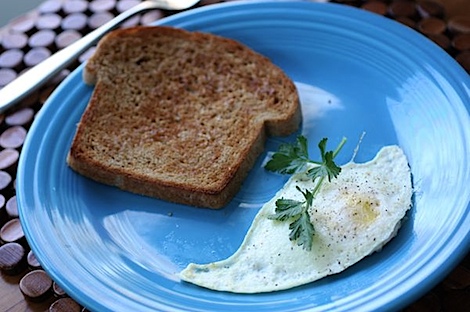 So, since I was WFH today, I whipped up one of hubby's fave breakfasts – fried cage free eggs and toast – 2 servings – one for each of us.
Work was so much better today from the comfort of my house. I really think I'm more productive here anyways.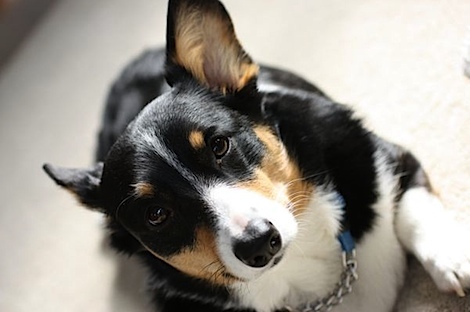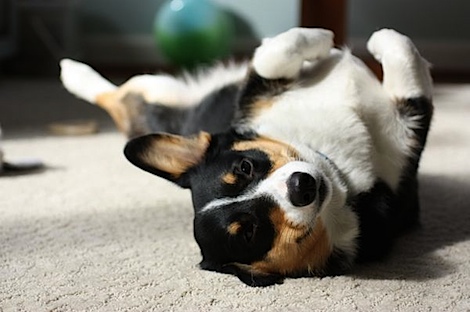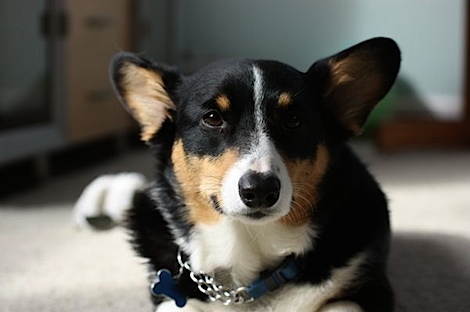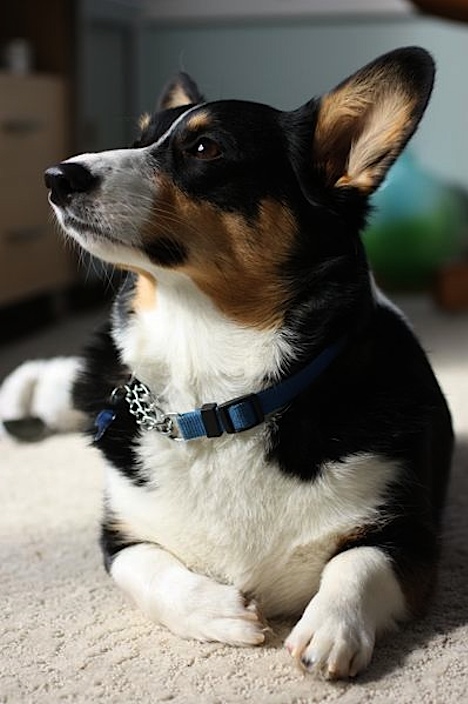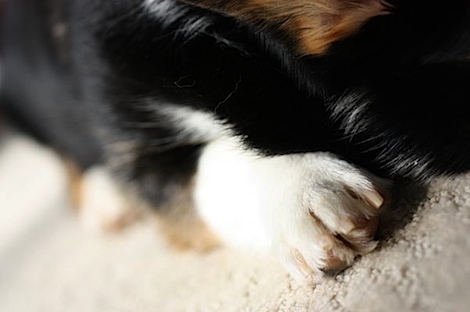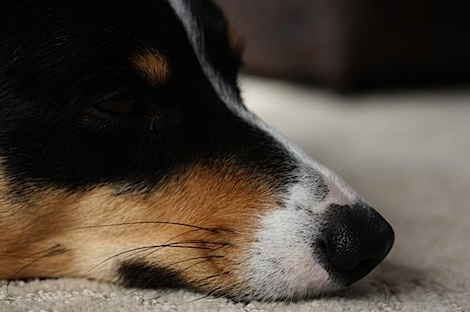 The only break I took today was to take some quick photos of Bails. He's such a great little model.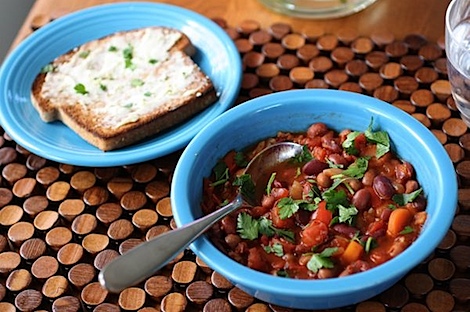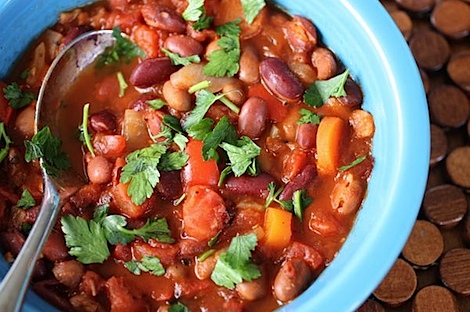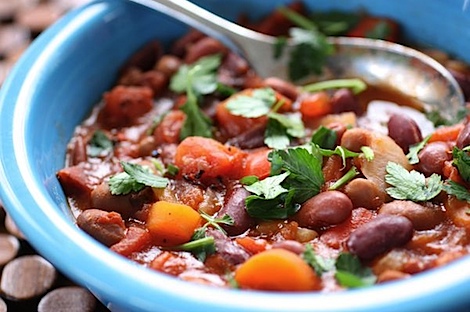 For lunch, I heated up more of my healthy vegetarian (guess it's actually vegan, too) 3-bean chili, which I brightened up with some fresh parsley. I love how vibrant all the colors of this chili are!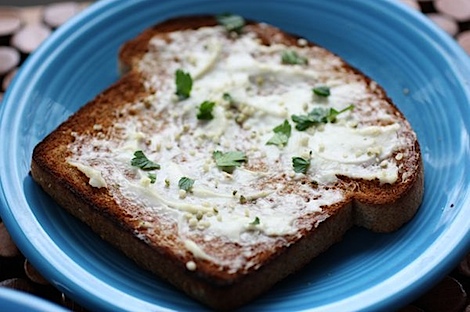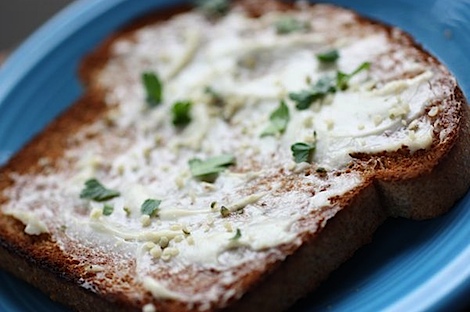 On the side, I toasted up more Great Harvest honey whole wheat, which I topped with some Laughing Cow cheese, fresh parsley, and hemp seeds.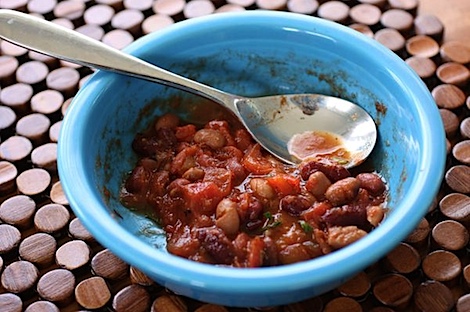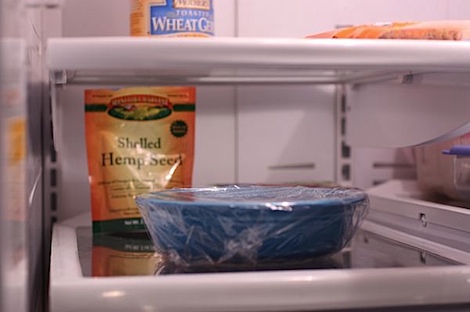 I ended up feeling full before I finished, so I decided that rather than forcing myself to finish, I'd save it for later.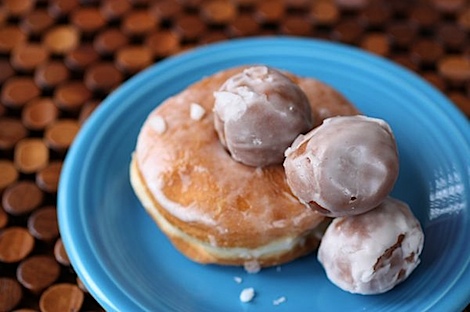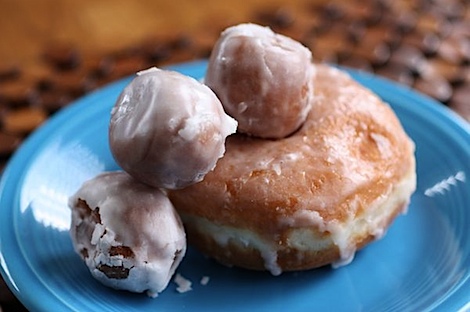 Hubby got us some doughnuts from our fave local bakery, which I enjoyed in the afternoon.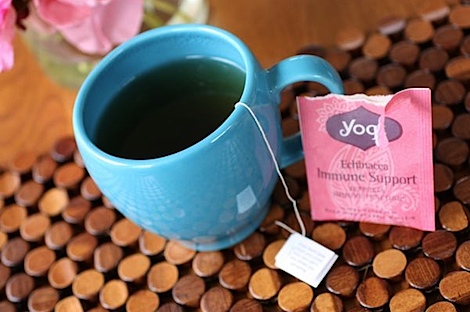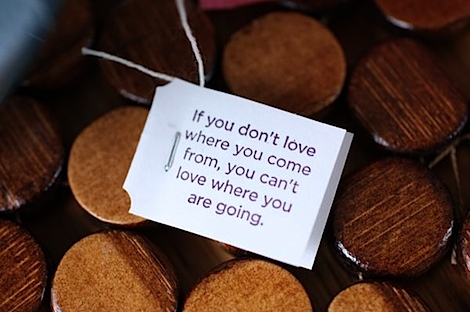 Yogi tea quote: "If you don't love where you come from, you can't love where you are going." What do you think about this quote? Do you think it's true? I don't know about the quote, but personally, I am just recently coming to peace with where I came from. I've started to appreciate my life up till now with all the times I felt like both a success and a failure.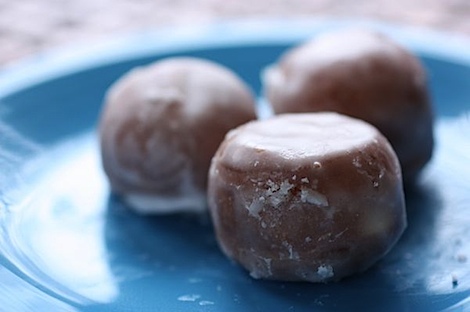 I had some more doughnut holes later in the day.
You guys know I love my sweets and I pretty much eat them whenever I want, though usually as a way to say "take that restrictive eating! I eat what I want!" But, I'm coming to a point where I'm becoming more open to change and to possibly even giving up some of my sweets. Note – keyword = "some". You guys know I'm big on gradual changes, but I'm keeping an open mind and I'm planning to do some research. We'll see how things pan out.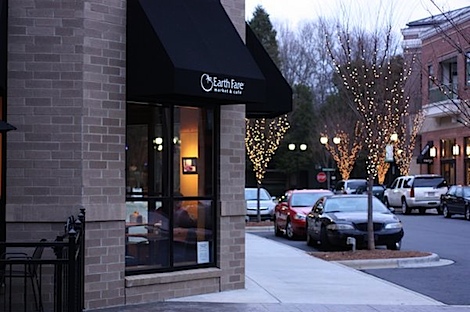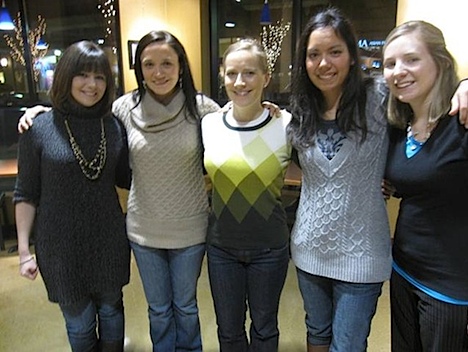 I met up with some girlfriends tonight for a casual dinner at Earthfare. From left to right: Michelle, Emily, Kath, Moi, and Kate.
(Group shot photo thanks to Kath)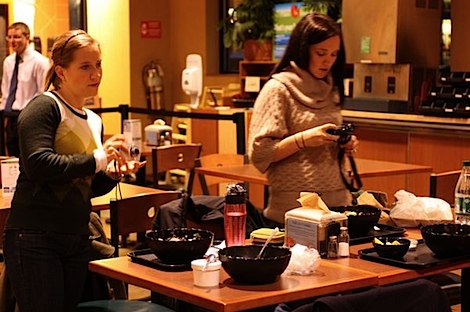 After picking out our eats, we took a moment to capture them on our cameras.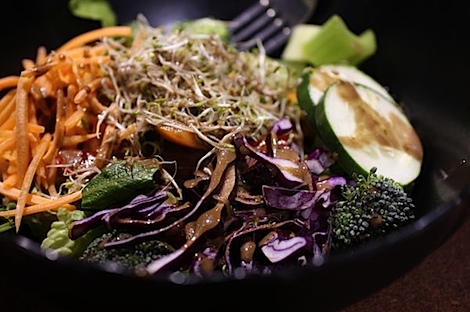 I got a salad with romaine, baby spinach, purple cabbage, broccoli, cucumber, carrot, sprouts, bell pepper, celery, and balsamic vinaigrette.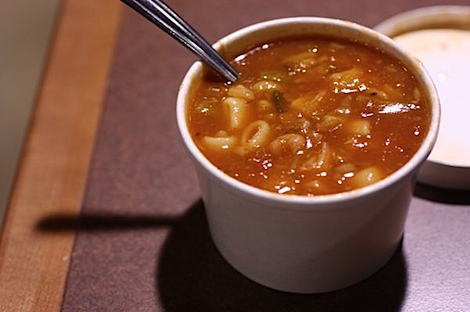 Plus a minestrone soup.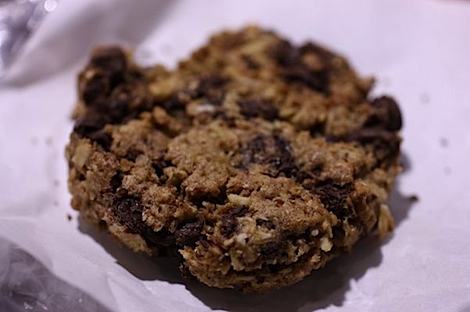 Of course I enjoyed a whole wheat chocolate chip cookie, which I discovered this week is also vegan.
Oh and Michelle let me sample the vegan blondie she got and it was really good too! I may have to get that next time!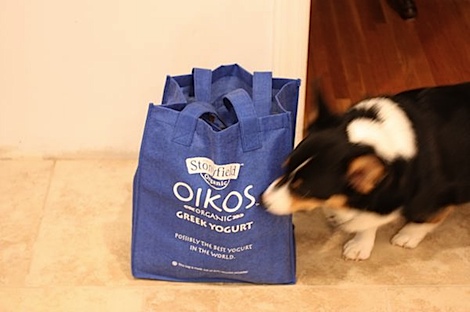 I made use of the Stonyfield reusable tote I got yesterday to do some grocery shopping tonight.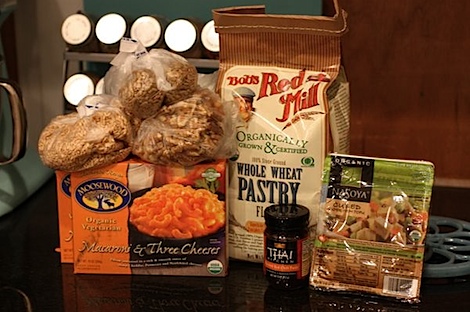 I picked up some staples: whole wheat pastry flour, tofu, roasted chili paste, wheatberries, walnuts, sunflower seeds and a new frozen mea to try – Macaroni & Three Cheeses.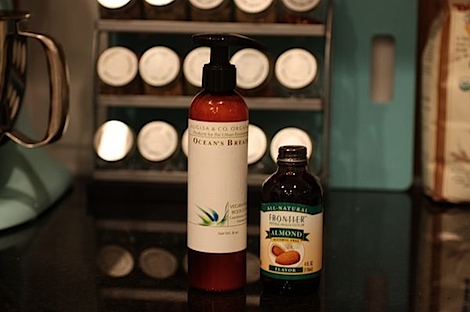 I also got some Augisa & Co Organics vegan body lotion (locally made!) and some all natural almond extract.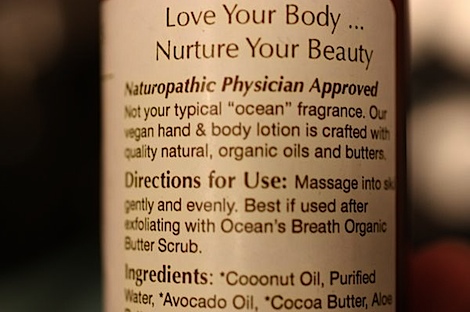 It turns out the lotion is made by a lady I met once. She had the booth next to me when I was selling my handmade jewelry at a local craft show. Neat! I'm glad to see she's doing well – I always liked her lotion.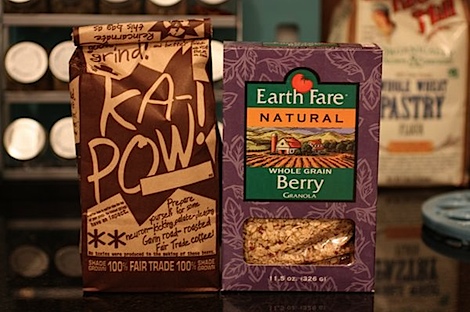 By far the best deal was the granola and Larry's coffee beans I scored for FREE! Yes, that's like $15 worth of stuff for free because I am signed up for the Earthfare email newsletter and they sent out a coupon for free granola and coffee with purchase! I forgot which flavor of beans I got but the description said something about being smooth with hints of vanilla or something and that sounded pretty good to me. For the granola I selected the Berry flavor.
If you live near an Earthfare, you must sign up for the newsletter! Such great deals! You can sign up at the bottom of their homepage at earthfare.com.
Also, take their Boot Challenge. It's easy – they show you 2 products and you guess which one Earthfare would not sell in their store due to their policy on only selling high quality, healthy products (you can read their list of banned ingredients here). After submitting your guess,they tell you which one they would not permit in their store and why. I think the challenge is a fun and easy way to learn more about products you consume. Knowledge is power people. 😉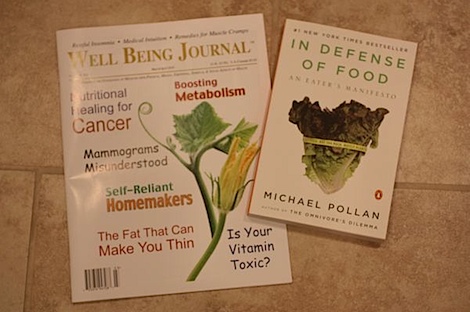 Oh and I swung by Barnes & Nobles quickly to pick up a gift for a friend. These aren't the gifts for them. These are things I picked up for me: Well Being Journal and Michael Pollan's In Defense of Food. The magazine looked like a good read and though Kath said I could borrow IDofF, I decided that it may be good to keep in the house for reference, so I bought. But thanks for offering Kath!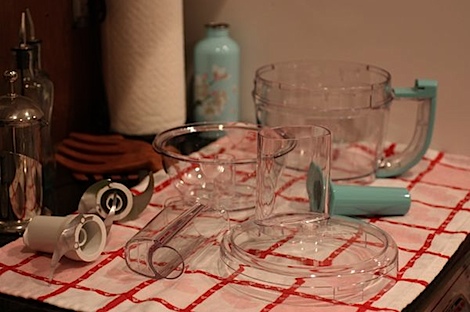 On another tangent, I washed my new (yes, I got it for Christmas but still haven't used it) Martha Stewart blue food processor parts today. I have a fun food project planned and just need to put it together. I'm so excited to try out my food processor – I've been wanting a good one for a long time!
*
*
*
Tidbits
Heard about Zumba but not sure what the fuss is about? Want to know what to wear to class? What to expect? Check out my post on Zumba 101 – read the questions and answers for those new to Zumba.
I've answered more Formspring questions – see answers on my last post. Ask me some more questions on my Formspring profile (click).
I'm workingon some more detailed pages, but I did a quick update of my About page. Check it out.
Is Society Too Caught Up in Figures for Diet?
On another note…did anyone else see the news article today that Weight Watchers and McDonald's have teamed up? Yup, McDonald's is going to start promoting and selling WW-friendly meals. Is anyone else reminded of the so-called Taco Bell drive-through diet.
Is it healthy to make your WW points if all you ate that day was overly processed fast food? Are 1200 net calories of chicken sandwiches and french fries better than a day's worth of whole foods?
I understand that counting calories, fats, and sugars really help some people lose weight, but, personally, I tend to get lost and confused trying to keep up with too many figures. I do okay focusing on one area at a time, but my best success in getting healthier has been when I returned to my roots and what my Dad has taught my family: eat the best quality food possible – the less processed the better. When I focus on eating as much whole food as possible, I have an easier time maintaining a weight loss (or losing weight) and I feel better, too. Instead of stressing over every gram of fat I'm consuming in a day, I can enjoy my food and know that I'm nourishing my body and that the fuel I'm providing it is high quality.
Do you think our society has gotten too caught up in figures when it comes to their diet (diet as in "food and drink regularly provided or consumed" as defined by Merriam Webster)? When you're grocery shopping or deciding what to eat, what's most important to you? Do you worry more about making sure you don't go over your calories for the day (whether those calories include fast food and overly processed food) or do you focus more on the quality of your food (opting for whole foods, organic, etc)? Or something else?
I've created a poll so people can weigh in on their personal preference:
[poll id="3″]
I'd absolutely love it if you elaborated on your answer or provide an answer you don't see in the poll in a comment. 🙂