After a looong work week, I was looking forward to a nice hour of dancing my a$$ off and dancing my stress away.
After fueling up with a great day of eats (homemade blueberry muffins, Asian-inspired tofu/collard greens), I headed out for class and had a fantastic hour long workout.
I was planning to make Kath's yummy-looking vegetarian lasagna after class, but ended up having a girls' dinner out. I will be making the lasagna probably Saturday night now. 😉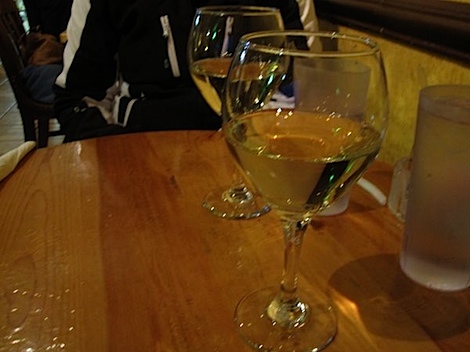 Megan and I headed out to a local Mediterranean restaurant, Kabob Grill. I started with a glass of Front Porch Chardonnay. I got it because I liked the name. Silly no? 😆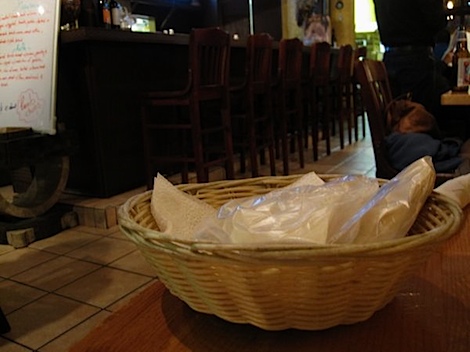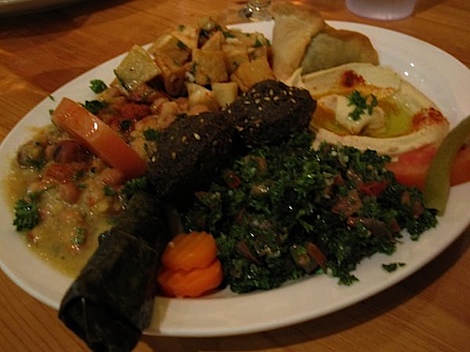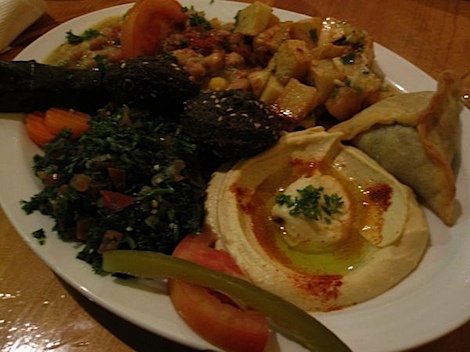 I got my usual – the vegetarian combo – aka party on a plate: tabbouleh, yalanji, hummus, foul mudammas, potatoes harra, spinach pie, and pickled veggies…plus pita bread on the side.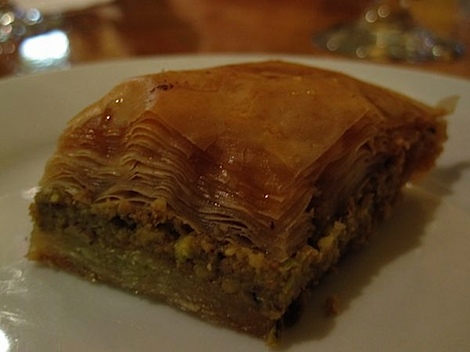 Can't resist a little piece of baklava!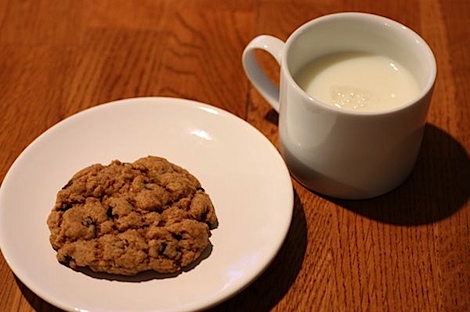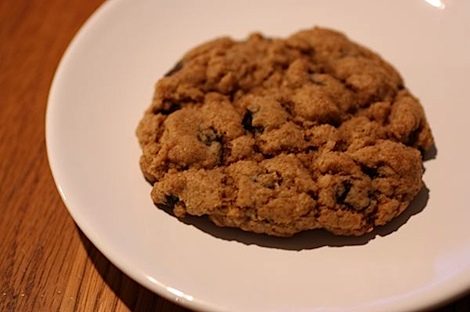 I also couldn't resist one of my vegan chocolate chip cookies with some organic milk either.
I enjoyed my cookie while prepping…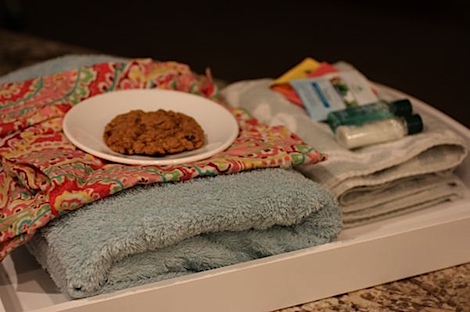 …a welcome tray for my sister! She is visiting us for the first time since we got our house, so this will be the first time she's seeing it (besides the blog photos).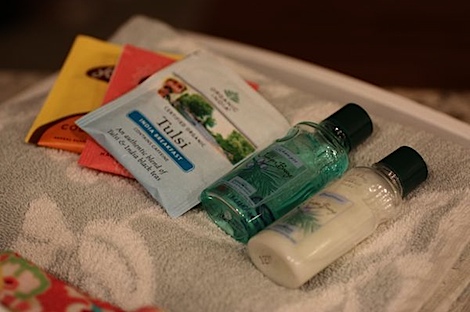 Teas, soap/lotion…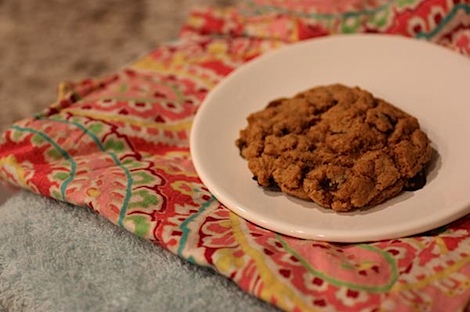 …towels, PJs, and a vegan cookie (because she likes sweets too).
What a great Friday evening! Though I was feeling a little drained earlier thanks to my workout, fun dinner with Megan, and visit from my sister I'm feeling re-charged and re-vitalized! I'm ready for the weekend…here we gooooo!
Real Food Closing
Sad news…one of my favorite restaurants in town, Real Food Charlotte, suddenly closed just earlier today. I actually had been planning a group get together there this weekend, so I'm extra bummed. I've really enjoyed my experiences there and am sad to see it go.
When I look at the pictures of the staff online, I can envision them all carefully working as always behind the colorful little bar of the restaurant baking vegan breads and making other fabulous foods. I loved how much attention they put in their foods and ingredients. They will be missed by many.
I'm thankful I had the chance to enjoy some of their eats before they closed. Click here to check out a quinoa burger I enjoyed there just last Saturday.
Q+A with The Chic Life
More fabulous Formspring questions. I just love answering these! Have a question? Ask me here (click).
When did you get Bailey? Did you know about Corgi's before? (I you have posted this before sorry I am a new reader!)
We got Bailey from a pet shop. Eek! I know! I heard you're supposed to get pets from breeders, but we didn't and I'm so glad we found Bailey. He has been such a blessing in our lives.
I first learned about corgis over at Posie Gets Cozy (http://rosylittlethings.typepad.com) and thought they were adorable. After researching them, I discovered that a corgi would be a good fit for our lives based on their size and temperament primarily.
I'm planning to do a page for Bailey, so hopefully I'll be able to share more info there. 🙂
Any chance we'll get to see more pictures of your house soon?
Yes! We haven't really done too much with the house lately so I don't have a lot of updates. But we do have one update I need to share, I just keep forgetting! lol
I want to start blogging? How would you suggest I learn how to and how to add good photos too? XO
1. Immerse yourself in the environment. Read lots of blogs with styles you like and photos you enjoy looking at. 2. Choose a style/niche for your blog 3. Research. There are lots of good articles written by other bloggers and authors about how to start blogging. Carrots N Cake wrote a good one: http://carrotsncake.com/2009/09/so-you-want-to-start-a-blog.html but a google search will probably provide some other options. 4. Get a good camera. Talent is one thing but a great camera really helps. Try to get one with an image stabilizer or maybe get a small tripod. 5. Research photography tips. Depending on your style of blogging, you'll have a different set of tips. Here are some for food bloggers by BlogHer: http://www.blogher.com/helpful-food-photography-tips-fellow-bloggers 6. Practice. You'll learn a lot just by starting and maintaining your blog. Keep an open mind and a lookout for useful tips. Hope this helps!
What is you ethnicity/ family background?
My mom is from the Philippines and my dad is American.
Do you think that you want to have kids now or in the future??
On the one hand, I'd like to be a young mom so I can play with my kids and have lots of energy. On the other, things are pretty crazy right now with the house and everything so I'd like things to settle down first at least. Hubby and I haven't really planned the timing for children yet, so I'm not exactly sure.
Do you have plans of having a baby?
Yes, but we haven't really planned out the timing of this yet.
Will you ever go back to posting outfits of the day on your Shopaholic blog?
I've been having a hard time with the outfit posts now that I'm trying to not shop so I can save money for the house. But, I would like to post now and again. Things have just been so busy! I find I have a lot more content for TCL since it's mainly about food and I have food every day. 🙂
Project Hydrate Day #19
Consumed:
7 cups water
2 cups hot tea
I should have had more considering my workout! Oopsie. 😳
Randomness
Check out the fun discussions I've got going on on my Facebook page. I've added several new ones that are getting some good info. I'd really love to hear from you!
Big announcement Monday! Can't wait to share some exciting news!