First off, Marie guessed my sister's oatmeal design from yesterday – nice work!
*
*
*
I love my brunches dearly, but they totally throw off my eating. I rarely show photos of my snacks but that's mainly because I rarely snack. I like to have 3 solid meals every day with snacks thrown in on occasion to make up for light meals or for work-out fuel.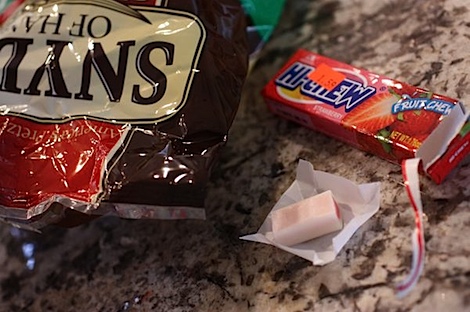 Today, at around 4pm, I started getting the munchies, so I grabbed a couple handfuls of pretzels, a couple pickles, a handful of almonds, and a couple Hi-Chews. So random…I know!
Anywho, snacks or not, I still plan to enjoy many more brunches – they are simply too wonderful to miss. 🙂 I'll have to plan out better snacks next time. I just really wanted something salty, something tangy, and something sweet.
Sis and I did MASSIVE cleaning in the house. We:
scrubbed the guest bathroom floor
cleaned the toilets
wiped the bathroom countertops
scrubbed the tile shower – floors, walls, doors, cracks, crevices, you name it
hung a new shower curtain
cleaned the sinks
organized the living room
reviewed a couple "junk" boxes
I love being so productive.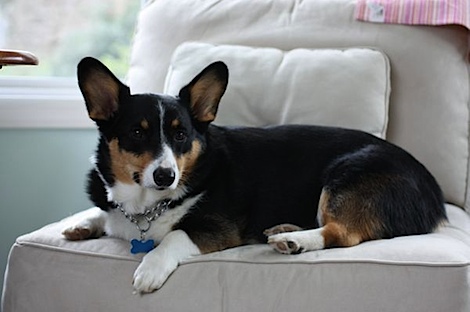 Random Bailey shot.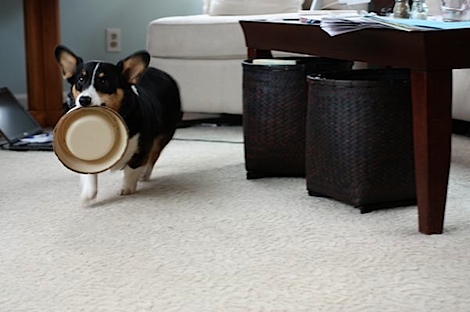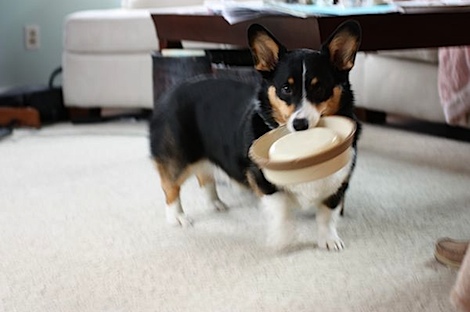 He told us when it was dinner time for him.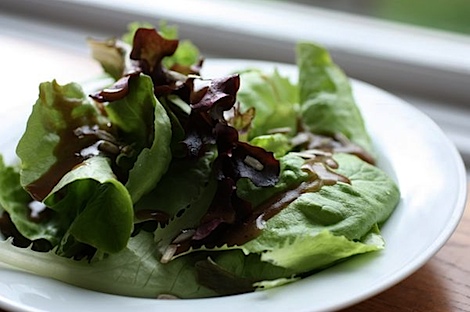 After all the cleaning, we worked up an appetite. (I put the lasagna back in the oven at 350 for about 45 minutes while we worked away – it's so much better re-heated in the oven IMO than in the microwave).
I started with a local lettuce salad with sunflower seeds and rosemary balsamic dressing.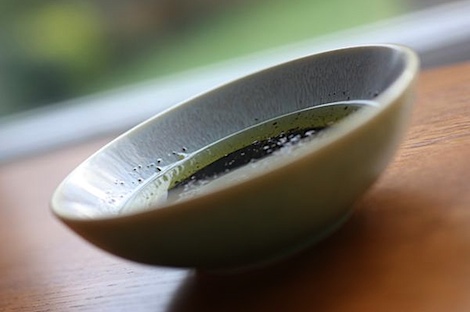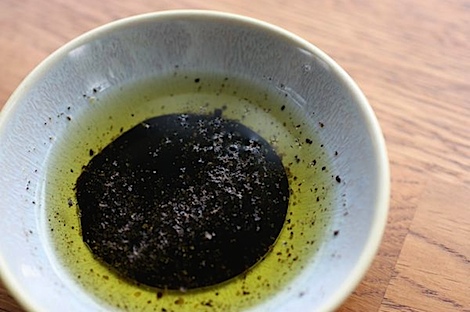 Sis requested olive oil with fresh cracked pepper for dipping our bread. I added balsamic vinegar b/c it's a must in my dipping bowl.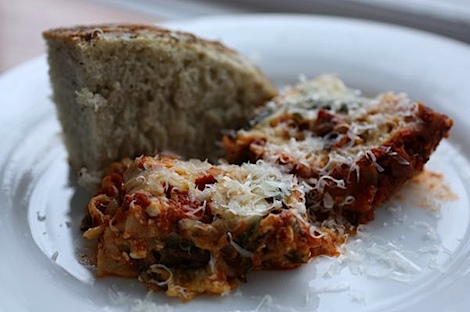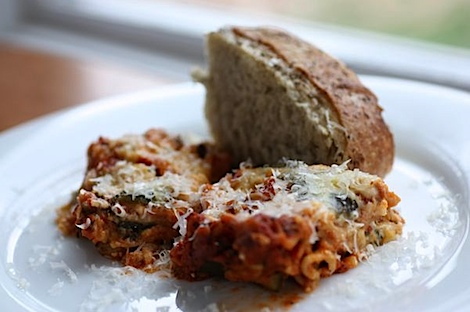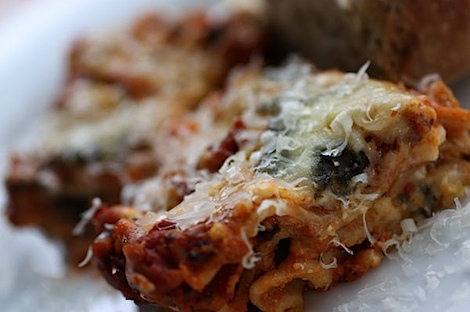 The lasagna was still delicious Day #2. Especially topped with some fresh-grated parmesan and served with some rosemary bread (drizzled with EVOO, sprinkled with salt, re-heated in the oven at 200 degrees F – tastes fresh-baked! Mmm….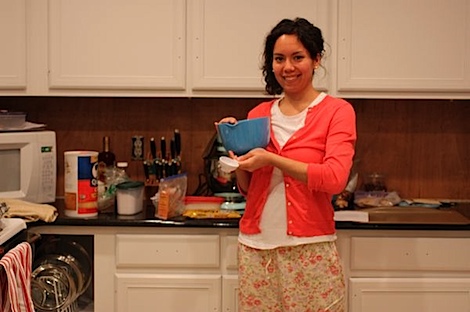 The local TV stations reported severe weather, so Sis decided to stay one more night. We decided to bake in our PJ's.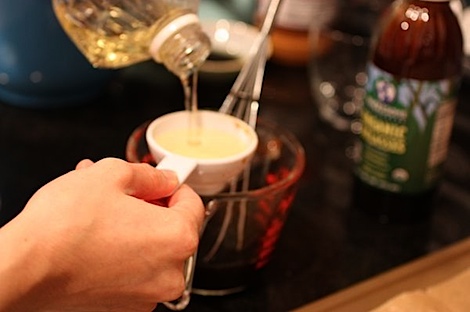 The cookies looked promising.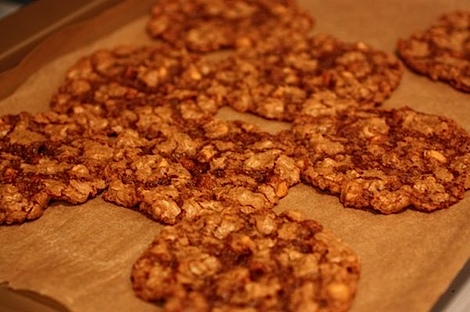 But they totally spread out together to be a big cookie blog. The texture wasn't quite right either. Gotta work on this one some more. Practice makes perfect, right?! You'll never learn if you don't make mistakes.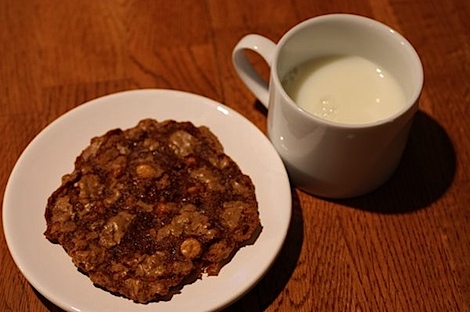 I mean, the cookie was still edible and tasted darn good, too! I just wasn't 100% satisfied with the texture (or flavor).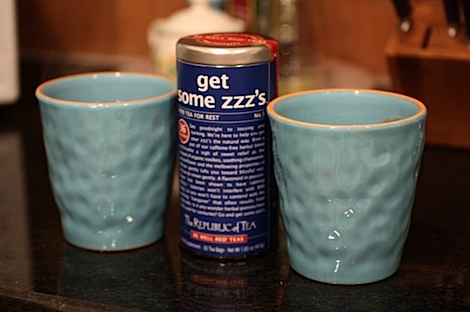 I made bedtime tea for me and Sis. I've been letting her pick her mugs and bowls all weekend and tonight she chose a mug to match mine.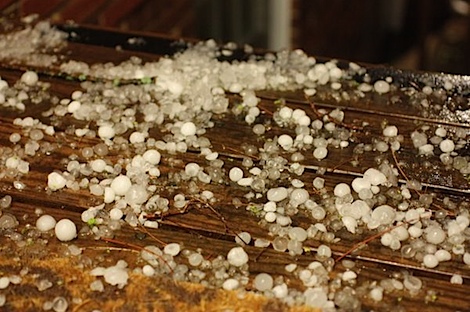 We had the tea just in time to catch a wild ride – a scary hail storm! Luckily, the storm was over quickly, but it was so LOUD!
Gave myself another mini facial tonight. My skin feels so soft! I hope this new routine works out and doesn't irritate my skin. Time will tell and then I'll be telling you. 😉
Do you ever look back at a weekend and wonder how you fit everything in that you did? This weekend was so much FUN! I love my lazy weekends, but jam-packed ones are pretty awesome, too. Now, if I could just squeeze in some much-needed yard work! 😆
I'm actually looking forward to Monday and not just because of Starbucks Monday. Mondays are like a chance to start fresh and I'm planning to go into mine with a positive attitude. Here we gooooo!
Prep Day Sunday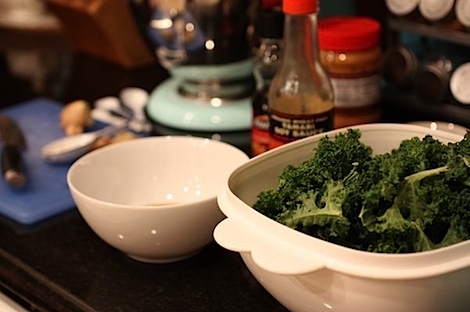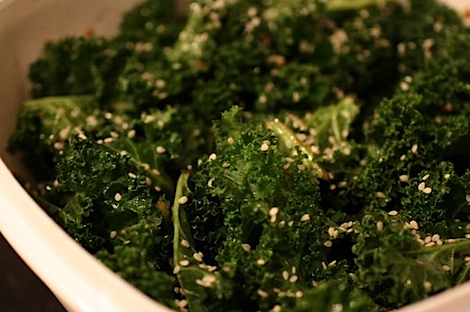 I prepped a couple things for Prep Day Sunday. I started with some marinated kale. I'm still perfecting the recipe, but I think I'm almost there! A taste test tomorrow will tell me for sure.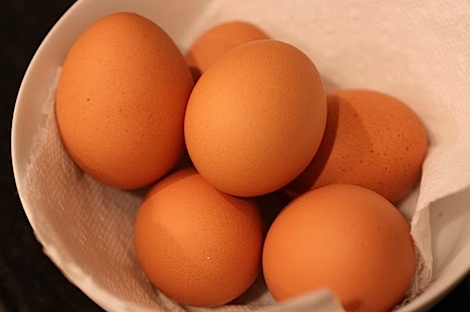 I also cooked some hard-boiled, cage-free eggs. I'm hoping to work on that egg salad recipe I promised you guys! I want to make sure it's a goodie before I pass it on. Nothing less than the best for you guys!
We actually have more veggie lasagna leftover still, so I may pack some of that up for tomorrow's lunch. Either way, I won't have time to prep food Monday night (busy-busy night!), so Sunday was the day!
Project Hydrate Day #21
I did a pretty crappy job with Project Hydrate this weekend.
Consumed:
4 cups water
1 cup hot tea
I'm wondering if maybe I should I continue with Project Hydrate longer than I originally intended? Long enough to really get into the habit of drinking water, ya know?
Randomness
BIG Announcement tomorrow! So glad I'm finally going to get to share one of my latest secret projects with you guys!
Remember to check out my Facebook page and get involved with the discussions. Any topics you want to start? Let me know. 🙂 Oh, and that big announcement I just mentioned? Facebook friends will find out fiiiiirst! Be there or be square!
One year (minus 1 day) ago today, I was blogging about a life-changing meal – click here to check it out!
Would any readers be interested in emailing your picture to be featured here on The Chic Life? Let me know (click).
Questions, comments, suggestions? Let me know here or here.
Have a great week everyone!