Hubby was a sweetheart and let me sleep in this morning. I totally NEEDED the extra rest. Thanks hubby!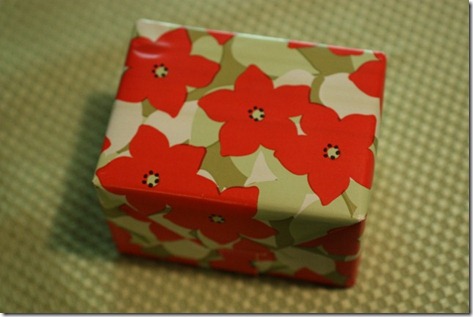 Hubby's mom had a pretty little package for  me.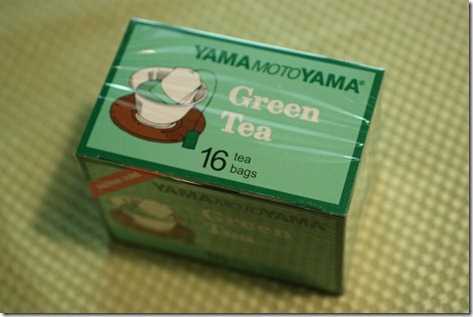 Tea! Knowing how much I love tea, she thought I would enjoy this. Thank you!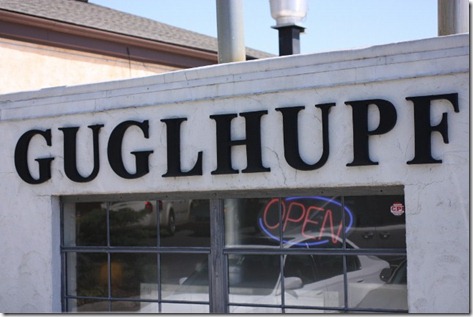 After breakfast, hubby and I hit up a place I've been before for dinner with some of Durham's best bloggers – this time to visit the bakery!
You guys know I'm a sucker for a great, local bakery.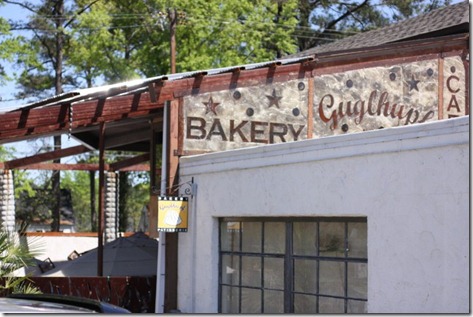 We swung by Guglhupf for a little treat.
I had a hard time choosing between all the fabulous goodies they had there, but hubby and I made a selection and took our goodies to go so we could enjoy them at one of our next stops.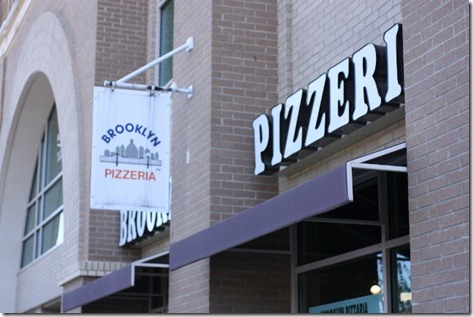 Hubby and I hit up Brooklyn Pizzeria for a quick lunch.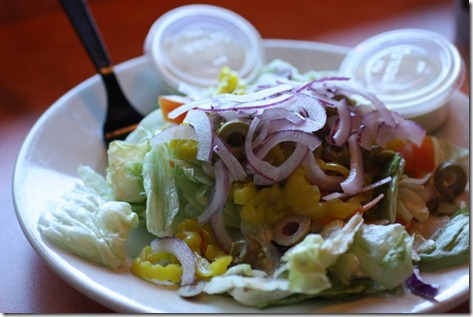 I tried to keep things light with a side salad with ranch (used the dipping method and only had half a dressing)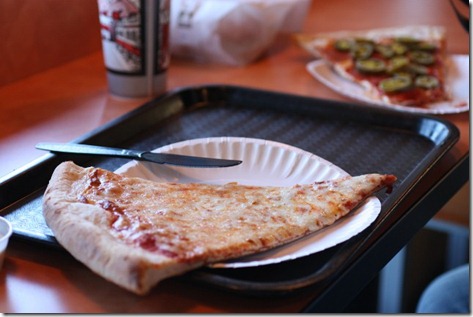 Plus a GIANT slice of cheese pizza that I actually had to get hubby to help me finish…with good reason. I was saving room for another of my faves – Copa Vida coffee.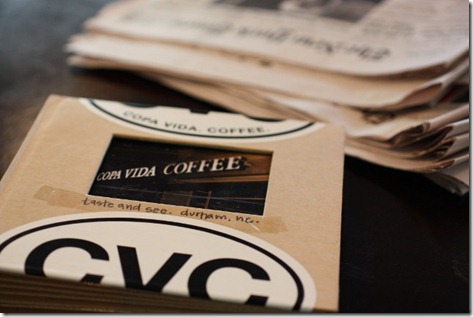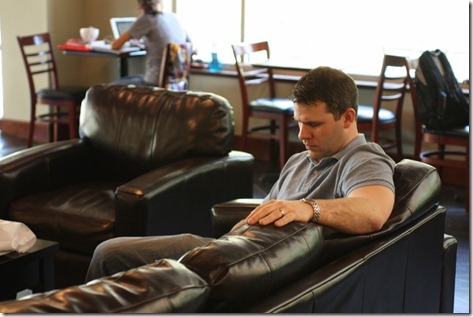 I'm a big fan of this place because they ha ve great coffee and work hard to support local businesses…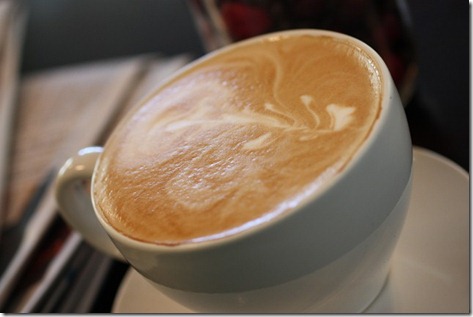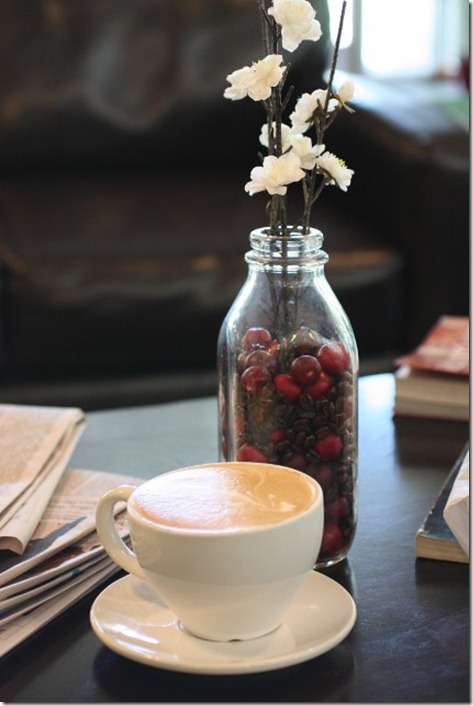 …including a creamery which makes for a tasty latte. (go for whole milk!)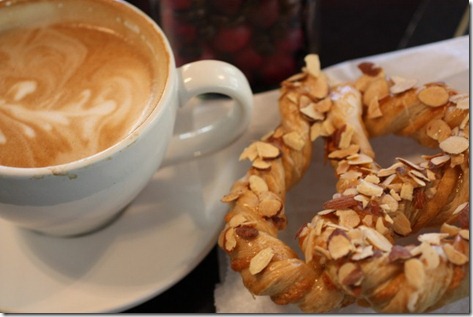 Hubby and I busted out our treats from earlier to go with the coffee.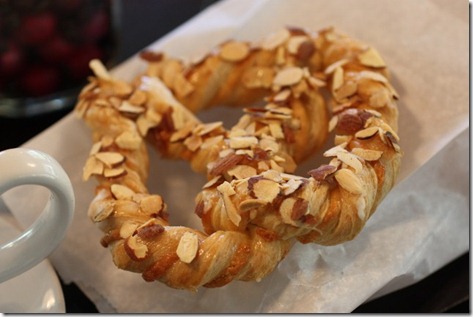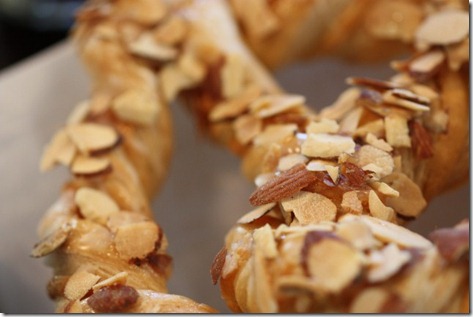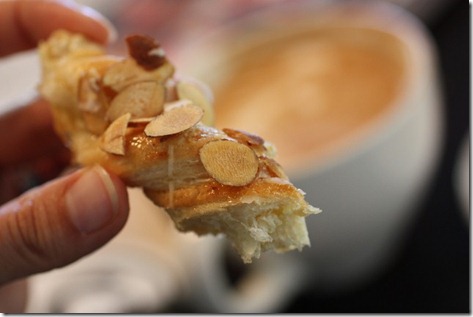 I selected the Almond Brezel…so yummy! Perfect with my full-fat latte!
Hubby and I stopped by a sporting goods store to look for Duke 2010 National Champion shirts, but didn't find any he liked. Guess he'll try to order one online.
After that we headed home where my exhaustion must have caught up with me because I ended up laying around most of the afternoon. I guess that sounds pretty lazy but if you know me, you know that laying around is a luxury I usually don't allow myself. I'm almost always on the go…workaholic-style! 😆 When I'm away from home is often the only time I have idle time.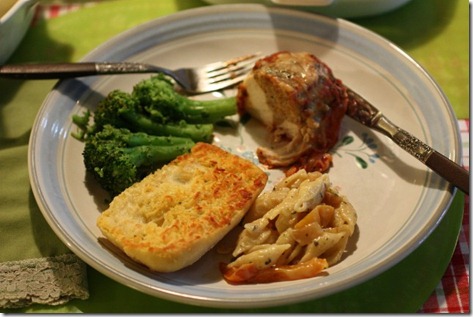 Hubby's mom cooked a fantastic Italian-style dinner.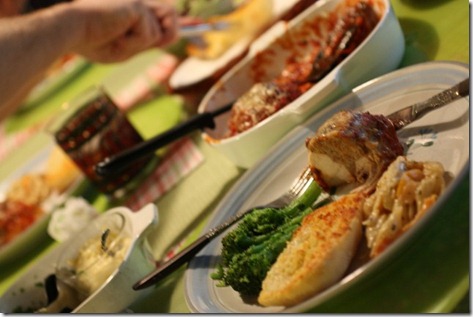 Parmesan chicken, garlic/herb pasta, broccoli, and garlic bread.
Did you see my latest featured reader post? Click here to check it out! There are some great food ideas there!
A year ago today, I went to one of the prettiest weddings. Click here to see the festivities.
And for something a little random, have you seen my post on tea-infused oatmeal (click)! So unique and so tasty! Try it this weekend!
Do you have a favorite bakery? What's your favorite thing to get there?