I made something cool this morning…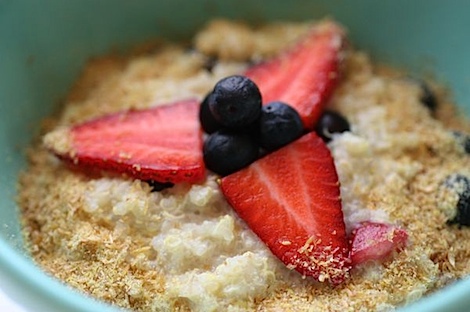 Berry Breakfast quinoa! Nomalicious and so nutritious, too! Not to mention this is vegan and gluten-free!
I was excited about both trying my quinoa in a sweet dish and trying my new Tempt vanilla hemp milk that I got on my massive grocery shopping trip last Sunday . I've heard such good things about hemp milk but have hesitated to try it because it sounds weird and it's expensive.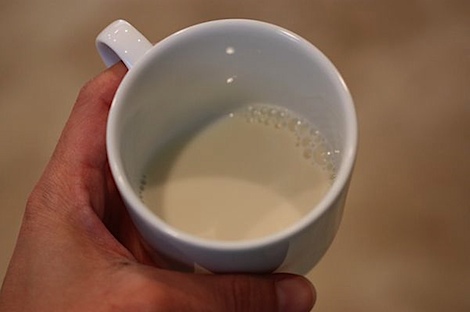 Whenever I try something new, I like to make sure to taste it solo so I can really taste the flavor of the ingredient. I poured a mini cup of the hemp milk this morning while I was making breakfast so I could sample this new (to me) non-dairy milk. Turns out it's not weird at all! If you like other non-dairy milks, you'll probably like hemp milk.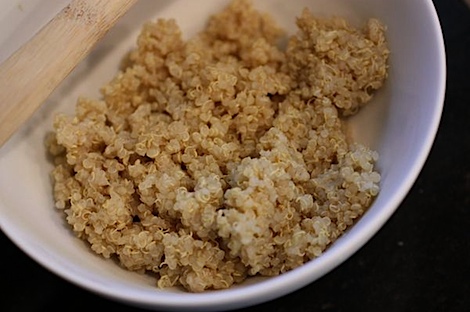 All you need to make Breakfast Quinoa is cooked quinoa. While quinoa is generally considered quick and easy, 20 minutes to cook quinoa is not "quick" for me in the morning. That's why I reserved some cooked quinoa from my food prep last night. Makes life easy. 🙂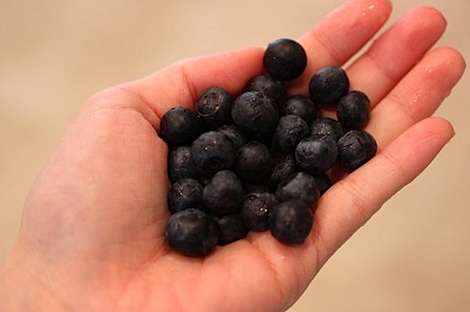 I like to mixin fruits to my breakfast cereals whenever possible. Tonight I used mixed berries (blueberries, strawberries) leftover from those yummy mini vegan/GF tarts I made on Sunday. Breakfast is such a good way to use up leftovers, no?!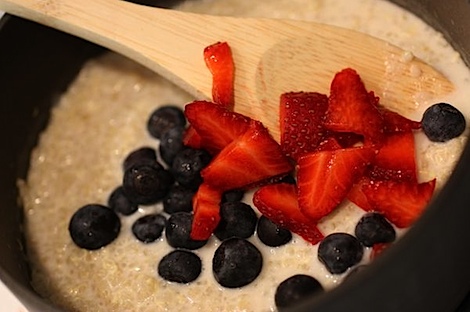 Cook quinoa in a water and milk mixture. Add berries. Add sweetener. Easy-peesy!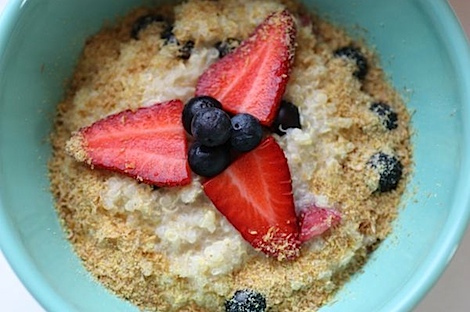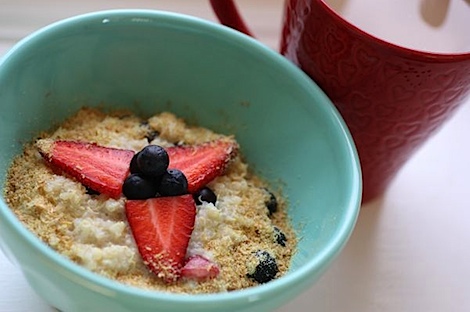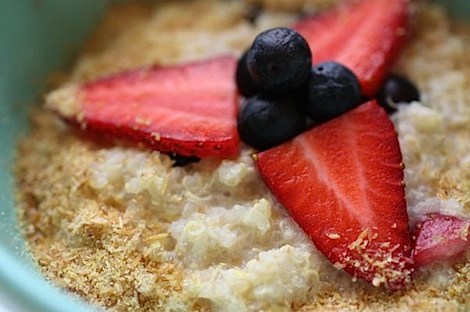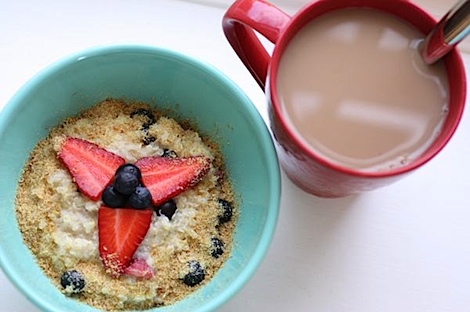 Mixed berry breakfast quinoa – yum! Perfect with hot Fresh Market Spring Blend coffee.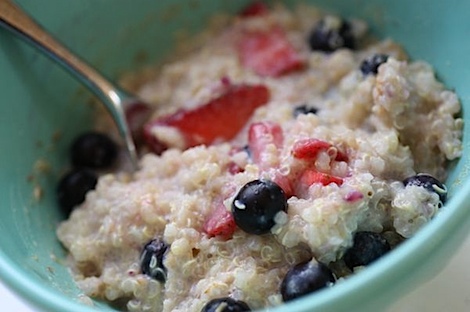 As it turns out, quinoa is not nearly as sweet as rolled oats, so even though I used vanilla milk (already sweet) and even though I normally try to get my sweeteners from fruit instead of adding sugar, etc., I did need to add extra sweetener to todays breakfast. I made the cereal without any added sweeteners, but ended up stirring some organic cane sugar in after sampling the first couple bites.
I still prefer my oatmeal since oats seem to be creamier and have a nice chewy texture, but for the powerhouse of nutrition that is quinoa, this is worth adding to the rotation now and again.
Quick + Easy Hot Quinoa Breakfast Bowl
Makes 2 small servings or 1 large
Ingredients:
1 cup cooked quinoa
2/3 cup sweetened vanilla hemp milk (you can sub other milks, but if it's not sweetened, you may need to add extra sweetener to taste)
1/3 cup blueberries, rinsed
2-4 strawberries, rinsed, tops cut off, sliced
ground flaxseed or flaxseed meal
Directions:
Combine quinoa and milk in a small pot over medium low heat. Simmer till thickened up to your liking. Try to not let the mixture boil, at least not much.
Add berries to pot and cook to heat through (you can add them earlier, but I prefer to add them closer to the end of cooking).
Serve in a bowl and top with ground flaxseed or flaxseed meal.
NOTE: You can get creative with your mixins and sub almost anything for the fruit – dates, bananas, apples, etc. Add nuts and seeds as you like…just like you'd do with oatmeal!
Have you tried quinoa for breakfast? What did you think?