*Before I forget yet again, thanks to Bonnie, Taylor, and Ashley for your fun zumba notes. I loved reading them!*
More Tuesday Eats
After my fabulous quinoa breakfast, I brewed up some Teavana tea.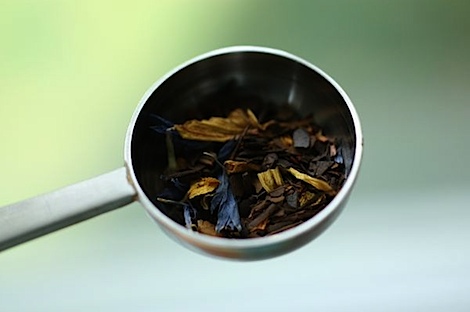 Mate Vana + Rooibos Macadamia = delicious tea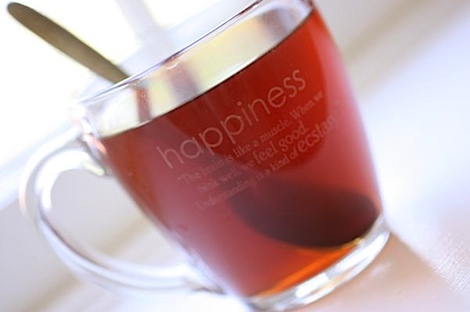 Sweetened with local honey.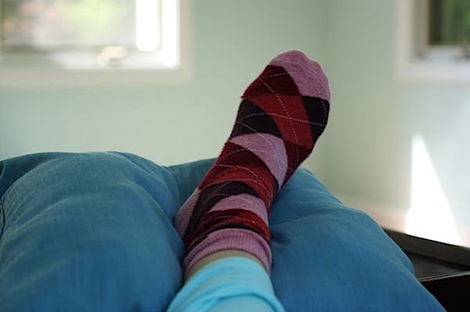 I was extra glad to be at home so I could get comfortable and prop my foot up. RICE, right? Ok, so my "injury" isn't that serious, but I'll do anything to make it get better faster! So far no swelling, so I expect to be 100% sooner than later. *crossing fingers*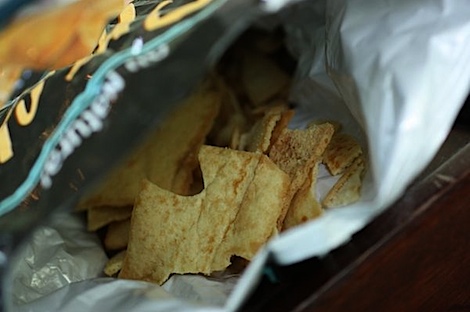 I got stuck on phone conferences and couldn't get to lunch so I snacked on some Stacy's Pita chips. Darn you Stacy and your irresistible pita chips!! It's too easy to eat these.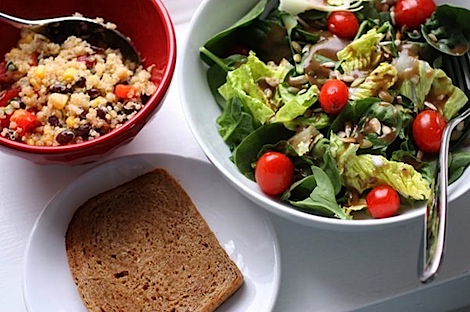 I had a nice, healthy lunch today.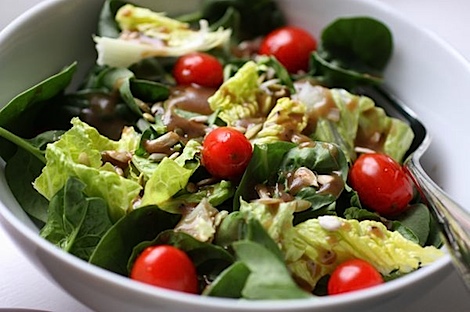 A GIANT salad or organic veggies: baby spinach, romaine, cherry tomatoes, sunflower seeds, pepitas and Drew's Rosemary Balsamic.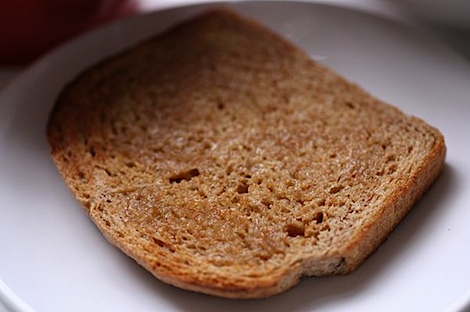 Plus a piece of spelt toast with some Homestead Creamery butter (from my weekend grocery trip)…so so good!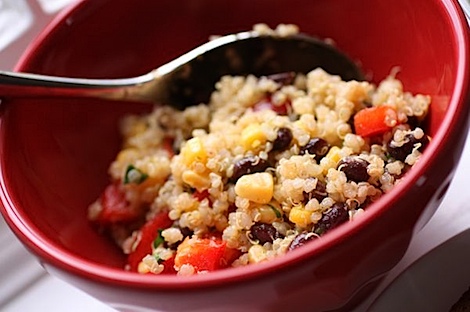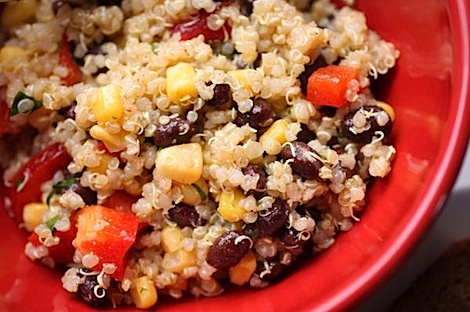 I was mostly excited about digging into my creation from last night – Southwestern Quinoa Salad (click for recipe).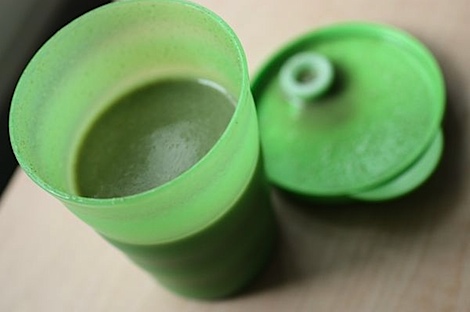 For nutrition, I had a mini Vega Health Optimizer shake made with a little more than 1/2 a scoop of mix plus plain ole water.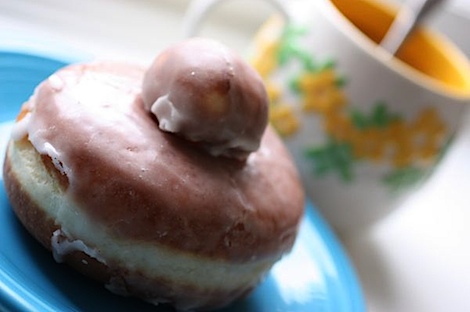 Then I had a not-so-healthy snack – a mini Texas donut…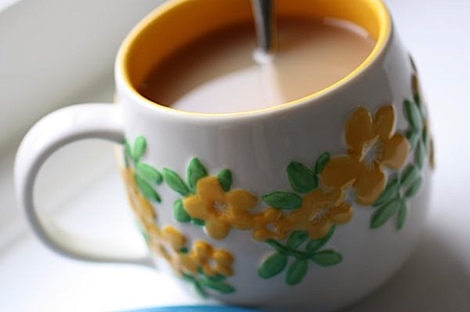 …plus some Tulsi tea in India Breakfast.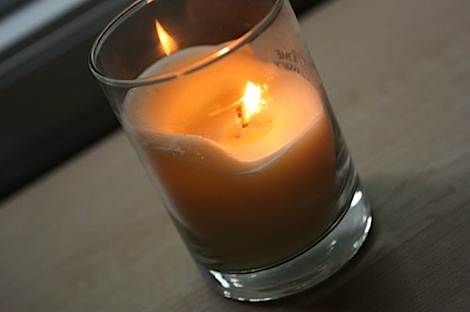 I got a candle going to combat the rainy day and make the room smell yummy.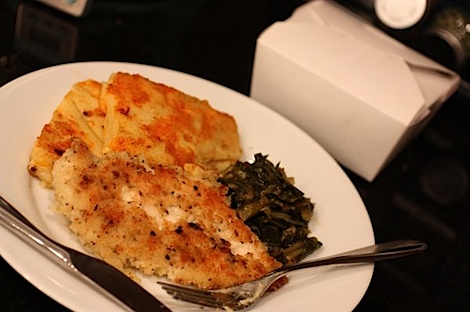 For dinner, I got take out from The Flying Biscuit. I asked the guy on the phone to help me choose from 3 options (turkey meatloaf, turkey pot roast, and herb-crusted chicken). He recommended the chicken (served with mac and cheese and collards) so I took his suggestion.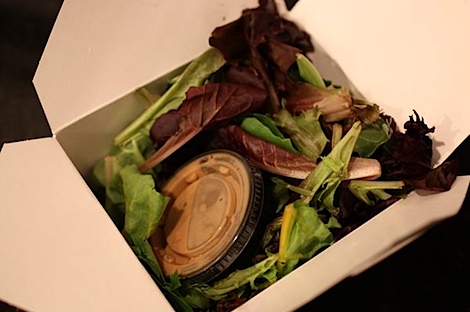 The dinner came with a salad with a vinaigrette dressing.
Dinner was also supposed to come with a biscuit (hello, the restaurant is called The Flying BISCUIT!) 😆 but I didn't get it. I called to ask if the dinner was supposed to come with a biscuit (in case I misunderstood) and they said it was supposed to. The person I spoke with was very friendly and apologetic and when I said I wanted to come back for the biscuit (yes, I really wanted it!), they offered to throw in dessert. They started to go down the dessert list, but I had another idea – breakfast! I am still thinking about the fabulous breakfast hubby and I had at TFB last Saturday. So, I got a single oatmeal pancake with peach topping to go. I'm already looking forward to breakfast now!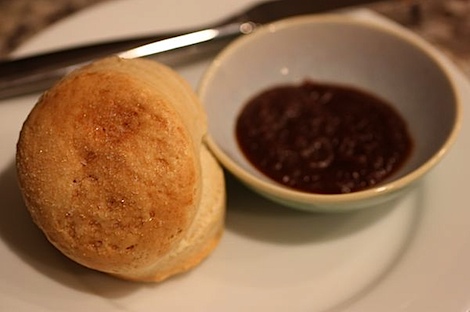 I was really excited about my biscuit, but you know what…the restaurant forgot the apple butter. 😳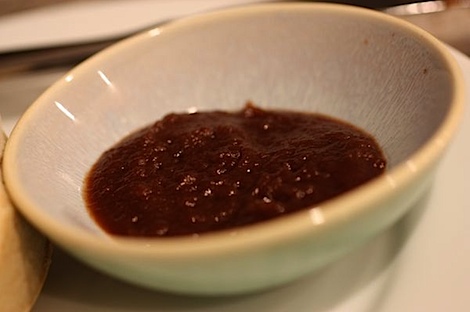 Luckily, I had some Kime's at home, which I heated up to get the full Flying Biscuit experience.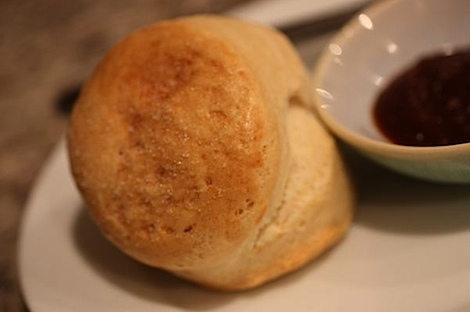 I got to enjoy my biscuit whilst catching the latest Glee – the Madonna episode! I love this show…so glad I remembered to watch it this week. I'm pretty bad at watching TV shows because I don't pay much attention to the schedules and forget when they're on.
Anywho, The Flying Biscuit made some mistakes tonight, but who doesn't!? No one's perfect. The important thing to me was that they were concerned about my satisfaction and they went out of their way to make me happy. Thanks TFB…I'll definitely be back.
Theo Chocolates
After contacting Theo Chocolate, I was thrilled they were interested in sending me some samples to review.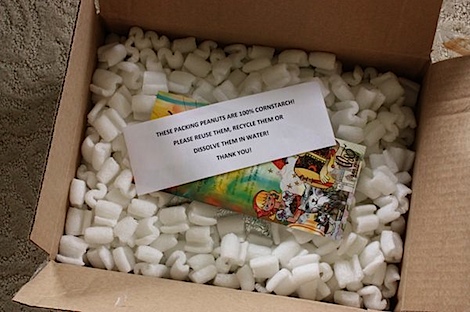 The chocolate came extra-nicely packaged with cornstarch packing peanuts! Neat! I usually try to keep my peanuts to re-use them when I ship stuff, but it's nice to see how eco-friendly these are – they dissolve in water!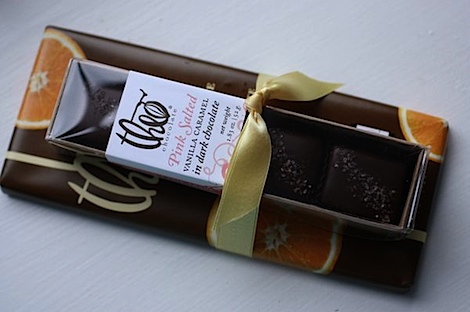 Theo Chocolate sent me some awesome stuff – some Pink Salted Vanilla Caramels in Dark Chocolate…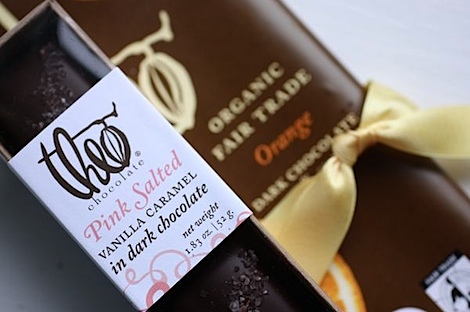 …plus an Orange Dark Chocolate bar.
I love how Theo supports both Organic and Fair Trade. I can't wait to sample these and write up my reviews!
Organic Gardening Q+A with Don
You guys had some fabulous questions for Don, founder of Instant Organic Garden. In fact, we already have answers for those questions:
Michelle –
Question for Don: I'm wanting to start a garden, but I'll be living in a rental property and can't plant like I'd like to. Do you have any tips on container gardening?
Yes, use as big a container as possible, especially for summer plants like tomatoes. A whiskey-barrel sized container is sufficient for a single tomato plant. Use good-quality potting mix, but no synthetic fertilizers. Natural fertilizers like Plant-Tone or worm castings are best.
Jessica –

Question for Don: What are some examples of vegetables in North Carolina that are cheaper to purchase as well as examples of those you would grow.
Avoid crops that are inexpensive in the stores, take a lot of room (watermelon, corn, okra), don't taste better fresh (potatoes, onions) and don't offer a long term harvest (iceberg lettuce, bush beans.)
Julie –

Question for Don: I only have a very small gardening plot available at my apartment (but I am lucky to have one I can use considering I am only renting my apartment!) What is the best way to maximize your space when trying to grow a variety of fruits, vegetables, and herbs. Any suggested additional resources?
Good soil with organic fertilizer means you can plant three times closer together. Set up a trellis for climbing plants like beans and cucumbers. My book shows you how to get started. "No Green Thumb Required! Organic Family Gardening Made Easy. "
Thanks for your answers Don!
If you'd like to ask Don a question about organic gardening, he's kindly offered to answer some more! Leave a comment on this post starting with "Question for Don: " and I'll do my best to get your question to him.
If you're in the Charlotte area, you can go to one of Don's many local events to ask questions in person. 🙂 Click here for his event page.
Randomness
Giveaway Alert! I have a super-cool giveaway planned for Thursday…stay tuned for details.
Page Updates – I've updated several of my pages:
Recipes – wow, I thought I only had to add one or two from the last week…turns out I was missing a TON!
Reviews – added links for some recent reviews
Blogroll – new bloggie friends
One great way, as suggested in my post the other day, to go Green this week for Earth Day is to get a re-usable water bottle. I just added the Klean Kanteen water bottle to my OpenSky shop if you need one. I'm also working to get some other sizes/colors added, so I hope to have some new options soon.
Did I mention I have a wedding to go to this weekend?! It's my oldest best friend's wedding! I can't wait!
Have you ever picked up a take-out order only to realize after you get home that something is wrong/missing? What did you do? What did the restaurant do when you told them?