A bunch of HLSers were going on a group run this morning. I wasn't sure if I'd go or not since I already zumbaed twice this weekend (and you know I'm not much of a runner), but I thought it would be fun to spend more quality time with people before everyone headed home from the conference.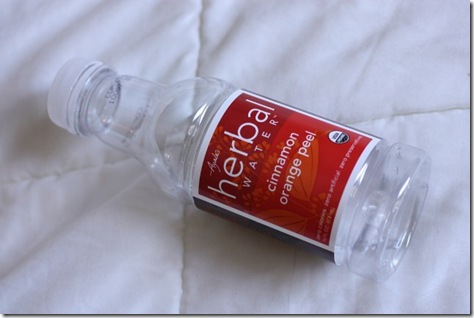 I was so parched this morning. I haven't been hydrating like I should. I have been drinking this Ayala's Herbal Water sample from our swag bags over the course of the weekend – it's quite tasty.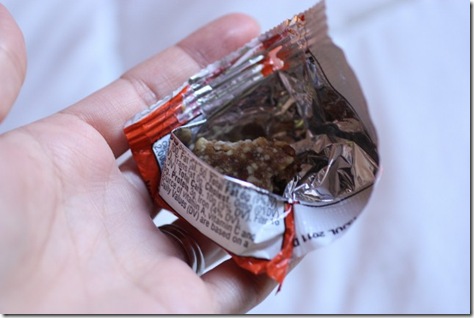 I also had a Larabar sample for sustenance. Got this bad boy from the swag bag too.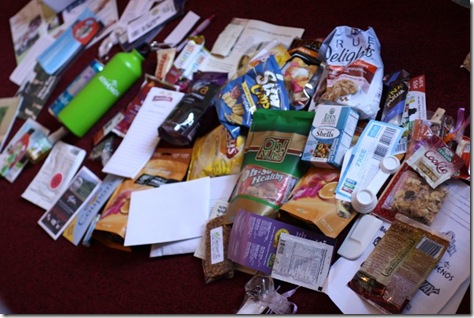 Speaking of swag bag, here's the loot. Not too shabby, eh?
And have you heard that our hotel is supposedly haunted. I've been jumpy all weekend expecting to see something strange and look what I saw in the bathroom.
Duh duh DUHHHHHHHHHHHHHHHH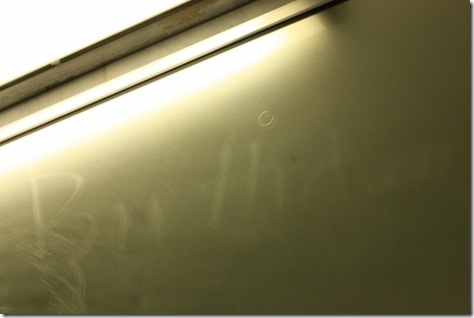 Writing on my mirror in the steam from the shower!!
I was a tad freaked out till I realized it said "Happy 70th Birthday". 😆
Anywho, I headed downstairs around 7:55am to meet up with the running/walking group. I didn't really feel like running but I didn't really feel like walking either, so I figured running a bit and then walking a bit was a nice compromise.
I headed out with the 5K group feeling pretty dehydrated before even starting. I ended up finding a great running buddy – Sana!
I took a lot of pictures on the run with my iPhone but this PC isn't letting me download them. I'll share them later.
Anywho, Sana and I set out running at an easy pace. Per the usual, almost as soon as I started, I wanted to stop. Not being a big runner, I think this is how it starts for most until they get into the swing of things. Anywho…as soon as I started, I knew I wouldn't go 3 miles. It was hot and I was dehydrated and could tell my body wasn't feeling it (gotta stay healthy for my public zumba class starting next week!).
At around .25 miles in (thank goodness Sana had a Garmin!), I wanted to stop. I thought…maybe I'll only go .5 mile? But I thought…I can push through…let's do at least 1 mile. So, I told Sana I only wanted to do one mile and she said she'd tell me when we were there. Halfway through, I was getting a little frustrated…not at anyone except maybe myself for not really feeling the run. I knew I could push through if I put my mind to it, though, so I just told myself to keep going. By the time we got to .7 miles I felt like I could run 3! But, I didn't want to over do it.
Once we hit 1 mile, I felt really accomplished. I ran 1 whole mile without stopping and without listening to my negative thoughts. I replaced them with positive thoughts (you can do it!) and pushed through and felt great for doing so! I know 1 mile isn't much to most, but it's pretty good for this non-runner. 🙂
Thanks to Sana for being a wonderful running buddy!
(the rest of these photos are thanks to Caitlin! thanks for sharing girlie!)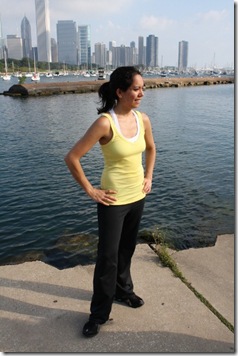 After the 1 mile, we walked a bit further before deciding to just walk back. We met up with some others and did some photos.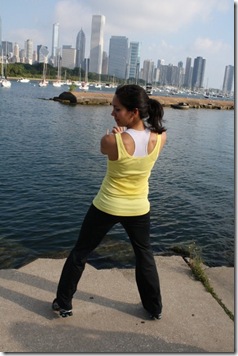 And maybe a little zumba-booty-shaking. 😉
After the run it was time for breakfast! I hit up the Bagel Thin breakfast sponsored by Thomas.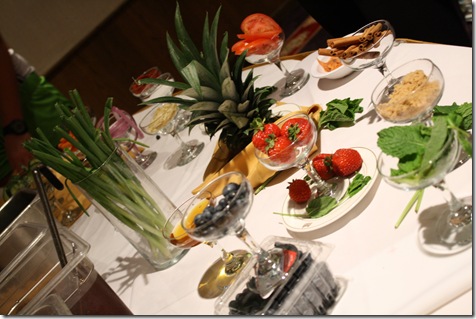 The spread was gorgeous and the concept was fun – make your own cream cheese!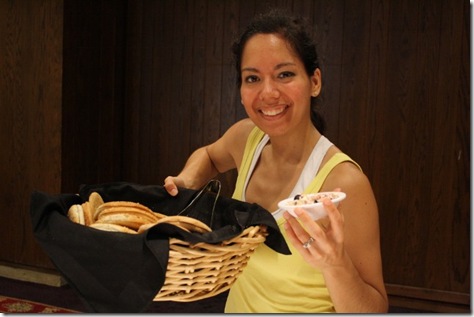 I made a "Cozy Berry Cream Cheese" with: blueberries, almonds and honey. Simple but so good.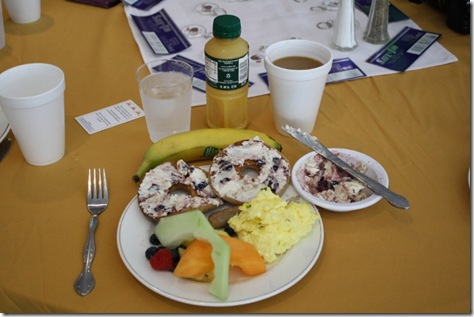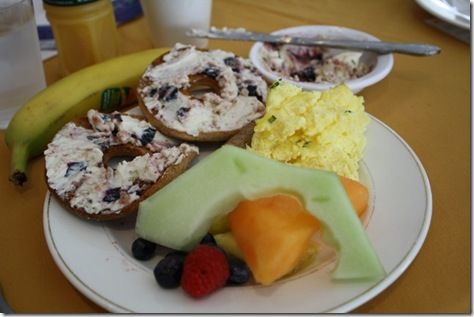 All together now: whole wheat bagel thin, my "Cozy Berry Cream Cheese", scrambled eggs, a turkey sausage, fresh fruit and lots of liquids (gotta hydrate up yo!).
I loved the BagelThins – they were like the same great bagel texture and taste but in a size that let me eat more than just a bagel for breakfast.
What would you mix into your cream cheese if you could make your own with any ingredients?