Howdy folks! Hope you're all having a spectacular week!
Wedding Bliss
I, myself, am getting more and more excited for my trip this weekend. I haven't said much about it, but I think I mentioned yesterday that the wedding is for my oldest best friend. Oldest as in years I've known her. I moved around quite a bit when I was younger and when I was around 7 or 8, we moved to yet another new neighborhood in Orlando, FL. Shortly after moving in, a little girl in our neighborhood stopped by with a plate of no-bake peanut butter and jelly cookies. And the rest is history. We instantly became best friends, which was really convenient since we both lived in the same cul-de-sac, just 2 houses away from each other. We took piano lessons together and visited theme parks together (especially the water parks! love those!) and just had a blast…till a couple short years later when my family decided to move back to SC. *sad face*
My friend and I vowed to spend two weeks together each year so we could stay in touch, but that eventually fizzled out.
Well, fast forward many years and around 2005, I decided to google my dear friend and would you know it…she was in NC for school! She actually lived just a couple miles away from hubby's mom and was taking a class from his aunt! Small world!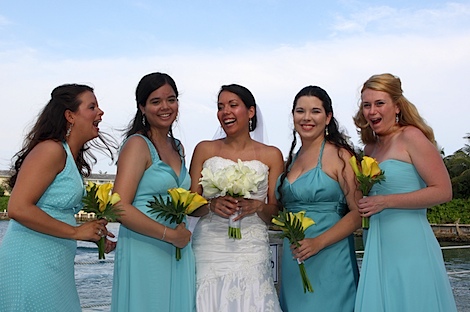 I found my friend, Serena, just in time to have her be a co-maid of honor in my wedding and now, I'm going to be a bridesmaid in hers!!!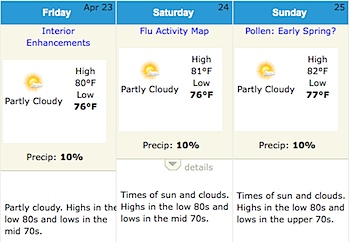 The photo of my bridesmaid dress was one hint and this weather report is another. Check out the weather report for the wedding destination for the weekend. It's going to be gorgeous! Know where I'm going yet?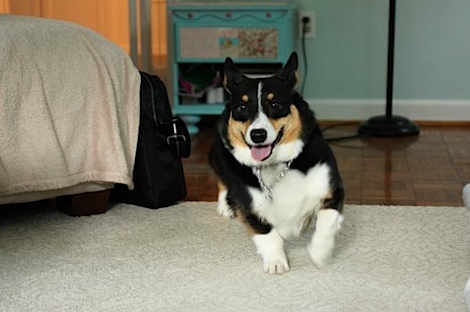 While I'm super pumped about the wedding, I'm really sad to be leaving this little guy behind. He never gets to go on the cool trips! Luckily, my family will be taking care of him this weekend, so I know he'll be in good hands.
(Think I could sneak Bailey into my carry-on? heehee)
Wednesday Eats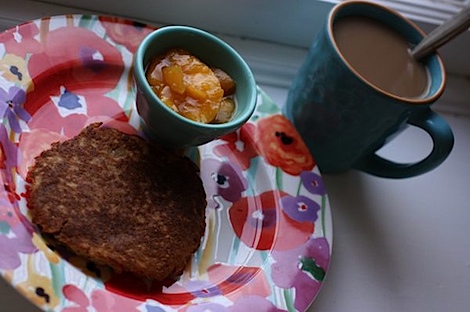 My Take Out Oops from last night (click) brought me a fantabulous breakfast of a Flying Biscuit Oatmeal pancake with peach topping. Sooo good…I feel a new obsession coming on.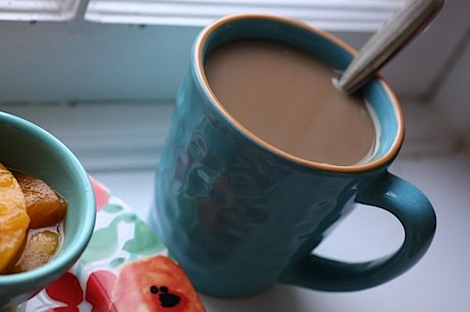 Hot coffee.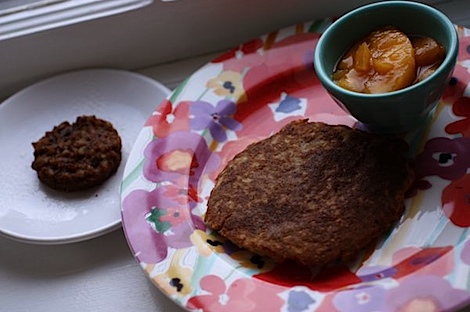 Morningstar "sausage" on the side for extra TFB effect (TFB is the first place I had a non-meat "sausage")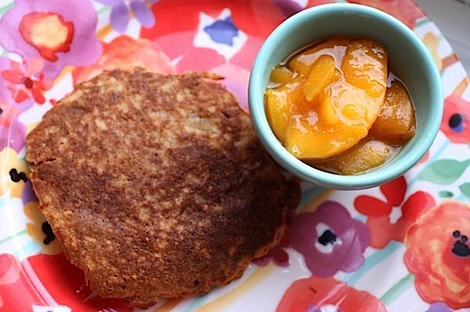 I re-heated my pancake in the oven for a crispy-on-the-outside, chewy-on-the-inside texture.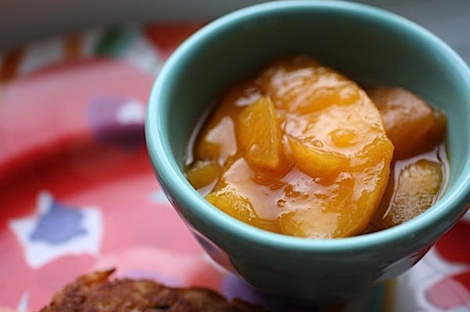 Did I mention this peach topping is delicious. *drool*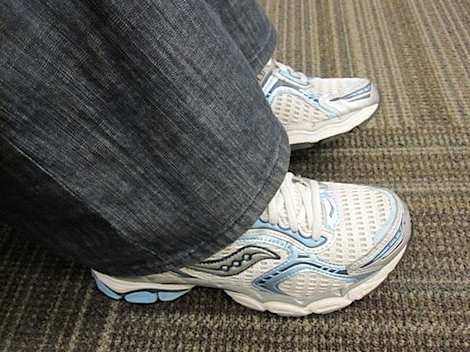 Thanks to my ankle, I wore sneaker to work today. I don't really think that many people noticed. My ankle is actually feeling pretty good today…I almost wanted to work out on it, but I want to ensure I rest enough for it to be 100% rather than push myself too far, too soon.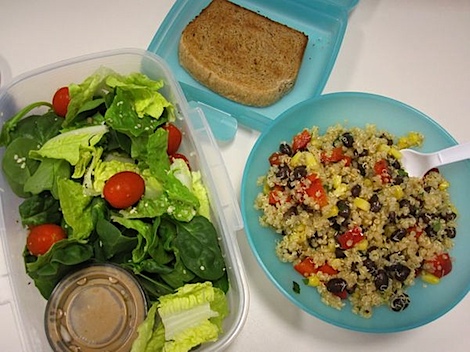 Lunch was basically a repeat of yesterday.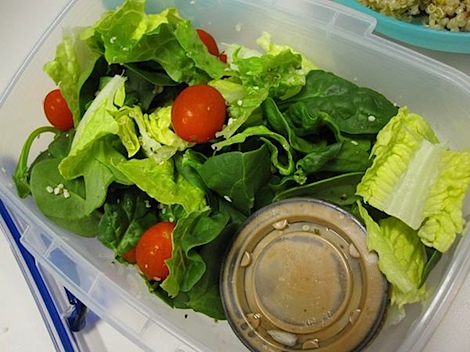 A big organic salad with dressing leftover from last night. Hey, waste not, want not. That dressing was delicious! I need to try to re-create it!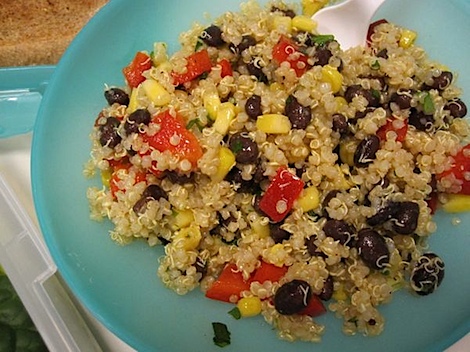 Southwestern Quinoa Salad.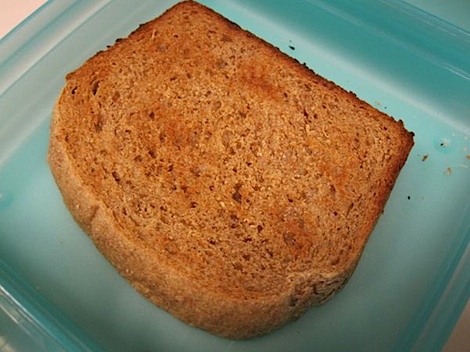 Spelt toast (no topping). I need to get some jelly or something to keep at work, right?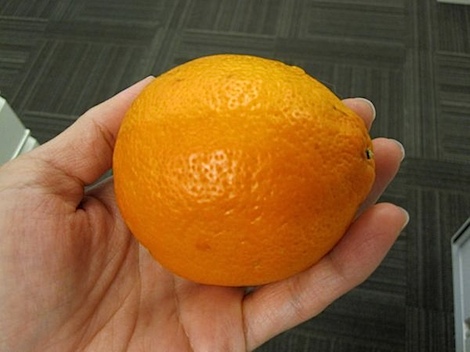 Heeey Minneola!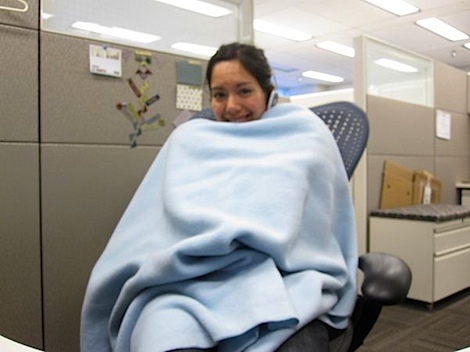 It was cold in the office today, but luckily I was prepared. I bundled up in a Patagonia blanket I keep at my desk. The only problem is that I usually still need to type on my keyboard, so my arms/hands tend to stay cold.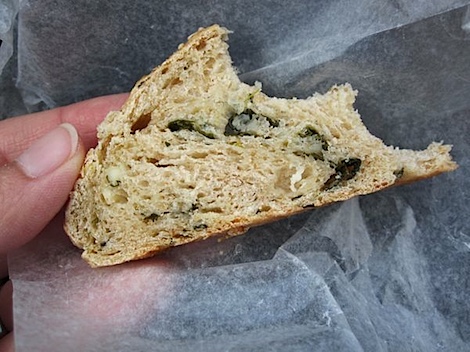 I swung by Great Harvest on my way home from work and got some treats for me and hubby and sampled their spinach bread. Dee-lish! I need me some of this!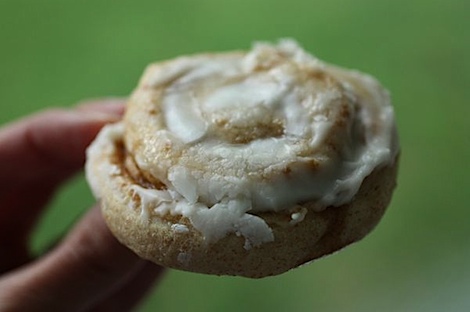 I dug into my first snack immediately – a mini cinnamon roll…yuuuum!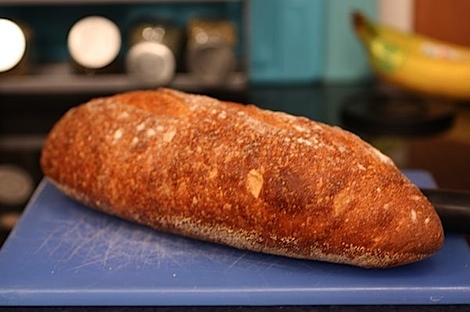 Matt swung by today to help hubby bottle his home-brew and brought us a loaf of sourdough. Thanks Matt!!
I was going to incorporate the bread into dinner plans till hubby ordered pizza.
I had two slices of cheese before I decided that I just HAD to have some of the sourdough.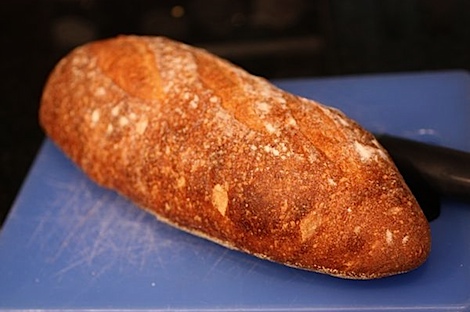 You try saying no to this! Nothing beats fresh-baked bread!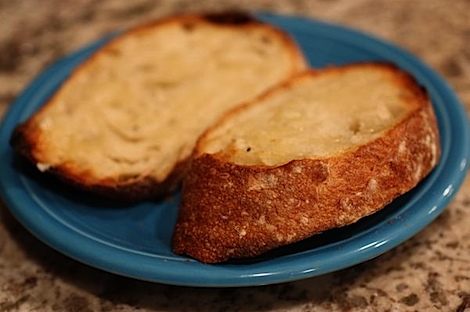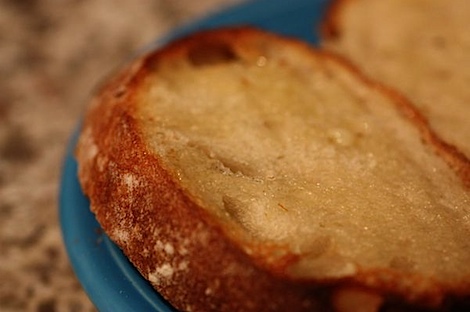 I had a piece and a half (hubby asked for a bite) with some real butter.
Nice balanced, carb-aholic, dinner…riiiiight? hehe Some veggies would have been nice, but…oh well.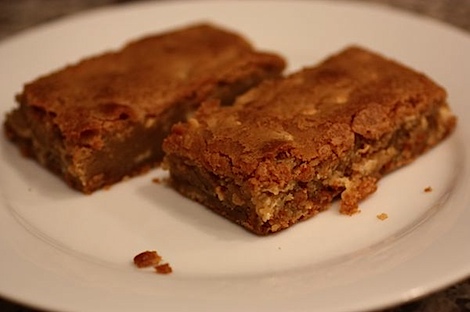 Post dinner, we dug into our other GH treat – a split blondie.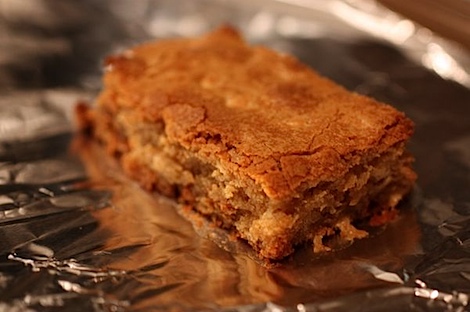 The blondie tasted almost like it wasn't quite cooked through all the way, so I baked it for an extra 5 minutes.
The extra bake-time helped a little bit, but I wasn't a fan of this one. Some people like the really dense, squishy center, but it's not my thing. Now, those berry oat bran muffins…I am still infatuated with those. Yum!
Theo Pink Salted Caramel Review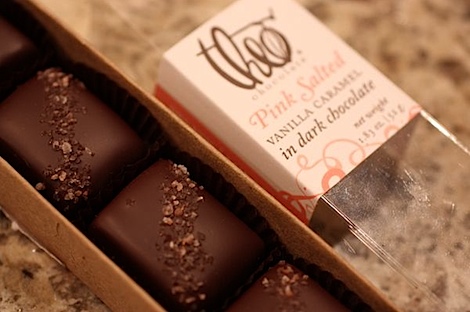 And, as if I didn't have enough desserts today, I also decided to sample one of those Theo caramels I requested recently.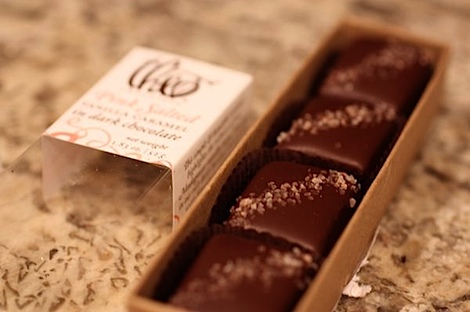 Aren't these Theo Chocolate Pink Salted Vanilla Caramels in Dark Chocolate gorgey?!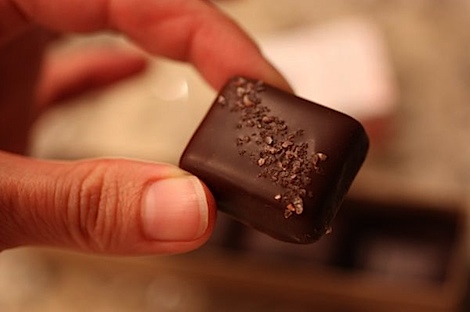 I'm ready for my close-up Mr. Demille. 😉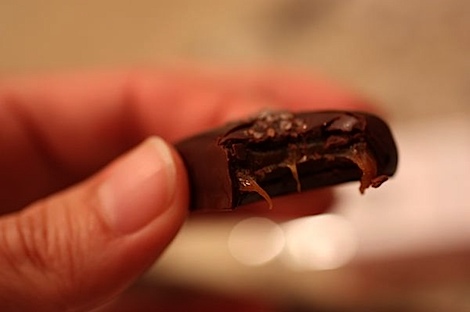 The verdict: delicious! It's true what they say – that the salt accentuates the flavor of the caramel. The caramel was lovely and tender and was just the right amount of sweet. The dark chocolate was a nice, subtle shell for the main event – that fabulous caramel. I liked how the salt was nice and coarse so you could really taste it and get a good feel for the crunchy texture. This was a lovely marriage of savory and sweet. I think that these caramels would be best for the slightly more refined palate or the more adventurous eater or if you just want to give the gift of extra special sweets. Ooh la la! Click here to check out Theo's other caramel flavors or to purchase the pink-salted vanilla flavor.
Thanks to Theo Chocolate for the samples! I'm moving on to the Orange Dark Chocotate next!
*
*
*
Learn how to use food to your advantage with these tips I learned from Brendan Brazier.
It's Earth Day tomorrow! Check out my article (click) for some easy ways to go Green.
Have you ever had salted caramels? What did you think?