TGIF!
I have a busy weekend ahead, but I'm really excited about it! I hope you have some fun plans, too!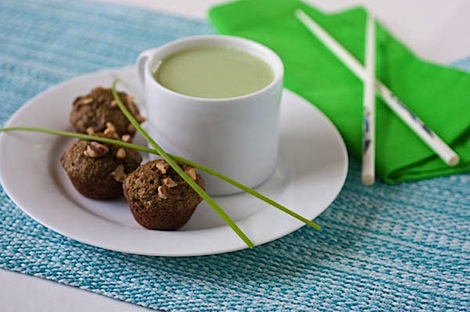 I was WFH today because I had to leave early for a quarterly meeting and things got so busy with work first thing, I almost forgot to eat!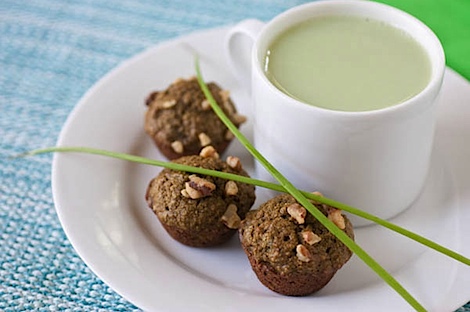 I decided to heat up some of those Mini Matcha Green Tea Banana Nut Muffins that I made recently.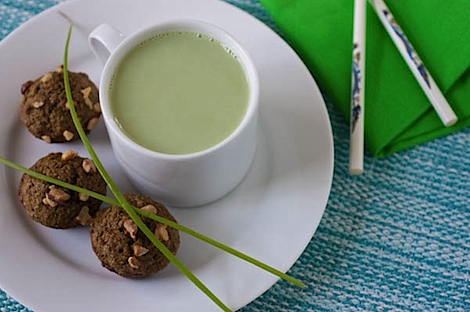 I froze the leftovers and re-baked them for an oven-fresh taste without all the mixing and dirty bowls. 😉
And I had a matcha green tea latte to pull the flavors together! A bite of matcha muffin followed by a sip of matcha latte. Lovely!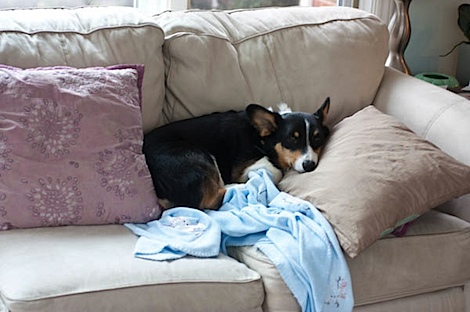 I think Bailey sleeping on the couch is the sweetest thing. I could watch him cuddled up there all day!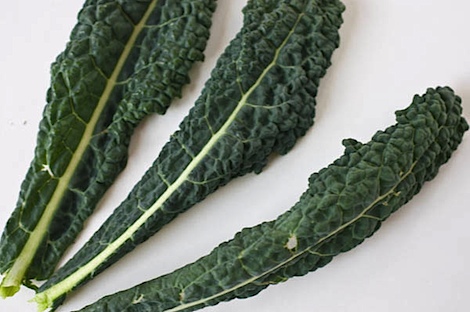 Lunch featured more kale from my garden just outside. Can you tell I haven't been to the grocery store in awhile? lol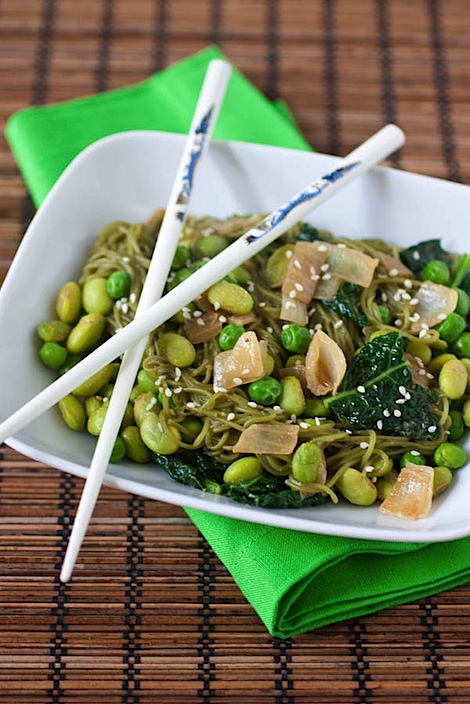 I had more udon noddles in the pantry, but since I've been on such a big matcha kick lately, it seemed like a good idea to use the green tea noodles I had instead.
In case you're just catching up, I've had several matcha green tea related eats lately:
and now…a green tea noodle stir fry with a simple tahini-soy sauce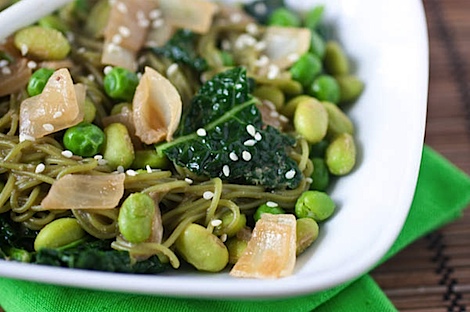 I kept with the green theme and also added the organic green kale from my garden, organic green edamame, and organic green peas. Plus sesame seeds on top. The sauce for this was super easy and only used 3 ingredients. I'll have to draft it up for you soon in case you want to try it…which you totally should!
You could try my Tangy Tamari Tempeh Noodles while I work on this new one.
These noodle dishes are usually ready in 15-20 minutes and can be made with very few ingredients! Plus they're freakin dee-lish!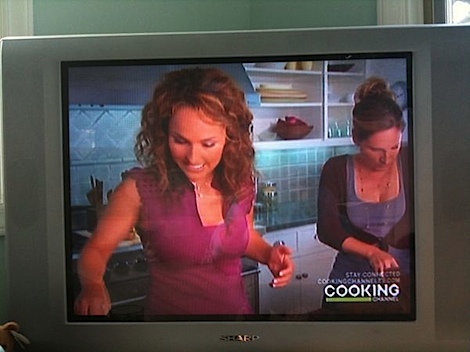 I've always struggled finding good photos of Giada's Everyday Italian kitchen (the one I'm using as inspiration for the kitchen in my home), so I just snapped some iPhone photos from the TV show (the DSLR wasn't getting clear photos for some reason).
Just LOOK at that gorgey kitchen! *drool* It's the backsplash that I originally fell in love with. Very The Chic Life turquoise, no? 😉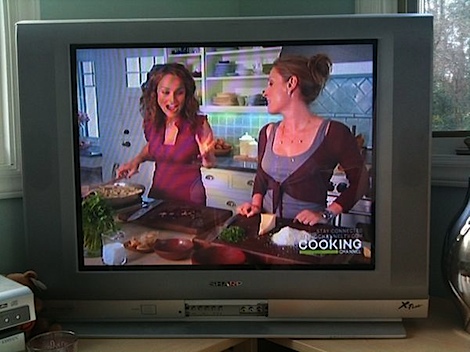 After questioning the material, I confirmed with my twitter friends that it appears her backsplash is actually ceramic tile. Interesting. Does anyone know where I can find pretty turquoise-y colors in ceramic tiles? I've found lots in glass, but all the ceramic ones I've seen online are pretty neutral.
***
Anywho, I left work early to head out for a company quarterly meeting.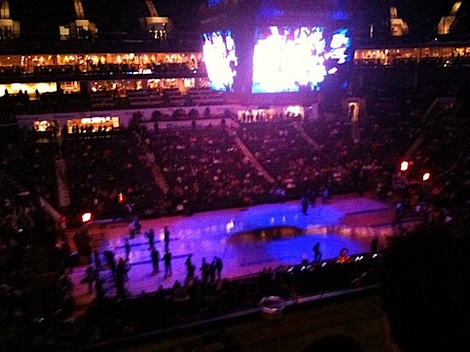 And then I hit up a Bobcats game!
Even though I'm not the biggest basketball fan, I think it would be pretty cool to have season passes here. It would be nice to support a local team and I think hubby would enjoy it.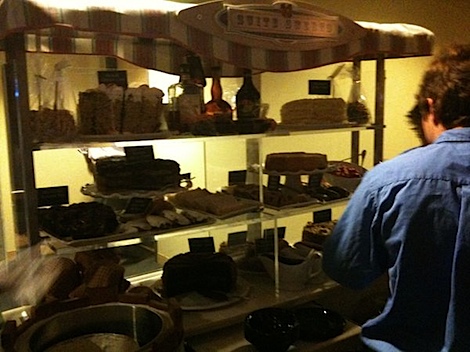 And did you know the Bobcats arena has a dessert cart?! YES! A whole cart of sweet treats. Nom! I had a slice of chocolate cake. Yummers!
***
I seriously have one of the most jam-packed Saturdays ever tomorrow. I think I'm going to be going non-stop from about 8am to…well…let's just say it may be a late night. You'll seeeeee. I may not be able to post again until Sunday, so be sure to check my Facebook and Twitter for fun updates.
***
Seems like I can't get enough matcha green tea these days! What's an ingredient you've been utilizing a lot lately (doesn't have to be "fancy" – any ingredient!) 😉