I had a couple requests for a recipe for the noodle dish I featured yesterday, so I figured I'd go ahead and type something up without waiting as long as I sometimes do. So, today I'm sharing my Tangy Tamari Tempeh Noodles Recipe.
Keep these noodle dish recipes in your back pocket because they are life savers on your busiest days! Just sub in some different vegetables, sauces, and proteins to keep things fresh.
The directions look long but it's only because I'm trying to add a lot of detail. Once you get the hang of how this dish comes together, you'll be able to put it together in a snap!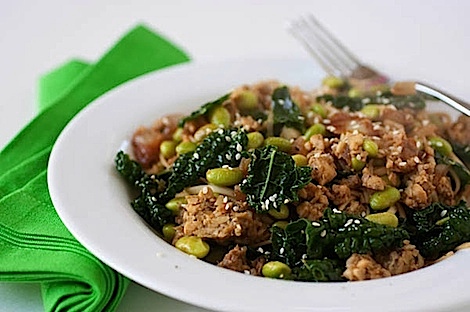 Tangy Tamari Tempeh Noodles Recipe
I love making noodle dishes because they are quick, simple, satisfying, and can often be made exclusively using staple ingredients in your pantry and freezer (if your pantry is well-stocked of course!). Seriously, you only need about 15 minutes, 1 pot, and 1 saute pan…plus all the ingredients. I often make these noodle dishes on my busiest days and/or weeks when I haven't had time to stock up at the grocery store, but I still want something healthy to eat.
Tempeh has a long shelf life, so I like to keep it around as an emergency protein for meals. As fort the veggies, I used fresh kale in this recipe, but I'm sure you could easily substitute frozen kale or spinach. Feel free to omit and add in vegetables as you like. These noodle dishes are extremely versatile so you can tailor them to your taste buds.
The brown rice vinegar imparts the tangy taste to the dish, so if tangy isn't your thing, try adding just one dash of the vinegar and tasting, or just omit. The tamari, Bragg liquid aminos, and orange juice are pretty safe, though. Ok, the Bragg may be a more unusual ingredient for some, so if you don't have it, don't worry, just add a dash more tamari. 😉
The timing (getting Steps #2 and 3 done at the same time just takes practice. It's no big deal if you don't get it right the first time…just keep trying. To be safe, finish step #2 before #3. You can always set aside some pasta water in a mug and you can drain the noodles and vegetables in a colander and cool down with cold water to stop the cooking process while Step #3 finishes.
Vegetarian, Vegan
*Serves 1, but you can easily multiply*
Ingredients:
1/2 block of tempeh, cut along short side into 1/2 inch (short) strips.
1/4 cup frozen edamame
1/2 a bundle of udon noodles (the ones I buy, Hakubaku, come packaged in 3 bundles) – or as many noodles as you want to eat
4 leaves of fresh kale (or 1/4 cup frozen kale)
1 teaspoon peanut oil (or other oil)
1/8 cup chopped onion (I keep extras from previous recipes in the freezer and use them in these types of dishes)
2 cloves garlic, minced (I like a lot of garlic, but feel free to use less)
2 tablespoons tamari
1 teaspoon orange juice
3 sprays Bragg liquid aminos (ok to omit this, just add a dash more tamari)
2-3 dashes brown rice vinegar (depending on how tangy you want the flavor)
pepper, to taste
sesame seeds, optional
Directions:
Steam tempeh for 8 minutes and set aside to cool.
Meanwhile, bring a medium post of water to boil. Add about 1 teaspoon of salt to the water. You're going to cook your noodles, edamame, and kale in this one pot, but they have different cooking times. So, set a timer for 4 minutes and add the edamame and hit start. When 3 minutes remain on your timer, add the noodles (if you use different noodles, just under cook them by 1 minute or so because they'll ccok more in the pan. When 2 minutes remain on your timer, add the kale.
Meanwhile again (try to time this step so it is complete at the same time as Step #2, but to play it safe, be sure Step #2 ends before Step #3), pre-heat a medium to large saute pan over medium heat. Add onions and cook till softened, about 3-4 minutes. Add garlic and cook 60 seconds, or until fragrant. (If your onions and garlic are done cooking before your pasta/vegetables, you can add a little pasta water to your saute pan to buy a little bit more time).
Use a mesh scoop to move pasta and vegetables from the pot directly to the pan. Add a couple small spoonfuls of pasta water to the pan (about 1/2 a cup). Crumble the tempeh into the pan and stir. ADd tamari, orange juice, Bragg liquid aminos, brown rice vinegar, and pepper to the pan and stir to combine.
Let noodles, vegetables, and tempeh cook till everything is warmed through and flavors have combined, about 1-2 minutes.
Move noodle dish to a serving plate and top with sesame seeds, if using.
Enjoy!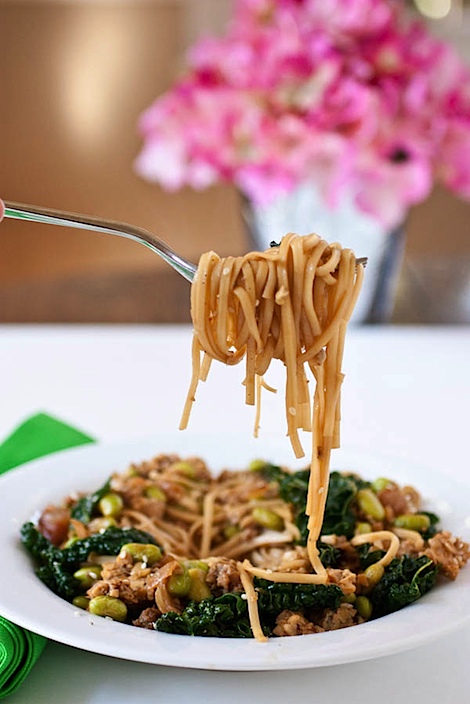 Easy, convenient, tasty – the noodle dish is one of my staple meals. Hope you like it!
More Clean Eating Recipes to Love
Lazy Low Carb Fried Rice Recipe (still made with rice!)
Easy Black Bean Pasta with Quick Tomato Sauce Recipe
Healthy Pumpkin Pie Muffins Recipe
***
Thank you for checking out this Tangy Tamari Tempeh Noodles Recipe. Hope you enjoy this easy clean eating dinner recipe.
I'd love for you to share this with your friends. Here's a shareable graphic, perfect for Pinterest!