Happy Tuesday friends!
I hope everyone's week is off to a fabulous start. Can you believe it's March already? I feel like it's still 2010. Time is flying by so fast!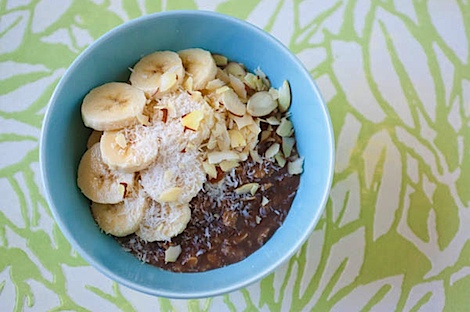 I haven't been eating much oatmeal over the last several weeks, so recently I've really been craving it.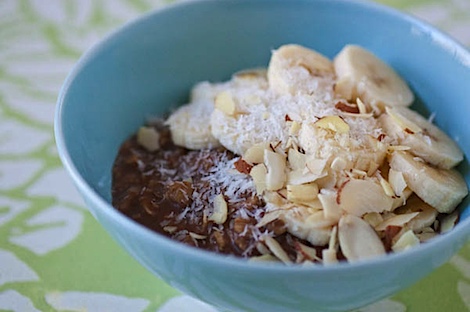 This morning I had carob oats with a sliced organic banana, organic coconut, and sliced almonds. Yummers!
***
One of my goals for 2011 was to have a new monthly challenge for every month in 2011. In January, I put on my second annual Eat In Month challenge, and I was so thrilled so many of you joined me. It was so cool hearing about all the positive affects the challenge had on you guys! In February, I didn't quite get around to doing a challenge. Whoops! And now we're at March. I actually have ideas for enough challenges to last all year, but I feel many of them fit different times of the year best.
Many of you probably read my post "Is My Schedule Making Me Crazy?" With my scheduling feeling a bit out of control lately, I think it will be best to get started on a challenge that will help me out in this area of my life. My next challenge will be…
A Time Management Challenge!
Here are some areas I'd like to focus on:
Overall schedule
Work schedule
Blogging schedule
Planning ahead
Better to-do lists
Saying no (or better prioritization of new/additional tasks)
No more procrastination
Be more aware of time
Here are some of my goals:
Get to bed at a reasonable hour
At least 5 minutes of me time every day
No more rushing everywhere
Reduce stress overall
Be more efficient
Unlike my previous challenges, this one doesn't really have any rules. I just plan on taking you along my little journey towards a stress-free schedule and better time management skills. I'll be posting tips, challenge/success stories, reference suggestions, and all that good stuff. I welcome you to join in and definitely encourage you to add your tips to the daily topics. I think my readers (that's you!) offer a wealth of knowledge, so I'd love to hear from you!
Reader Question: What time management challenges do you have? Anything you'd like to see me tackle with this challenge? Are there any subjects that would help you?