I don't know about you, but I don't do well going hungry for very long. I get grumpy fast and all I can think about is what I want to eat when I can eat again. I had to fast for an appointment at 11am today. I remember thinking, when I made the appointment, that 11am seemed early enough, but boy was I wrong! I was starving by 11am only to find out that my appointment was running late and wouldn't be until 11:30am. ARGH! The worst part was that the appointment was a flunk and I'm going to have to do it all over again. So when did I schedule my next appointment? 10am. Muuuuch better!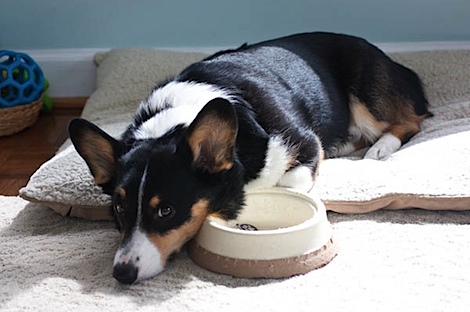 You thinking what I'm thinking?
FOOD TIIIIME!
By the time it was time to eat finally, I wasn't sure what to eat. Randomly, hubby and I decided to get pizza take-out.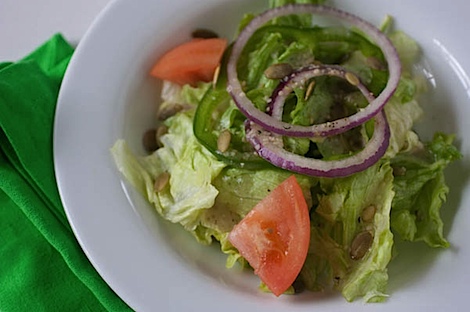 A salad – jazzed up with pepitas and hemp seeds since we were eating at home.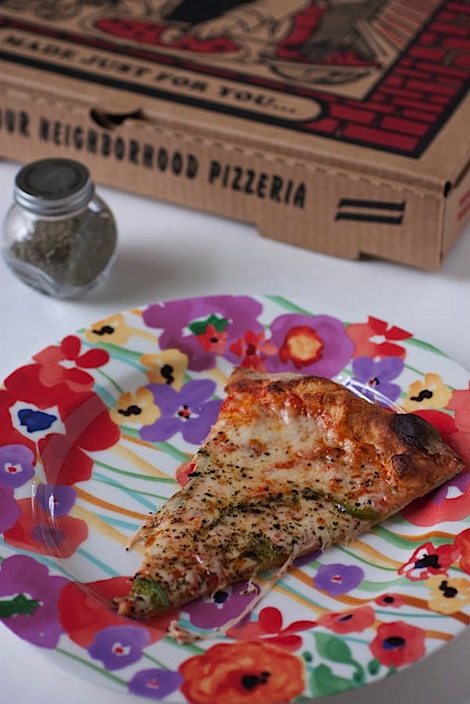 Glorious pizza! I had 2 slices – one with green pepper and one with just cheese.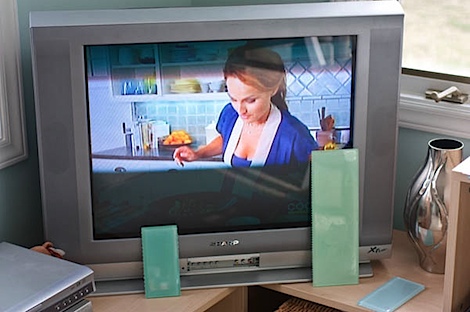 I'm really having a tough time picking out a backsplash from the samples we ordered. Part of me wants to make the kitchen look JUST like Giada's. Part of me wants to do something similar but not exactly the same. And part of me just wants to put something up there so I don't have to start at jagged wood walls any more from where they ripped out the previous backsplash.
To compare colors, I actually put my tile samples up to the TV with Everyday Italian on. I realize colors actually vary from one TV setting to another, but it still helped. 🙂
So far, I think I have the back-splashes down to two options: the one on the left looks most like Giada's kitchen to me, but for some reason, I kind of like the more green-ish one on the right, even though it won't match my TCL-blue kitchen appliances.
Decisions, decisions.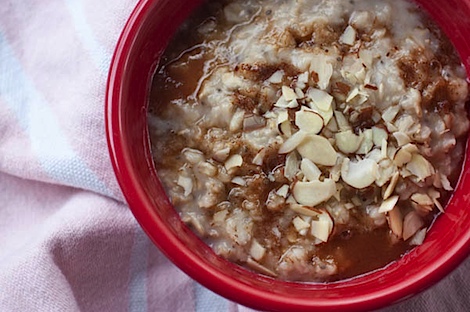 For a pre-workout snack, I made a simple bowl of plain oats to showcase my star ingredient – more of that local whipped cinnamon honey that we picked up at the farmer's market.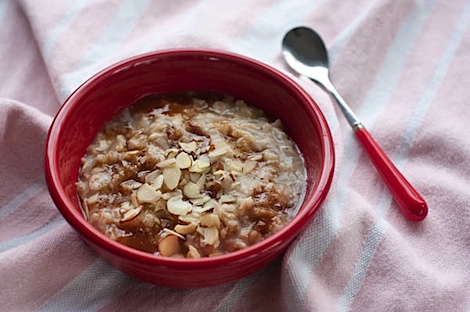 Wooowwweeee was it gooood! I think this is the best oatmeal topper I've ever had…except for maybe a homemade nut butter.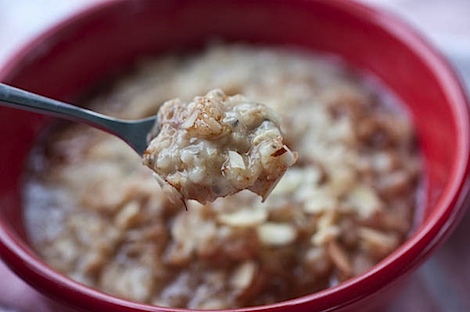 For realz…this stuff is the shiz-nit. Get thee some stat!
Project Get Glam!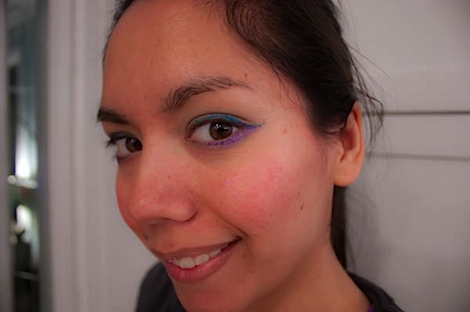 I've been having a lot of fun playing with my new make-up thanks to Project Get Glam. This is what I wore to Zumba tonight. Some of it may have rubbed off a little because I actually took these photos AFTER class. Whoops!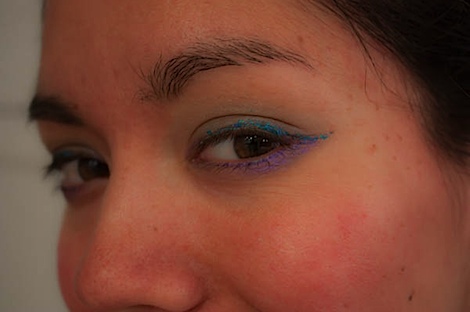 I put the chunky purple eyeliner on the bottom and the sparkly turquoise eyeliner on top. Both stay in place really well. I like how the jumbo eyeliner looks like an eye shadow but has real sticking power, whereas shadow would have been long gone after a Zumba class.
Both make-up items were Sephora brand. Here's a link for the chunky eyeliner (a steal at only $6!) and here's a link for the glitter eyeliner.
Are you playing along with Project Get Glam? What have you been doing to add a little glam in your life? If you're on twitter – tweet your glamness with hashtag #projectgetglam . 😉
You Snooze, You Lose
Did you guess what the title of this blog would be about? If you said the Time Management Challenge, you're right!
Have you been doing Activity #1 and monitoring your daily schedule? I've noticed a few areas that could use some serious improvement in the time management arena. The first one I'd like to address…
THE SNOOZE BUTTON!
Do you use the snooze button? I have a story behind why I actually like my snooze button. More on that next time, but basically, I've noticed that I lose anywhere from 10-45 minutes just hitting the snooze button! I heard somewhere that once your alarm goes off, your REM is disturbed, so snoozing actually doesn't help you feel more rested. Can anyone confirm?
Either way, when I snooze, I lose 10-45 precious minutes out of my day. That's like a lunch break I could take to get away from my desk at work. Or maybe 15 minutes I could leave earlier from work! What a time-suck!
So…going forward, I'm going to try to get up as soon as the alarm goes off sans snooze button. This is going to be a tough one kiddos, but I think I can do it. And so can you if you want!
Do you snooze? How long do you usually hit your snooze button before you actually get out of bed?