Bake This…Today!
Looking for something to bake this weekend? Then whip these up! They take only minutes to mix up, 1/4 of the time of a regular cake to bake, and you get 100% of the deliciousness.
What is a Cake Mini? Why Bake One?
I've been working lately on a new style of dessert – Cake Minis. A Cake Mini is a basically just a small version of a regular cake. So, I know what you're thinking…what's the difference between this and a cupcake? Well, a cake mini is baked in a ramekin instead of a cupcake tin. This means no more putting an awkward, mostly-empty cupcake tin in the oven AND (perhaps the best part) easier clean up for you! Score!
But I'm not Vegan!
Oh and you don't have to be vegan to make these. I'm not vegan. Heck, I'm not even vegetarian. But, I've found that when baking in small sizes, which I like to do a lot, it's easier to make something vegan since eggs are really hard to portion out in the small amounts needed for these types of recipes. Feel free to use eggs instead of flaxseed-eggs (use 4 teaspoons egg instead of mixture of 1 teaspoon flaxseed + 3 teaspoons water).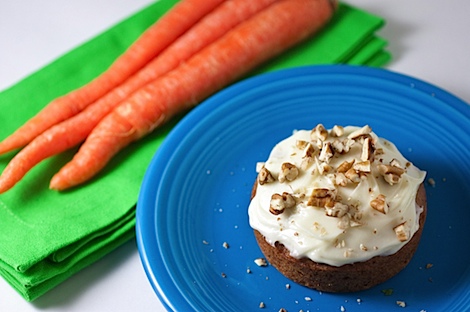 My first Cake Mini recipe was in one of my favorite flavors – Coconut Cream. This one is perhaps a more popular flavor (or at least one you guys have been asking for with such enthusiasm) – Carrot Cake!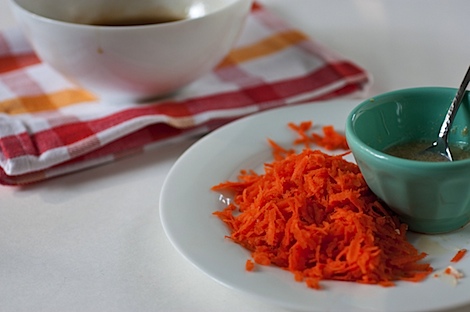 Yup, I used freshly grated carrots in these cupcakes.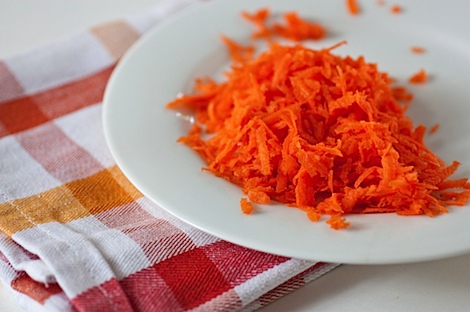 In fact, there is almost one carrot in each Cake Mini! So it's like healthy…ish. Ok, not really, but we can pretend, right? 😉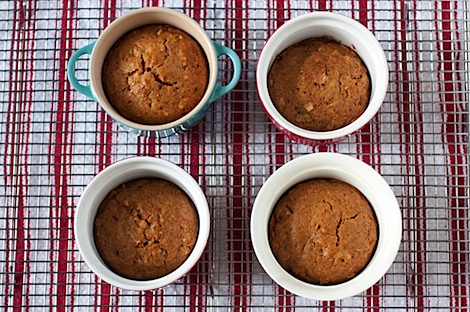 I doubled my recipe to make four Cake Minis since I was entertaining last weekend. It worked out quite nicely.
I think I need another Crate and Barrel ramekin since I had to use a turquoise Le Creuset dish to bake my fourth! lol. But, really, any baking dish that is 3 inches in diameter should work.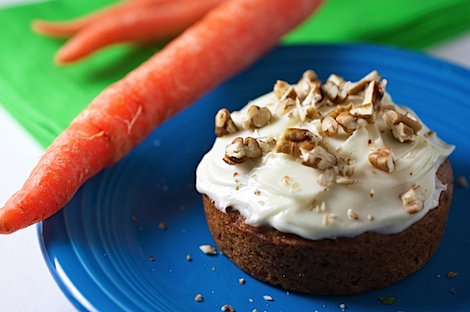 Anywho, like I said, this recipe really is easy and fast. Just mix dry, mix wet, mix wet mixture into dry mixture, pour, bake, make frosting, frost and enjoy. Ok, there is some time required to allow the cakes to cool to room temperature, but the best things come to those who wait, right? At least you don't have to bake a cake for a full hour like full-sized versions! See what I do for you guys? I saved your 40 minutes of your weekend! 😉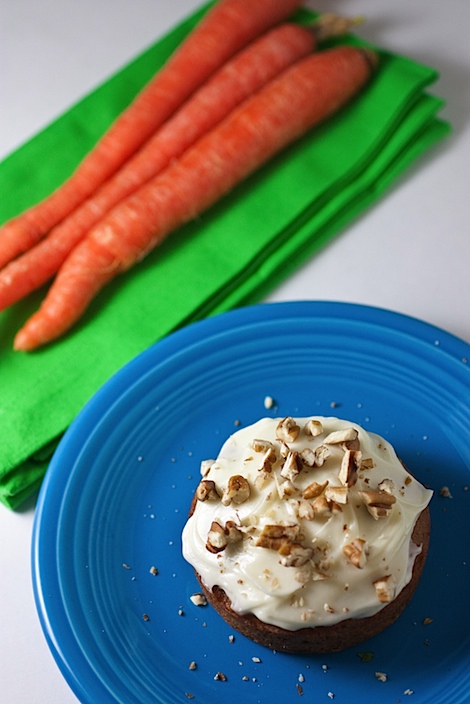 Carrot Cake Minis (for two)
Having a sweets craving? Why waste all the ingredients and time baking a full-sized cake when you can make just enough for you and a very lucky friend (or ok, enough for you to enjoy twice)? These Carrot Cake Minis are easy to make with a wonderful, spiced flavor, moist interior, and creamy-cream-cheese frosting. What are you waiting for? Let's bake!
*Vegan* (with traditional substitutions listed below)
Ingredients:
1 teaspoon flaxseed meal or ground flaxseeds + 3 teaspoons water (or sub chia seed egg or 4 teaspoons egg)
6 tablespoons flour
1/2 teaspoon baking powder
pinch salt
2 tablespoons Earth Balance, softened (or sub butter)
3 tablespoons sucanat (or sugar, which will yield a slightly sweeter cake)
1/2 tablespoon oil (use non-flavored, i.e. canola or safflower)
1 1/2 tablespoons non-dairy milk (or milk)
1/2 teaspoon vanilla
1/4 cup carrot grated, preferably organic (about 1 1/2 medium sized carrots)
1/8 cup pecans, chopped, plus additional for topping
Directions:
Pre-heat oven to 350 degrees F. Prepare two ramekins (3 inch diameter) with non-stick cooking spray. Note: I'd go ahead now and set aside the butter and cream cheese used in the frosting recipe so they can come to room temperature while your cakes bake, see below for details.
Mix flaxseed meal and water together and set aside to bind while you continue with the rest of the recipe.
In a large bowl, whisk together flour, baking powder, and salt until ingredients are well-combined.
In a medium bowl, mix together Earth Balance and sucanat until well-combined. Stir in oil. Stir in flaxseed/water mixture, milk, and vanilla until well-combined. Stir in grated carrots.
Stir wet mixture into dry mixture until just combined (careful that no flour bits remain, but that you also do not over-mix). Gently fold in pecans.
Evenly distribute batter into the two ramekins. Bake until top is golden brown and cake is cooked through (or a toothpick inserted in the center of the cake comes out clean), about 19-22 minutes.
Cool cakes to room temperature. Run a knife around the edge of the cake in the ramekin to loosen the cake (circling a couple times until you see the cake loosening from the bottom).
Frost cake with Creamy-Cream-Cheese Frosting, recipe follows, and top Cake Minis with additional chopped pecans.
Enjoy!
Creamy-Cream-Cheese Frosting
*Vegan substitute listed below*
Makes enough to top 2 Cake Minis. I actually made this with real cream cheese since I'm not vegan, but there are vegan cream cheese products out there that you could use. Check your health food store for options. 🙂
Ingredients:
1/2 tablespoon Earth Balance, room temperature (or sub butter)
1/2 tablespoon cream cheese , room temperature (or sub vegan cream cheese, i.e. Tofutti)
1/4 cup powdered sugar
Directions:
Combine Earth Balance, cream cheese, and powdered sugar in a medium bowl. Using a handheld mixer, slowly mix until dry sugar is mixed into the Earth Balance and cream cheese. Then on medium to medium/high speed, whip frosting for a minute or so to get it light and fluffy.
Apply frosting to Cake Minis from previous recipe.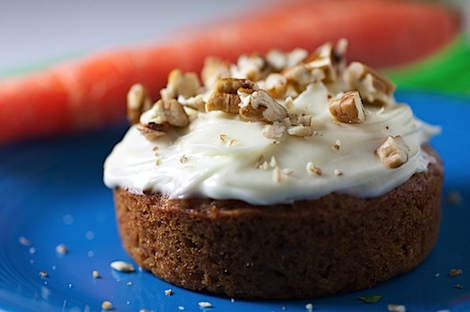 Nommmm!
I still have a full list of additional flavors you guys have requested and trust me, I will enjoy every moment working on those new flavors for you! 🙂 You can check out the list of future Cake Mini flavors (or reader requests) here.
***
Like what you see? Click here to get free updates, follow my twitter, or click the Like button on this post. Thanks friends!