After soaking up some sun at the super-fun pot-luck picnic with my local food blog friends, I went home to prepare for one last bloggie event of the evening.
My friend Kelly (of Foodie Fresh) came over for dinner and brought her dog Rascal for a play date with Bailey.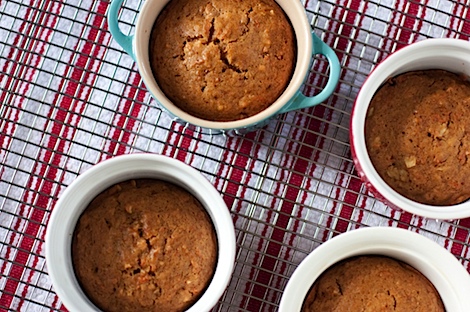 First things first, I got started on dessert! I decided to get a little experimental with a new Cake Mini flavor. 😉 Normally, I would avoid experimenting too much when entertaining, but Kelly was my taste tester before (remember that vegan coconut cream pie), and I'd had one success with my first flavor – Coconut Cream.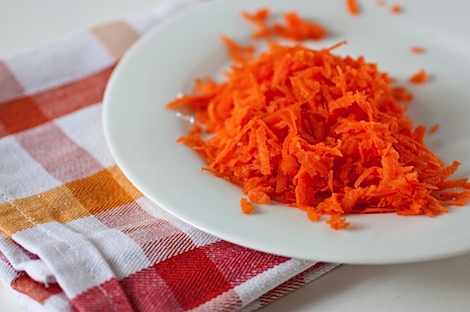 This time, I decided to make Carrot Cake flavored Cake Minis! Shredded organic carrot was the star ingredient.
One of the other star ingredients of the evening was this tri-colored quinoa! Isn't it pretty? I've seen it popping up in a couple health food stores around time, so it must be the new thing in "grains" (or pseudo-grains as the case may be).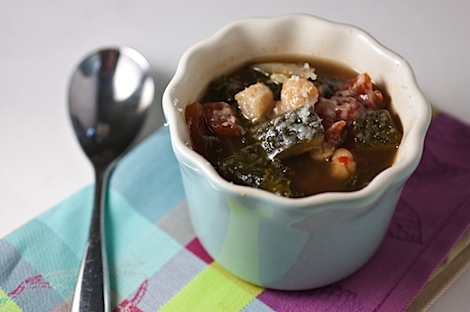 I kicked things off with some Tuscan veggie and bean soup. We each had a mini bowl topped with some fresh-grated parmesan.
The soup was great for two reasons:
1. I love starting meals with small bowls of soup
2. I made BIG batch, so I'd have soup for lunch later in the week.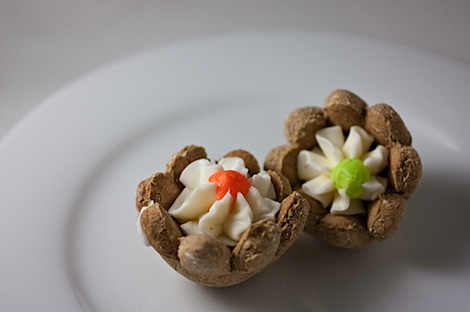 By the way, we weren't the only ones eating well on Sunday. I stopped by a local dog boutique earlier in the day to pick up a reward for Bailey for being an exceptional dog. While I was at it, I figured I'd get one for Rascal, too.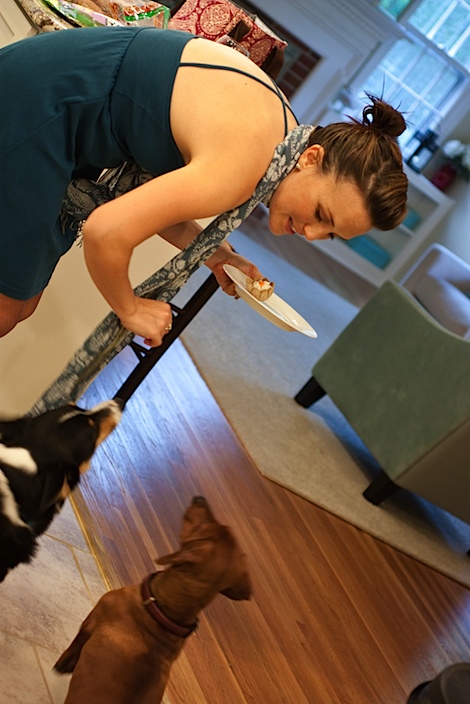 After making them work for it…
…we let them dig in. They were happy boys!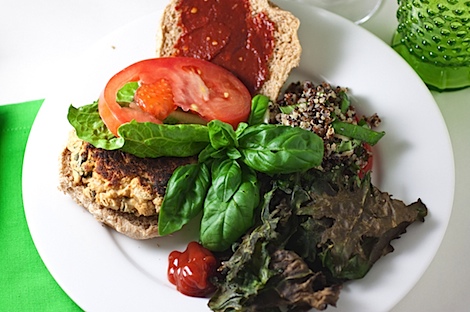 The Italian theme carried into the main event. Kelly and I had discussed eats via email earlier in the day and when she said she'd make chick pea veggie burgers with sun-dried tomatoes, I kind of ran with the Italian theme. hehe. First the soup…the the side: kale chips (that were supposed to have parmesan on them, but I forgot!) and Italian-inspired quinoa salad (tri-colored quinoa with fresh basil from my garden and fresh mozzarella balls with a light vinaigrette) served over a tomato slice.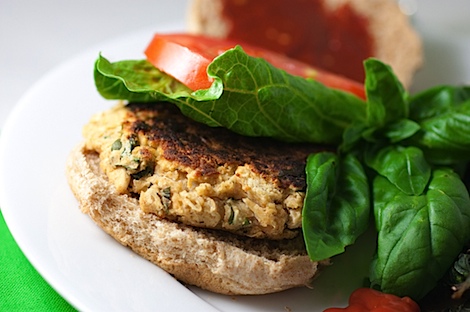 Kelly's burgers were super tasty! You can get her recipe for her burger and special topping on her blog (click to view).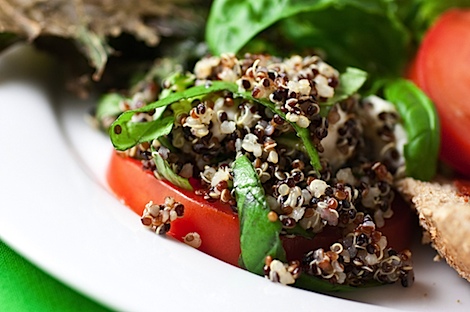 Mmm…quinoa. It tastes better in 3 colors! (Not really, but it is more fun)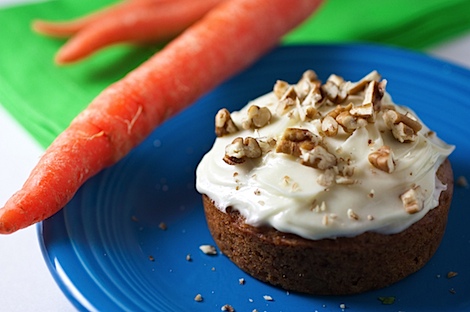 And then it was time for dessert! The cakes came out great. Phew! I made carrot cakes and topped them with a cream cheese frosting with fresh chopped pecans. Nommy nommmmms!
It wasn't until later that I realized that both Kelly and I are non-vegetarians who totally enjoyed a meatless meal! Both of us enjoy eating sans meat once in awhile, so I guess it's not unusual that I didn't even notice it was missing until later. I thought dinner was fab just as it was.
Vegetarian Entertaining (for the Meat-Eating Host)
If you're a meat-eater and you have a vegetarian coming over, you may be wondering…what the heck do I make?! Well, vegetarian eating is easier than you think. Even vegan eats can be easy to put together. Now, I'm not vegetarian myself, but a lot of my friends are. So, I entertain veg-style a lot.
Low Expectations
First off, you should know that most vegetarians/vegans are used to not having much to eat in social settings. It's sad but true. I saw this in action when I gave up meat for Lent last year and went to a social setting where of about 10 dishes, only 2 were completely meat-free. My vegetarian friend and I were hitting up the food tables at the same time and had to pass dish after dish, discussing with each other if we could detect meat in the food. I won't lie…it was pretty frustrating. I mean…they even put bacon on the salad!! She seemed to think the eats were pretty normal while I thought I was going to go hungry for the evening. Anywho, I'm not saying it's ok…I'm just saying that expectations are probably low in traditional settings…which will work in your favor when you come up with something meat-free and awesome. What an awesome friend you are! 😉
Sides
If you're, say, roasting a chicken for a large party, but one person or couple is vegetarian, then you can fill them right up with plenty of tasty meat-free sides (if a large number of your guests are vegetarian, then you may want to consider making two small main dishes instead of one big one – one meat and one meatless). Try to make the rest of the sides meat-free. Don't cook greens with ham. Skip the bacon on salads or pasta salads. Many sides you probably eat today are probably even vegan and you don't know it. If you can do it, put meat toppings/mixins on the side so people can customize things to their taste. And, protein-rich sides will help keep your vegetarian friends full.
May I suggest Balsamic Roasted Chickpeas, Southwestern Quinoa Salad, or Roasted Sweet Potatoes with Maple Syrup and Cinnamon. (These are not only vegetarian…they're vegan, too!)
Vegetarian Entrees That Please Everyone
When you're entertaining, things can get crazy. Sometimes you're too busy to make another side dish, let alone a whole other entree. If you're having vegetarian friends over, consider making something that meat-eaters will enjoy without missing the meat. Many pizza and pasta dishes are traditionally made sans meat and very often popular with most people. Or maybe you can put the meat options on the side for customizing, like I suggested for the sides. Or, try a new cuisine. Many Mexican dishes can be made with beans, rice, and cheese. Or, for another example, there are quite a few Indian dishes that are delicious but veg-friendly, like this Chana Masala.
Psst…let me let you in on a little secret – vegetarian entrees are often more affordable, too! Just another great reason to entertain veg-style. 😉
Make Meat and Veg-Friendly Entrees
If you can work it out, why not make entrees for everyone? Hubby and I like to grill out. Hubby and I like burgers. But when my vegetarian friends come over, if we're doing burgers, I like to have meat burgers, but I also like to do veggie burgers. They're easy, taste great, and store well. Everyone is happy with an entree they can enjoy whether they eat meat or not. I love these quinoa veggie burgers (also vegan).
Want more details? I may elaborate on these areas more later in the week. In the mean time…
Vegetarian/Vegan friends, I am probably not the best person to offer suggestions on vegetarian entertaining. You are! What would you like your meat-eating friends to know about entertaining for you?
Omnivore friends, what are your tips you utilize when entertaining for vegetarian/vegan friends?