If you're just catching up, I spent the weekend in Atlanta! You can check out the first post here, an amazing Atlanta dining experience here, the whole reason for the trip here, and an amazing holistic cold remedy thanks to my Filipino roots here.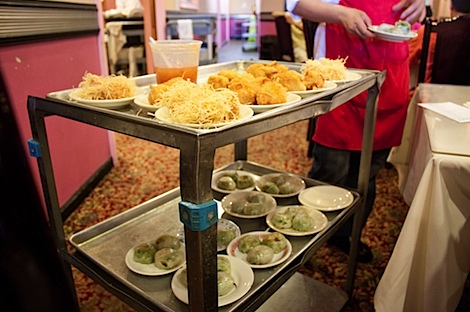 As I mentioned earlier, I've grown up visiting my family in Atlanta. I don't know where the tradition started, but since I can remember, almost every single time we go to Atlanta, we have a very important restaurant we must visit.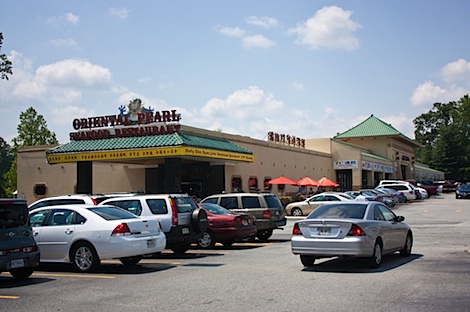 We'd always go with our cousins to the Oriental Pearl in Chinatown for Sunday brunch aka dim sum.
For the first time ever, Sis and I (now all grown up and stuff) went by ourselves! We usually go with cousins and our fam and roll in with a big group of 8 or 9, but today it was just the two of us.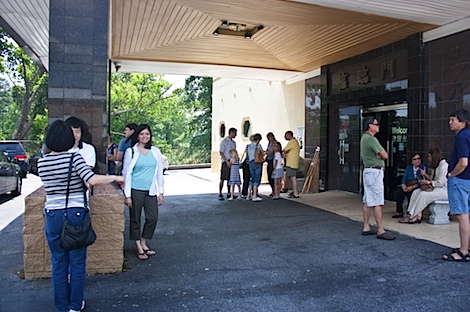 Don't get there early enough and you're bound to wait. We decided on a lazy morning with our fam, so a wait was a guarantee, but it was so worth it!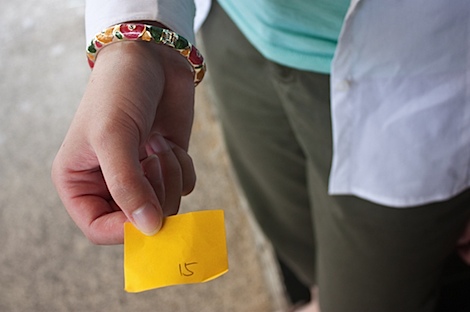 Lucky #15!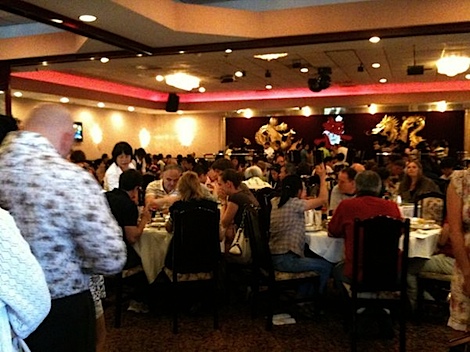 The scene inside.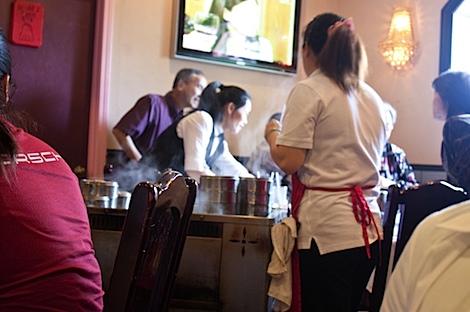 Inside, things were busy as ever.
We actually went to the Oriental Pearl couple years ago, and they had converted the place to a Chinese buffet! We were SO disappointed. Dim Sum is not served buffet style. Part of the greatness of dim sum is the whole experience – the food being rolled around on carts.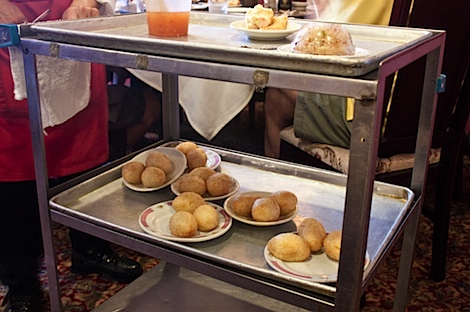 Sis and I quickly grabbed some food from one of the first carts around.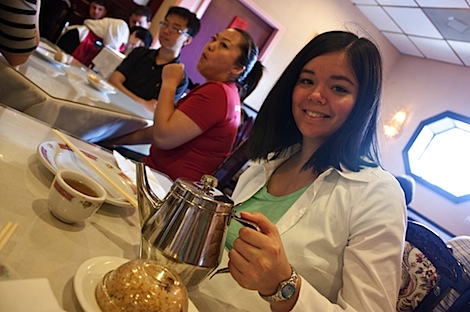 Plus we had hot tea! This is where I learned to drink hot tea sans sweetener. There isn't even sugar on the table!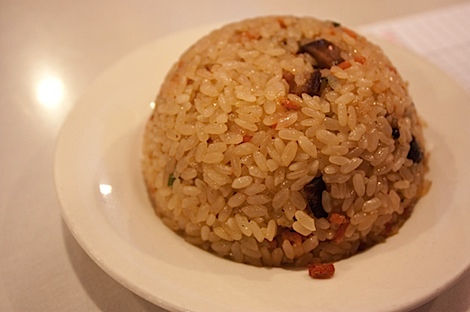 First up – sticky rice (the one served in a glass bowl)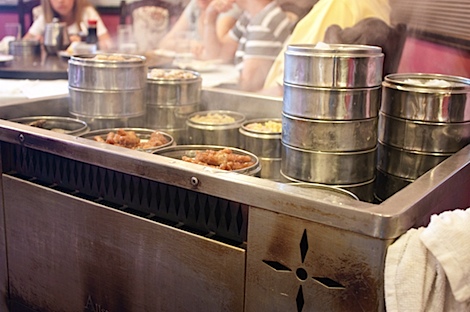 And from the first cart of steamed foods, we picked…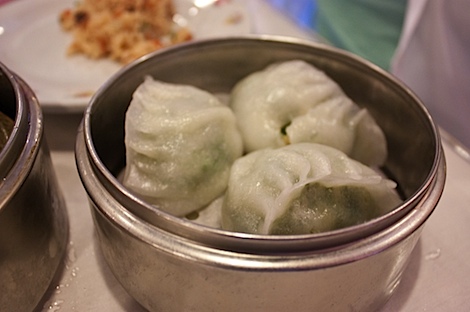 shrimp and vegetable dumplings.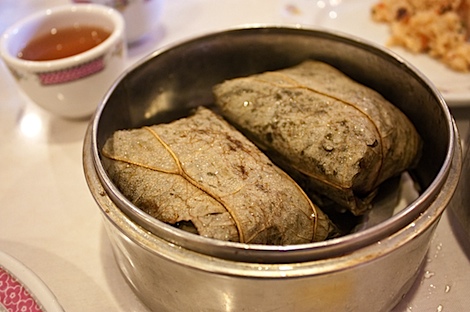 Quickly followed by sticky rice in a Lotus leaf.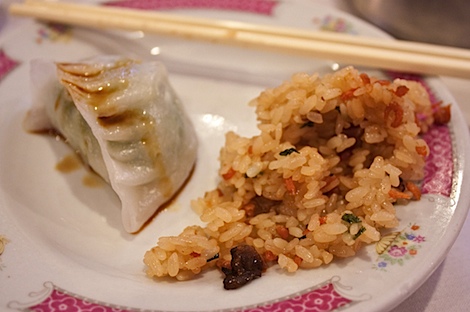 Nom!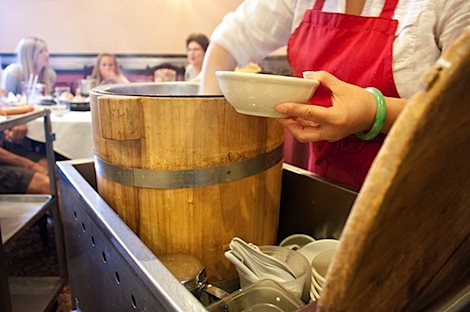 Then, we saw something we've never seen before – a large wooden container with tofu inside!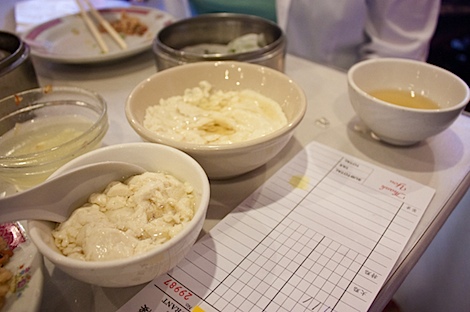 After talking to the waitress, we found out it was hot tofu with a sweet ginger sauce – a tofu dessert!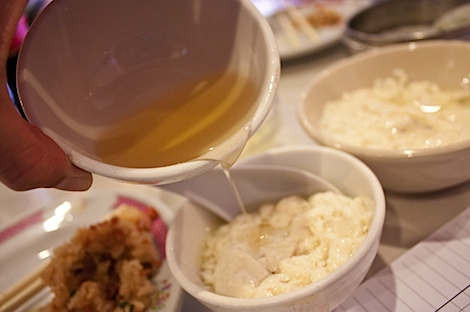 Although we weren't ready for dessert, at dim sum, you have to jump when the food comes around or risk that they may run out. Since we had already gotten there later than normal, we decided to try it. It was really tasty! I'm going to have to try to remake this one. It seems easy enough.
Dozens of carts passed by but Sis and I were trying to be selective so we didn't fill up before getting the items we really wanted.
From one of the next steamed carts, we got one of my personal faves –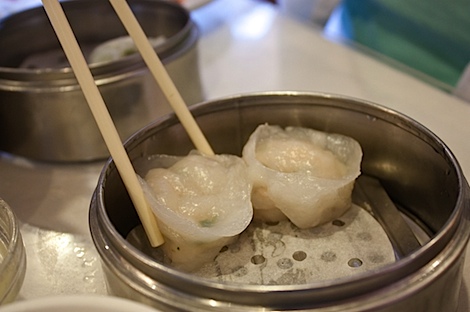 Har Gow – aka Steamed dumplings. I accidentally ordered this one in Chinese. I can only imagine what my terrible accent actually sounded like to the poor lady pushing the cart. lol Anywho, this is actually the only dim sum dish I know in Chinese, but I'd really like to learn all of them. It's so much easier to order them in Chinese. Otherwise, you may not know what you're asking for.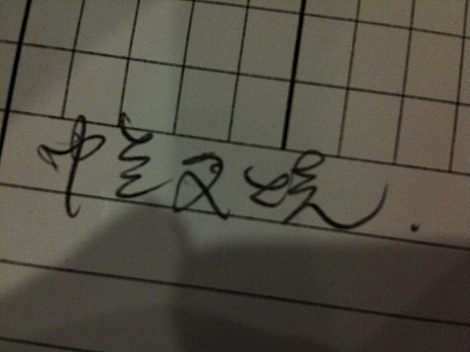 For example, I tried to ask our friendly waiter for 1. roast pork buns and 2. Chinese broccoli. He scribbled this (above) down and took off for the kitchen. Sis and I guessed what we had actually ordered. A pork and broccoli stir fry? Or worse? Something completely wrong like octopus? We had to play the waiting game to see.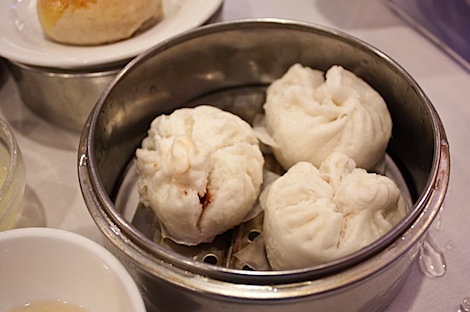 Meanwhile, Sis got her fave – steamed pork buns.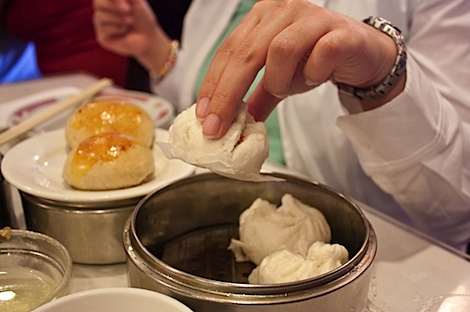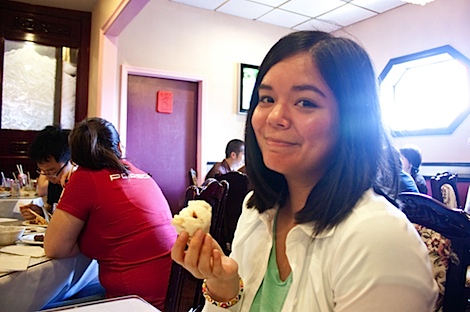 Happy eater!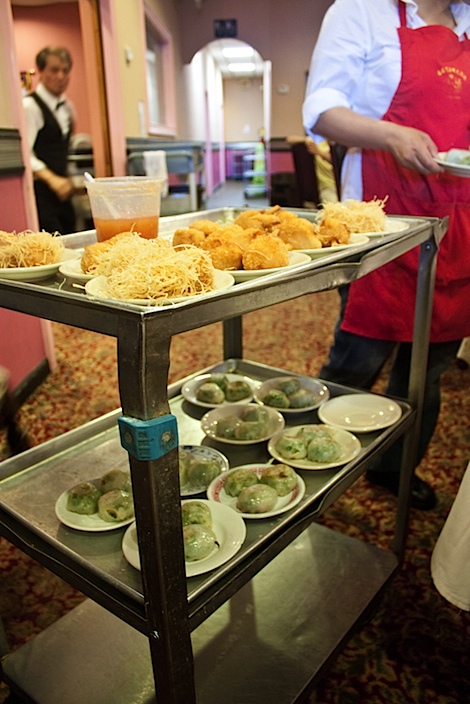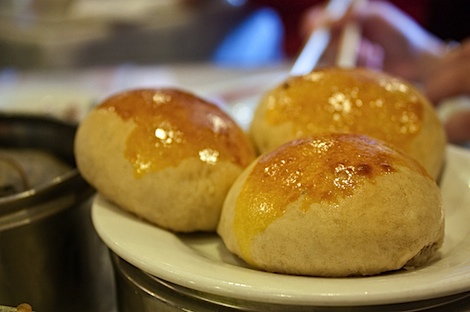 And I finally had one of my faves roll around – the roast pork buns I'd been looking for! Rather than wait for the waiter, I went ahead and got an order of these…especially since my mom had asked us to bring some home, I had to go for it!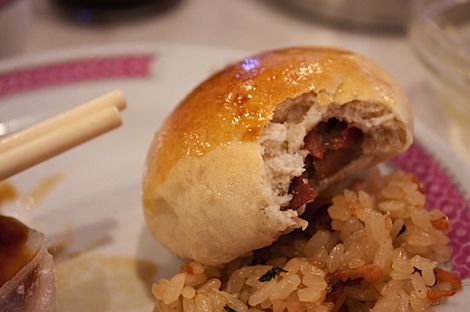 Nom encore!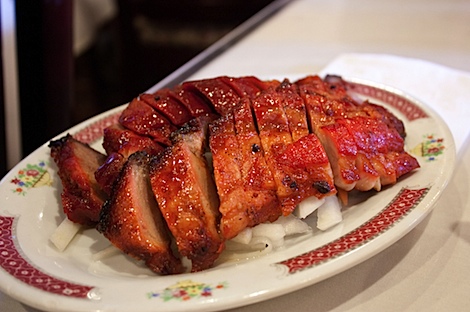 And what did the waiter this we ordered? We're not sure 100%, but he definitely though we wanted this roast pork. Sis and I were way too stuffed to eat it and started to tell him it wasn't what we ordered. The poor guy looked so sad and tried to tell us the pork was good (in broken English). So, we decided to take it to go and give it to the fam back home. I tasted a bite and he was right – it did taste good!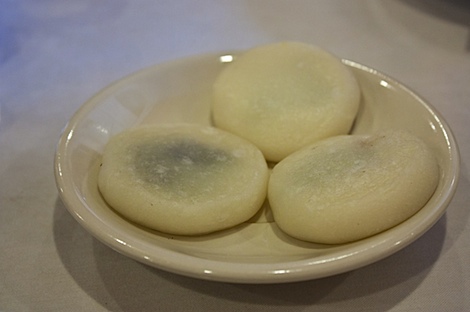 Sis really wanted sponge cake, but they sold out before we could get some, so we got these steamed red bean cakes. I love red bean based Chinese desserts, but it seems like a lot of places like to use yellow beans instead. The red is so much better!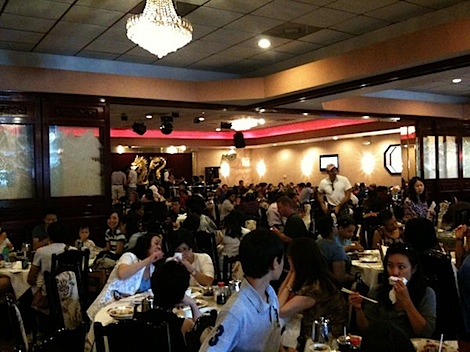 The view from our table.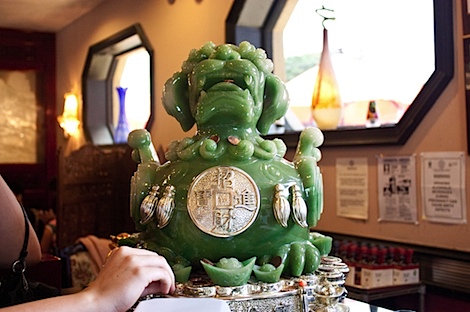 And a coin for this statue for good luck on our way out.
After our filling and delicious brunch, it was time to hit the road!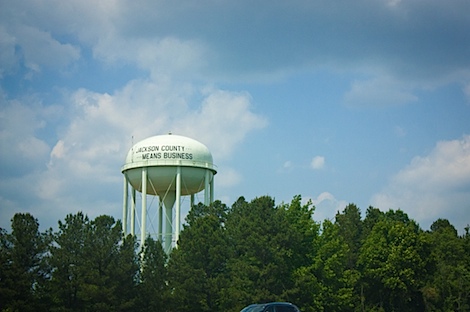 Did you know Jackson County means business? Neither did I until I passed this water tower.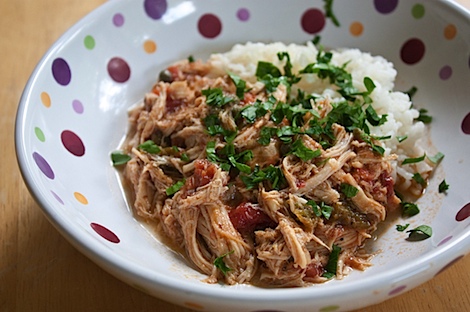 Back home, we found our the fam had all had HUGE lunches and were too full for dinner! Doh! Sis and I were hoping to do a big Sunday dinner for Mother's Day but in true mom-style (or at least style for our mom), she just wanted to spend time with us. Flashy things and fancy gifts mean so much less to my mom than quality time. I only wish I could have taken that Monday off like I wanted to spend it with her. Guess I'll have to do that on another time. It doesn't have to be on Mother's Day, right?! 🙂
I had frozen and re-heated Chicken Cacciatore for dinner…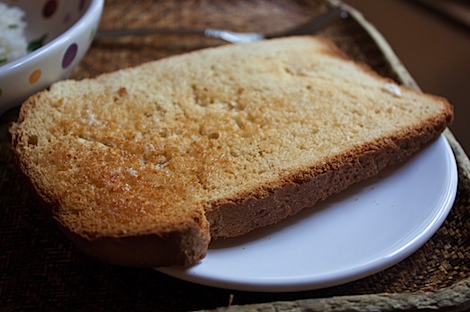 …with some of aunt's bread toasted with real butter.
Plus sweet rice for dessert!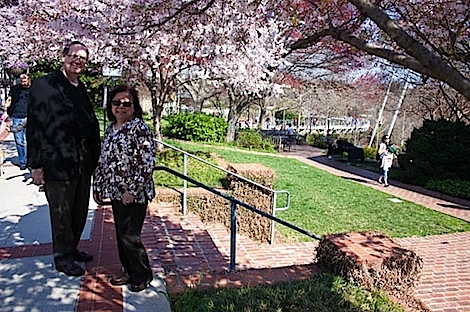 And a couple days late because I'm catching up on blog posts, but Happy Mother's Day to the most kind, loving, and wonderful mom ever! I love you!
Do you have any places (restaurant or otherwise) that you just have to visit every time you go to a particular city?