There is a restaurant in Greenville that has been eluding me (and my family) for about a year now. It seems every time we've tried to come, it's been closed! The restaurant actually has reasonable hours…the kink, it seems, is the fact that I'm usually only home on weekends and holidays, and the restaurant is not open on Sunday (and you know where I normally go on Saturday).
Anywho, after many times seeing the "Closed" sign on the front door, Sis and I finally made it to the restaurant, at a day and time they were open, to meet up with her friend Sharon for lunch. And after hearing how wonderful the restaurant was but not being able to try it myself for the last year-ish, I was really excited about finally enjoying a meal at the restaurant…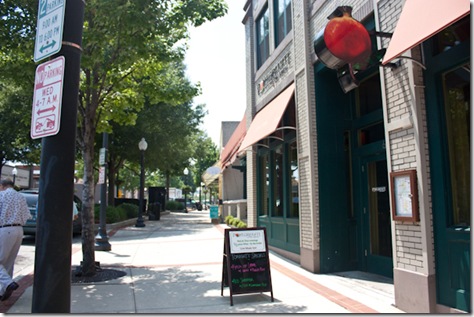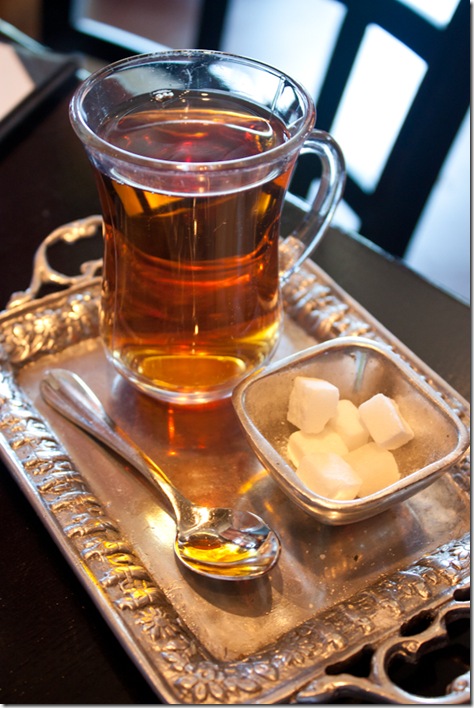 Sis ordered hot tea, so I followed suit. Luckily, she was able to tell me how to drink the tea. She said you can take the sugar cubes and stir them into the tea, but her friend told her to do this…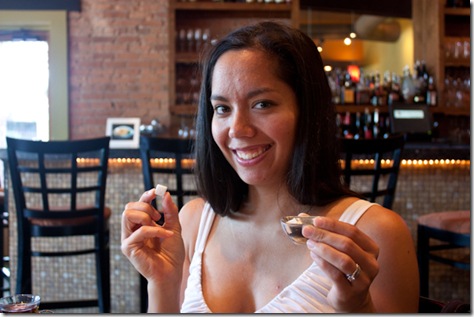 Take a sugar cube…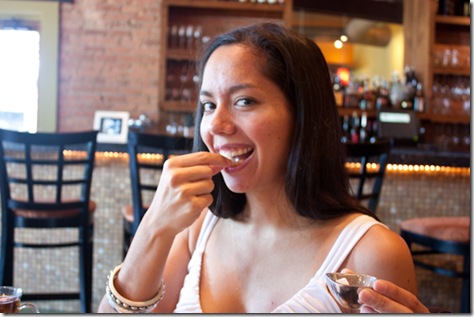 …place the sugar cube in your mouth (on your tongue).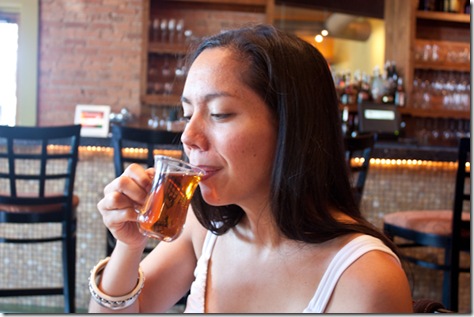 Sip the tea and let the sugar dissolve as you drink.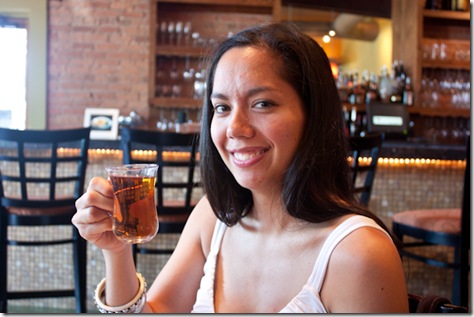 Yum! I thought the tea was really good. I'm not sure what it was exactly, but it tasted like a black tea…not too strong or flavored. Juuust right.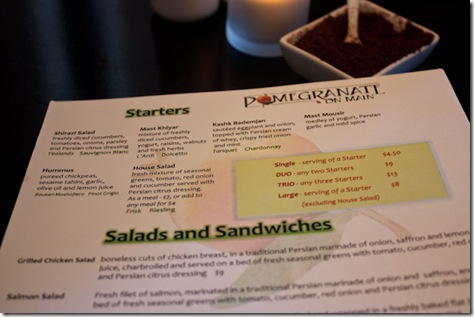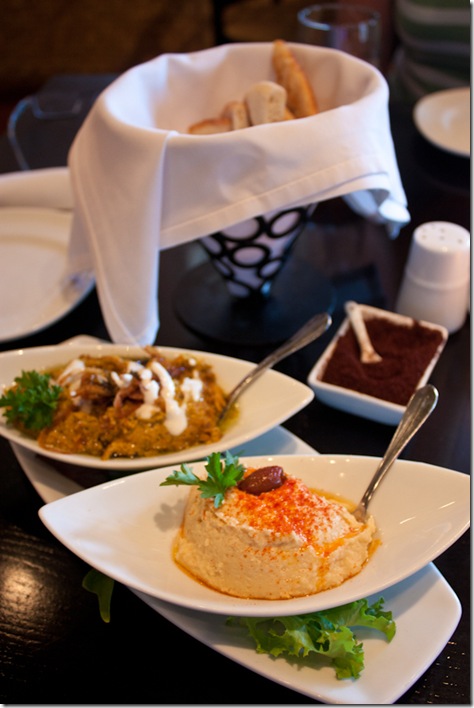 We started with an appetizer and went with the duo, selecting the hummus and the eggplant dip.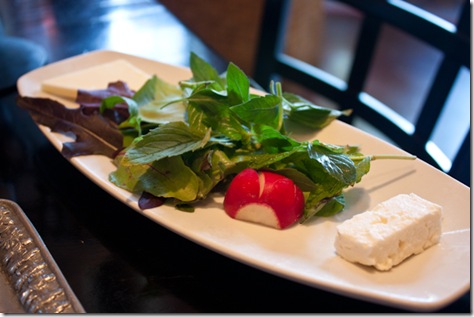 We also received a plate of feta, butter, mint, and radish. The waiter instructed us to eat some of the pita bread with some of the butter and feta with a mint leaf on top. Then take a bite of radish. He said this was a traditional breakfast in Persia.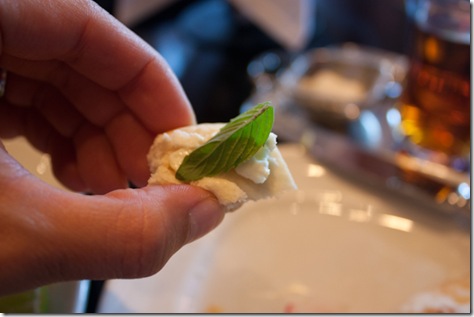 I thought it was lovely and refreshing.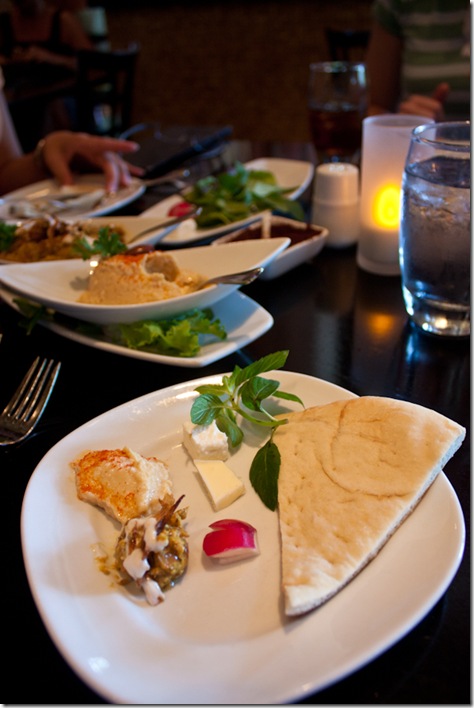 Of course, the rest of the appetizers were awesome, too. I even liked the eggplant dip (and you guys know I'm not normally a fan of eggplant).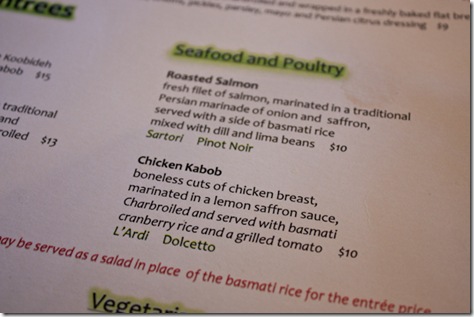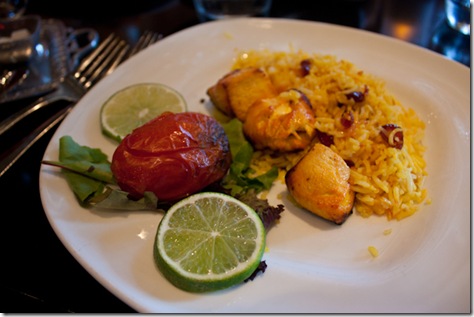 Sis and I shared the chicken kabobs for lunch. The meal was $10, and they split the plates for us. We were charged a $5 shared plate fee (which I didn't remember seeing on the menu, but I didn't really read it too closely, so it may have been there). For the $5, we received what Sis said appeared to be extra rice, an extra roasted tomato, and possibly another piece of chicken.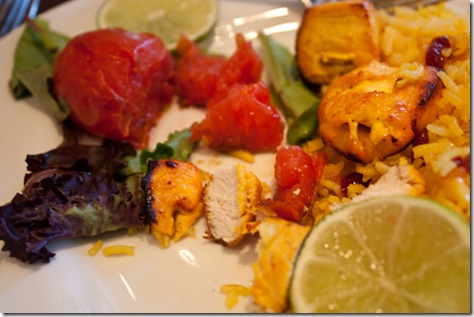 The dish was served with fresh limes, which I squeezed over the chicken. The rice had pieces of dried cranberries inside. And the waiter told us that we could take the tomato, chop it up and eat it with the chicken and rice.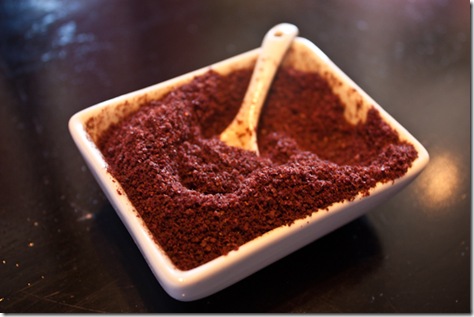 There was also this interesting spice on the table. I'm not sure what it is and forgot to task. I thought it may be terribly spicy, but it actually had a sort of tangy taste to it. I sprinkled it all over the meal and thought it was a nice flavor boost.
All in all, the meal was worth the wait. I can see why my family enjoys Pomegranate on Main so much. And sis says there's a great chicken kabob on the dinner menu with a pomegranate glaze! We'll have to try them out for dinner next time.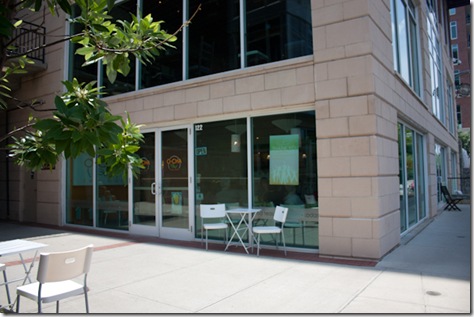 After lunch, we headed to O-Cha tea bar for some bubble tea. (the same place we visited just a couple weeks ago)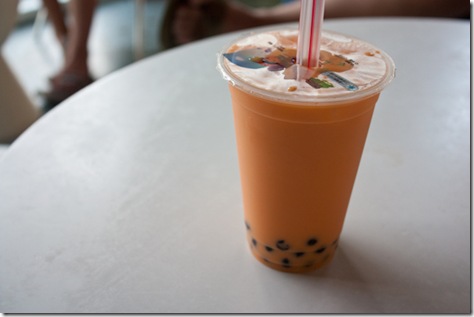 I went traditional with thai tea and bubbles.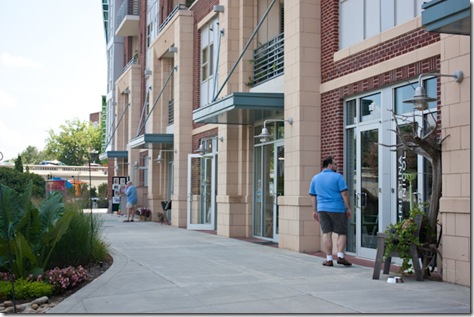 And then we checked out the art scene at the falls. I was trying to find my friend at The Artchics, but I couldn't figure out where her studio was! Guess I'll need to look up details before going next time…I sort of thought I'd just see it in passing.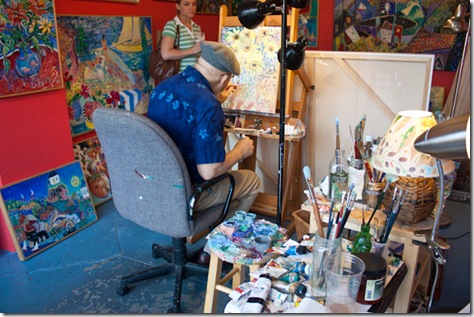 We stopped by my favorite studio last – Guy Stevens.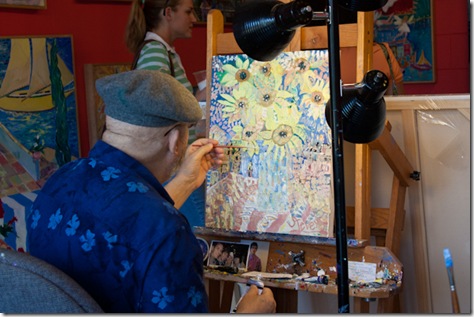 We actually found the artist himself at work when we stopped by. I ended up having a lovely conversation with him about his art, and he even told me some of the stories behind his many beautiful paintings. Looking at his paintings was like looking at his dreams. In fact, many of the symbols in his paintings are from his dreams. So neat!
Being in the studio totally made me want break out my brushes and paints.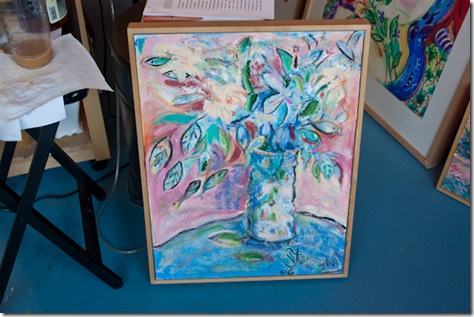 And this is my favorite painting. I kind of want to go back and get a print of this in a painted frame. Guy's wife does these cool painted frames that compliment the paintings. Hubby and I still have ZERO art on the walls of our home, so I think this could be a nice investment piece (though I don't think I can afford the original).
***
Next up, Indian Wedding – Night 2!
Plus, I have some super fun recipes in the works for you guys: an easy lemon-rosemary baked salmon, plus a tasty turkey-potato skillet dinner! Nom!
***
Have you ever waited a long time to try a restaurant? How long did you wait and was it worth the wait?