After a weekend of fun with my bloggie friends, I wasn't looking forward to Sunday. I wasn't quite ready to leave Philly or say bye to my friends, and I certainly wasn't looking forward to the 10 hour road trip ahead of me and my fellow road warrior Katie.
Catching Up? Here are my previous HLS 2011 posts: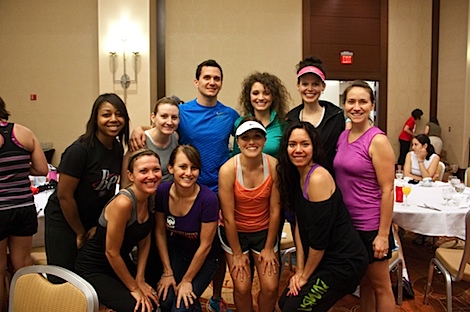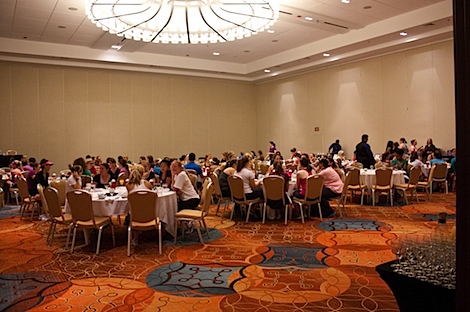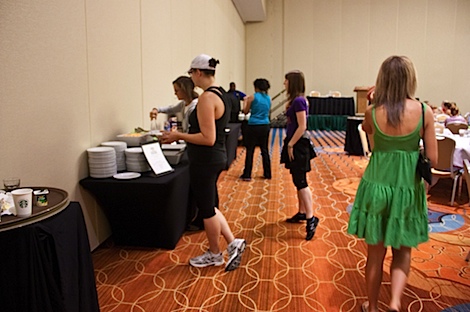 Quaker Oats sponsored the breakfast, so I was really looking forward to a hot bowl of oats.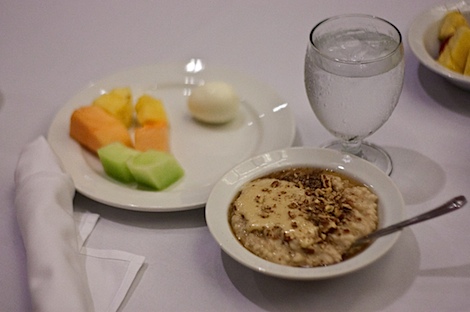 I also grabbed some fruit and a hard boiled egg (for extra filling power – we weren't sure when we'd stop for lunch)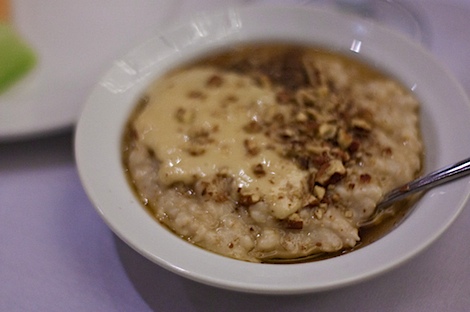 I put honey, ground flaxseed, almond butter, and nuts on my oats.
Shortly after breakfast, it was time to get our car and hit the road.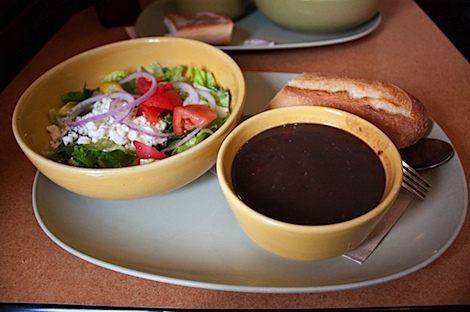 We made pretty good time for the first couple hours and even managed to find a Panera off the highway for a decent lunch. I had a Greek salad, black bean soup, and baguette.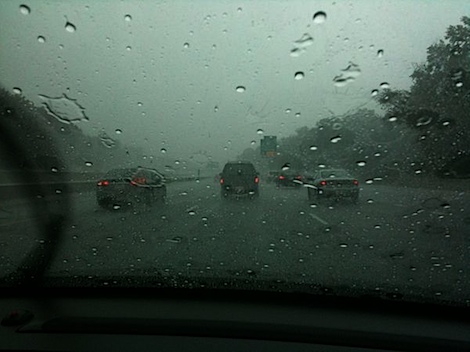 Unfortunately, as we worked our way through lunch, we watched a thunderstorm roll up. And the next few hours looked like this. 🙁 The traffic was pretty bad. Stop and go and stop and go for hours. Since Katie was driving, I monitored the weather radar from our phones. The storm spanned all up and down the east coast, but it was vary narrow. It appeared that although the rain was formed in a thin line from about Richmond to Philadelphia, we were managing to drive right through it.
We decided to pull over and let the storm pass. Best decision ever! We stopped, randomly, at a Target and hit up the Starbucks. We were hoping to take a blog break, but there was no wifi! But wifi or not, we were both super happy to see the SUN break through the clouds as the storms passed overhead.
There was lots of residual traffic from the rain storms, so things weren't totally smooth sailing, but they were certainly better. The thing driving us the most crazy was seeing the sign for Richmond over and over again. We were moving so slowly, it felt like every time we saw the mileage sign, Richmond was only 1 mile closer each time. Richmond seemed so far away!
As you may guess, when we finally did see Richmond we were so happy.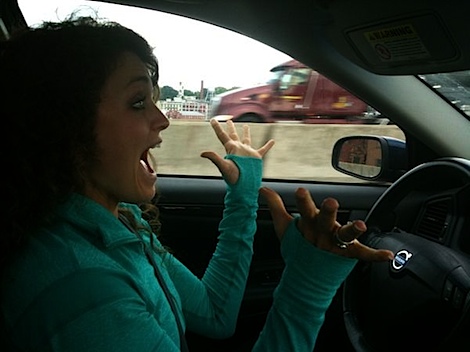 We never thought we'd be so excited to see Richmond, but we sure were!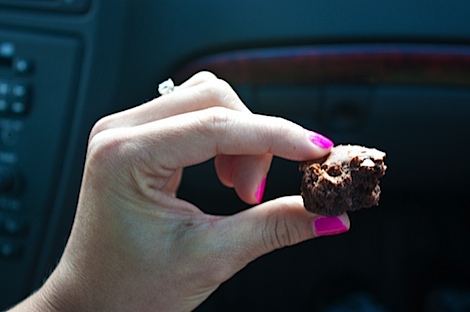 I shared the brownie I got from Evan with Katie as a pre-dinner snack (or was it a we-escaped-the-crazy-rain-storm celebratory treat?). Either way. It was delish!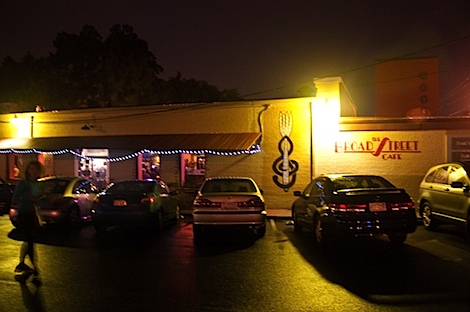 One good thing that came out of the rain storm was a call I made to hubby's brother, for help. I knew we'd be passing Durham on the way home and that he was quite the local restaurant expert. His suggestion – Broad Street Cafe. It would be open late (since we were running late…stupid storm) and had great food.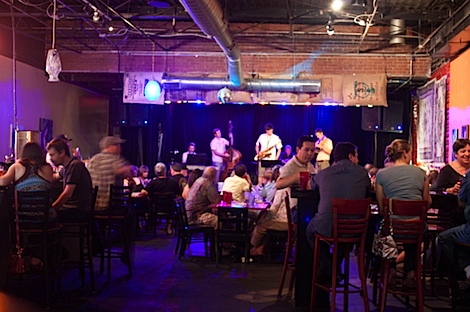 Perhaps the best surprise? A live jazz band!
I gotta tell you, after spending nearly 10 hours on the road, a relaxing jazz band was just the thing I needed to calm my nerves. It was so relaxing!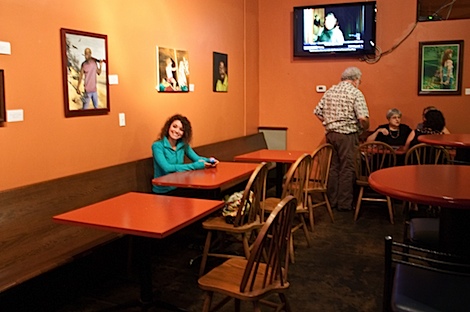 I scoped out the menu online prior to arriving and kept seeing two things pop up: sweet potato fries with homemade ketchup and the butternut squash pizza. I ordered both.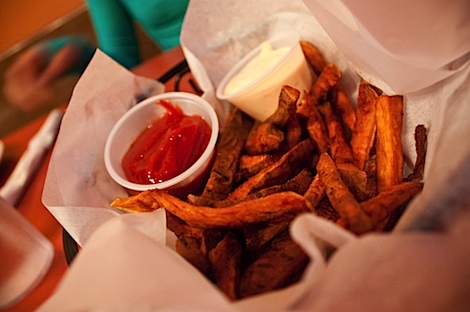 The fries were amazing! Mostly, I loved the homemade ketchup. The ketchup was spiced! Spicy and sweet…mmm. The two combined made for a dynamic duo of flavor and texture.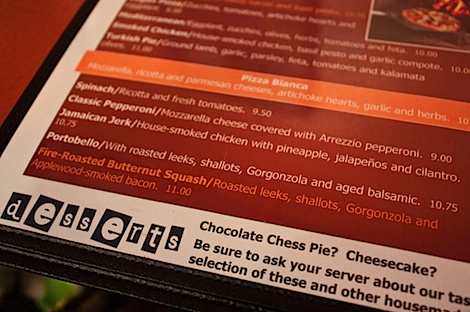 I was really on the fence about the pizza because it seemed so simple, but when I read the detailed menu description, I was sold. Perhaps it was the leeks and shallots? Or maybe just the unique combination of ingredients I've never seen anywhere else. Fire-roasted butternut squash, roasted leeks, shallots, Gorgonzola, and Applewood-smoked bacon all on the same pizza? SOLD!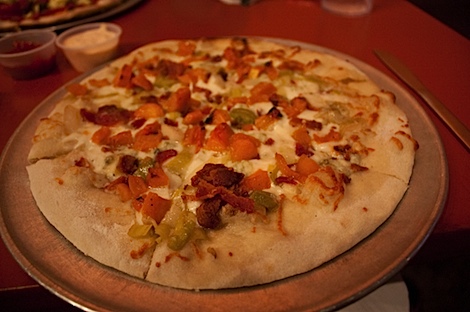 The pizza was a perfect example of balance of savory and sweet. The smokey, salty bacon was perfect with the sweet shallots and butternut squash. The leeks were the icing on the cake. Who knew all these ingredients would taste so great together? Apparently Broad Street Cafe did.
The dinner stop was just what we needed to power through the last 2 1/2 hours home. We finally arrived around 11:15pm…phew! We had a long day, but we were home safe and sound. This definitely makes my longest road trip ever!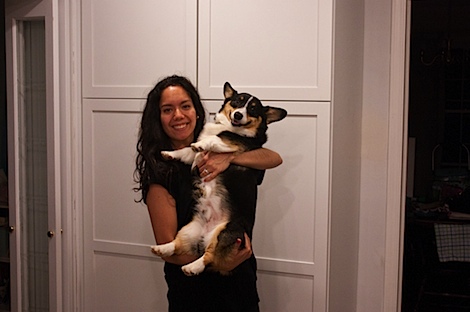 Bailey was especially happy to see me, and he practically tried to break down the door when he saw me coming. Cute little guy. His corgi butt was going a mile a minute shaking in happiness (they shake their butts since they don't have tails).
HLS or Bust – Done and done!
I'd like to send out a thanks to Katie for being such an awesome road tripper. I'd also like to thank Mr. Philadelphia for his help locating a parking deck and offering numerous restaurant suggestions. And a big thank you to Meghann for organizing this year's HLS.
And of course, I'd like to thank you, dear readers, for your many road trip tips and restaurant suggestions. I wish I could have tried some of them out, but it was hard because we were trying to stay close to the highway for the road trip portion and then close to the hotel for the conference. I'll refer back to your suggestions next time when I have more time to explore! 🙂
***
Missing my recipes? I have a bunch queued up and ready to share! Check back for more of those later this week/this weekend.
And click here to get free The Chic Life updates!
***
Reader question: What's the longest road trip you've ever done? How long was it?