If you had told me 10 years ago that I would be going to a Britney Spears concert, I would have called you crazy. If you had told my sister 10 years ago that I was going to a Britney Spears concert, she not only would have agreed that you were crazy, she would have also been uber jealous. My how things change with time.
When Britney first hit MTV, it was my sister who was infatuated with the pop princess (she loved all the boy bands, too, of course). Meanwhile, I thought the whole sugar-y pop thing was silly, and I pretty much couldn't stand the music. I may or may not have teased her for her love of Britney, the Backstreet Boys, and let's not forget…the Spice Girls.
Fast forward to present day, and I'm such a Britney fan, while my sister isn't! I could jam to Britney any day of the week, while my sister could care less to hear her music. So, as a Britney fan, I was super excited to hear she was coming to town. You'd think that I would have spent some time putting together a fun outfit for the concert (you guys know I love costumes), but things have been so busy, a costume was the last of my concerns.
My first choice was the Slave 4 U pink outfit, but that required too much DIY for my schedule. I tried throwing some last minute outfits with clothes I had in my closet, but to no avail. I had a close version of her Everytime outfit, but the white shirts weren't the right size. I actually threw together a decent Gimme More outfit (I posted a photo on my Facebook – click to view), but I deemed it too scandalous for the night. An interesting decision given my choice of costume for Lady Gaga. Guess I wasn't in the mood for pushing my age-appropriate dressing to the utmost limits. I ended up just wearing leggings, a loose tank top, and my Zumba shoes.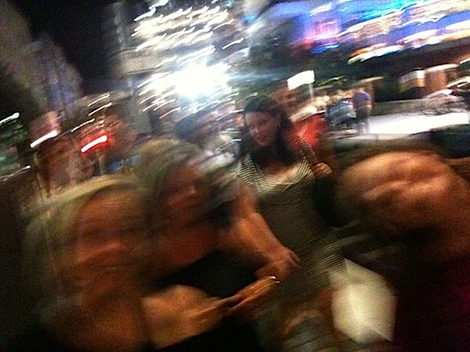 I went out with a fun group of girls for the concert – lots of my Zumba peeps.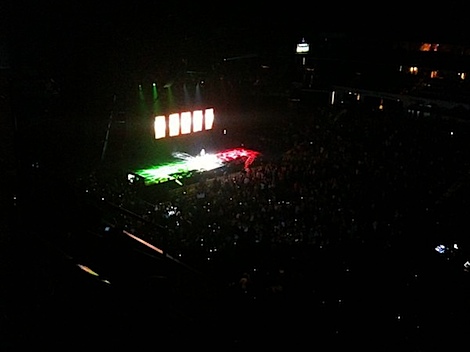 The show opened with DJ Pauly D, but not Nicki Minaj. Not sure why she didn't make it. I admit I watch the Jersey Shore, but I wasn't there for Pauly. I didn't really miss Nicki Minaj either. I was there for the main attraction.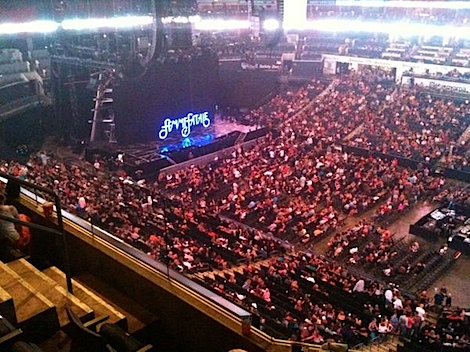 Femme Fatale – moments before starting.
Show time!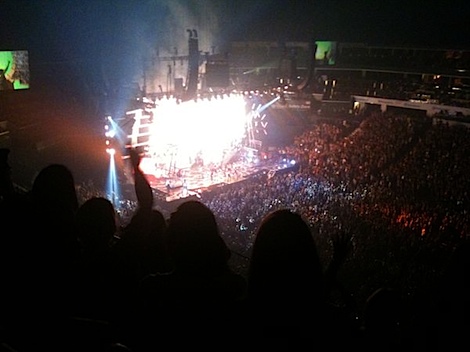 The concert was super fun and I loved hearing some different remixes of her songs. She did a lot of her new songs, some old school faves, and of course her current #1s.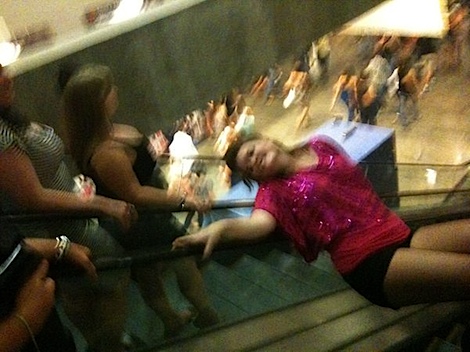 Swoon!
***
Random fashion/celebrity thought: Does anyone else think Kim Kardashian's wedding look (click) was a little too Red Sonja (click) does bridal? I didn't love the headpiece. What did you think of it? I must admit, I didn't watch or read any of the wedding coverage. I've only seen a couple photos pop up via fashion blogs in my Google Reader. So, maybe the look made more sense if you saw the whole thing? Please discuss! 😉
Side note: I've read via various sources that the headpiece is a nod to Kim's Armenian ancestry. Apparently, the headpiece was supposed to resemble a crown (though a couple google image searches yielded no similar results to what Kim wore)? I won't even pretend to understand Armenian tradition, so if you're Armenian, please educate us. I'm all about a cultural nod, so learning that alone makes me dislike it less. 🙂
***
Reader question: Tell me the truth – do you (or did you) love pop music – especially bubbly girl and guy groups and performers? Which one is/was your favorite?