Lately, I've been uninspired to get out of bed in the morning. Why? I'm going to be honest with you. Work is kicking my a$$ and stressing me out big time. And if you're in the same boat, I have a breakfast idea that may help make you ready to take on the day.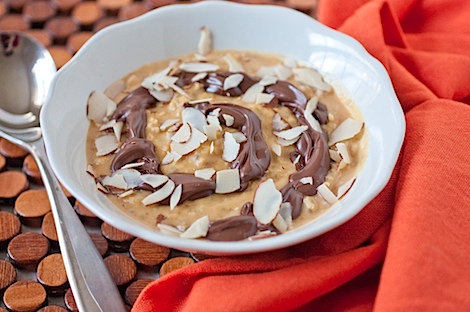 I normally don't like talking about work on my blog, but you know what? If any of my co-workers were actually reading this, I think they'd be nodding their head and saying, "I hear ya, girl! Me too!" Our current work environment is very stressful and picking up stream. But there's a light at the end of the tunnel when our current project gets released in just a few short weeks. And then, we can all be normal again.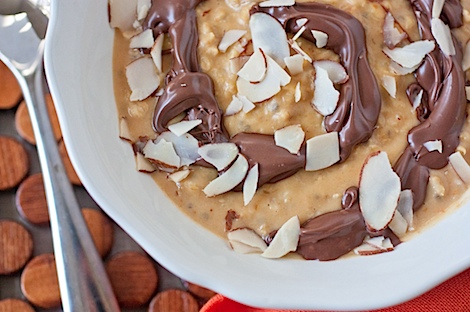 So, what do you do when you aren't quite ready to face the day? Find something to help get you going. May I present…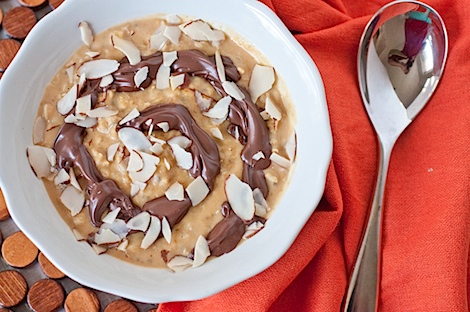 Nutella Swirl Oatmeal!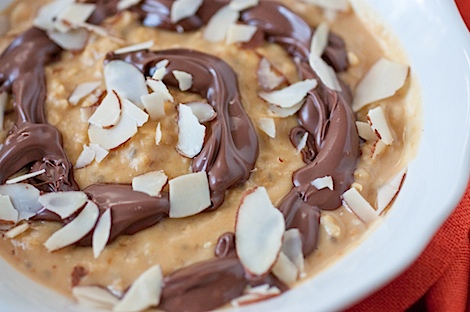 This is really so simple to make.
Here's my Non-Recipe for Nutella Swirl Oatmeal:
Start by making your choice of oatmeal. I prefer making stove top oats (click here to learn how to cook oatmeal this way). The bowl pictured is made with a spoonful of canned pumpkin. Take however much Nutella you feel like eating (I used about 1 tablespoon), and put it in a microwave safe bowl. Microwave the Nutella until it becomes soft and easy to pour (15-30 seconds should do it). Use two spoons to scoop and pour the Nutella into a swirl design (or carefully pour the Nutella straight from the bowl). Top with your favorite toppings. Enjoy.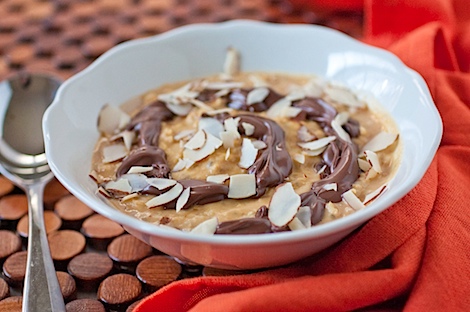 I'm really loving this idea of finding a reason to get out of bed when you're otherwise uninspired. I think I'll have to brainstorm some more ideas like this one!
Here are some more great oats-inspired recipes:
And here are some recipes to extra-inspire you to get out of bed:
Reader question: What tricks do you use to start the day when you're not feeling so ready for it? What's your get-out-of-bed inspiration?