I didn't get a lot of movie suggestions on my previous post (Liv did say: Love and Other Impossible Pursuits), but I keep hearing (via the blog, Facebook, twitter and friends) that the Something Borrowed book series is really good. It must be if everyone keeps saying that! Maybe I need to read them next?!
On to Sunday…
***
I've been having fun cooking for my sister since she keeps requesting things she's seen on the blog. Yay for family reading your blog!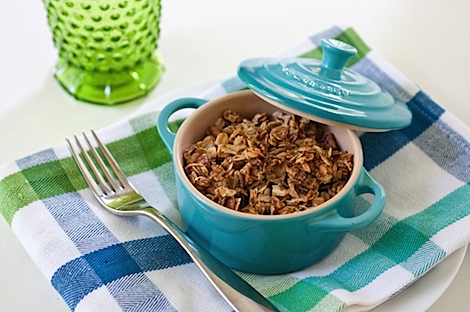 On Sunday, she requested a breakfast crisp.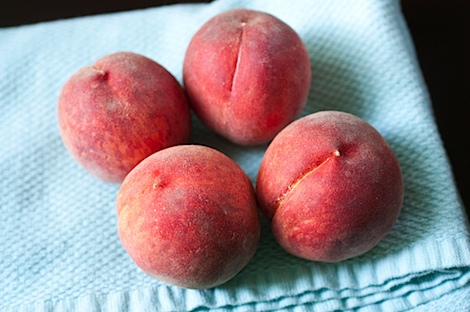 Since I had just picked up some fresh peaches at the farmer's market, I decided to do one of my fave combos – peach/blueberry!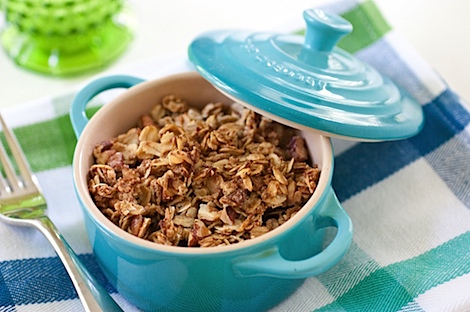 Print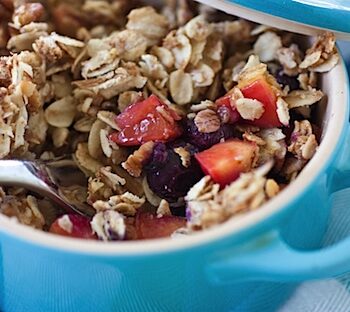 Peach Blueberry Breakfast Crisp Recipe
Author:

Prep Time:

5 mins

Cook Time:

20 mins

Total Time:

25 mins

Yield:

1

1

x
---
Description
This Individual Peach Blueberry Crisp Recipe taste just like summer! I love using farmer's market fruits in this simple breakfast dish. Unlike dessert crisps, this one is lighter on sugar and oil/butter. It's also heavy on the oats so you get a decent grain serving. And did I mention this is an easy way to work fruits into your daily eats? Oh yes. I do this for you, dear reader. 😉 Bake this for breakfast tomorrow! The dish mixes together quickly and you can finish getting ready for the day while it bakes away.
*Vegan if you use vegan substitute for the butter*
---
oil

1

peach – cleaned, pitted, and chopped (I used fresh, but frozen should work)

1

–

2

tablespoons blueberries (frozen or fresh)

1/2 tsp

sucanat (or brown sugar – optional if you want your fruit mixture sweeter than the natural sweetness of the fruits)

1/4 tsp

tapioca starch (or corn starch)

1/4 cup

rolled oats

1 tbsp

flour (I used spelt, but any will do)

1 tsp

sucanat (or brown sugar)

1 tsp

canola oil
pinch salt
dash cinnamon (optional)
bit of butter (about 1/4 tsp – optional)
sprinkling of chopped pecans (about 1 tbsp)
non-stick spray
---
Instructions
Preheat oven to 350 degrees F. Prep baking dish (I used a 4″ round ramekin) by brushing the inside lightly with oil.
In a medium bowl, mix peaches, blueberries, sucanat (if using) and tapioca starch. Pour into baking dish.
In a medium bowl, mix oats, flour, sucanat, oil, salt, cinnamon (I rinsed out my mixing bowl and reused it for the topping – one less dish = easier clean up!). Pour topping over berries.
If you're using it, dab small pieces of butter over topping and sprinkle nuts over topping.
Bake for 20-25 minutes, until top is lightly browned and peach/berry mixture just bubbles at the sides.
Wait till the crisp is safe to eat, serve, and enjoy!
---
Recipe Card powered by
More Delicious Recipes to Try Next
Breakfast Crisps are a great and delicious way to get fruit and whole grains in your breakfast.
By the way, here's a recipe for a mixed berry version!
***
After breakfast, my sister and I headed out to meet some girlfriends at the pool. It was glorious soaking up the sun, enjoying the cool pool water, chatting it up with the girls, and just relaxing. I forgot to take photos, though…doh!
I did manage to take some iPhone photos of our next couple of adventures – lunch at a must-see Charlotte restaurant and a preview of a not-so-new "grocery store." Read on for dets…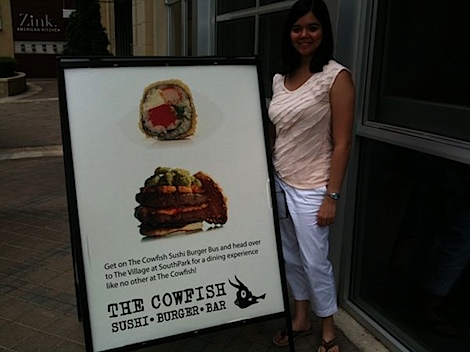 I took my sister to The Cowfish since it's awesome and I had a Living Social deal for the place that was about to expire.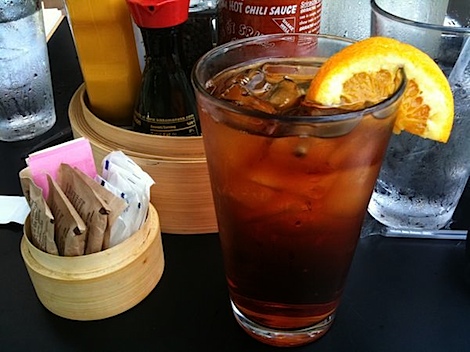 Sis and I both got unsweetened mango teas and they were perfectly refreshing since we were dining al fresco.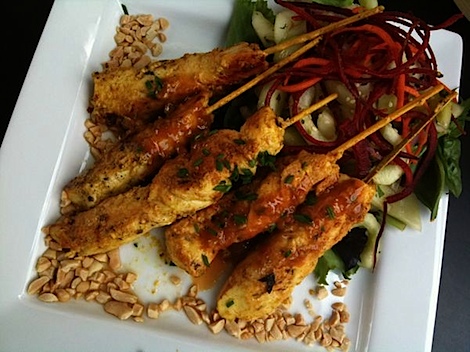 We also tried the chicken satay. The app was great, but if you're visiting Cowfish, I suggest getting one of their more unique appetizers. You can get chicken satay almost anywhere! But you can't get ahi tuna tacos or deconstructed crab rangoons as dip.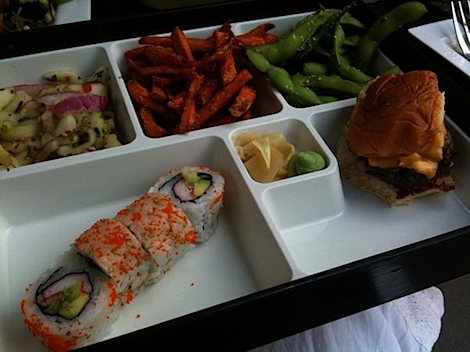 I got my usual – the bento box.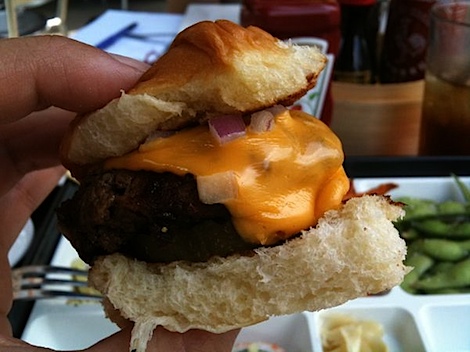 I never thought I'd like sushi and burgers in the same meal so much, but it's a match made in heaven.
As always, lunch and service were wonderful.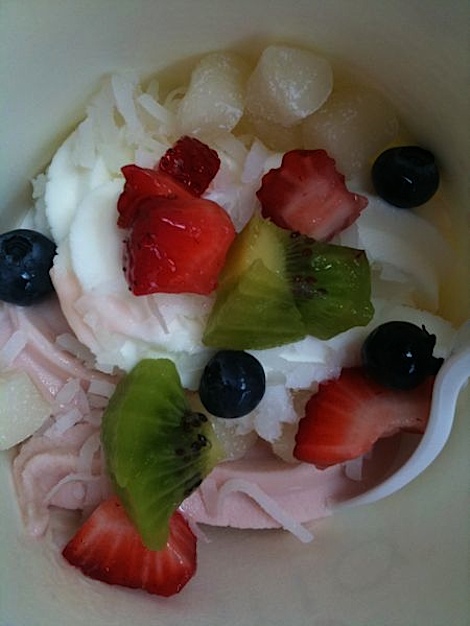 And for dessert on the hot Sunday, we hit up Yoforia. I got tart and pomegranate with strawberries, kiwi, blueberries, coconut and my now must-have topping – mochi!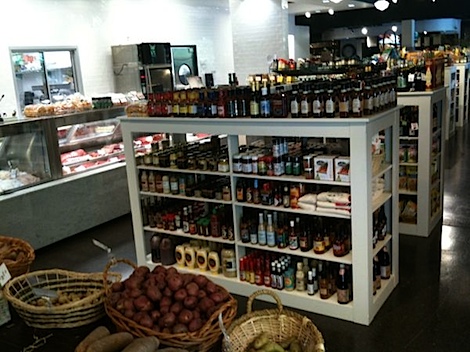 And since we were in the neighborhood, I thought I'd pay a visit to the newly opened Reid's Fine Foods. Reid's used to be open uptown, but closed awhile back. Everyone was very sad as the place was a beloved establishment for the locals. But now, it's back in business!
Inside, they had lots of fresh produce, a small frozen foods section, a small refrigerated foods section, plenty of locally made products and fancy imports.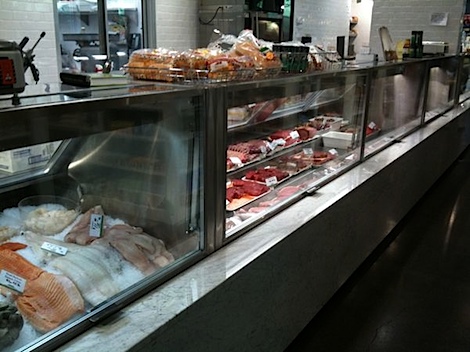 They still have their famous butcher shop (I spotted Grateful Growers products in there!).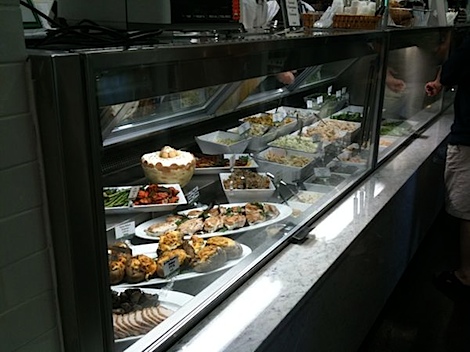 Plus, they have a nice selection of prepared foods.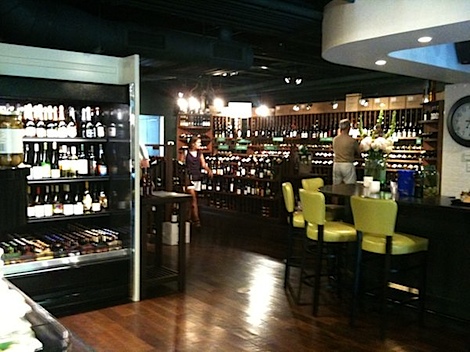 They also have a large selection of cheeses and wines.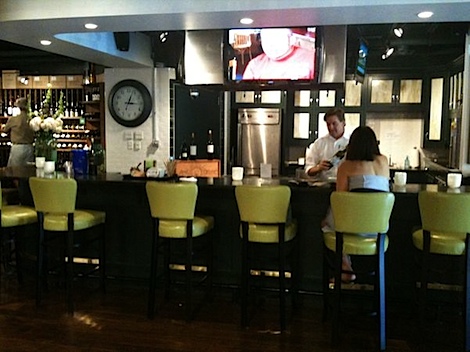 And they now have a wine bar. You can order wines by the glass here. They have half off glasses on a couple days of the week (I think Monday and Thursday, but don't quote me!). In addition, they have wine tastings and cooking classes!
I'm so glad to see Reid's back in busines, and I hope they and other small, local businesses continue to thrive. Go local!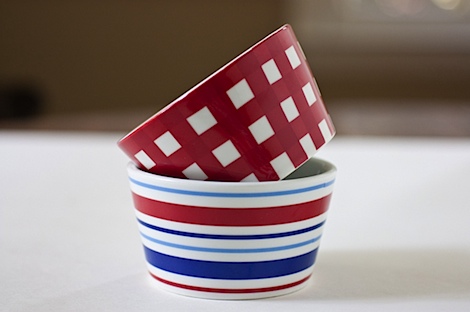 While we were waiting for our lunch table to be ready, sis and I visited Crate and Barrel. Sis bought me these 2 mini bowls. Aren't they cute?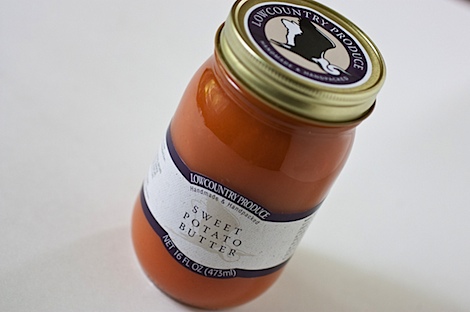 She also got me a fun new food ingredient – Sweet Potato Butter! I'm thinking this is going to get mixed into some oats pretty soon. Yum-ee!!
***
Inspirational quote of the day:
"Passion is energy. Feel the power that comes from focusing on what excites you." ~Oprah Winfrey
***
Next time on The Chic Life – homemade BBQ sauce experimenting, Bailey and the "sprinkler", and a June Challenge preview!! 🙂
***
Like this post? Please consider clicking the Facebook-Like button to let me know! 😉 Thanks doll-face!
***
Reader question #1: How do you support local businesses?
Reader question #2: What's your favorite fruit to eat for breakfast? Do you think it would taste good in a Breakfast Crisp?