Besides gigantic bar crawls, things have been a bit crazy for me. My current work project, which I've been working on for the last 3 years, is coming to a close. i have two weeks left…well, one and a half weeks at this point. It's time to clean out my desk, pack up, and take things back to the consulting company office. I've been getting a little sentimental looking through all my old documents, but I'm looking forward to moving on to something new. It would be a lot better if I knew for sure what exactly was next, but I'm hoping to find out more solid details soon. In the meantime, I will focus on the next week and a half.
I'm working on enjoying the ability to WFH since that may not be possible with the next gig. One of my favorite parts of being able to WFH is enjoying better breakfasts since I don't lose time in commuting (or putting on "real" clothes).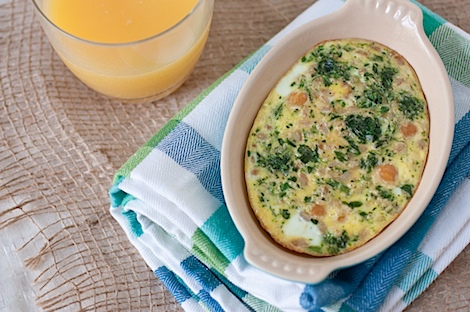 Recently, I combined some of that leftover Rosemary Garlic Farro with Chickpeas with one of my favorite breakfasts – the Individual Egg Bake. They actually went together quite well and made for a hearty and filling breakfast. And did I mention this is my favorite multi-tasking breakfast? Yup, I can get a lot accomplished in the almost 20 minutes it takes for this to bake.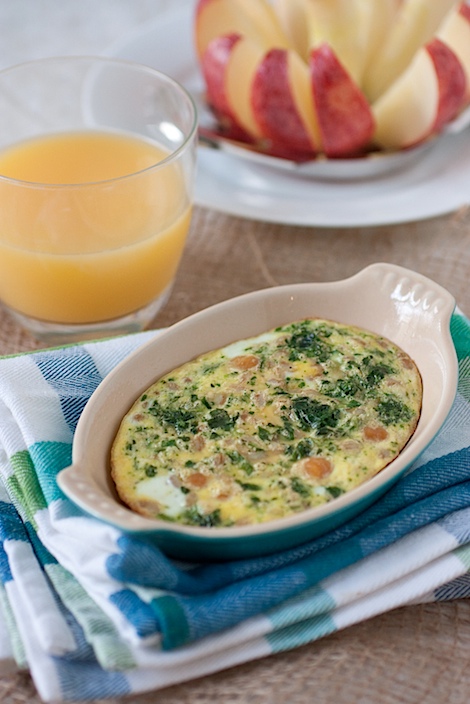 Individual Farro Egg Bake
Don't let the word "bake" throw you off. This recipe is actually pretty fast, and it's actually better for busy people than scrambled or fried eggs. Why? Because you don't have to get tied to the stove while this cooks. Just mix and bake and multi-task away while the oven does the heavy-lifting. Sub in any other leftover farro, rice, or other grain pilaf…whatever you have on hand!
Prep Time: 5 minutes
Cook Time: 16-19 minutes
Total Time: 21-24 minutes
Ingredients (multiply by each serving for multiples):
non-stick spray
1 cage free or farm fresh egg
1 tablespoon frozen, chopped spinach
1 teaspoon milk
pinch of salt
a bit of fresh-ground pepper
2 tablespoons leftover cooked farro (I used leftovers from this yummy recipe)
Directions:
Pre-heat oven to 350 degrees F and lightly spray individual casserole dish(es) with non-stick spray.
Combine egg, spinach, milk, salt, and pepper in a bowl and whisk together. Add farro and stir to combine.
Evenly distribute egg mixture to individual casserole dish(es). Bake until edges are golden brown and egg is set in the middle, about 16-19 minutes (depending oven temperature, etc.). Note: I used a toothpick to check doneness, sort of like you would for cake.
Remove from oven and let sit for a couple minutes till it's safe to eat. Enjoy!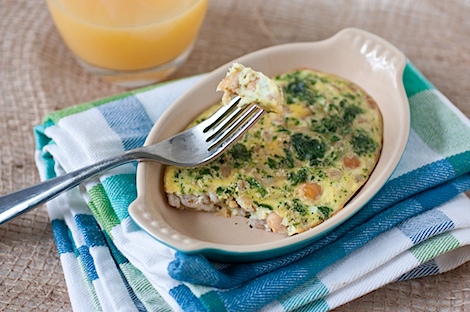 Looks like I'll be back to more grab and go breakfasts soon. I'll probably end up either taking them to the office or just storing them there to begin with. My favorites – yogurt and granola, cereal and soy milk, and toast with almond butter.
What are your favorite grab and go breakfasts?