Regular readers will probably remember – In addition to a Father's Day gift, I wanted to do something else a little special for my dad.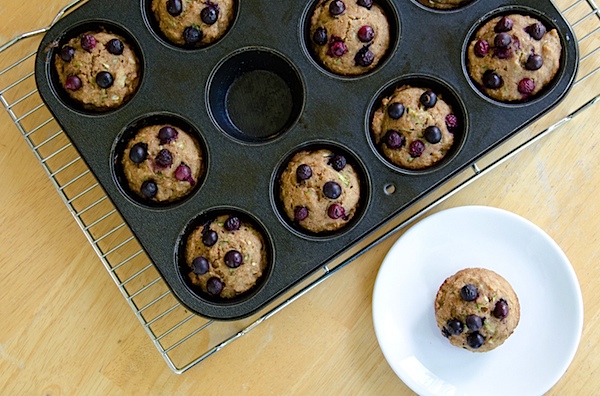 As I mentioned in a previous post, I created a new recipe for him because he loves eating muffins for breakfast. (I also got to use zucchini and blueberries grown from their garden.)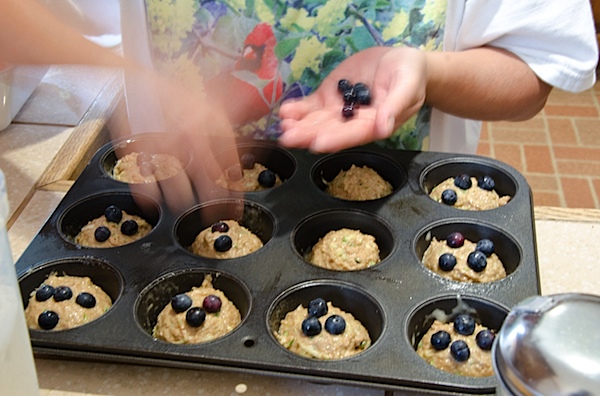 Now, at first glance, it may appear that I'm pushing my healthy eating ways onto my dad by making this a "healthy muffin" recipe. It's actually the other way around. My dad taught me about healthy eating.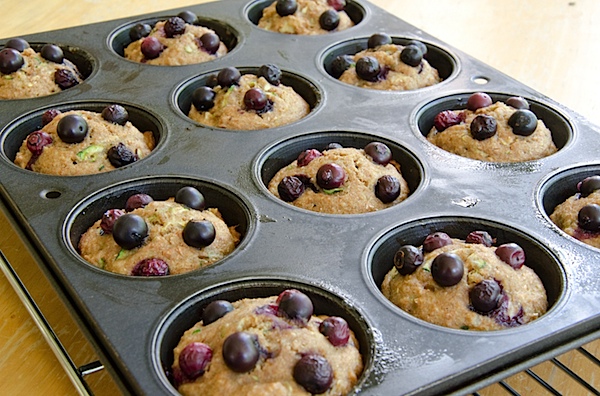 He was actually in the kitchen as I was concocting this recipe so I could ask him which flours and other ingredients he wanted me to use and how he preferred I added them (nuts stirred in or on top?).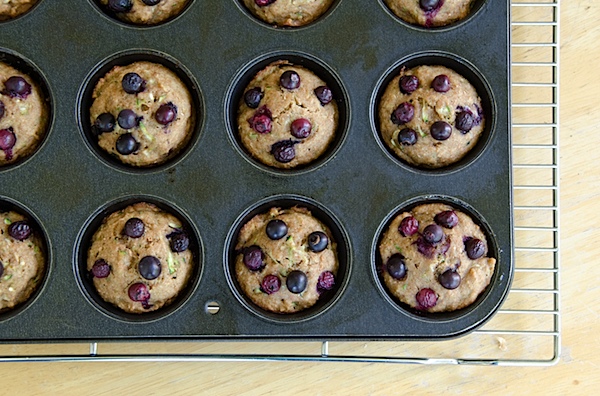 So these muffins were literally dad-tailored.
His requests:
Agave instead of sugar
Healthy flours
Addition of wheat germ
Addition of soy flour (for protein)
Extra vanilla
Nut of choice – walnuts
Nuts stirred into the batter
Blueberries placed on top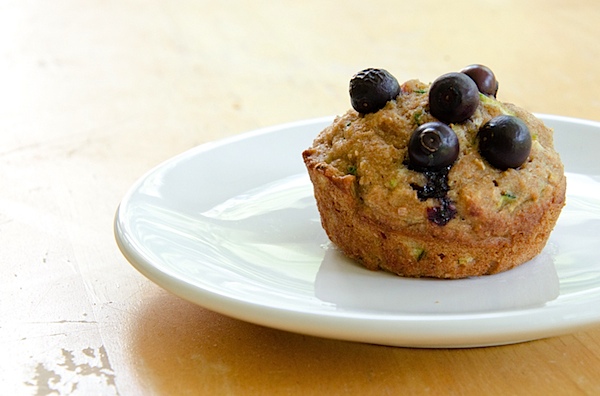 Healthy Blueberry Zucchini Muffins / Bread (Dad-Tailored)
I custom made these muffins just the way my dad likes – with healthy ingredients and garden-fresh zucchini and blueberries. Feel free to leave the blueberries out to simply make Healthy Zucchini Muffins / Bread. This recipe makes either 24 muffins or 2 short loaves or 12 muffins and 1 short loaf. Adapted from my Oat-licious Zucchini Bread & Muffins recipe.
*Vegetarian, Vegan options listed*
Prep Time: 20 minutes
Bake Time: 14-18 minutes
Total Time: 34 – 38 minutes
Yields: 24 muffins or 2 short loaves of bread
Ingredients:
1 1/2 cups whole wheat flour
1 cup spelt flour
1/2 cup wheat germ
2 tablespoons soy flour (for extra protein)
1 teaspoon baking powder
1/2 teaspoon ground cinnamon
1/2 teaspoon salt
1/4 teaspoon baking soda
3/4 cup coarsely chopped walnuts (or nut of choice), optional
3/4 cup agave nectar
1/2 cup applesauce
2 large eggs (or flaxseed eggs for vegan)
1/4 cup canola oil (or oil of choice)
2 teaspoons lemon zest
2 teaspoons vanilla extract
3 cups shredded zucchini (we used a box grater, but you can also use a food processor)
about 1 cups blueberries
cooking spray
Directions:
Pre-heat oven to 350 degrees F. Pre-pare baking containers of choice (see recipe notes above for options) – I used 2 12-cup muffin tins – with non-stick spray.
In a large bowl, combine whole wheat flour, spelt flour flour, wheat germ, soy flour, baking powder, cinnamon, salt, and baking soda. Whisk till evenly combined. If using, stir in walnuts.
In a medium bowl, combine agave nectar, applesauce, eggs, oil, lemon zest, and vanilla extract. Whisk till evenly combined. Stir in zucchini.
Pour wet ingredients into bowl with dry ingredients. Stir gently to combine, just till all dry ingredients are mixed in (careful to not over-mix).
For 24 muffins (like I made) – Using an ice cream scoop, put one scoop worth of batter into each cup of two 12-cup muffin tins (should fill muffins cups about halfway up the sides). For 12 muffins and 1 loaf – place one scoop batter in each cup of 12-cup muffin tin and pour rest into prepared loaf pan. For 2 loaves – evenly distribute batter into two prepared loaf pans.
Place blueberries on top of each muffin or loaf. Bake muffins for 14-18 minutes.
Let cool till safe to touch. Serve and enjoy!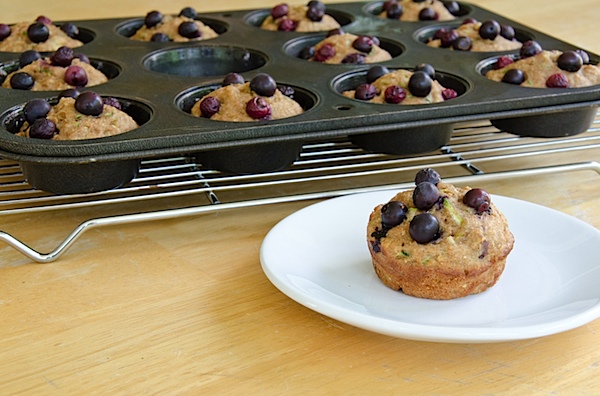 Tip: these freeze well. I think I've posted this before, but since the archives can sometimes be difficult to navigate, I thought it best to just repost. Anywho, I like to pull out just a couple muffins at a time for breakfast. I'll defrost them and then bake them at around 325 for 5 minutes so they taste fresh-baked again.
***
Did you enjoy this post? If you want, you can share this with your friends by using the share buttons below or the Facebook-Like button. Thanks so much for reading TCL!
***
Reader question: How would you tailor your muffins?