About one year ago, I made Ina Garten's Strawberry Country Cake for some friends. I remember thinking the dessert seemed perfect for summer – a simple cake rustically decorated with light whipped cream and fresh strawberries. The cake popped back into my mind last week when I was craving a cake mini but wanting a new flavor. So, I decided to transform my cake minis into this Strawberries 'N Cream / Fourth of July Cake Minis Recipe.
Not only is the cake very summery to me, I think it could be made for a festive Fourth of July dessert, especially if you add a couple blueberries so you get the full red, white, and blue look.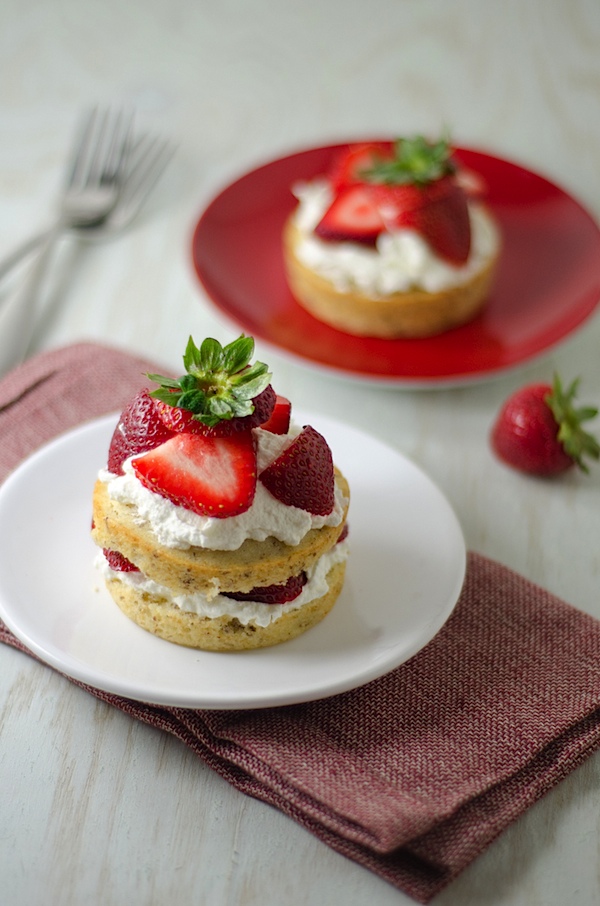 But you don't need to wait for summer to eat this dessert – it's great any time of year!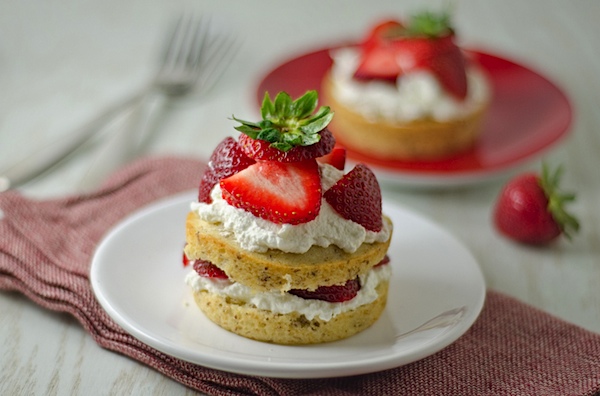 Though I do think this is pretty epic for a post-grill-out party clean eating dessert. Preferably eaten outdoors with a nice summer night to enjoy the full experience.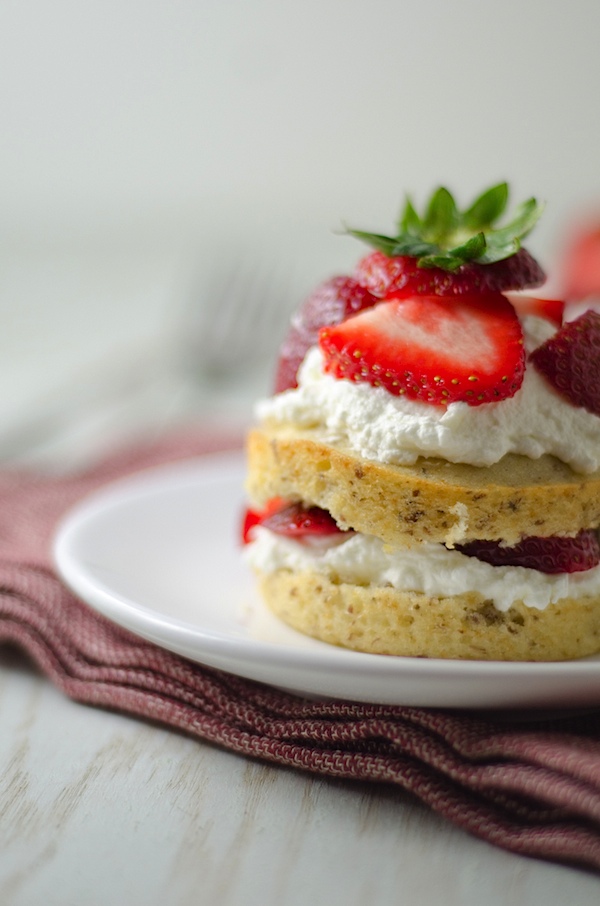 You can cut the cake mini in half and do two layers of whipped cream and berries…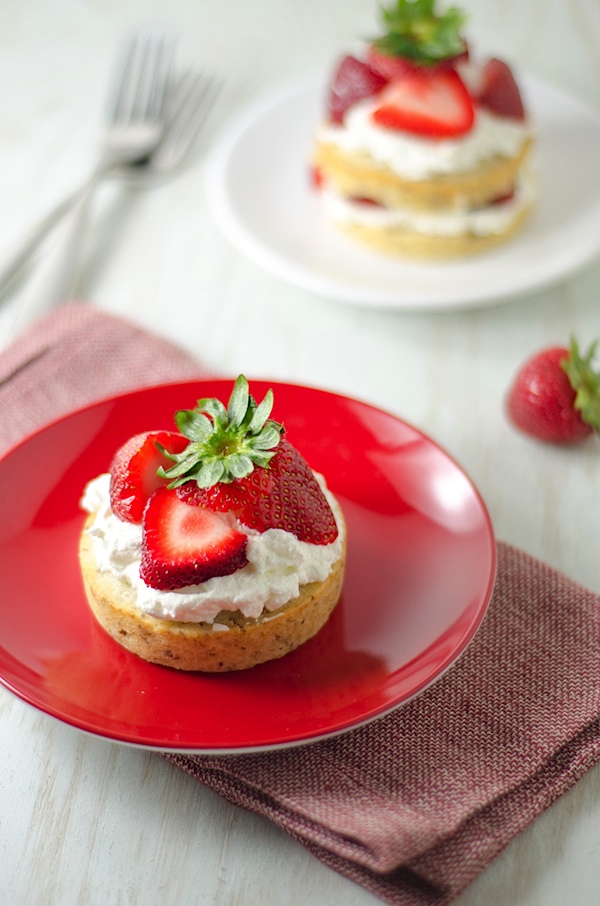 Or just dollop the whipped cream on top of the cake mini as is and top with sliced strawberries.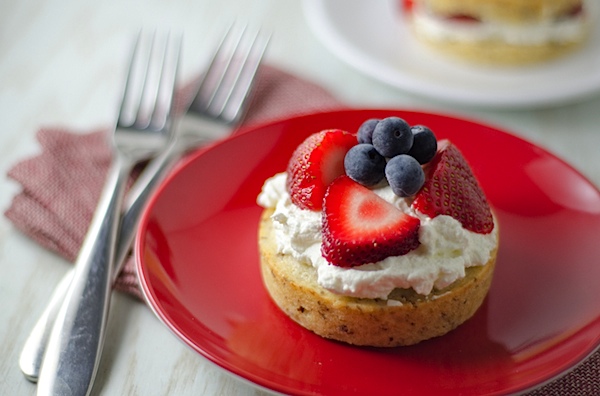 Add blueberries for a Fourth of July themed cake mini.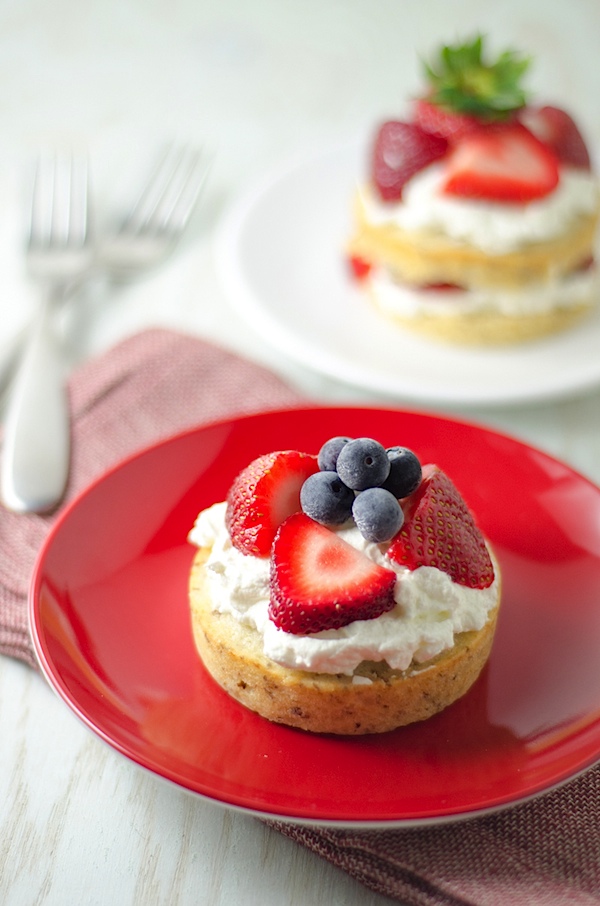 Strawberries 'N Cream / Fourth of July Cake Minis
These cake minis were adapted from one of my other cake mini recipes and inspired by Ina Garten's Country Cake. They make a wonderful warm weather dessert perfect for eating outside or even a festive Fourth of July dessert. Plus, this recipe yields just enough for two (or one person twice).
Prep Time: 10 minutes
Bake Time: 18-22 minutes
Total Time: 28 – 32 minutes
Serves: 2
*Vegetarian, Vegan options listed*
Ingredients:
3 teaspoons water
1 teaspoons flaxseed meal / ground flaxseeds
6 tablespoons flour
1/2 teaspoon baking powder
pinch salt
2 tablespoons softened butter (or sub oil of choice for vegan)
2 tablespoons coconut sugar
2 tablespoons milk (or vegan milk substitute)
1/2 teaspoon vanilla
non-stick spray
whipped cream, recipe follows
strawberries, sliced, about 4-5
blueberries, about about 5 per cake mini
Directions:
Pre-heat oven to 350 degrees F. Prepare two ramekins (3 inch diameter) with non-stick cooking spray.
Mix flaxseed meal and water together and set aside to bind while you continue with the rest of the recipe.
In a medium bowl, whisk together flour, baking powder, and salt until ingredients are well-combined.
In a medium bowl, mix butter and sugar. Stir in flaxseed/water mixture, then milk and vanilla until well-combined.
Stir wet mixture into dry mixture until just combined (careful that no flour bits remain, but that you also do not over-mix).
Evenly distribute batter into the two ramekins. Bake until top is golden brown and cake is cooked through (or a toothpick inserted in the center of the cake comes out clean), about 18-22 minutes.
Cool cakes to room temperature. Run a knife around the edge of the cake in the ramekin to loosen the cake (circling a couple times until you see the cake loosening from the bottom).
Assemble cake minis. For one tier: top cake mini with whipped cream and strawberries. For two tiers: slice cake mini in half, place lower half on plate, top with whipped cream and berries, top with other half of cake mini, top with more whipped cream and berries.
Enjoy!
Whipped Cream for Cake Minis
This recipe makes just enough whipped cream for two cake minis, whether you're doing one tier or two. For a vegan option, try coconut whipped cream or buy a vegan option at the store.
Time: about 5 minutes
Ingredients:
1/4 cup heavy whipping cream
5 teaspoons powdered sugar (for a lightly sweet cream – add more to your sweetness preference)
Directions:
Place whipping cream in a medium/large bowl. Using a handheld mixer (or whisk if you want a good arm workout), beat cream until it starts to thicken up. Turn off mixer (or give your arm a quick break).
Add powdered sugar and continue beating until cream is thick and holds its shape. Taste test and stir in more powdered sugar, if needed.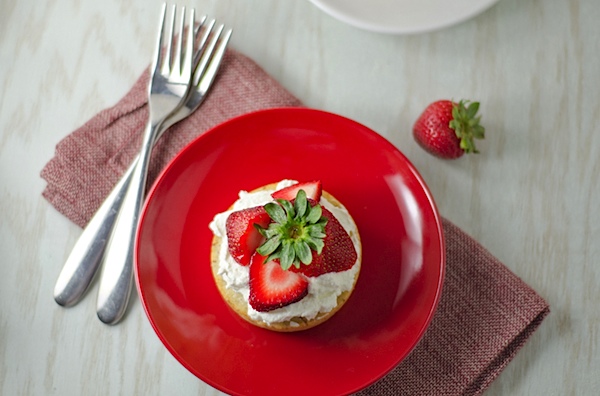 My husband said this is one of the best desserts I've made yet. Woohoo!
***
More Healthy Recipes to Love
Healthier Chicken and Dumplings
Hot Blueberry Breakfast Quinoa
***
Reader question: What makes a summer dessert to you? I think fresh fruit is the key ingredient. What about you?