You guys know me – I have a major sweet tooth! After our delicious dinner at The Floridian, I knew I wanted to bring home some dessert for later. What I didn't know is that I was about to accidentally go on a bit of a dessert crawl in search of the best desserts in St. Augustine, FL.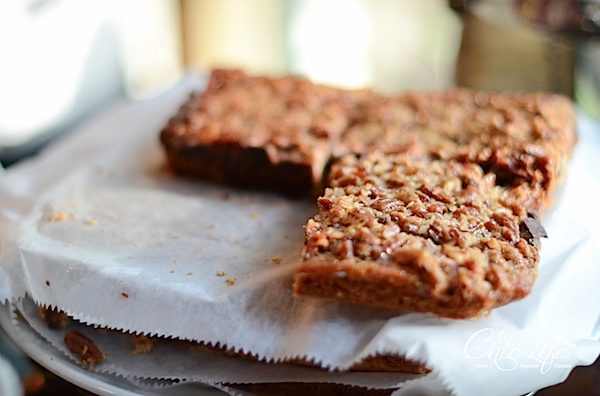 I spotted these chewy-looking bars on the way into The Floridian and couldn't resist snagging one to enjoy later. They were very similar to "magic bars" with lots of chocolate and coconut. Mmm…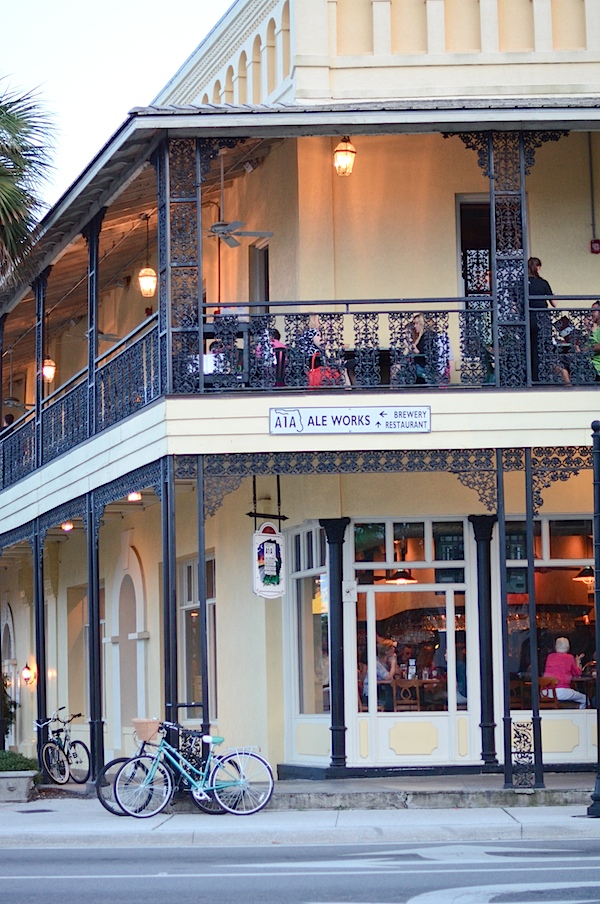 We headed closer to the water, just meandering around, and wound up at A1A Ale Works, which was a recommendation from Food Blog Forum by Julie @ The Little Kitchen.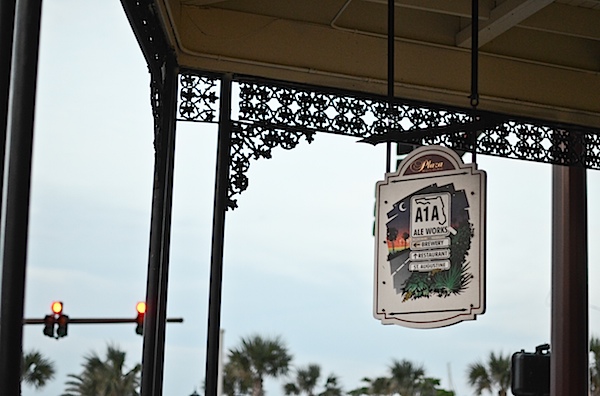 We didn't intend to go here for dessert – we came for the beer!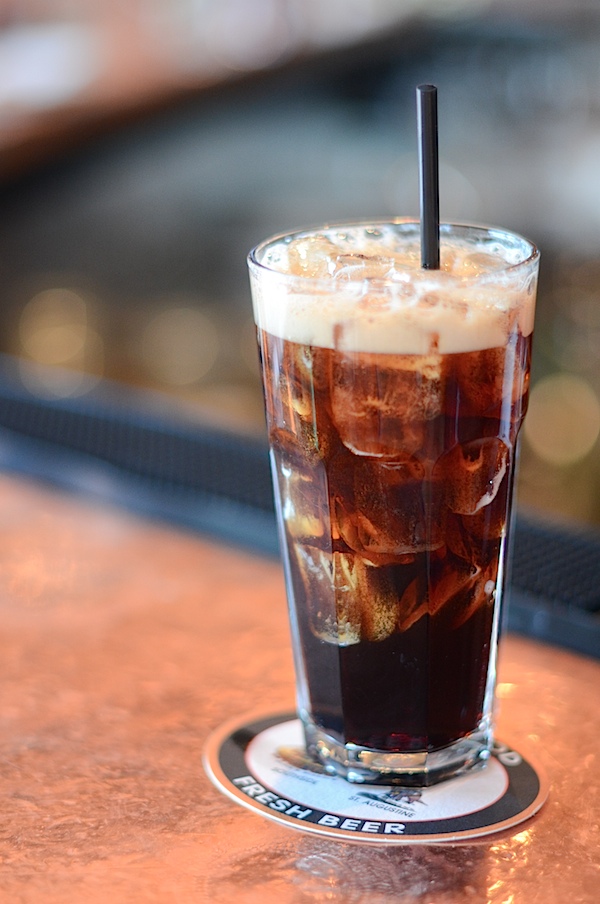 I was ready to check out one of their drafts when I noticed that they make their own root beer. It's not every day you find homemade root beer (which I love!), so I decided to try that for a bit of a liquid dessert. The root beer was light and refreshing, perfect for the hot summer night.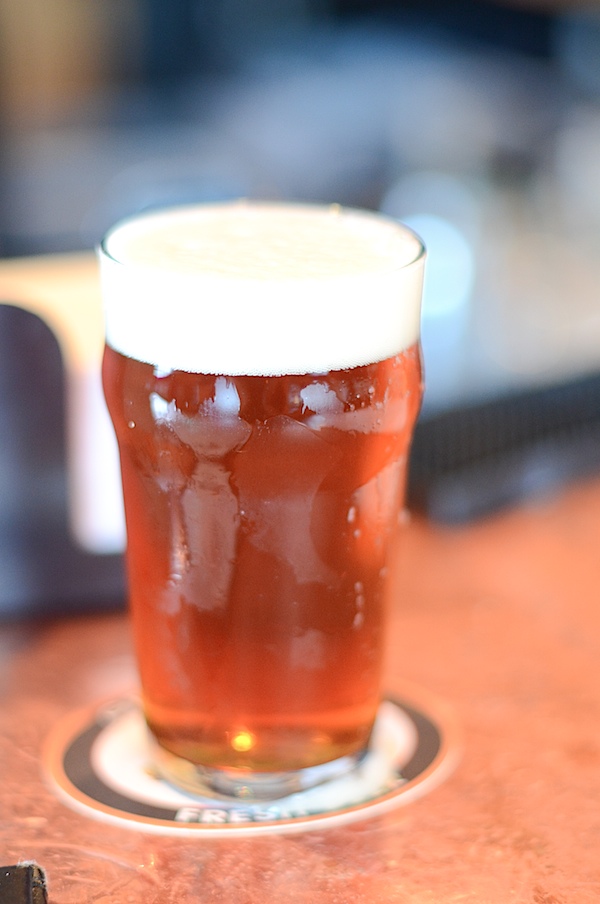 Hubby got real beer.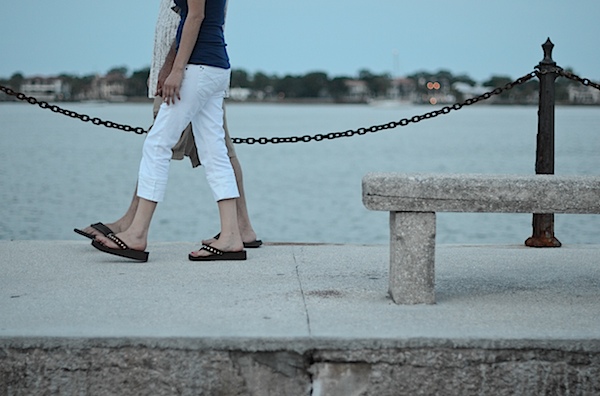 After our liquid refreshment, we continued down the waterfront towards the fort.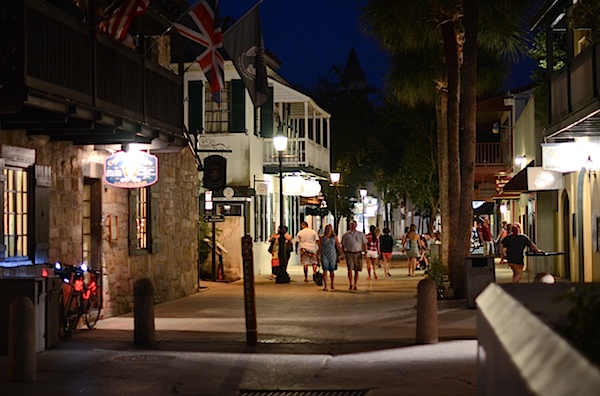 I started mapping dessert options on my phone and realized that we were right at one of the tourist streets that seemed to have many of the best.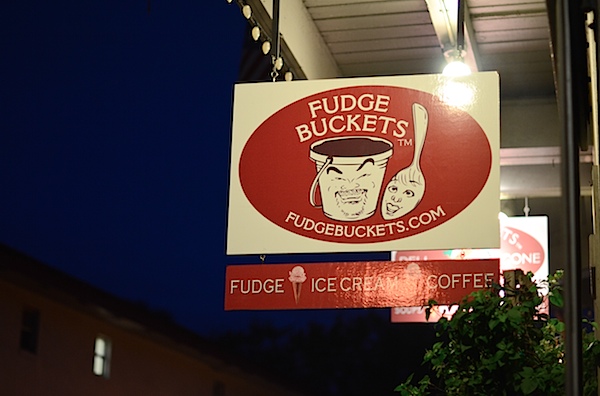 Fudge Buckets was our first stop.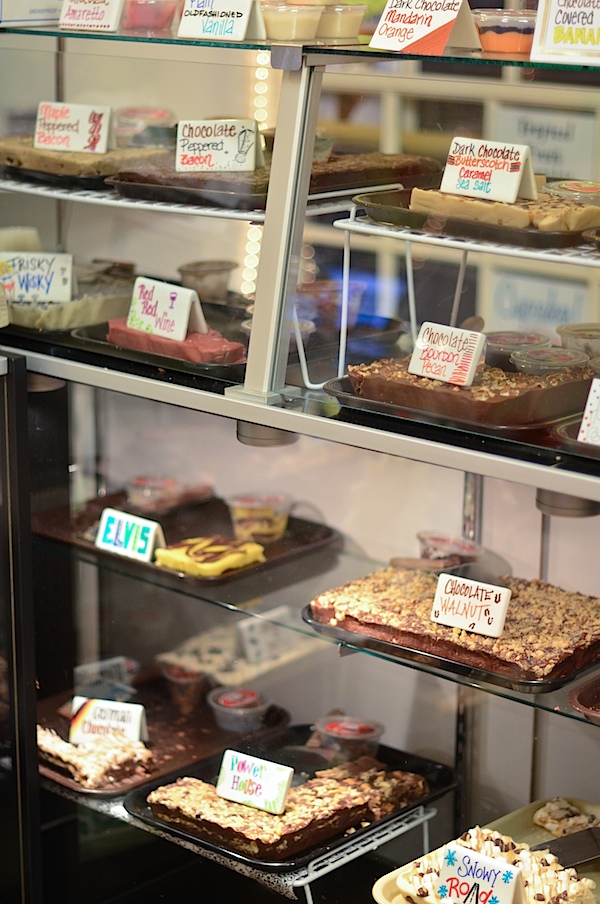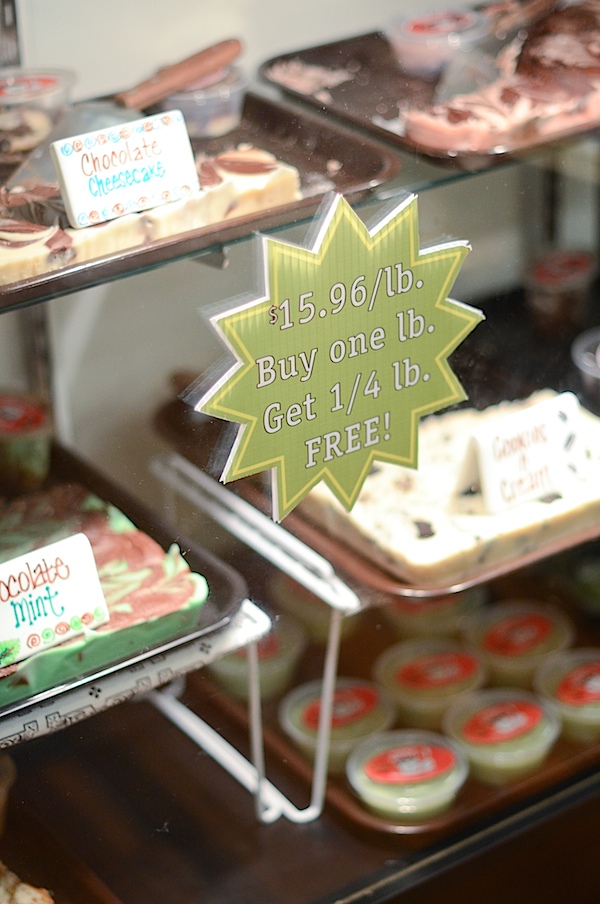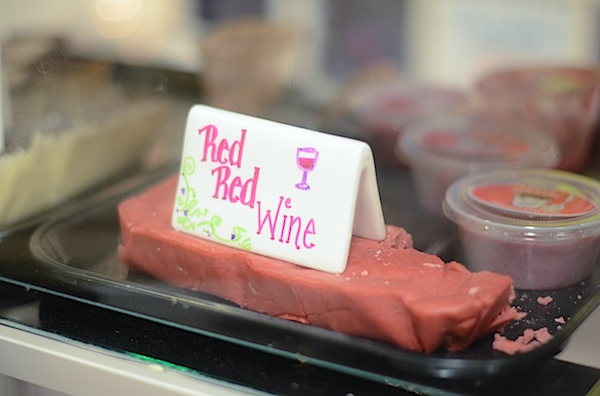 I've always been a fan of fudge, but these guys had the most unique fudge flavors I've ever seen, including Red Wine…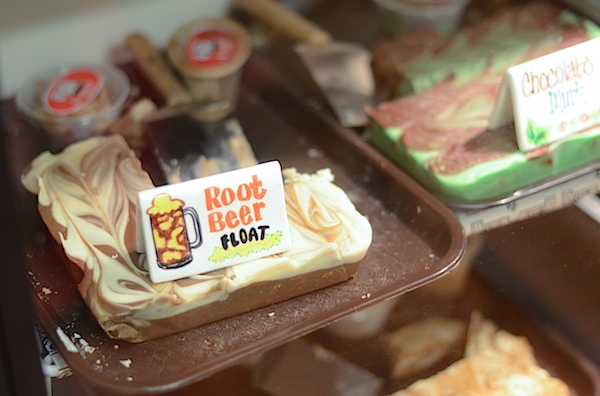 …Root Beer Float…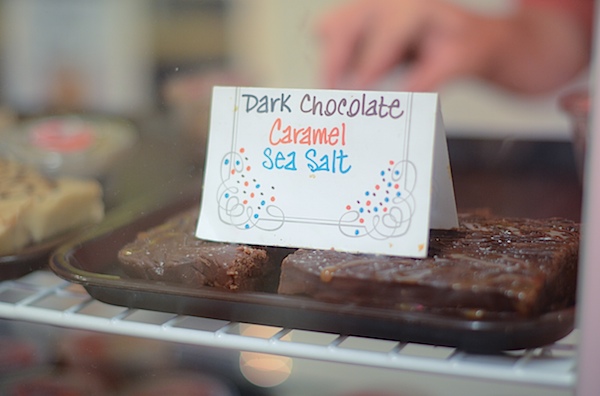 …and my favorite – Dark Chocolate Caramel Sea Salt. *drool*
Not only does Fudge Buckets have a slew of unique flavors, their packaging is pretty fab, too. The fudge is served up in small "buckets", so they're easy to transport and enjoy.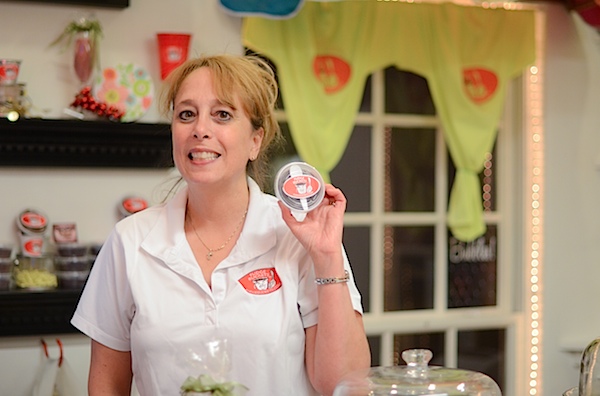 We had a great time chatting with Michelle of Fudge Buckets about all of her delicious fudge. Okay, we had a great time tasting what seemed like almost all of them, too! And we brought home 5 buckets of fudge for later.
***
Side note – right next to this place was The Hyppo, which has gourmet popsicles. I wanted to try one, but once night fell it was pretty cool outside. I've heard great things about their popsicles, so stop by and let me know what you think!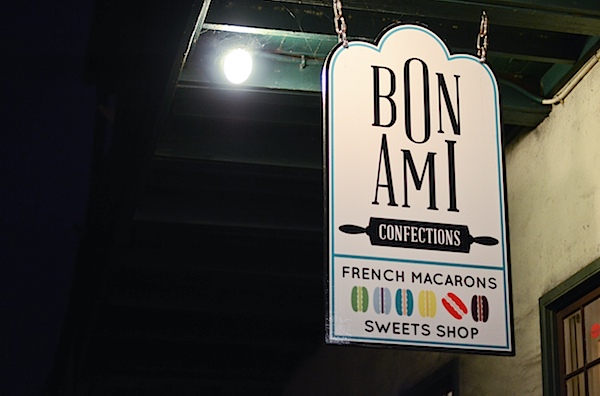 I wasn't looking for more dessert at this point, but when I saw that Bon Ami had French Macarons, I had to scope it out.
Inside, a beautiful rainbow of macaron flavors.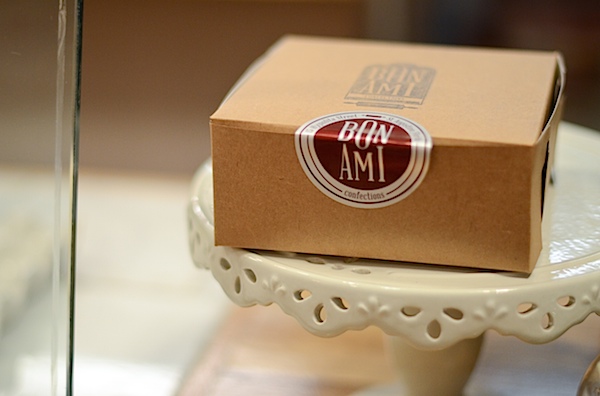 I quickly selected 6 to take home, with flavors ranging from Earl Grey to Birthday Cake.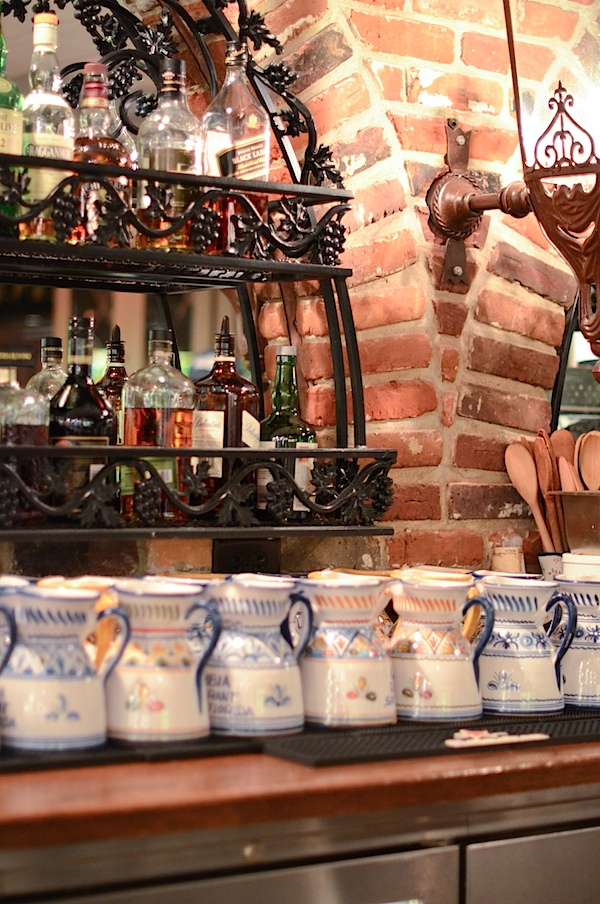 And for our final stop, we swung by Columbia Restaurant, a recommendation from one of the girls at the Whole Foods brunch. We'll have to come back for dinner, but on this occasion, we were in search of something sweet.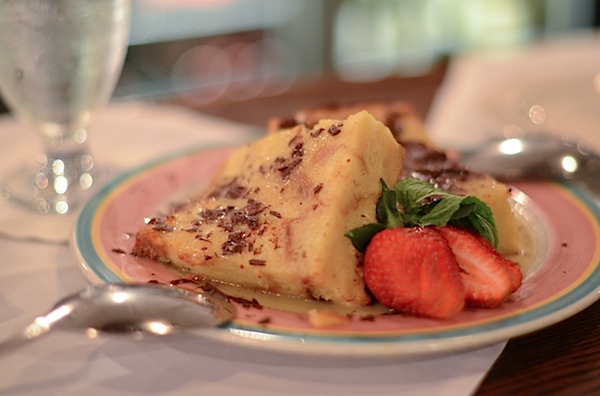 We quickly discovered the White Chocolate Bread Pudding – (from the menu) "Our dad and grandfather's favorite dessert,simply put, this is the best bread pudding that we have tasted anywhere we have ever visited. Our version is made with white chocolate, La Segunda Central Bakery Cuban bread, Sunny Florida Dairy milk and Florida eggs, topped with a rich Don Casimiro Classic Silver rum sauce."
Uhh…yes, please! This was exactly what we were looking for when we set out on our accidental dessert crawl. The others could be enjoyed later, but for something hot and now – this bread pudding was the ticket. I'd never seen a white chocolate bread pudding before, and it was a nice surprise. I loved the play on this classic dessert.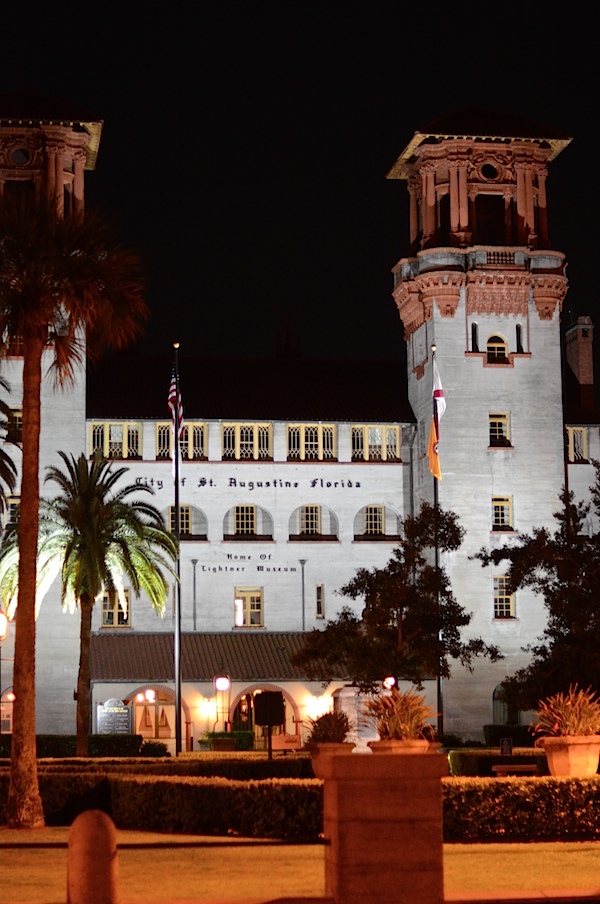 With full stomachs (and shopping bags), we headed back towards Flagler College and to the B&B.
Next time – breakfast at the B&B!
***
Check out the previous posts from our Florida trip here:
***
By the way, sorry these posts are taking so long to get up. The stomach bug on vacay really set me back, and I've recently started a new project at work that has me on lock down. It's tough when you can't do anything with the blog or email from 8am-6pm (or even 8pm most days) I already have some yummy, summer recipes to share with you guys, so I'm hoping to get through these vacation posts pretty quickly so I can get those recipes posted! Thanks for reading!