This clean eating Healthy Banana Almond Butter Smoothie Recipe is made with only 3 ingredients. It's delicious, easy, and satisfying! No added sweeteners. Scroll to the end for the recipe or read on for more details…
Getting Out of a Healthy Eating Rut
I think some of my friends think that I always maintain healthy eating habits. But, sometimes I have a tendency to get caught up with things and start skipping out on some of those habits. Work gets crazy, and my schedule becomes overwhelming.
Once in awhile, I find myself missing out on sleep and making poor food choices. And sometimes those choices are less about picking unhealthy things than remembering to incorporate good, nutritious ones into my daily eats/drinks.
I was in one of those slumps recently. One thing that helped me out was buying some locally made vegetable juices (from Viva Raw) and having a smoothie every day or so. I really think the vegetable and fruit nutrition helped me get back in gear.
It also gave me an excuse to play around with smoothie recipes. I decided to try a simple Healthy Banana Almond Butter Smoothie first. Next, I tried a boosted Banana Almond Butter Smoothie. The recipe for the simple version is at the end of this post. The amped up version is available here.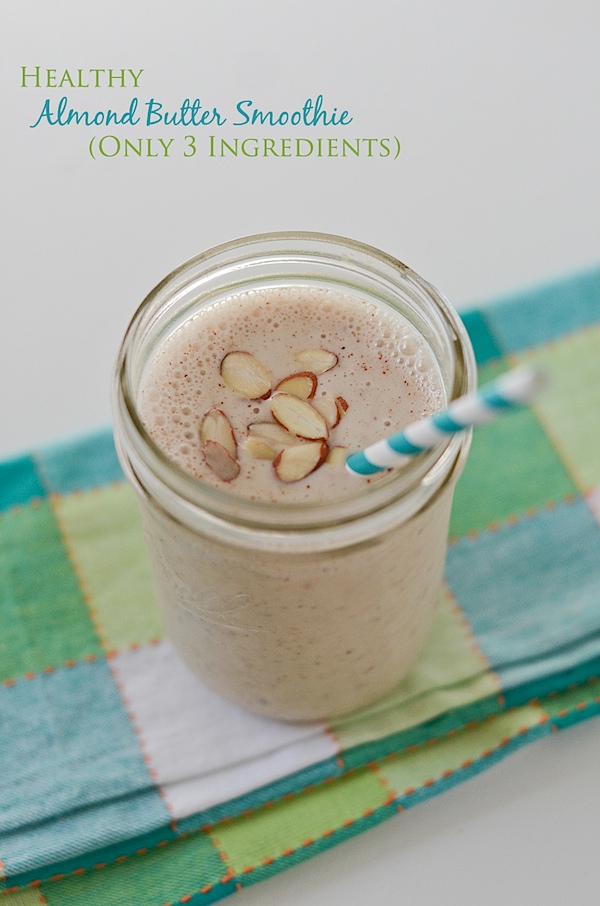 Healthy Banana Almond Butter Smoothie Recipe Ingredients
I love creative ingredients and all, but sometimes it's nice to make something with just a handful of staples. This Healthy Banana Almond Butter Smoothie Recipe is made with only three ingredients. And, none of those ingredients is a sweetener! Yup, this smoothie uses the natural sweetness of a banana.
3 easy smoothie ingredients:
almond butter
frozen banana
milk of choice
These ingredients are typically gluten-free (GF), but to ensure this smoothie is GF, do check the labels on any food products you select when making this smoothie.
Almond Butter
Almond butter is clearly the star of the show in this healthy smoothie recipe. This ingredient adds substance, nutty flavor, and healthy fats to the smoothie. Compared to its most popular rival, peanut butter, almond butter has less saturated fat and more monounsaturated fat.
I like to add 2 tablespoons almond butter to this recipe, but you can adjust the amount to your preference.
Almond Butter Substitutions
Here are some substitutions for almond butter you can use:
Peanut butter
Sunflour butter
Cashew butter
Frozen Banana
I love frozen bananas as a simple smoothie base to add volume and sweetness so you can avoid added sugar. This also gives this healthy smoothie a nice, creamy texture.
By using a frozen banana, you also get that refreshing, frozen smoothie texture without needing ice cubes, which can dilute the flavors.
And bananas are a great source of potassium.
Plus, this is a great way to use ripe bananas. When I don't want my ripe bananas to go bad, I either make banana muffins or a banana smoothie like this one.
Milk of Choice
At the time I created this recipe, I was on a big rice milk kick. But I'd probably make this with unsweetened almond milk or oat milk today. Pretty much any milk will do here.
I like using some kind of milk instead of water to get a super creamy smoothie texture.
Milk options:
Unsweetened almond milk
Oat milk
Rice milk
Soy milk
Coconut milk (from the carton, not the can)
Macadamia nut milk
Dairy milk
Sweetener
As I mentioned above, I prefer to use banana as a natural sweetener. They're so sweet already, but you could definitely add more sweetener if you want it on the sweeter side.
But you could another natural sweetener like:
Maple syrup
Medjool dates (or other type of pitted dates)
Honey
***
What Type of Almond Butter Should You Get
There are many great almond butter options out there!
Personally, I like to pick my almond butter based on two things:
Flavor
Ingredient List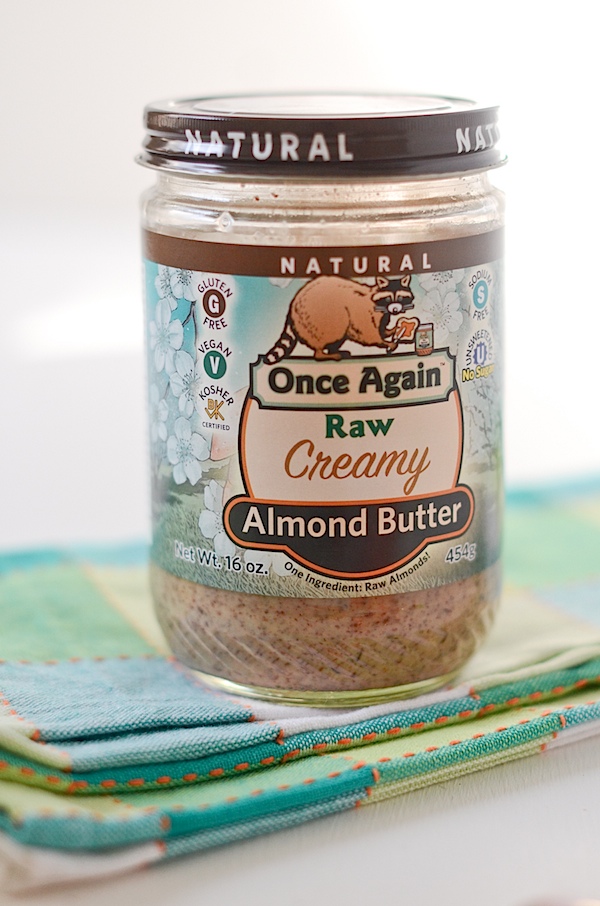 The key ingredient for this Healthy Banana Almond Butter Smoothie Recipe is a good almond butter. You'll get almost all of your flavor from this ingredient, so pick one you enjoy eating. This Once Again Raw Creamy Almond Butter was on sale recently, so I decided to check it out. I'm not gonna lie, I prefer an almond butter made with roasted almonds and salt for a deeper flavor. This one is quite light.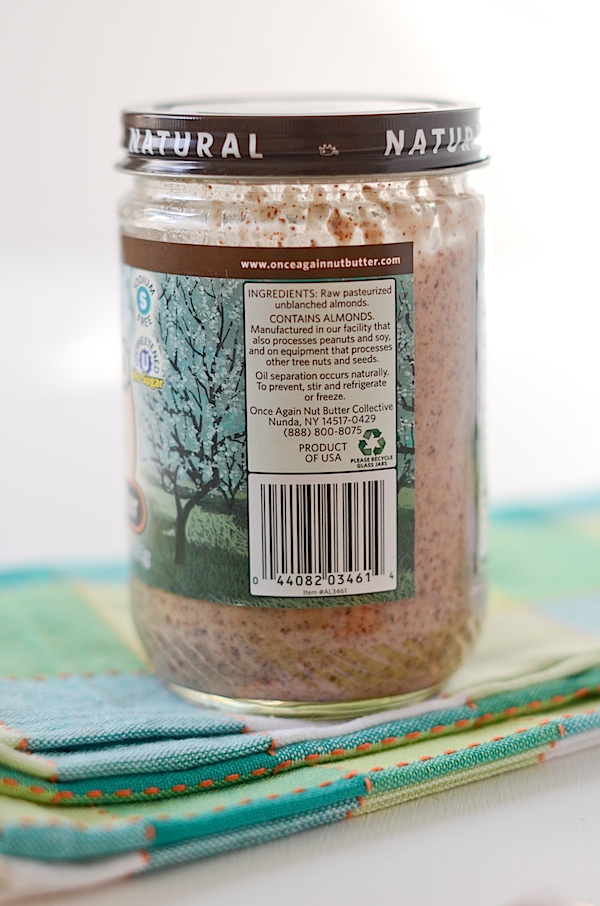 However, for a non-homemade almond butter, the ingredient list is impressive.
Ingredients: raw pasteurized almonds
Yup, just one ingredient. No chemicals or additives. Just straight up almonds.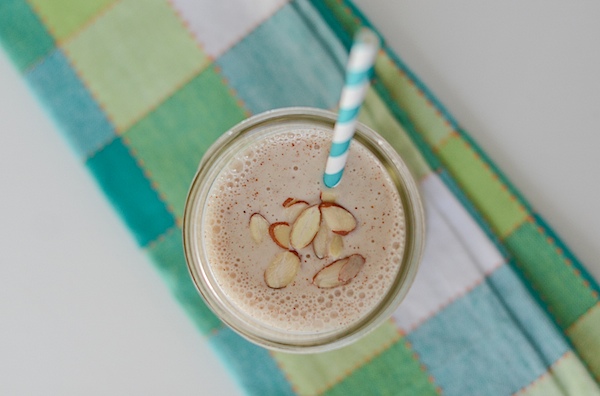 Make This Healthy Banana Almond Butter Smoothie More Nutritious
This smoothie is a great everyday smoothie, but there are also a ton of ways to jazz it up. More on that on my next post for the Boosted Banana Almond Butter Smoothie Recipe.
Additional Smoothie Ingredients for More Nutrition:
Chia seeds
Hemp seeds
Ground flax seeds
***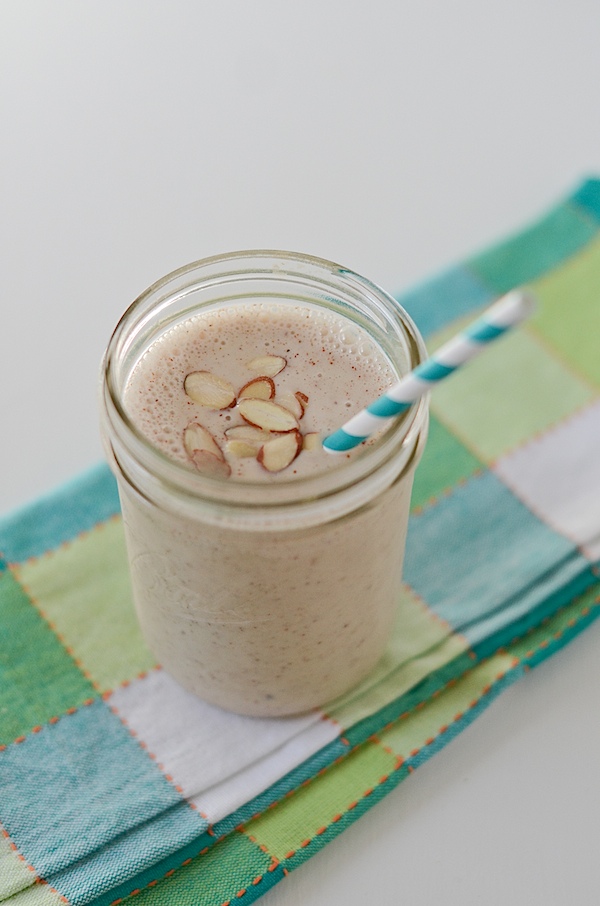 Healthy Banana Almond Butter Smoothie Recipe Variations
Here are some ways to switch this recipe up with fun flavor twists:
Almond Butter Green Smoothie: Add a handful of spinach or kale
Chocolate Almond Butter Smoothie: Add a teaspoon of unsweetened cocoa powder
Vanilla Almond Butter Smoothie: Substitute unsweetened vanilla almond milk (or other vanilla milk) or add 1/8 teaspoon vanilla extract
Cinnamon Almond Butter Smoothie: Add a quarter teaspoon ground cinnamon
Protein Almond Butter Smoothie: Add a scoop of your favorite unflavored protein powder to make this more filling or just higher in protein
Blueberry Almond Butter Smoothie: Add a handful of fresh or frozen blueberries or wild blueberries
***
Print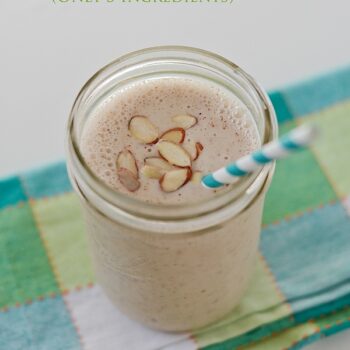 Healthy Banana Almond Butter Smoothie Recipe
Author:

Prep Time:

5 mins

Cook Time:

5 mins

Total Time:

10 mins

Yield:

1

1

x

Category:

Breakfast, Gluten-Free, Vegan
---
Description
This Healthy Almond Butter Smoothie recipe is a cinch to whip up. It only uses three staple ingredients, too, and you can easily add in others to your liking. Remember to choose an almond butter you really love since it will be the main flavor of this smoothie. This recipe is gluten=free as long as the milk and almond butter you use are gluten-free. Did I mention there are no added sugars in this smoothie? Woohoo!
---
1 cup

milk of choice (I used unsweetened rice milk)

1

frozen banana

2 tablespoons

almond butter
---
Instructions
Place milk, banana, and almond butter in the blender.
Cover and blend until ingredients are processed and smooth, about 1-2 minutes. Taste test and if desired, blend in sweetener of choice to taste.
Enjoy!
---
Notes
This recipe uses the sweetness of bananas for natural sugar. If it's not sweet enough for you, you can blend in some more sweetener of choice.
A frozen banana is recommended for a nice, frosty texture. But, you can sub a non-frozen banana. I'd just recommend adding a couple cubes of ice to the mix.
Recipe Card powered by
This is one of my favorite easy recipes for a quick breakfast or afternoon snack.
***
More Healthy Smoothie Recipes to Love
Love healthy recipes? Here are some more delicious and easy healthy smoothie recipes to try.
Ready to take your smoothie to the next level? Try this Boosted Banana Almond Butter Smoothie: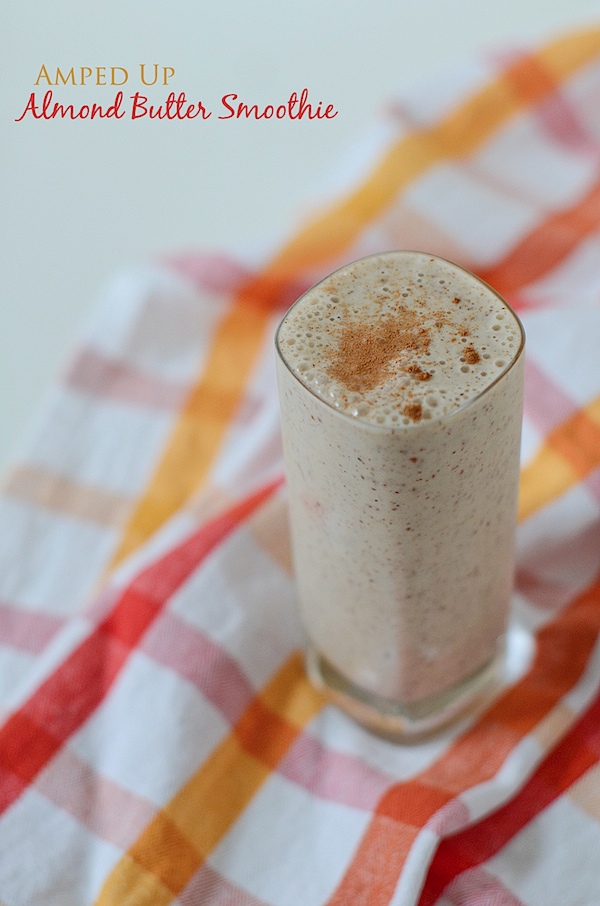 (Click image or link above to check out this recipe)
Go Green with this healthy Piña Colada Green Monster Smoothie Recipe: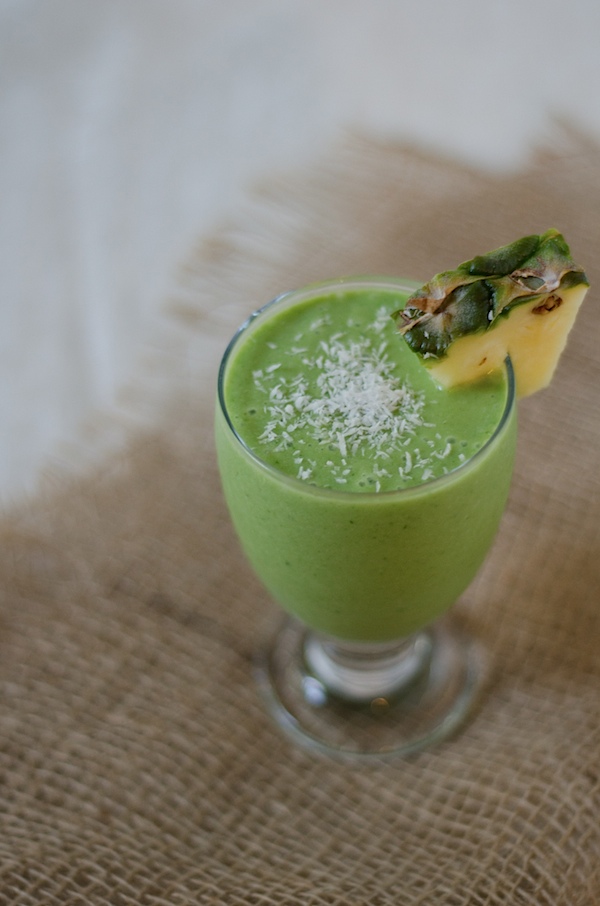 (Click image or link above to check out this recipe)
***
Hope you enjoyed this Healthy Banana Almond Butter Smoothie recipe. Have a great week! And, remember to eat your fruits and veggies!
***
Here's a graphic you can use to share this recipe on Pinterest: