Hi friends! With Valentine's Day fast-approaching, many recipes are popping up on my Pinterest feed. And most are probably made with artificial food colors. While my healthy eating approach opts to have no "no foods", there are some that I personally avoid like the plague. Why? We'll discuss shortly. But for now, I want to introduce my naturally red Turmeric Banana Chocolate Chip Muffins Recipe!
Note: This post contains affiliate links. If you make a purchase from one of these links, I may make a small commission at no extra charge to you. Affiliate links help me create awesome free content, like this recipe! Feel free to reach out if you have any questions.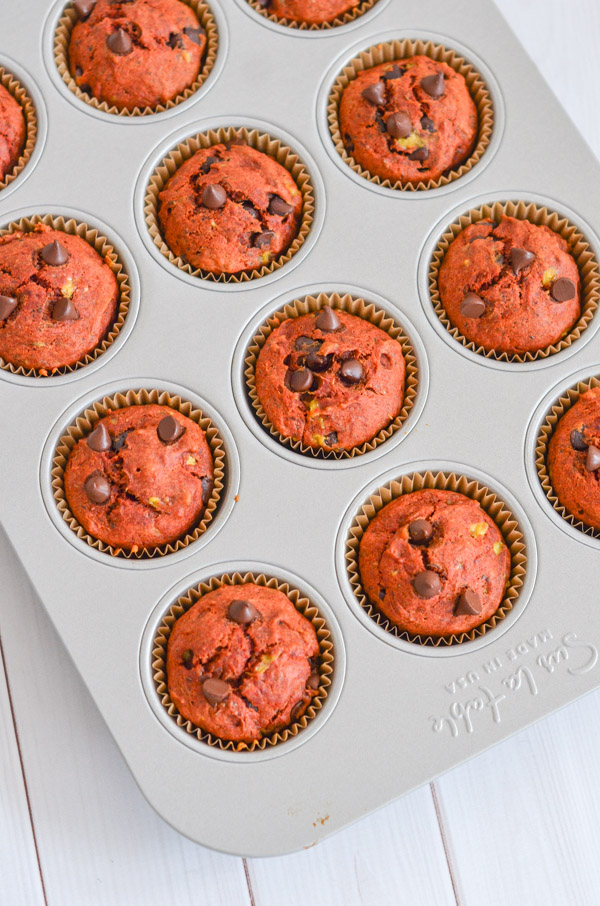 Not sure if you noticed on my Instagram stories, but I've been baking up a storm! Making recipes healthier is my passion. And sweets are my biggest challenge area. So making healthier sweets is one of my favorite things to do.
And now that I have my brand-spankin-new nutrition calculator, I can share numbers-based info on how my recipes are healthier. I'm so excited to go back and update my old recipes to get numbers out to you.
Though I do try to make recipes healthier, my version of healthier is related to clean eating. So while I do try to reduce sugar and fat, I prefer to do that without compromising on using clean eating ingredients. So sometimes, the healthier version is using coconut sugar instead of bleached white sugar, even though they are calorically the same.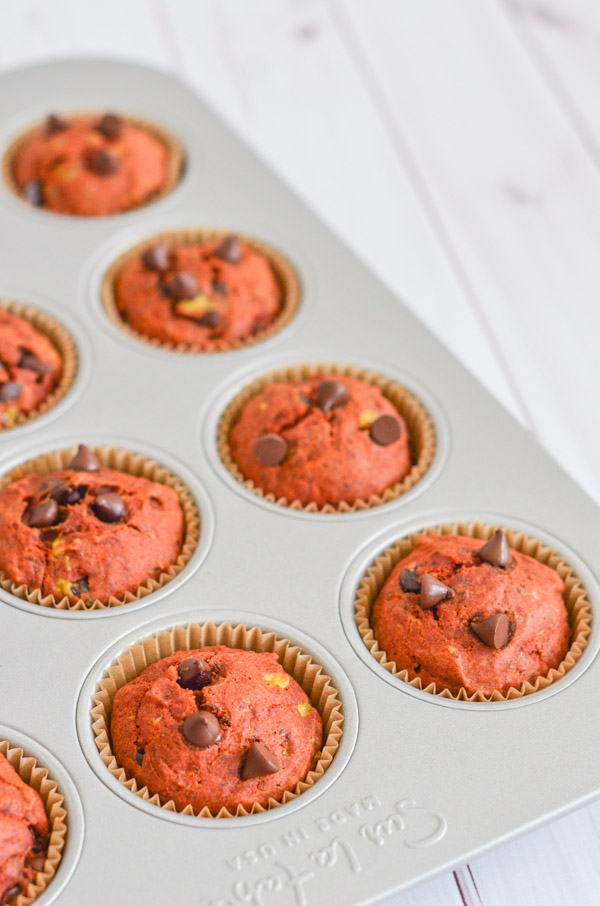 Why I Avoid Artificial Food Colors
In my research over the years, I've encountered numerous books, magazine articles, and online research saying that artificial food colors are pretty bad for you. I don't like saying food is "bad" for you, because I think we should have a healthy relationship with food. But artificial food colors aren't really "food". They're more like…chemicals?
And as a clean eater, I like to avoid chemicals.
Not to mention, did you know many food colors are banned in other countries? Yea…food products in entire countries outside of the US can't be made with these products at all. And here we are in the states, chompin em down like they're nothing.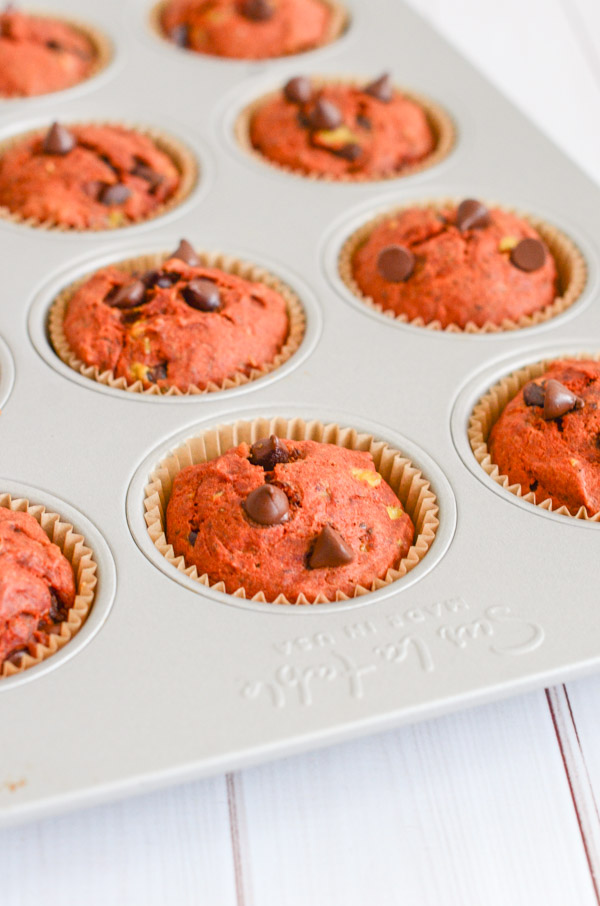 Is Red 40 Bad for You?
One of the most common artificial food colors is Red 40, which is banned in many other countries.
According to the book Rich Food Poor Food,
Red #40 may contain the carcinogenic contaminent p-Cresidine and is thought to cause tumors of the immune system.
But it's almost hard to not avoid Red 40 in the US.
According to this article over at Slate.com about food coloring, including the McDonald's strawberry sundae:
In Britain's version, all the color comes from real strawberries. In the U.S., we use Red No. 40.
And the article also says Red 40 is in US Starburst – one of my childhood fave candies. Doh!
Almost makes you want to move to Europe, right?
But an even easier solution is taking a quick minute to read the ingredients on your food products and check for artificial food colors and make a decision if you still want to eat the product or not.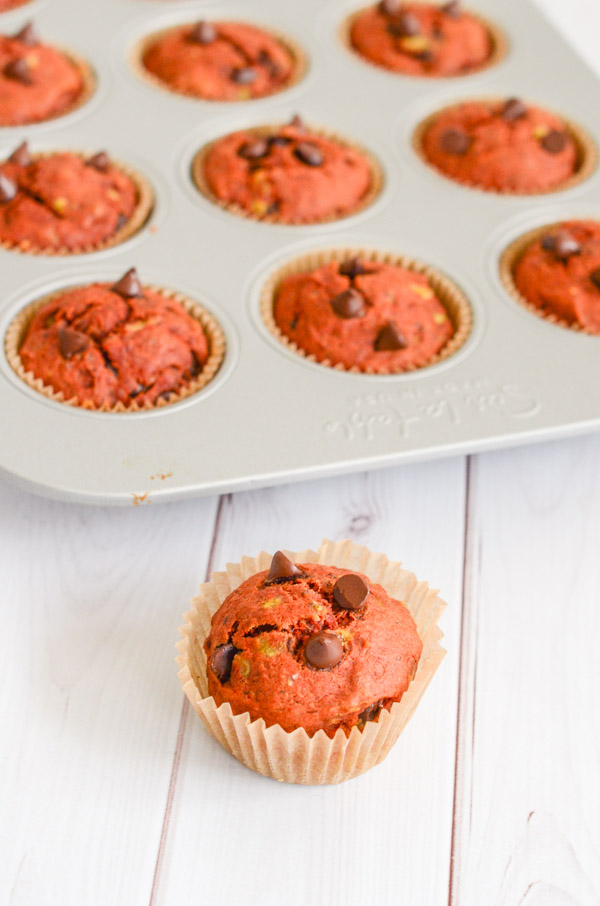 How These Muffins Are Naturally Red
The more you dig into artificial food colors, the more scary it is. And the more you want to avoid them. So, I've been on the hunt for natural food colorings instead.
And to be honest, I happened to stumble into this one. You see, I was trying to develop an anti-inflammatory muffins recipe by incorporating turmeric and other anti-inflammatory ingredients. And I was completely caught off guard when these muffins came out red! The dough was not red, but something happens during the baking.
As it turns out, the turmeric interacts with the baking soda to naturally turn these muffins red. Apparently, the taste can be a bit bitter, so if you're super sensitive to that idea, you may want to skip this recipe. But, I really enjoyed it and will happily take a slightly bitter muffin over one containing toxic food colors.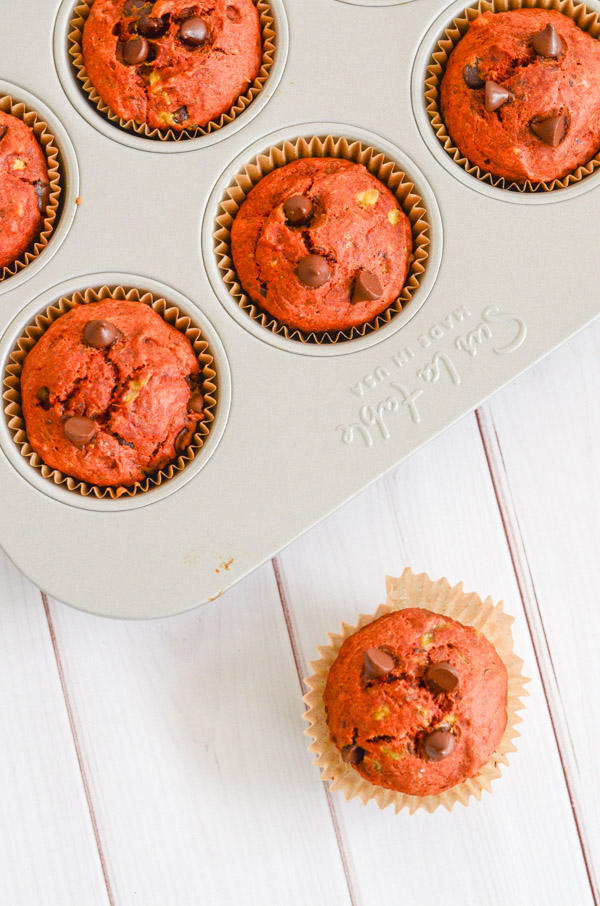 Anti-Inflammatory Muffins Recipe
I wanted to title this as an Anti-Inflammatory Muffins Recipe. But sugar and sweets are inflammatory. So, if you want to be literal, let's call this anti-inflammatory-ish.
As you guys know, I'm more about what you can add to your diet versus take away. Or how you can convert a recipe to be healthier. Even Dr. Weil says sweets are part of an anti-inflammatory diet:
As with meats, sugar-laden desserts are occasional items in the anti-Inflammatory diet, not everyday ones.
A 100% perfect healthy eating diet isn't what I'm going for. So, instead I'll continue developing healthier recipes like this one. It's all about balance.
Anti-Inflammatory Turmeric Banana Chocolate Chip Muffins Recipe Ingredients
This recipe contains the following anti-inflammatory ingredients:
Turmeric
Banana
Olive Oil
And many sources say dark chocolate is anti-inflammatory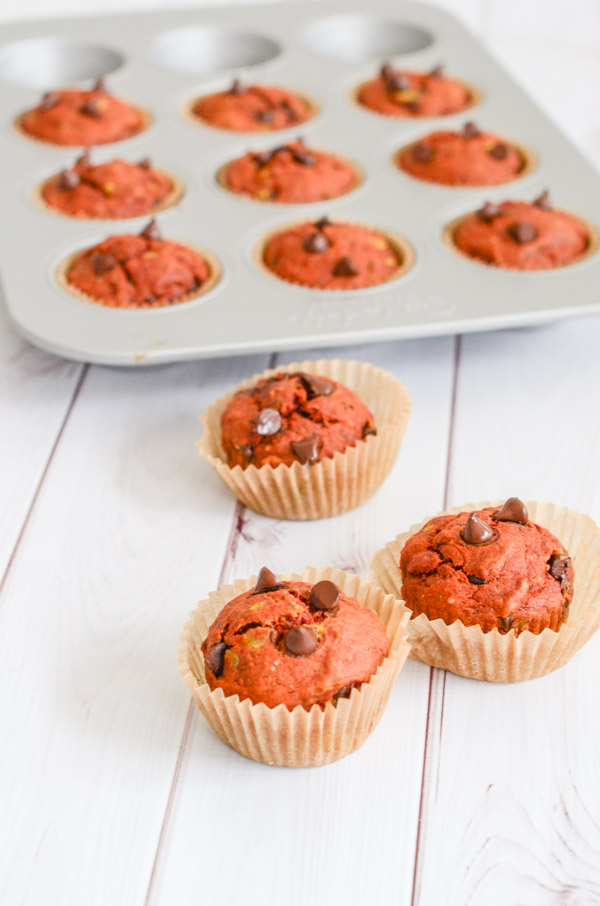 Print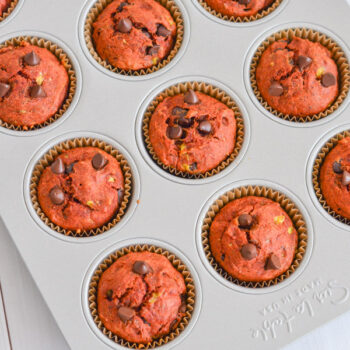 Turmeric Banana Chocolate Chip Muffins Recipe | Naturally Red
Author:

Prep Time:

10

Cook Time:

20

Total Time:

30 minutes

Yield:

1

2

1

x

Category:

Vegan

Method:

Baking
---
Description
Skip toxic food colors and make this naturally red Turmeric Banana Chocolate Chip Muffins recipe. This clean eating recipe is made with anti-inflammatory ingredients and tastes delicious!
---
1 cup

unbleached white flour

1 cup

spelt flour, or sub unbleached white flour

1

–

2

teaspoons ground turmeric

1 teaspoon

baking soda

1/2 tsp

cinnamon

1/4 teaspoon

salt

1/2 cup

dark chocolate chips

2

medium mashed overripe bananas (about

1 cup

worth, after mashing)

1/4 cup

 coconut sugar

2

flaxseed eggs (2 tablespoons ground flaxseed mixed with 6 tablespoons water, set aside to get for at least 10 minutes)

1/2 cup

olive oil

3/4 cup

almond milk

1 tsp

vanilla extract
---
Instructions
Pre-heat oven to 350 degrees F and prepare a 12 cup muffin tin with muffin liners.
In a small bowl, prepare the flaxseed egg.
Add unbleached flour, spelt flour, turmeric, baking soda, cinnamon, and salt into a medium bowl and whisk together. Add dark chocolate chips and whisk in.
In a large bowl, mix banana and coconut sugar together until evenly combined. Stir in the flaxseed egg till combined. Stir in olive oil until combined. Add almond milk and vanilla extract and stir until evenly combined.
Pour dry ingredient mixture into the wet ingredient mixture, and stir gently just to combine – careful to not over-mix.
Pour/spoon muffin batter into muffin cups – about ¾ full each. Use spatula to flatten tops if needed.
Bake for 18-22 minutes until centers set or a toothpick inserted in the center of a muffin comes out clean.
Cool at least 10-15 minutes, or until safe to eat, before serving. Enjoy!
---
Notes
Note: The turmeric + baking soda is what turns these muffins naturally red. I don't think you'll get the same result if you sub baking powder, so stick to the recipe if you want the same red color.
Recipe Card powered by
More Naturally Colored Recipes You May Like
Unicorn Smoothie Recipe – naturally blue and pink
Strawberry Pitaya Smoothie Bowl – naturally hot pink
Unicorn Latte Recipe – naturally blue with a hint of light pink
Goodnight Blue Moon Milk Recipe – naturally blue
More Healthy Valentine's Day Recipe Ideas
Heart-Shaped Pie Pops – although not the healthiest by calories, etc., you'll avoid fake red colors by using real strawberries for this filling
Healthy Hot Chocolate – chocolate is one of the ultimate Valentine's Day Foods, no?
Not So Sweet Heart-Shaped Cookie Cake for Two – reduced sugar (but not made with artificial sugar!)
***
Thanks for reading about my naturally red, anti-inflammatory-ish Turmeric Banana Chocolate Chip Muffins Recipe. Hope you enjoy them if you bake them!