After leaving Zumba Convention 2014, we headed north towards the last stop of our 2014 Zumba Convention road trip – Fernandina Beach, FL, which is on Amelia Island. We decided to stay at one of the hotels I'd researched previously – the Omni Amelia Island Plantation Resort.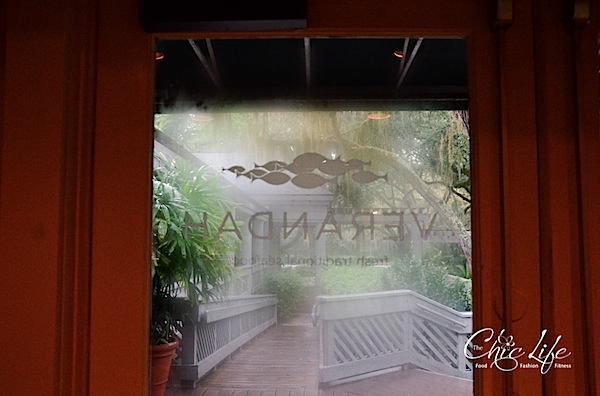 We'd planned to spend some QT on the beach, but almost as soon as we went out on the sand, a huge storm rolled in and we got rained out. So, we headed back to the room to plan dinner. We had no reservations at the time, so we had plenty of options to choose from. I remembered enjoying all the restaurants hubby and I had visited the year before in the downtown area of Amelia Island. But, with the storm going on, we decided to stay on the Omni grounds. They Omni had a sprawling area of restaurants, shops, and activities. I hadn't realized how much the Omni had to offer until we got there. Bonus – everything was available via a free shuttle bus.
After researching the Omni restaurants, we decided to check out Verandah Restaurant since they were the one with the signature of using local ingredients. After experiencing dinner there, I can say we made the right choice.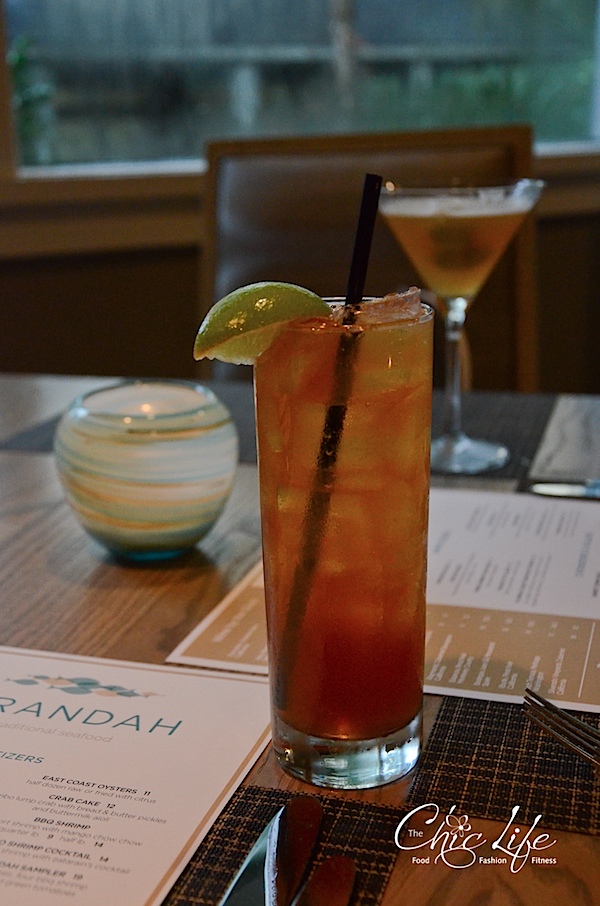 One of the things that drew me to their menu was their cocktail menu. They had some really unique combinations. I tried the Stormy Chai, which was really refreshing.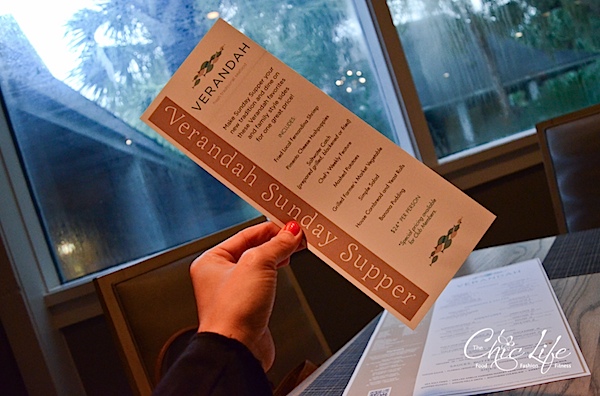 Sarah and I spotted several things we wanted to try on Verandah's regular menu, but we couldn't pass on the Verandah Sunday Supper – multiple courses for only $24. It was a steal.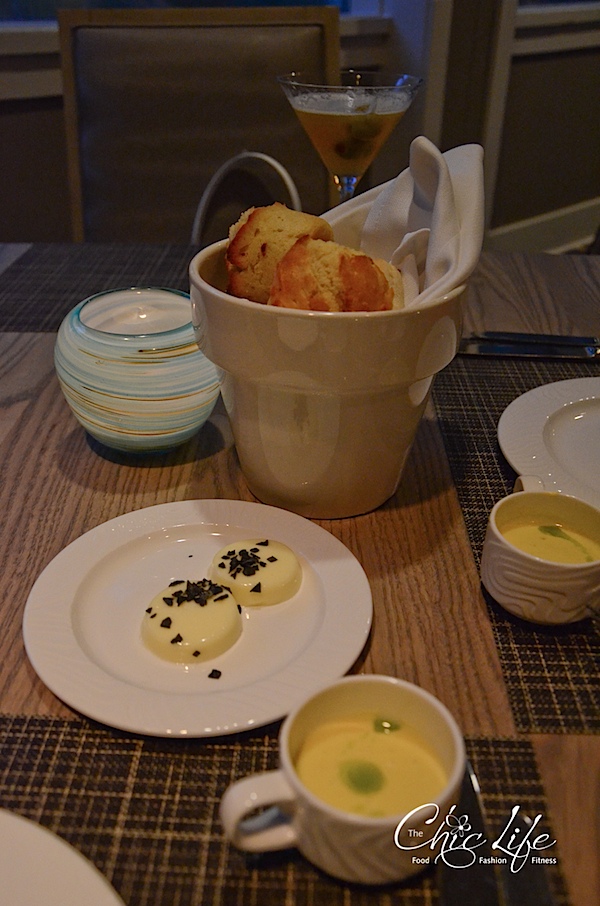 We started with Verandah Restaurant's house cornbread, yeast rolls, and signature corn coup. The bread came with butter with black salt on top, which was a luxurious and flavorful touch. I remembered seeing the corn soup on the menu and thinking it sounded interesting but not like something I would normally order. I would have been mistaken for not trying this one. It was delicious. I loved everything about it – the flavor, the texture, the creaminess, and how you could dunk pieces of the cornbread into the soup (a tip from our awesome waiter).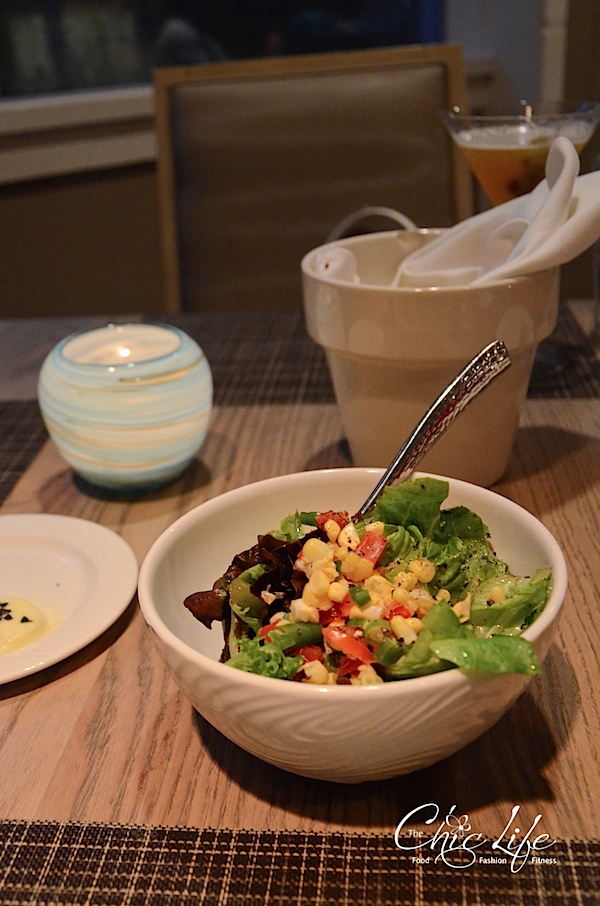 The simple salad (succotash greens, and red wine vinaigrette) was light but tasty. The succotash seemed like another signature item, so I was glad we got to try it. Succotash seems like one of those things that can often be overcooked, but this was version was nice and crisp-tender.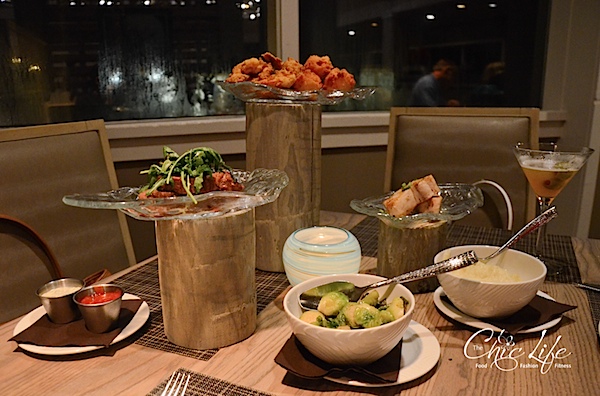 The real statement came with the next course. The main dishes were stacked on cylindrical pieces of wood for a beautiful presentation. The sides were served just in front. Everything tasted as good as it looked. For the sides, we had: mashed potatoes and brussels sprouts. At the top, you see local fried shrimp and pimento cheese hush puppies (oh yes, they went there!). The mains were pepper crusted steak and mahi mahi.
Upon ordering, our waiter told us the steak would be served medium rare. I know it's not very foodie, but I like my steak medium well thanks to growing up eating steak cooked well done. Medium to medium well is about as rare as I get these days, though I'm working on going more rare. Since our waiter didn't ask us how we wanted the steak, I figured I should just roll with it. I'm glad I did. I've had steak accidentally cooked less than medium before, and I wasn't a fan. But this steak was perfect just like the chef made it. It was tender and delicious. Yup, Verandah's chef made me like medium rare steak.
Sarah and I thoroughly enjoyed working our way through all the other dishes. We were at a food party, and we were partying hard, enjoying each and every bite.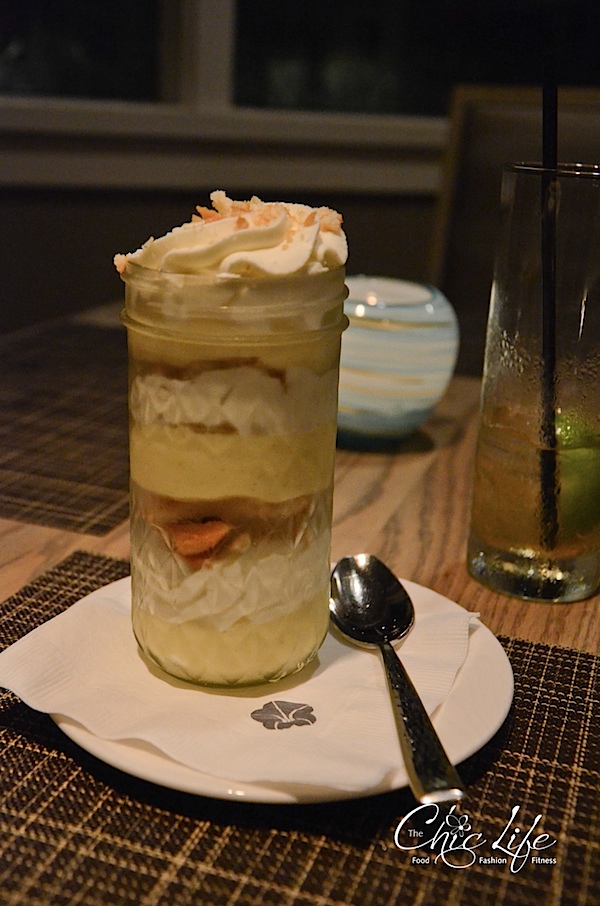 We were stuffed after the previous course, but we had to make room for dessert – banana pudding. I was glad this dessert was on the light side since I was already trying to figure out the best way to roll myself out of the restaurant. The banana pudding was the cherry on top of this fantastic meal. Somehow, we had little trouble finding space for this tasty dessert.
Before I wrap this post, I have to add that we loved the ambiance and service of Verandah. Our waiter took great care of us and the feel of the restaurant was upscale but still relaxed and somewhat casual – a tough balance. We liked how the restaurant was surrounded by lots of greenery. Sitting by the window, you almost felt like you were dining in a garden.
From the excellent service to the delicious food, we really enjoyed our dinner experience at Verandah Restaurant. The Sunday Supper is a great deal I recommend taking advantage of if you're in the area and they're still offering it. But, I'd absolutely come back here on any other night, deal or no deal, just to enjoy the food and overall dining experience.
Check out my other 2014 Zumba Convention Road Trip Posts:
Next time – my ideal breakfast buffet and a couple beach photos!