How did everyone's first full week of the Eat in Month 2015 Challenge go? Mine definitely had some challenges, but overall, I thought it went really well! Here's my Eat in Month 2015 Week 1 Check-In.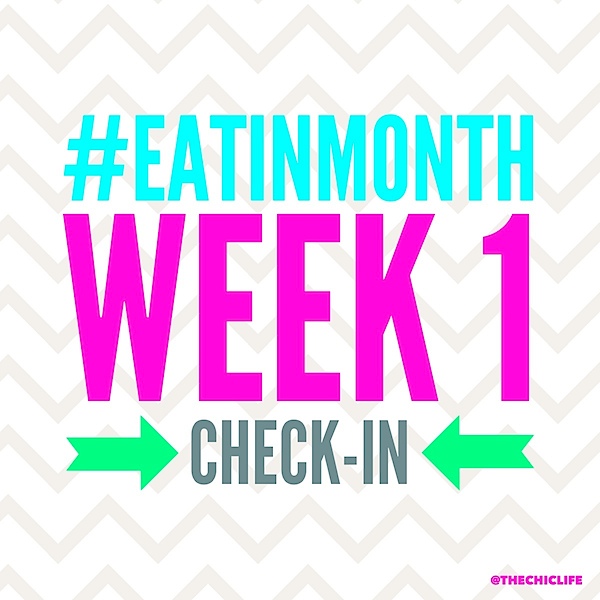 You can check out my Eat in Month 2015 Week 1 Meal Plan here to see how it compares.
***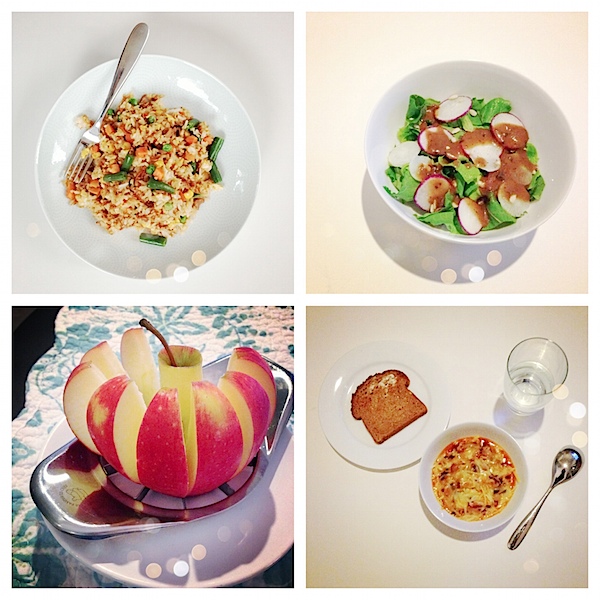 Sunday, January 4, 2015: On Sunday, we made good use of the leftovers to make fried rice. I forgot how much I love this stuff, and it's just so easy to make. We even were able to put some of the leftover pork adobo into it, which I've never done before. But, it worked! We made one of my all-time favorite The Chic Life recipes for dinner: Beef and 3 Bean Slow Cooker Chili. This thing tastes so good, and the leftovers re-heat really well to make for easy meals later. We managed to have leftovers for lunch the next day and even froze a couple more portions for another day.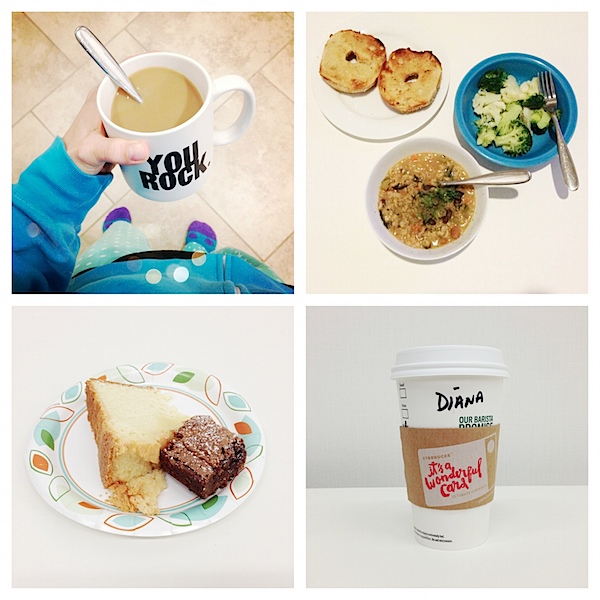 Monday, January 5, 2015: Monday was tough mostly because it was the first Monday post-holidays. Phew! Don't the holidays seem like they were so long ago already? We kept things simple with eats with the leftover chili and leftover frozen soup for dinner. I got some treats from a sweet co-worker and decided to do one Starbucks out per week. It's an improvement over what I usually end up doing during the work weeks, so I'll take it.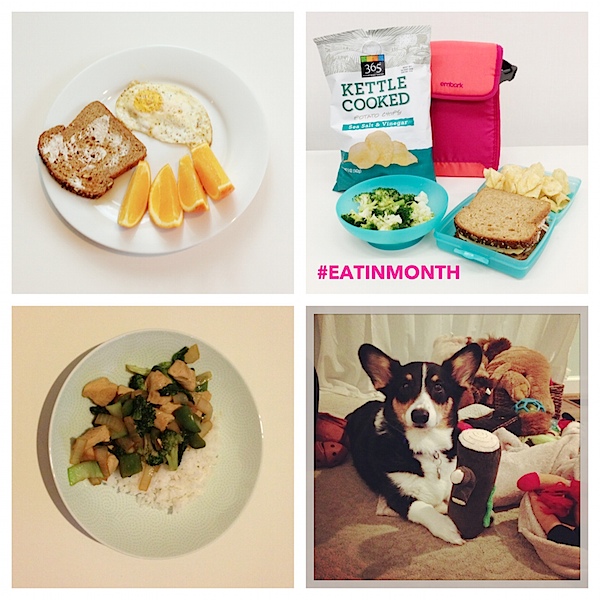 Tuesday, January 6, 2015: I could potentially eat eggs and toast for breakfast and a sandwich for lunch everyday. But, I'm trying to add some variety into the meal plans. Still, I do look forward to both eats-wise and had them a couple times this week, including both back-to-back on Tuesday. I'm working on adding more veg to my lunches this year by cooking extra vegetables or having salad ingredients on hand to whip something up quickly. Another staple in our house is the stir-fry. We usually do chicken with whatever veggies we feel like eating or are on sale. I haven't posted a recipe, but there are lots of good ones online. Let me know if you'd like to know how I do mine. Also, had to throw a Bailey photo in here.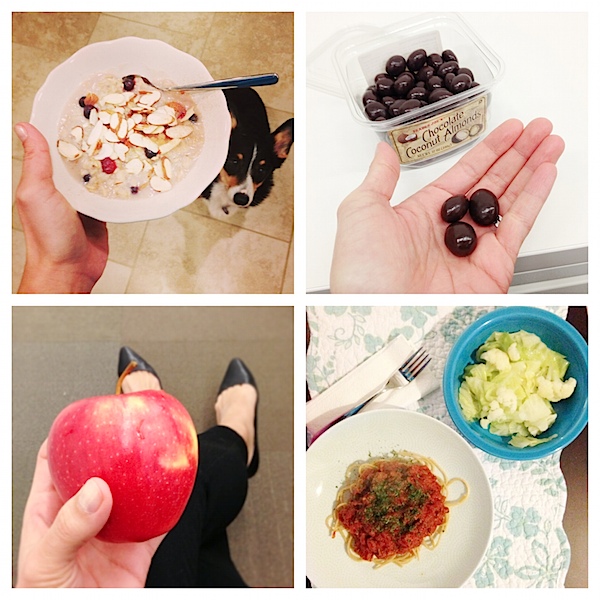 Wednesday, January 7, 2015: I pulled out an old favorite for breakfast on Wednesday – oatmeal! This stuff is great to eat around this time of year when everyone seems to be getting sick since oatmeal is good for your immune system. I also had an apple for extra fruit nutrition and a pre-workout snack. I busted into my Trader Joe's coconut almond chocolates and am going to try to not devour them in one week. And, hubby cooked one of his staple meals – spaghetti. We may be doing this every Wednesday. This is another thing we cook all the time, but I haven't posted a recipe yet. Would you like to see it?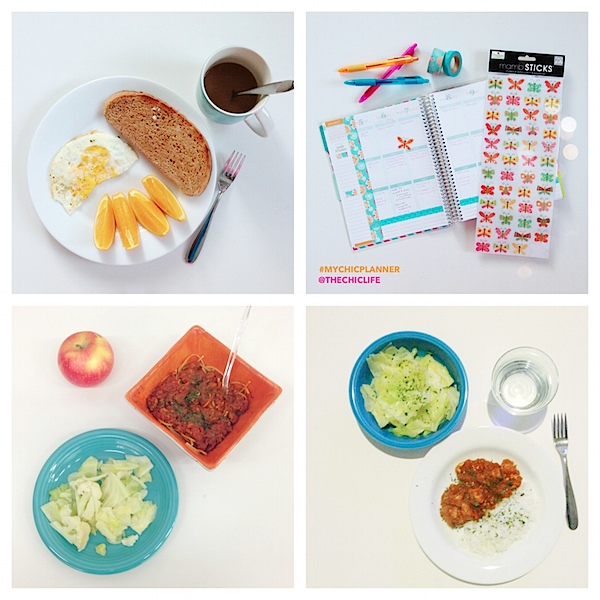 Thursday, January 8, 2015: Another eats upgrade we're trying to do (in addition to veg at lunch) is fruit at breakfast. Sliced oranges are so easy, we really should do it more. We had more leftovers for lunch (love how easy this makes the work week eats). Hubby made chicken in a jarred simmer sauce for dinner. Those jarred sauces make dinner so simple!
And the top-right photo is a preview of some upcoming content. Any other planner geeks out there? I'm going to be sharing more posts about my planner, how I set it up, how I decorate it, shopping hauls for it, etc. soon. First up, I have a tutorial on how to decorate it in a very simple way. I'm hoping to get that post up this week. In the meantime, I'll share photos on my Instagram if you want to see it there first.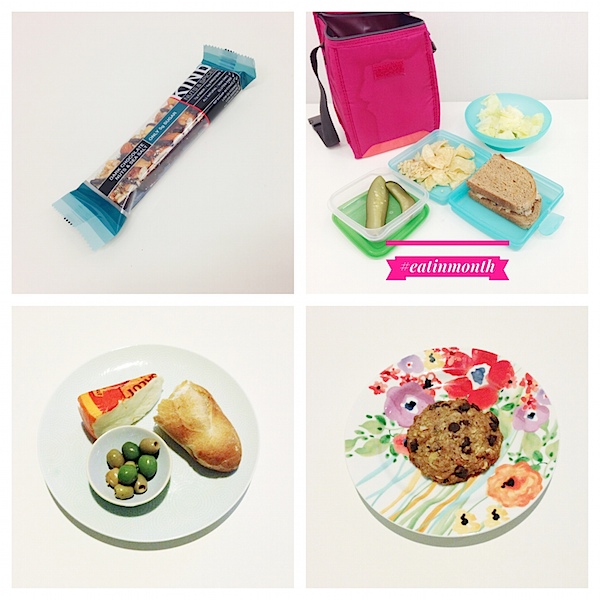 Friday, January 9, 2015: On Friday, I went completely off the plans. I forgot breakfast but had a KIND bar as a back-up at my desk at work. I was planning to work from home and have soup at the house, but I ended up needing to go into the office. Luckily, we had enough ingredients for one more sandwich. And for dinner, I cooked my Mom's Get Well Soup for hubby, so I had some olives, bread, and cheese as a snack while that cooked away.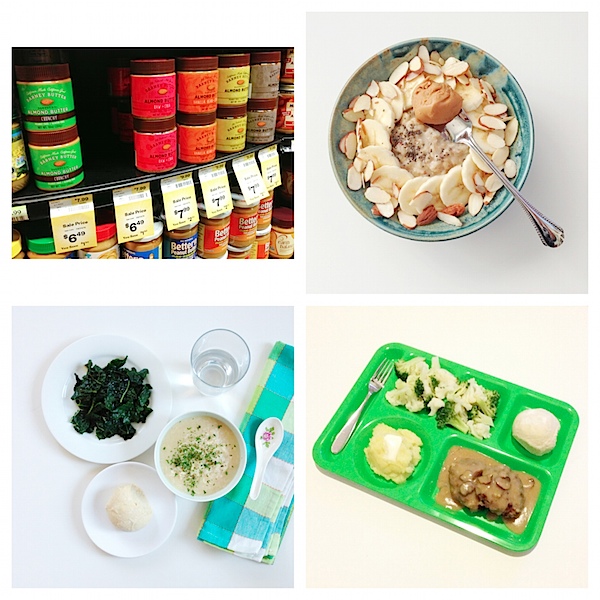 Saturday, January 10, 2015: I really enjoyed the eats from the last day of Week 1. I made a big bowl of oatmeal and finally found my favorite nut butter, Barney Butter, on sale. I happily added a spoonful to breakfast. I had more soup leftovers for lunch with my new favorite way to eat kale. I just steam it for about 5 minutes and drizzle a little soy sauce over it. And for dinner, I made a from-scratch TV dinner with Rachael Ray's 30 Minute Meals Salisbury Steak recipe, steamed vegetables, mashed potatoes, and a Great Harvest roll.
Not too shabby for Week 1! I hope the rest of them go this smoothly!
***
I'm a little late completing it, but I'm finalizing my Week 2 meal plan and will share that as soon as it's ready.
In other news, you guys have been uploading TONS of photos on Instagram and twitter, and I truly love seeing them. Thanks for adding #eatinmonth to your photos, and keep em coming. It's so cool to see how everyone's doing with the challenge, and I'm already hearing some great success stories about people eating well and even saving money already! Woohoo!
If you're new to the challenge, you can still join in! You can find more info about the challenge on the Eat in Month Challenge page (click). Thanks for stopping by!