Yoga. Dance. Tone. Rest. I actually did so many ClassPass classes in April 2016, I decided to break this into two posts. Yes, even more classes than I did in March! Here's ClassPass NYC: My April 2016 Month Recap (Part 1 of 2).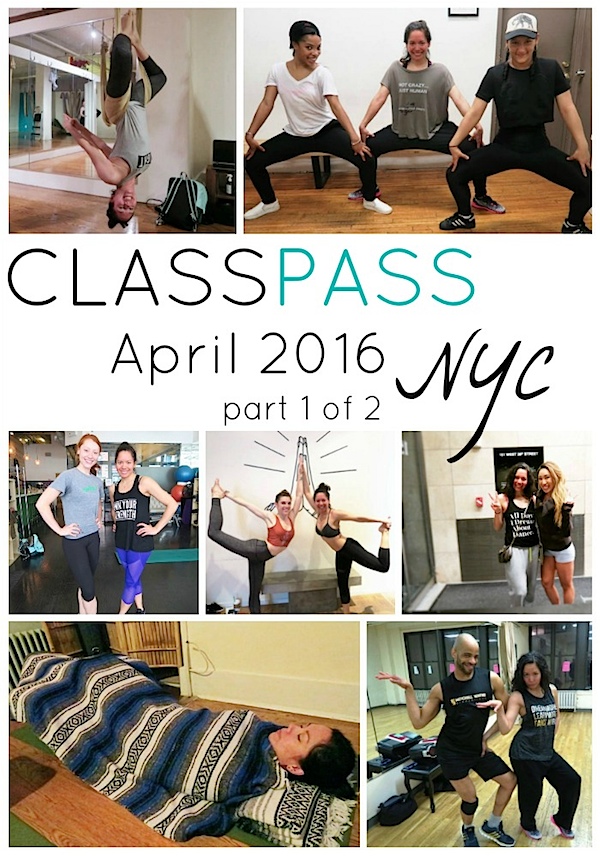 ClassPass NYC: My April 2016 Month Recap (Part 1 of 2)
My April 2016 ClassPass NYC Classes
#1 Antigravity Decompression Session with Shannon at ANYA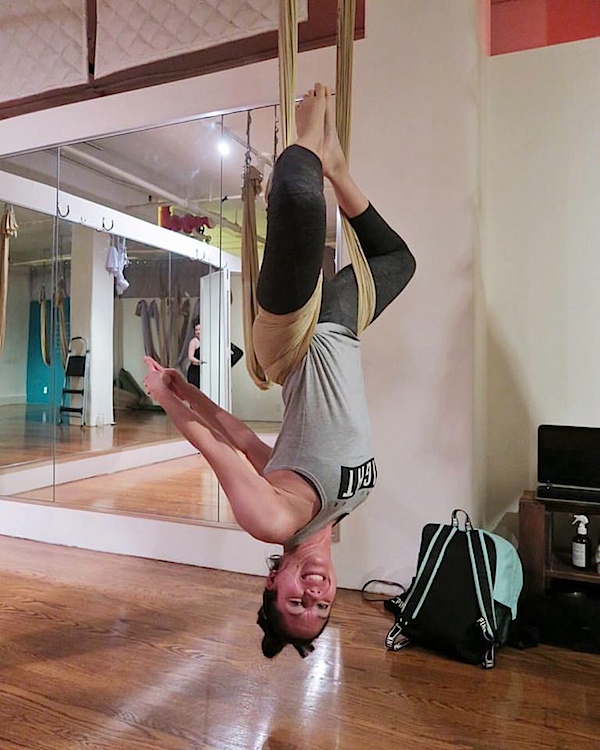 While I do think you can get a good workout with antigravity yoga, my favorite feature of the session is the overall stretching and decompression of the spine. So, I was really excited when I found out ANYA offered a Decompression Session. This class was shorter than the restorative one I did the previous month, which can be good when your schedule is tighter. This class featured multiple inversions and was very relaxing, in a different way from the restorative class. I've enjoyed bouncing between the two when I'm looking for a low-key class.
#2 "Gold" Week 1 at Beginner Hip Hop with Dev and Mo at PMT Dance Studio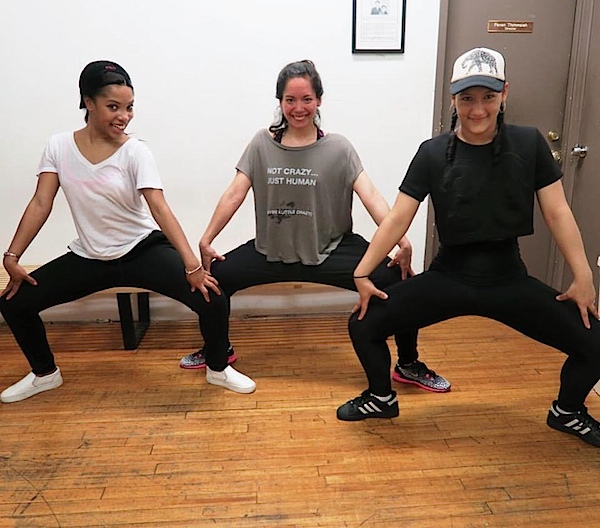 Dev and Mo like doing the same song for about two weeks at a time. I really like this because I've found that the choreo often doesn't click for me until after class. Doing it for two weeks gives me the opportunity to have that click moment and practice a bit more before the next class, so I can feel more confident and comfortable. Around this time I started researching how to learn choreography faster to help make the first week better. Let me know if you'd be interested in those tips.
On this week, we did "Gold" by Kiiara. This is one of my absolute favorites from their classes. It was a slightly more girly hip hop, which I really enjoyed. I loved the moves they put to the music. It was super fun!
#3 WeFlowHard Vinyasa Yoga with Kate at Y7 Studio Flatiron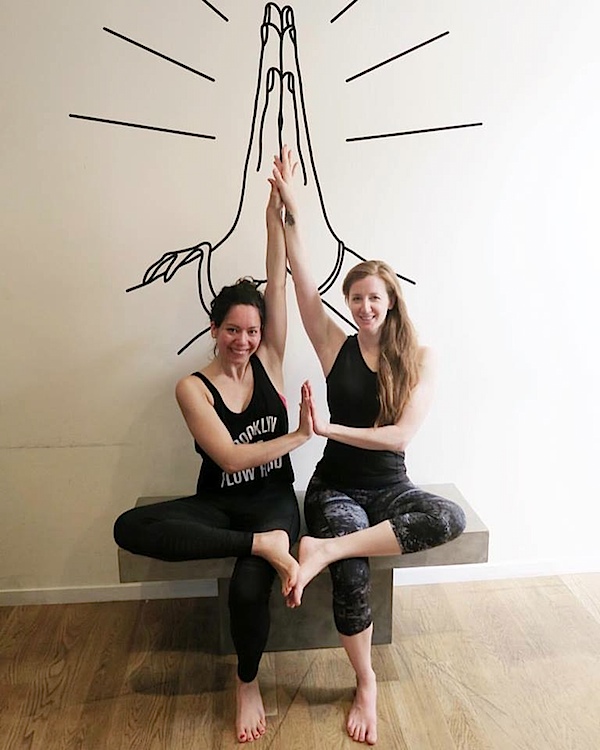 One of the benefits of the ClassPass pricing debacle was that it became easier to get into classes that were almost always sold out before. While I could usually get into the Y7 Studio in SoHo if I scheduled it early enough, Flatiron always seemed sold out. I really wanted to check it out and finally got a spot in April. And look who I found! Kate! I enjoyed another hour of sweaty vinyasa flow.
#4 "Womanizer" Classic Britney Dance Class with Mitchell Wayne Productions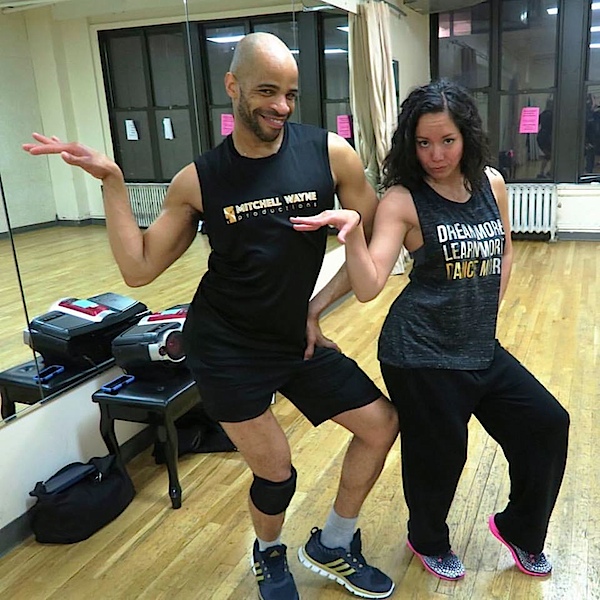 I feel like the pictures of Mitchell don't do their classes justice. While he looks absolutely fabulous in every photo, there's so much a picture can't tell you. Like how Mitchell boosts the whole room full of self love and confidence. Or how he'll sometimes tell you about doing Britney dances in his bedroom as a kid. I know I've mentioned some this before, but what I really want to do is take all of you to class with me. These classes are so fun! If you're ever in NYC, stop by. Their drop-ins are super easy to do.
Here's a quick video snippet from the "Womanizer" class.
#5 Rest Yoga with Laura at ANYA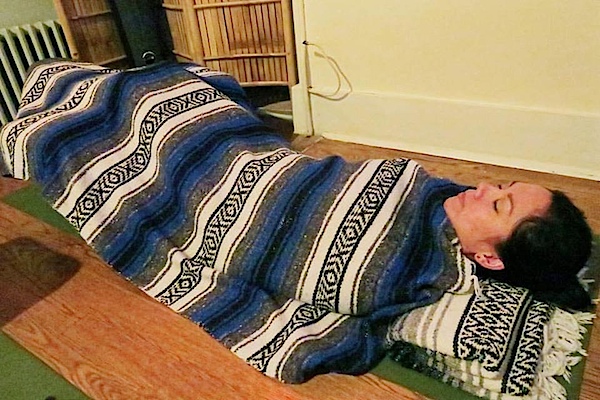 Another restorative class I tried at ANYA is called "Rest". We were in a small room I hadn't used before. I think there was only space for 6 or 7 people plus the instructor. It was quite cozy. The places were all set up for us with everything we'd need for class: yoga mat, blankets, bolsters, and blocks.
This class reminded me a bit of the Yin Yoga I did in March. A smaller number of poses that were held longer. You really don't do much activity, which you may be able to tell from the name. Though I believe at least one girl who came to class on this day thought it was a regular yoga class. I can see how that might be confusing since "rest" can mean so many things. Like maybe it was a slow vinyasa flow. But, you're literally in relaxed poses, many laying down, for all of class. I think I even fell asleep for a quick moment. if you're very stressed and need to get away, this could be a good class for you. Sometimes the best way to escape stress is to completely get away to a place that is designed to be peaceful.
#6 "Gold" Week 2 Beginner Hip Hop with Dev and Mo at PMT Dance Studio
Here's the second week of the "Gold" choreo. I was not only excited to feel like I knew what was going on in class. I was also very excited to just enjoy doing this choreo for another class. So fun!
#7 Strength with Kat at Uplift Studio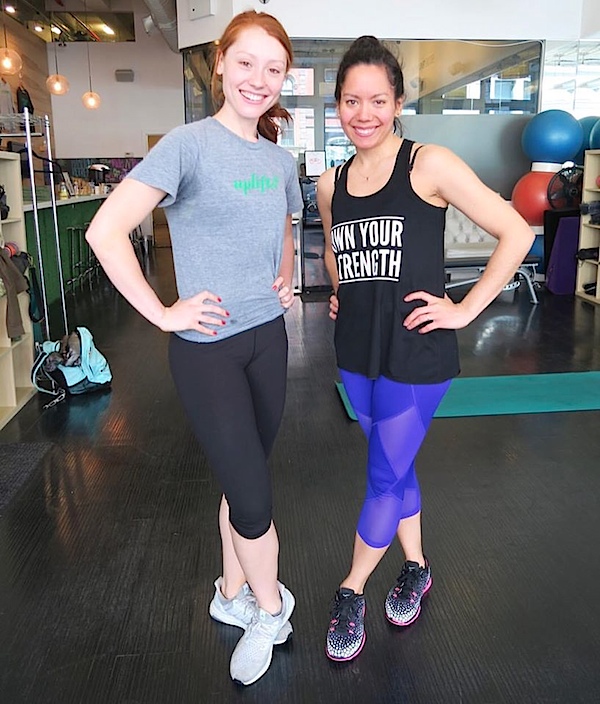 Since I got a taste of the Strength class at the Uplift Express Happy Hour class last month, I knew it was something I was capable of doing. I was really glad to see Kat was the instructor again. Just like last time, she was very attentive and gave me plenty of modifications (to prevent re-injury to past trouble spots) when needed. As you guys know, I'm not super into workouts that feel like workouts, but I enjoyed this class. I won't lie. There were some really tough parts where I was really working to push through. Kat kept me really engaged throughout class, and I think the group environment was way better than pumping weights on my own. Not only would I be less motivated, I also wouldn't know which workouts to put together to make sure it was thorough and balanced.
#8 WeFlowHard Vinyasa Yoga with Courtney at Y7 Studio Flatiron
I met a new instructor, Courtney, at another Y7 candlelit yoga class at the Flatiron location. I really loved the flow sequences she put together. There was one standout move in one of the flows that we did. We started in a lunge, made our way to face towards the back of the room, and then swirled down and around and back to the front. It's kind of hard to explain in words, but I'd never done anything like it in yoga class. It's a signature Courtney move. Maybe I'll get a quick Instagram video or something after class so I can share it with you?
#9 "Overprotected" Classic Britney Dance Class with Mitchell Wayne Productions
So I'm doing my thing in Mitchell and Annette's class when I look over and see someone who looks kind of familiar. Someone who looks just like Cassey Ho of Blogilates. But I'm thinking…no way she'd just be chillin in class with me. Until I remember I'm in NYC! Anything is possible here. I wasn't sure if I should say anything to her, but then I thought, why not. Still not convinced it was her, I said, "Has anyone told you that you look just like Cassey Ho of Blogilates?" She gave me a knowing smile. I realized…it is her!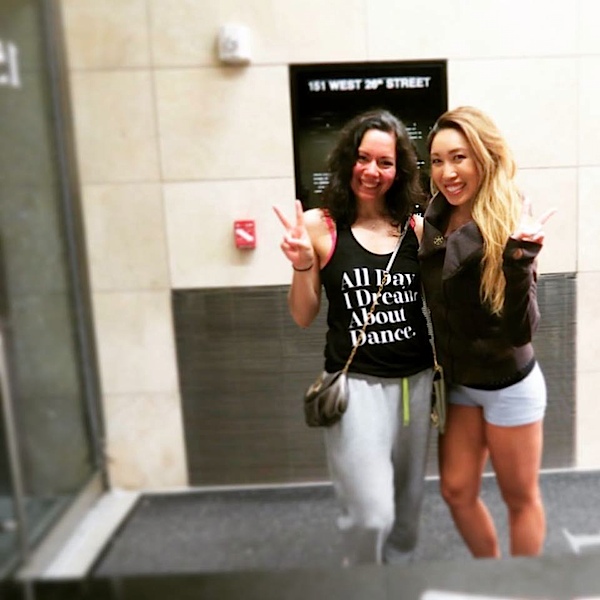 We got to chat a little bit after class. She was super sweet. She was in town for a project with YouTube and just happened to be near class. It was cool to meet her!
And here's a video from class! I really loved this choreography!
My ClassPass NYC April 2016 Summary
You could probably tell just how many ClassPass classes I did in April by looking at the monthly layout in my planner.That's a lot of sneaker stickers!
I started finding my groove in my yoga classes and was really digging restorative classes especially. Dance classes continued to be a fun outlet for me, as well as good exercise!
Cost Breakdown
I'll be doing the cost breakdown in part two. Stay tuned!
ClassPass Discount
If you'd like to get a discount on ClassPass, you can use my referral code (click). We'll both get a little discount. Woop!
More ClassPass Posts
Click here for my March 2016 ClassPass Month Recap
Click here to view my other ClassPass NYC posts
Hope you enjoyed ClassPass NYC: My April 2016 Month Recap (Part 1 of 2). Stay tuned for part two! Thanks for stopping by!