I'll keep this quick and get straight to which planner decorations I used in my Erin Condren Life Planner (vertical layout) in May 2016. I know I'm bombarding you with Planner and ClassPass posts, but I've made a list of all the posts I want to share to get caught up, and these are the two big categories. We're getting there! Slowly, but surely! By the way, I am trying to publish the recipe posts closer to Sunday for any email newsletter subscribers, that way the recipes are closer to the top. I think that's what most of you are most interested in based on the survey results. I'm targeting planner posts near Monday so they're closer to the bottom of the email newsletters.
Note: All supplies available on Etsy unless otherwise noted. For those new to The Chic Life, I recommend googling for Etsy plus the shop name and then browsing/searching the shop for specific stickers. For some reason, I have more trouble with the Etsy search. Also, shops seem to drop styles fairly quickly as a whole, but send them a PM if you don't see what you're looking for. They may be able to help you find it or even print some custom!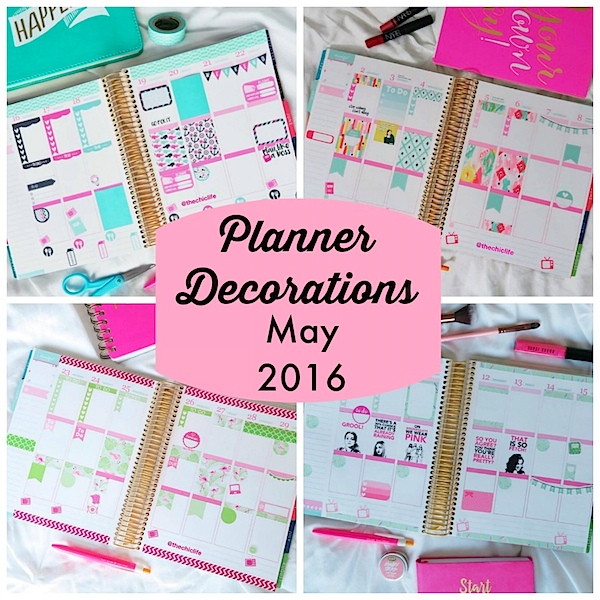 Planner Decorations May 2016 (Erin Condren Vertical)
May 2016 Monthly Layout
Let's just be real, I didn't use my monthly layout as effectively as I did my April. I had sticky notes in there in pre-planning style. This was enough to keep myself organized and know when I had special events, like a family wedding. It also helped me with planning travel. And since I'm working away from home, I'm traveling quite a bit these days.
My point: don't let decorations keep you from what the planner is supposed to do – help you stay organized. At least that's what I try to do. The stickers are just for fun because life is too short to be serious all the flippin time.
May 2016 Weekly Layouts
I really liked my layouts this month. I'm still not using the to-do lists as effectively as I think I could, but they're helpful overall to me. As with previous months, I mostly used the weekly layouts to stay on top of my workouts and travel plans.
Since I'm still in catch up mode, I think I'll skip the chatter and just tell you which planner decoration supplies I used in each layout. If you want to hear about how my planner keeps my stress levels down, I talk strategy more in April.
Weekly Layout: May 2-8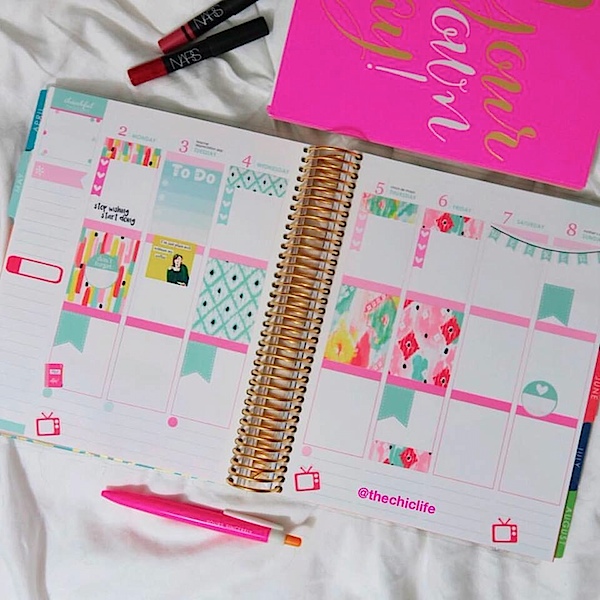 Planner Decoration Supplies Used:
Colorful kit by Lisa V Creations
TV stickers by Sticker Bloom
Heart checklists by Soda Pop Studio
Weekend banner, heart circle, and page flags by It's Planning Time
Weekly Layout: May 9-15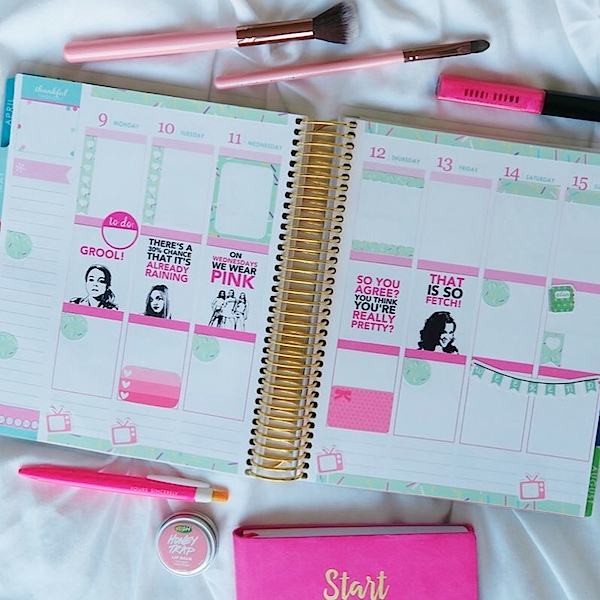 Planner Decoration Supplies Used:
Mean girl stickers by Planner Penny (on Etsy but also has her own site)
Bow half box by Oh So Pretty Planner
TV stickers by Sticker Bloom
green sprinkles by Obsessed with Cute
Weekend banner, to-do circle, green plan sticker by It's Planning Time
Activity tracker (lower left) by Planner Chick
Weekly Layout: May 9-15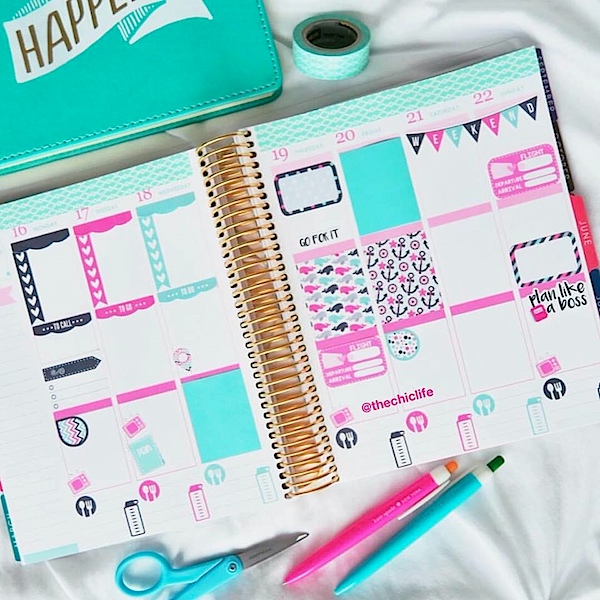 Planner Decoration Supplies Used:
Kit (almost all stickers) by Planner Penny
Flight sticker by Soda Pop Studios
TV stickers by Lillie Henry
Plan like a boss sticker by It's Planning Time
Turquoise rectangles are actually post-its – they fit perfectly in the vertical boxes! I get mine on Amazon, Staples, Target, etc.
Weekly Layout: May 9-15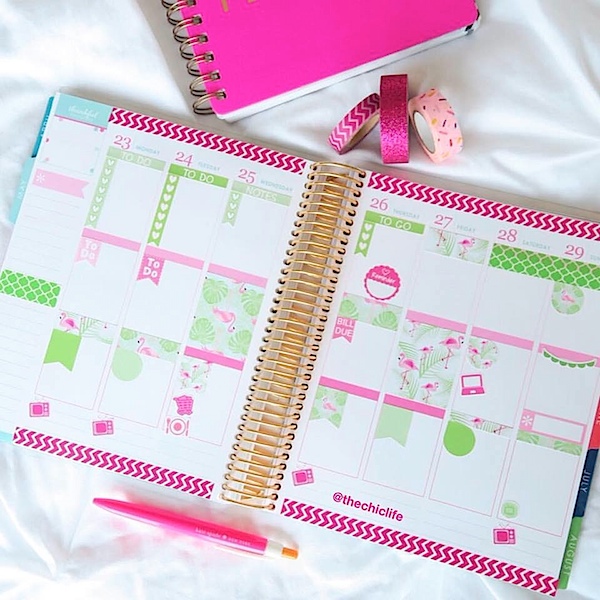 Planner Decoration Supplies Used:
Flamingo mini kit by Lisa V Creations
Asterisk quarter box by Oh So Pretty Planner
TV stickers and shopping cart by Lillie Henry
Reminder circle by Libbie & Co
Erin Condren LifePlanner Discount
If you'd like to get a discount on your first Erin Condren LifePlanner, you can use my referral link to sign up for an account. I haven't seen discounts on her LifePlanners in a long time. Though, you may want to check their Instagram, Facebook, etc. and maybe subscribe to the newsletter. I have seen some deals posted on the newsletter that weren't shared elsewhere. But like I said it's been awhile. If you do use my referral code, I'll get a small credit too. Woop!
More Planner Links
Before: April 2016 Planner Decorations
After: June 2016 Planner Decorations (coming soon)
Click here to view my other Planner posts
Thanks for stopping by! Hope you enjoyed Planner Decorations May 2016 (Erin Condren Vertical)!