Where I dove deeper into NYC dance classes and tried my most challenging class to date!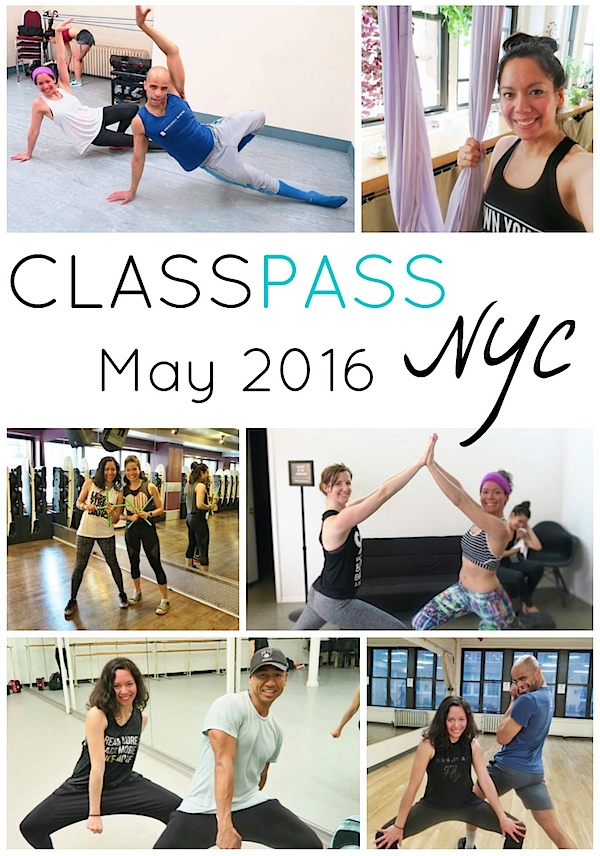 ClassPass NYC: My May 2016 Month Recap
I had quite a bit of travel in May, which meant less ClassPass classes. I was especially bummed because it was my last month getting unlimited classes at the $125 rate. In the event you hadn't heard, ClassPass raised their prices from $125 to $190/month ($200 for new customers) for unlimited classes. So, I took a little satisfaction in getting that 11th class in. Anything over 10, which is what I'd have starting next month, would be good. Wish it was more than 1, but what are you gonna do?
My May 2016 ClassPass Classes
#1 "Till the World Ends" Classic Britney with Mitchell Wayne Productions
I love how I get a mix of songs that are easier and harder to learn, dance-class-wise. The easier ones help me feel successful, while the harder ones keep me on my toes. "Till the World Ends" with M Wayne Pro was a slightly easier one for me. This dance featured a couple parts of repetitive steps with moves that reminded me of Zumba/dance fitness classes. There was one knee-lift part that the class seemed to struggle with overall. But, we'd done it a bunch in my dance fitness classes. I was like, finally my dance fitness classes are becoming useful. Only took almost half a year. Lol!
#2 POUND with Joyce at Crunch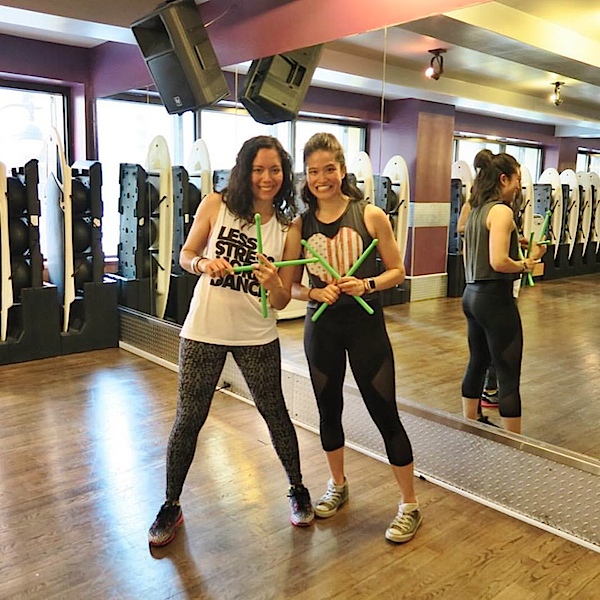 After doing POUND classes with Joyce at Crunch for several months, I've noticed that she does a mix of repeat songs and new songs. I really appreciate this. It reminds me of how I used to build my dance fitness playlists. I like the old songs because then I can focus more on the individual moves/steps and think a little more about form. Or try to push myself with a little more intensity. The new songs offer new challenges and keep me excited about class.
I haven't had any favorite songs per se, but I do have favorite moves. This is almost better because sometimes I'll see the same move in multiple songs, so there's a good chance I'll see it again. Also, I like many of the songs but don't know the names.
I did make one request so far – "Burial". Do you do POUND? Do you have any favorites?
#3 Beginner Hip Hop with Dev and Mo at PMT Dance Studio
I had a good learning experience in my Beginner Hip Hop class. It was week 2 of a new-to-me song, and I was nervous. While I'm more comfortable in my dance classes in general, I'm still not 100% confident. I'm always worried I'll be the one person not getting the moves, slowing the class down, or embarrassing myself by forgetting the choreo when we break into groups to dance for each other.
Since I hadn't seen this choreo the previous week, I was especially anxious. I fumbled my way through class feeling less than confident the whole time. When we broke into groups, I messed up the last couple 8 counts, which are conveniently cut from the above video. I kind of wish I had kept them in the video because although I messed up the choreo, the one good thing was that I kept going. Not quitting is important. But, that wasn't my lesson.
After class, I asked a dance friend how much new choreo we'd added this week. And how much was it? One measly 8 count. Which means that I was a overly worried about being behind when I was learning at almost the same pace they had done the previous week. Similar to my first hip hop class, I'd created my own challenge. Me. I'd set myself up for failure again. Doh! But, I had a good takeaway.
Always go into class feeling like you can do it. Even when you're not getting the moves, just keep going and don't beat yourself up. No one's perfect. Everyone makes mistakes. But believing you can do something is often the first and most important step. Believe in yourself!
#4 "Hold It Against Me" Classic Britney with Mitchell Wayne Productions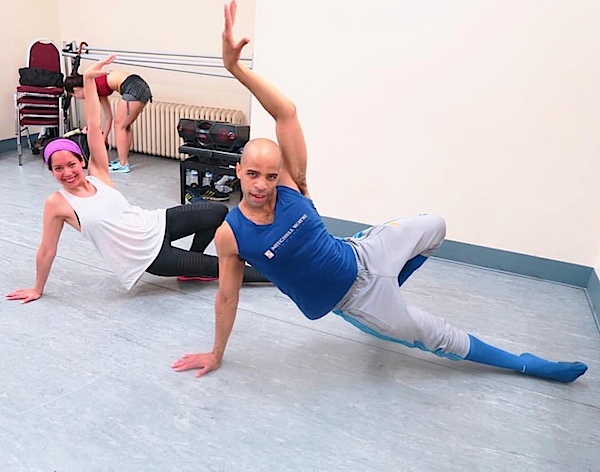 I was just coming back from out of town and happened to get back in time to make a Mitchell Wayne Productions class for "Hold It Against Me". I had just driven 6 hours, so part of me wanted to curl up on the couch and veg out. But, I knew I'd feel better if I did class, and I certainly did!
#5 Beginner Hip Hop with Alan at PMT Dance Studio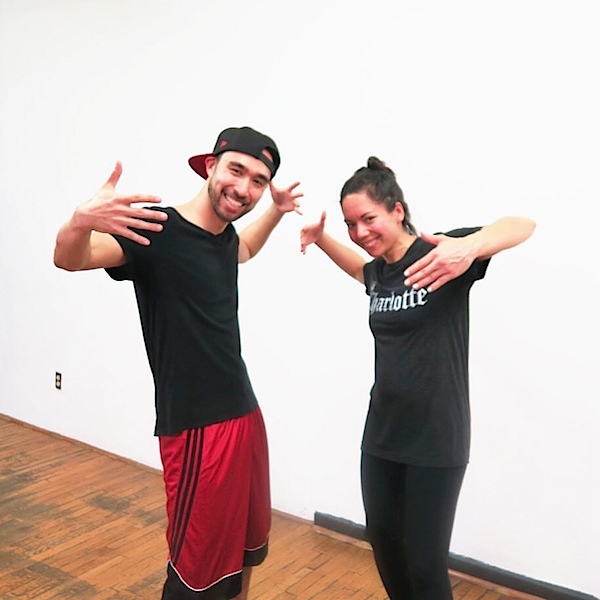 One of my dance friends, Rachel, had been telling me about how much she enjoyed Alan's Beginner Hip Hop classes at PMT Dance Studio. When I found out he'd be going on leave for surgery in the next couple weeks, I decided I needed to make a visit. Alan was similar and yet different compared to Dev & Mo. You could tell they were part of the same team, but it was cool to see Alan's style of teaching too. He focused a lot on feeling the music and letting loose. Getting into the groove of the song, etc. This is why I love finding different instructors that I really like. I feel like I learn something a little differently with each one, and I love being challenged in that way.
I thought his choreography was really fun to do too:
#6 Beginner Hip Hop with Dev and Mo at PMT Dance Studio
I was SO excited for Dev and Mo's next class. They choreographed my song request! I asked for "You Can Do it" by Ice Cube. I was so in love with their choreo for the song. It fit perfectly, and for some reason, it clicked really easily in my head. Yes! I really don't have words to express my gratitude to Dev and Mo for choreographing my request. It was such a cool experience and made me love their classes even more than I already did.
My dance friends made me dance in the middle when we broke into groups since it was my song request. I was nervous about it, but it was a good time! Check out the video a little further in this post.
#7 General Skating at Chelsea Piers
Did you know you can bring ice skates into your carry on when you're flying? I learned that this year because I refused to check them out the fear that it would be the one time my luggage ended up lost. My figure skates are irreplaceable. Not only are they already molded to my feet, they'd also be incredibly expensive to replace. I actually toyed with the idea of getting new ones and getting back into skating. Until I looked up the prices. Yowsa! Hey, any figure skate boot and blade companies, I will totes review your skates in exchange for a new pair. Kidding. Or not.
Anywho, I had a goal of skating at every outdoor rink in NYC when I first arrived. I only ended up at Bryant Park and only one time. Fail. I'm hoping to revisit this challenge later this year, if I'm still working in NYC. We shall see.
Luckily, there's an indoor rink at Chelsea Piers! I paid a visit and really liked the rink. The session wasn't terribly crowded but it was busy. The center area was blocked off by cones so I could do some spins and stuff when the kids in their lessons weren't using it. I really should go back more often. I forget how great a workout skating is. My legs were so sore for days after. Like Uplift Outdoors level. Yowch!
#Drop In 1# Beginner Hip Hop with Alan at PMT Dance Studio
When I found out that Alan's last class was happening after I'd maxed out my 3 studio visit, I decided to go ahead and do a drop in with PMT. I didn't want to miss it! One fun thing Alan did in this class (and the previous one) was he let us vote on which song we did. He played snippets of 3 songs. I loved all 3, so I was happy with any being done. We ended up doing "Money Ain't a Thang (Feat Jay Z)" by Jermaine Dupri, and I really regret not getting a video to show you guys because the choreo was so good!
Alan will be out for a bit longer, but I'm looking forward to doing his classes more when he's all healed up.
#Drop In 2# Beginner Hip Hop with Dev and Mo at PMT Dance Studio
Here's the video of my song request! I just love the choreography, and I think class did too. Everyone seemed to catch onto it really quickly and also seemed like fans of the song, too. At least I hope they liked it. They sure looked fantastic doing the dance!
Thank you, Dev and Mo, for this special treat!
#8 WeFlowHard Vinyasa Yoga with Kate at Y7 Studio SoHo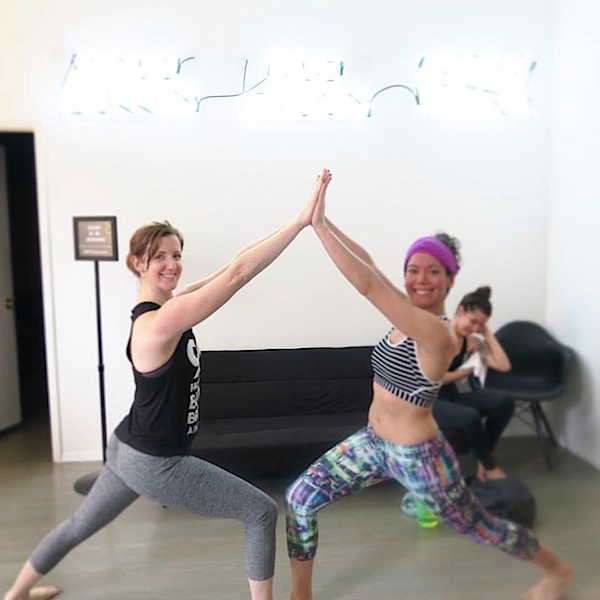 Even though the weather was finally warm, I was hooked on my hot yoga. I visited Kate's class at the Y7 Studio SoHo. Class was amazing, as always!
The side bonus of going to this class is that one of my favorite brunch places in the city is about a 5 minute walk away. I met a girlfriend for a beautiful, healthy, and delicious lunch at Two Hands. I'll share photos soon.
#9 "S&M" Britney with Mitchell Wayne Productions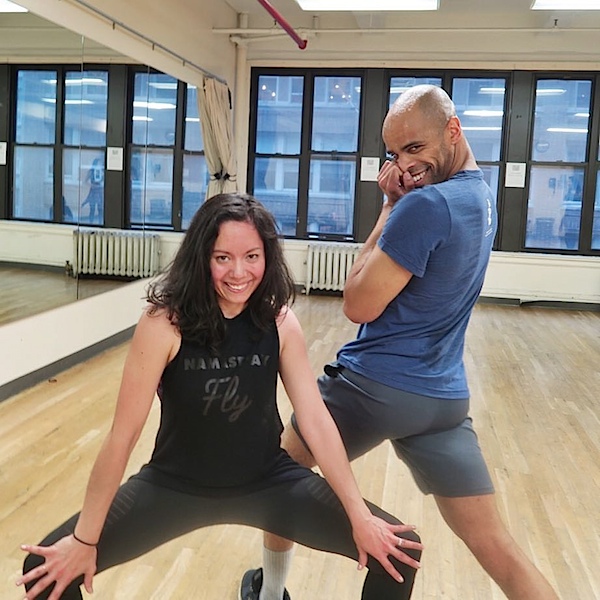 So, I almost didn't go to the "S&M" class because it's not one of my favorite Britney songs. Or songs with Britney in it. You know what I mean. Anywho, I thought…I may not like the song, but I bet I'll love the dance. I was right! The choreography for this ended up being one of my favorites. It was so sassy and fun to do. And while Mitchell typically teaches us Britney's actual choreography, this one was by him! He definitely knows his Britney choreo because he tricked me. So talented, that Mitchell!
#10 Beginner Hip Hop with Matt at Steps on Broadway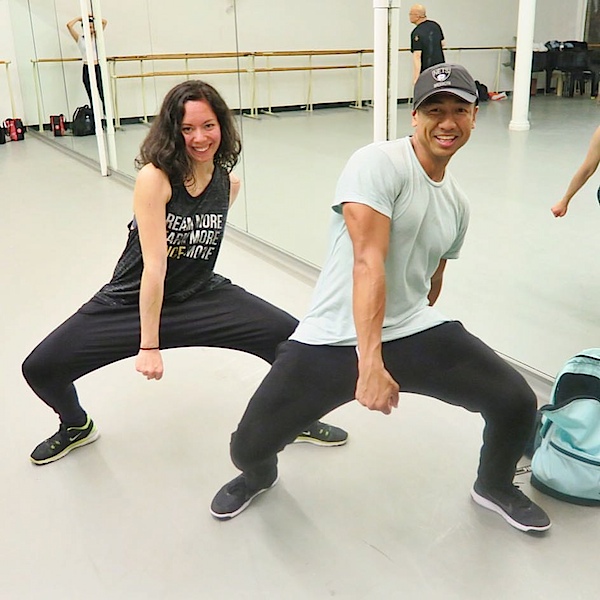 My dance friend, Shaina, had been trying to convince me for awhile to try one of her favorites, Beginner Hip Hop at Steps on Broadway. After my first Beginner Hip Hop class, I wasn't too sure about the idea. When I checked the class description, it said you should have one year of experience. That's definitely not me! Shaina assured me that I'd be fine. If I could do the classes with Mitchell Wayne Productions and PMT (where she also went), I could keep up with this one. She said no matter what that it was a really nonjudgemental environment. Between the comparison to the classes I was familiar with and the description of the environment, I decided to give it a go.
Not gonna lie though, class was hard as h*ll. The choreo was awesome, but class was definitely moving at a faster pace than what I was used to. Matt broke down the first group of steps very slowly. I was feeling pretty good about it. Until we tried it with the music. It was so fast! I may or may not have just stood there the first time we went through it with music. I literally don't remember. It was like a flash and then over. I was like, what just happened. Lol!
I got lost a couple times through the rest of class, but I was thankful I had learned my lesson from earlier. See class #3 above. I was nervous, but I pushed myself to believe I was capable of doing the choreography. You may recall in a previous ClassPass recap, I mentioned that I had started researching tips on learning choreography. One of those tips was to keep going even if you couldn't get a particular move. This saved me because there were a couple that just wasn't clicking for me. I fumbled through them and/or simplified them and kept going. I didn't actually do it right until the last couple times runs. And it was barely there. Lol. But it worked for me! I focused more on getting the overall choreography, and this approach kept me going and made class more enjoyable too.
You may be able to tell from this video that some of the moves are pretty darn fast and we learned quite a bit of choreo. I thank Mitchell Wayne Productions for teaching me to move quickly. It helped me catch onto some of the moves better.
I got the chance to talk to Matt after class and learned that this was a slightly harder than normal class, which made me feel better. If I could do this one, I could keep going! He was very encouraging, and I'd definitely like to go back.
#11 AntiGravity Decompression Session with Jana at ANYA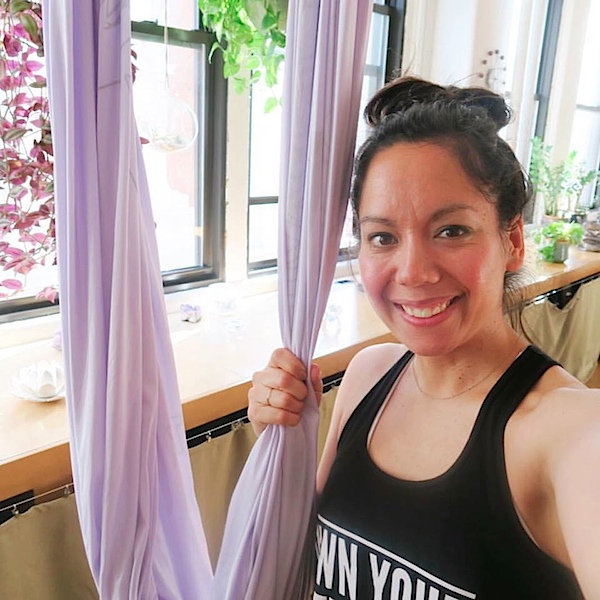 Since I'd danced the last two days in a row, I decided to do a restorative class. I found a Decompression Session at ANYA. We did a really cool swinging move in this class, near the beginning. After getting into our first inversion, we did some stretches, and then used our hands/arms to pull ourselves towards the front of the room. At the count of three, we released and got to swing back and forth upside down. Then, Jana told us we could twist around, back and forth, side to side. All while we were swinging! The world looks very different from this perspective. We were in my favorite room with all the windows, natural light, plants, and crystals. I caught glimpses of them while I was twisting around. Sometimes I'd make eye contact with someone else in class, and we'd smile. It was so playful and lighthearted. I'd never experienced anything like it before. I wish I could take a video to show you! Weeeeee!
May 2016 ClassPass Summary
May was a great month of dancing, yoga, and toning. I was really pushing myself to not only do many dance classes and try new ones, I also challenged myself in each class. I was having such a great time, the calories burned were almost a nice side benefit.
Cost Breakdown
My last month of $125 Unlimited. Boo!
11 classes
$125/month for unlimited classes
$11.36/class
Even though I did only 11 classes, I think less than $12 per class is still really reasonable, especially for NYC studios and gyms.
ClassPass Discount
If you want to try ClassPass, you can use my ClassPass referral link to get a discount. Be sure to check out their Instagram, etc. to see if they're running any other promotions. I think their promotions are typically better than my referral link (I've seen one month advertised for $49), so use that if you find one. But, also see if you can combine them! If you end up using my link, I'll get a discount too!
More ClassPass Posts
Click to the right for my April 2016 ClassPass Month Recap: here's part 1 and here's part 2. Yes, I did quite a few last month.
Click here for my other ClassPass posts
Hope you enjoyed ClassPass NYC: My May 2016 Month Recap. Thanks for stopping by!
If you're on ClassPass, what's your favorite workout and/or studio?