April had, what I consider to be, my best use of a the monthly layout so far in my Erin Condren LifePlanner. I got organized on fitness, key events, and even TV shows. Plus, there were some fun weekly layouts that were effective on my time management too.
Note: All stickers available on Etsy unless otherwise noted. I recommend doing a Google search for Etsy + the shop name. It's better than the Etsy search. Then browse their Etsy shop for stickers.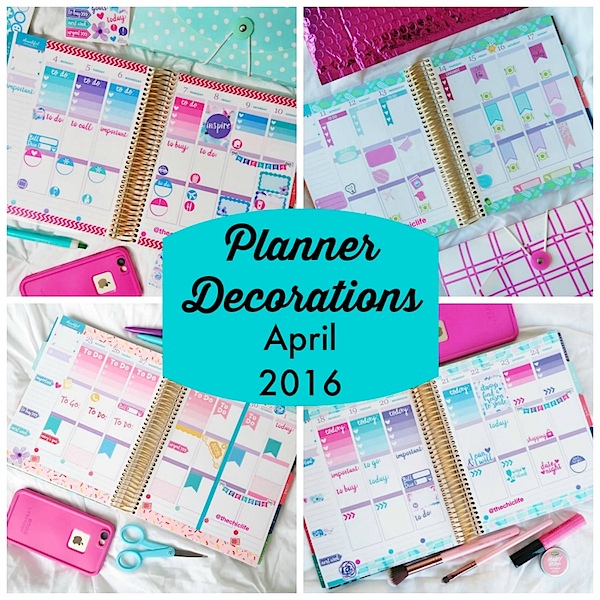 Planner Decorations April 2016 (Erin Condren Vertical)
Like March, April is one of my favorite months to decorate because I love the base colors, turquoise and purple. I prefer to not completely cover up each week in stickers, so letting the paper colors show through is something I try to do each week.
April 2016 Monthly Layout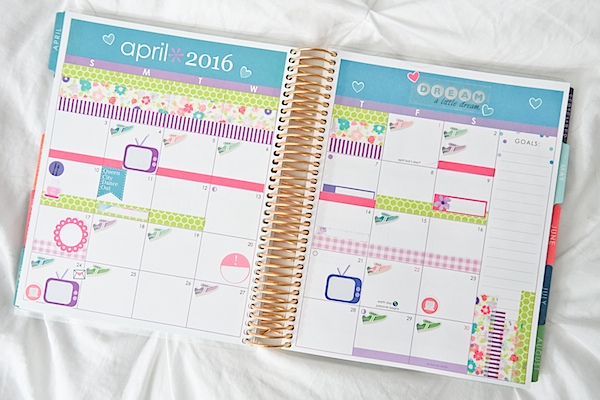 This is the month I referenced earlier where I felt that I'd used the monthly layout pretty effectively in these areas especially:
Fitness: I used little sneakers to track when my ClassPass workouts were. As you can see, there were quite a few, and my April recap is going to be quite long!
Major Events: I called out the major events of the month here. I love how I can easily see all the key things I have going on in a month at one glance. This was helpful for stress levels. I knew to not plan too much to keep from stretching myself too thin or double-book myself, which causes its own special stress.
TV shows: I'm actually not a huge TV person. Some of my favorite shows were premiering this month. Part of the reason I'm not super into TV is because I can never remember when they're on. This helped me keep track of when my faves, like Game of Thrones, were starting up. I also knew to not plan events at the same time if I really wanted to watch the show real time. The spoiler struggle is real, people. No one wants to find out if Jon Snow is alive on Twitter.
Blog Posts (not in the photo): I found little stickers I could add where I could mark which blog posts I'd written on which days. This gave me an idea of how frequently I was posting at a glance. I could also see how the topics were being distributed easily.
Planner Decorations Used:
TV stickers: Nicole Hutch Designs
Sneakers: Planning Made Easy
Exclamation circle, rectangle boxes: It's Planning Time
Blog stickers (not pictured): Pop Fizz Paper (you can see them in the top right photo below this line)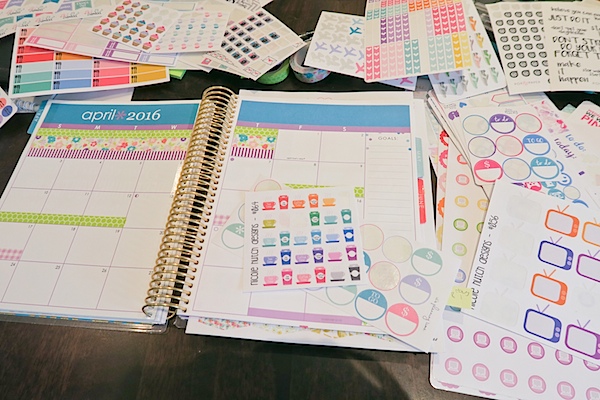 Also, here's a behind-the-scenes photo. It gets pretty messy when you're putting these together! Or is it just me?
April 2016 Weekly Layouts
Weekly Layout: April 4-10
Note: You can check out April 1-3 in my March planner post.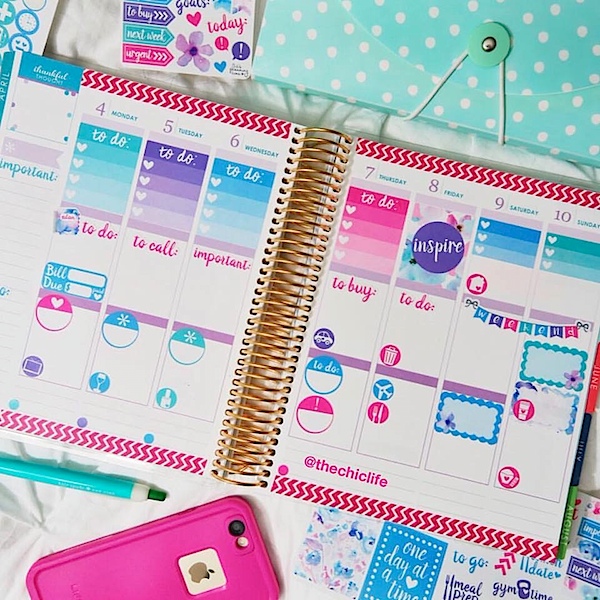 I fell in love with this huge planner kit by It's Planning Time when she posted photos of it on her Instagram. I couldn't wait to use it, and the colors were perfect for my March layouts. This was a multiple page kit, so I had enough for not only this week, but others too.
I've been digging the To-Do lists along the top. A bonus of this kit is the To-Do lists have 5 spaces. I read somewhere you should never try to do more than 5 to-dos per day because anything beyond that is difficult (impossible?) and will cause more stress than good. Like setting an unachievable goal.
Planner Decorations Used:
Kit by It's Planning Time
Weekly Layout: March 11-17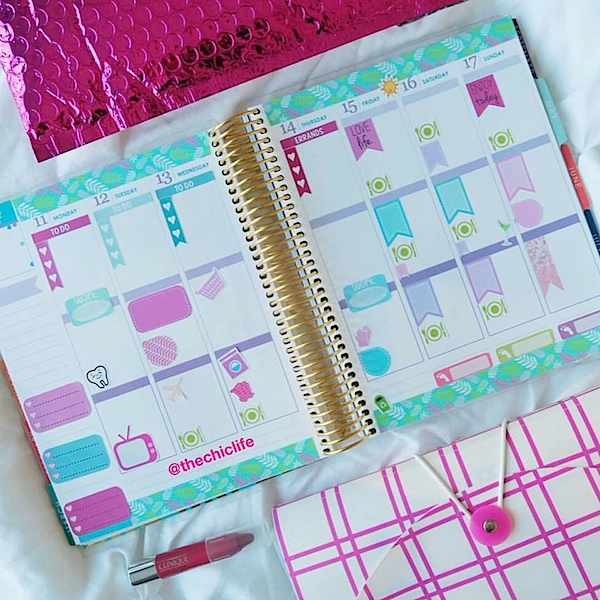 My second week of March got a little more scrapbook/journal style. My friends were visiting from out of town, and I really wanted to remember all the fun things we did. So I set aside plenty of space for this on the weekend and left my To-Dos closer to the start of the week.
Planner Decorations Used:
To-Do list box toppers and checklists, 3 line heart checklist boxes, and positive page flags by Sweet Kawaii Design
TVs by Nicole Hutch Designs
Work stickers, multiple colors page flags, tear drops by Planner Chick
Plane sticker by Karolina's Krafts
Sun sticker by It's Planning Time
Martini sticker by The Planner Junkie
Weekly Layout: March 18-24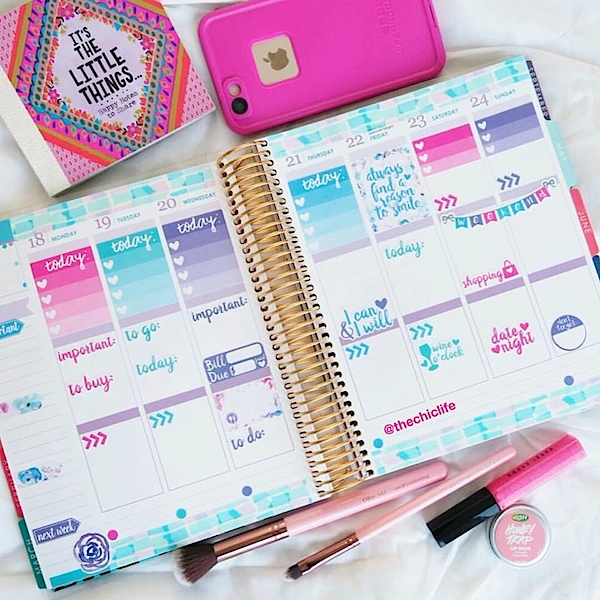 For the following week, it was back to the It's Planning Time kit from week one. I also added some washi tape in the same color scheme for more overall color.
Planner Decorations Used:
Sticker kit by It's Planning Time
Weekly Layout: March 25-30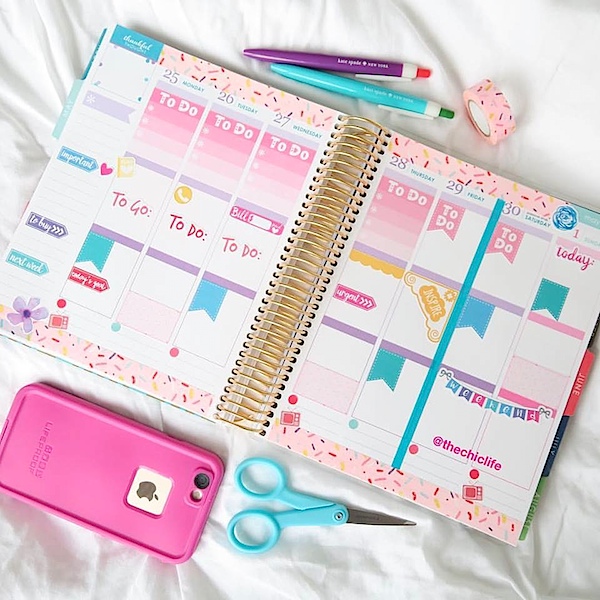 While I had all my stickers with me in NYC at this point, I decided to leave the majority of my washi tape back home in Charlotte. So, I did a lot of repeat tapes. The downside was less variety. The upside was getting to use and see my favorites again and again. If you're playful, you can make weeks using the same tape look completely different by how you use and decorate the other boxes. This became a bit of a fun challenge for me.
Planner Decorations Used:
Sprinkle washi tape from Lobster Bisque Vintage
To-Do rectangles, weekend banner, page flags, cursive word stickers, word page flags by It's Planning Time
Sprinkle box by Inspired Blush
TV stickers by Lillie Henry
Inspire corner sticker by Pop Fizz Paper
---
More Planner Links
Before: March 2016 Planner Decorations
After: May 2016 Planner Decorations
Last Year: April 2015 Planner Decorations
Click here to view my other Planner posts
Catching Up and Feedback Request
Can you tell I'm in catch up mode? I used a lot of my time on my recent lake vacation to get some good blog work done, including catching up on old posts and sending that survey. I wanted to do it when I really had the time to read the responses. Especially any personal emails, so I had time to reply. There's still time to submit your feedback if you have a quick 5 minutes to spare. I'd love to hear from you!
As for the catch up posts, I've taken more pictures than you can imagine on my NYC adventures. I'd created a list of posts I want to cover and highlighted which ones are more time-oriented so I can focus on getting back to real time blogging. I miss that. I'm considering starting to layer in a mix of real time posts with the catch up ones. We shall see!
Thanks for stopping by!