Though February was a bit of a fail, planning-wise, I picked things back up in March. I wonder if missing planner spreads had anything to do with it taking awhile to get my stickers up to NYC from back home? Hmm…Here's my Planner Decorations March 2016 (Erin Condren Vertical).
Sticker note: All stickers available on Etsy unless otherwise noted. The best way to find the stickers is to google for Etsy plus the shop name, then browse the stickers. I've found Etsy sticker shops turn over inventory pretty quickly, so unfortunately, many of these stickers may not be available directly via the shop. However, many shop owners make custom stickers! So, I'd definitely try sending them a private message via Etsy to see if they can still produce an older style. You never know!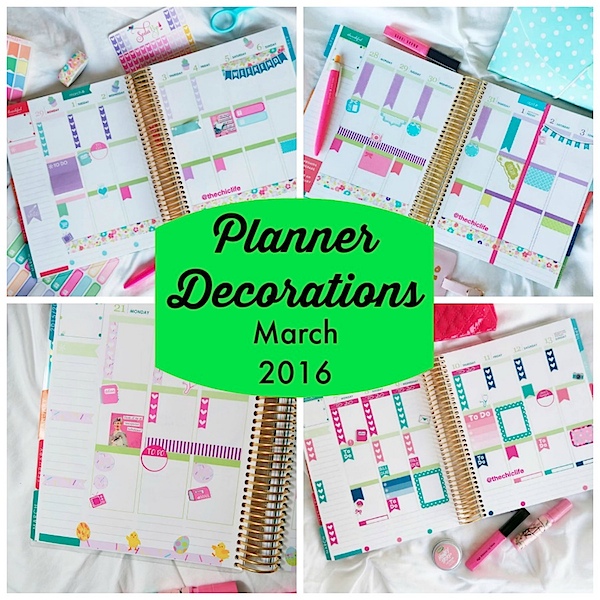 Planner Decorations March 2016 (Erin Condren Vertical)
My Planner Decorations in March 2016 really helped me stay organized for the month. They were integral to my travel planning. Also, my new favorite thing to track in my planner? My ClassPass NYC classes! Wait till you see how many I did in March! I'll be working on that recap shortly, but you can check out February here.
March 2016 Monthly Layout
While I'd gotten back on track with the weekly spreads, my month layout sat mostly empty for a long time. I never got really into decorating or using this one, and as such, didn't photograph it. I wish I had something better to say about it, but I'm just keeping it real.
I've been working on deciding how to best use my monthly layout throughout the year, and I think I'm finally getting around to something I really like. I'll share a post on how to use the monthly layout when I feel like I have a solid plan for it.
March 2016 Weekly Layouts
March is one of my favorite months to decorate in my Erin Condren LifePlanner because I love the green background colors in the weekly spreads. I definitely have favorite colors to use, and green is one of them because it looks so fresh and happy. It reminds me of the pretty, bright green grass that grows in spring.
Weekly Layout: March 1-6, 2016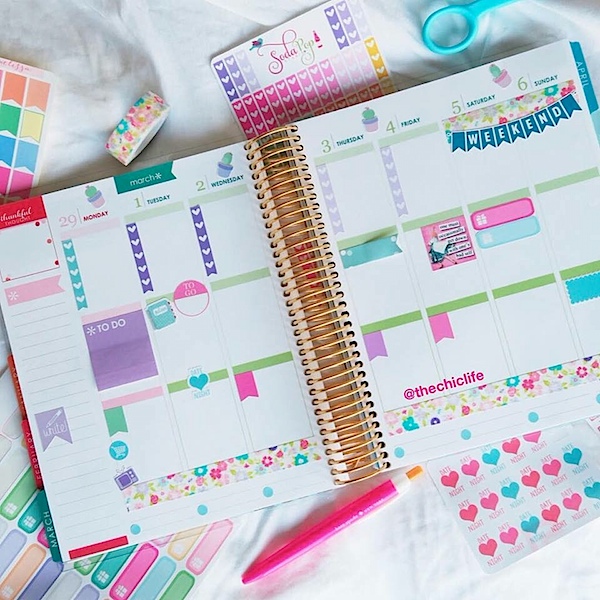 I used this purple/pink/green/turquoise floral washi tape as my focal point for the weekly spread. Since there was already so much green in the background colors of the planner, I added pops of pink, purple, and turquoise throughout.
Planner Decoration Supplies Used:
Checklists by Soda Pop Studios
To-Do and turquoise dot flag sticky note by Erin Condren
Weekend banner by Scribble Prints Co
Write sticker by Gingerly Done
Funny retro sticker by Planner Penny
Cacti stickers by Mahal Made
Turquoise scalloped rectangle by Lisa V Creations
Date Night and page flag stickers by Made by Elissa
Gift stickers by Sticker Bloom (fka Ja Love Designs)
To-Do circle by It's Planning Time
Weekly Layout: March 7-13, 2016
I had fun using this kit by It's Planning Time. I bought a pretty large kit, so I had more than enough stickers for the week. The color combo is a little different from the other color schemes I usually get, so I kept this kit together.
Planner Decoration Supplies Used:
Sticker kit by It's Planning Time
Weekly Layout: March 14-20, 2016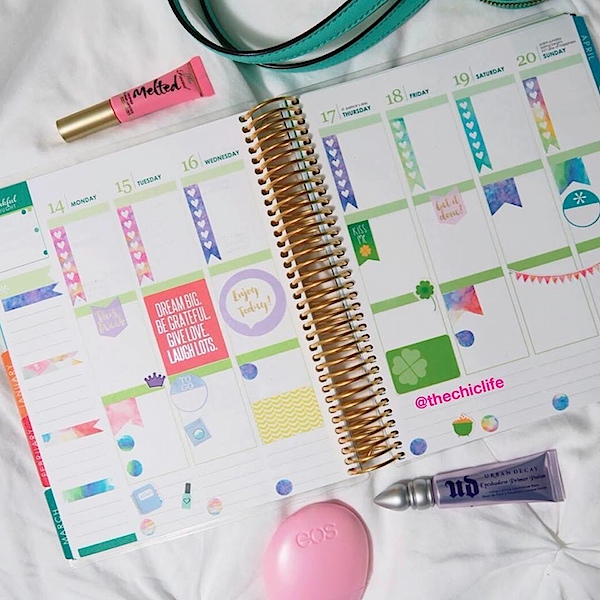 I had been waiting for the perfect spread to use these watercolor stickers for the longest time. I finally saw my chance with this weekly spread in March. Since the watercolor stickers were so colorful, I was able to bring in lots of pops of colors with the other stickers that were in sync with the overall colorway.
I was pretty obvious with my St. Patrick's Day look last year. This one was a bit more subtle with the strong green color scheme sticking primarily to the 17th, which was the actual date of St. Patrick's Day this year.
Planner Decoration Supplies Used:
Watercolor mini sticker kit by Wendaful Designs
Plan, nail polish, and asterisk circle stickers by It's Planning Time
Coral quote box by Erin Condren
Yellow patterned half box by Lisa V Creations
Coral banner by Gingerly Done
St. Patrick's Day stickers leftover from last year by Oh So Pretty Planner
Weekly Layout: March 21-27, 2016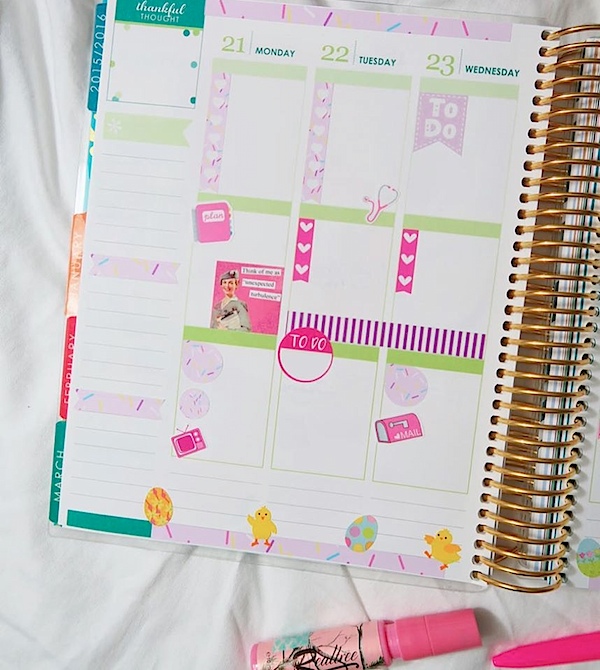 I bought a HUGE sprinkles sticker kit by Obsessed with Cute. It took forever to make its way from Hawaii to the East Coast, but it was worth the wait. There were four color ways of the sprinkles kit. I used the purple version for this week in my LifePlanner. The kit came with the top/bottom border stickers, plus multiple variations of page flags, teardrops, etc. I added in a couple other icon stickers. My friend Megan shared the adorable Easter stickers with me when she was visiting.
Planner Decoration Supplies Used:
Purple sprinkles sticker kit by Obsessed with Cute
Purple to-do page flag, pink plan sticker, mail sticker, and pink to-do circle by It's Planning Time
Pink short checklists by Soda Pop Studio
Pink TV by Lillie Henry
Easter stickers from Papyrus in NYC
Weekly Layout: March 28-31, 2016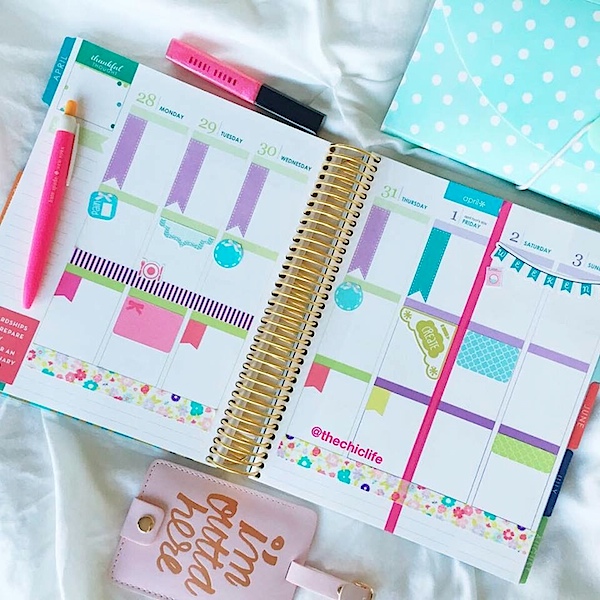 At this point, most of my washi tape was still back home. So, I did a repeat of the floral tape used earlier in the month (see photo above). I tried varying some of the other stickers used in the spread, while still pulling from the same color scheme.
Planner Decoration Supplies Used:
Long page flags, weekend banner, by It's Planning Time
Turquoise stickers with bows by Planner Chick
Pink half box with bow by Oh So Pretty Planner
Page flags by Made by Elissa
Scalloped turquoise sticker by Lisa V Creations
Create corner sticker by Pop Fizz Paper
---
More Planner Links
Before: February 2016 Planner Decorations
After: April 2016 Planner Decorations
Last Year: March 2015 Planner Decorations
Click here to view my other Planner blog posts
Share Your Feedback
Thank you everyone for your feedback so far! Your responses have really been fun for me to read, and they're giving me all kinds of ideas for future posts. I'm also working on which types of posts I should focus on in the future, and this has been helping me target just that!
There's still time to send me your feedback in this 8 question (5 minute) survey – click here to share your thoughts with me. I look forward to hearing from you!
Hope you enjoyed this post for my Planner Decorations March 2016. Thanks for stopping by!