Hey! Look how caught up we are on planner posts. Woop! Here are my monthly and weekly layouts in my Erin Condren LifePlanner for August 2016.
Note: Planner Decoration Supplies used in this post are available on Etsy unless otherwise noted. You can find a list of my favorite cute planner supplies shops here.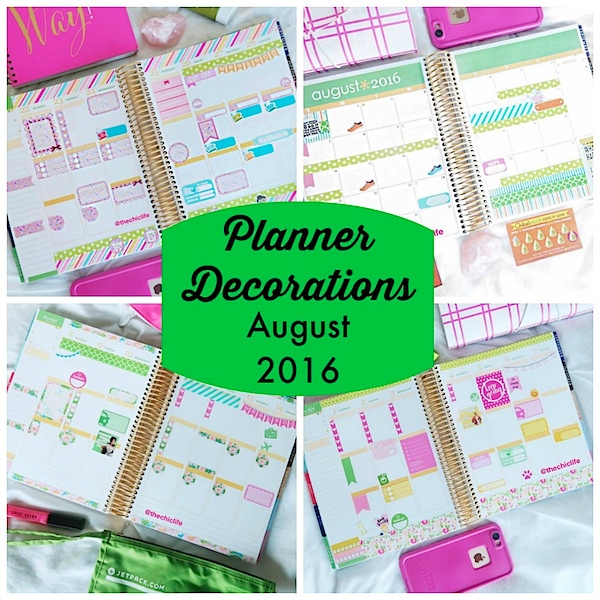 Planner Decorations August 2016 (Erin Condren Vertical)
August 2016 Monthly Layout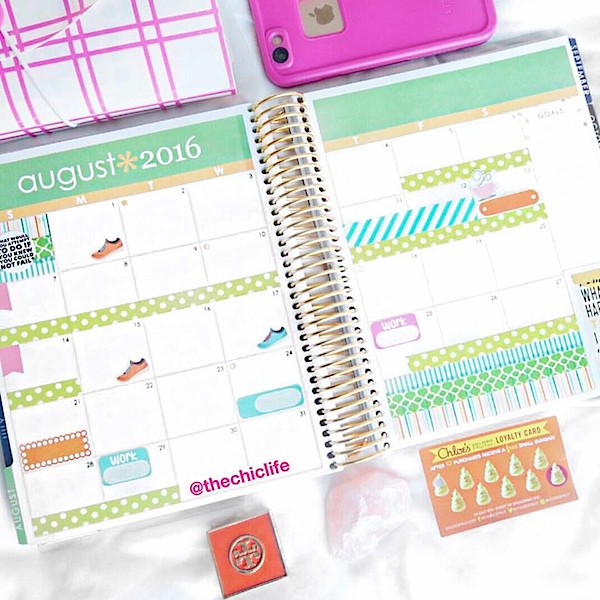 Here's a partially completed monthly layout. As you guys know, I like to mark the major events, track workouts, etc. here. The only thing I haven't layered in (still) are blog posts. But the former are the key things to help me stay organized, prevent double-bookings, and track travel.
Planner Supplies Used:
Sneakers, Work Sticker, Quarter Box, Coffee Mug: Planner Chick
Quarter box with circles on edges: Oh Hey Sticker Co
Page flags: Made by Elissa
Orange quarter box with two circles on each end: Planning Made Easy
Quote Sticker (top left): Instagram-photo sticker printed via Erin Condren
August 2016 Weekly Layouts
Weekly Layout: August 1-7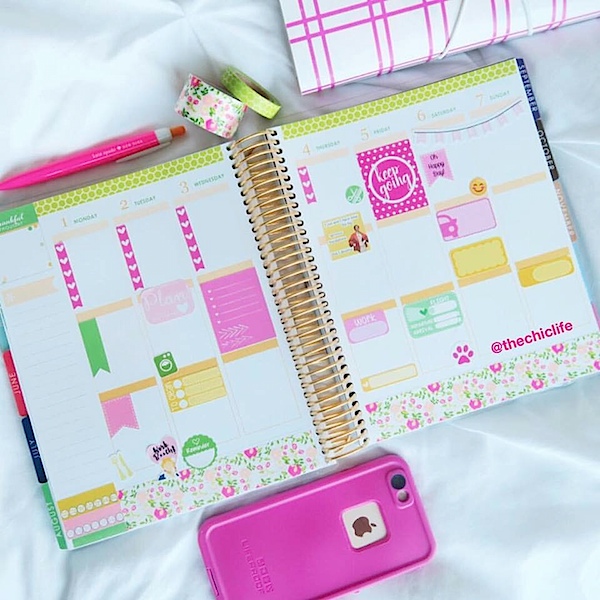 Since I haven't been using the bottom section of the planner much, I opted to cover this week with a wide washi tape picked up at a NYC book store. The washi served as my focal point, so I used the color scheme for that through the weekly spread.
Planner Supplies Used:
Floral wide washi tape purchased at a cute book store in NYC called Kinokuniya, just across from Bryant Park
Heart checklists, flight sticker: Soda Pop Studio
Reminder: Libbie & Co
Britney: Oh Hey Sticker Co
Pink full box: Caress Press
Pink page flag, weekend banner, Plan: It's Planning Time
Silverware: Made by Elissa
Week rectangles (lower left), half boxes, quarter boxes, work, to clean: Planner Chick
Oh Happy Day: Sweet Kawaii Designs
Retro box: Planner Penny
Weekly Layout: August 8-14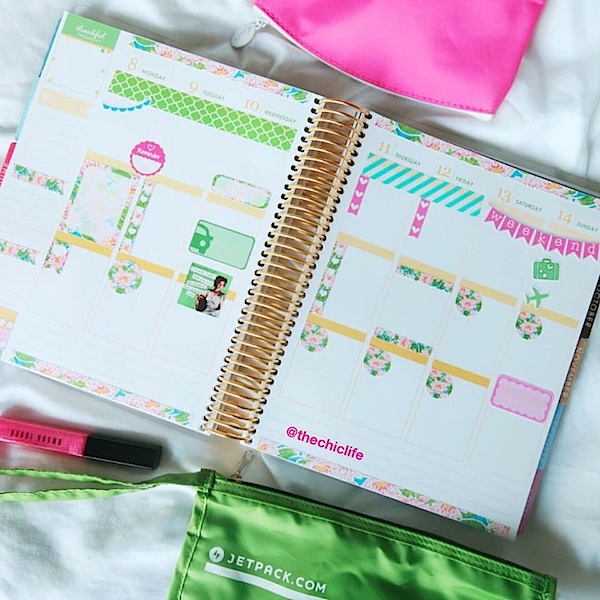 I've noticed that the kits can be somewhat stressful to use at times. I feel obligated to use all of the stickers in one or two spreads. What would you do with one or two remnant stickers? Especially when those stickers are quite patterned. I guess they'd go okay with a layout that was all solid colors. But since most of my washi has patterns in it, this can be a challenge. So, while I'll continue to get packages, I find the solid-colored stickers in the shapes I use the most are a bit more flexible and therefore useful.
What do you think? Do you prefer solid or patterned stickers?
Planner Supplies Used:
Tropical flowers kit: Obsessed with Cute
Half box: Planner Chick
Weekend banner: Nicole Hutch Designs
Retro box: Planner Penny
Reminder Sticker: Libbie & Co
Heart checklists: Soda Pop Studio
Mini banner: Lillie Henry
Weekly Layout: August 15-21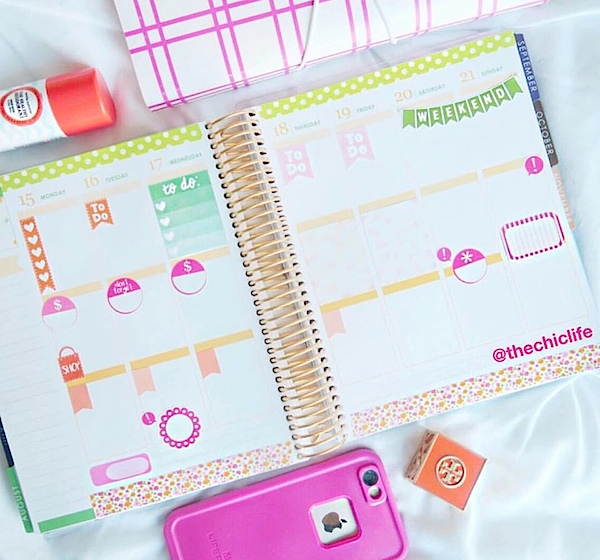 This was a fun color scheme. I don't use orange much. I liked how using one washi on the bottom and a different one on top looked together.
Planner Supplies Used:
To-Do list stickers long top, circles and exclamations: It's Planning Time
Weekend banner: Scribble Prints Co
Orange page flags: Made by Elissa
Quarter box: Planner Chick
Full boxes: Sticker Bloom
Shop: Planning Made Perfect
Weekly Layout: August 22-28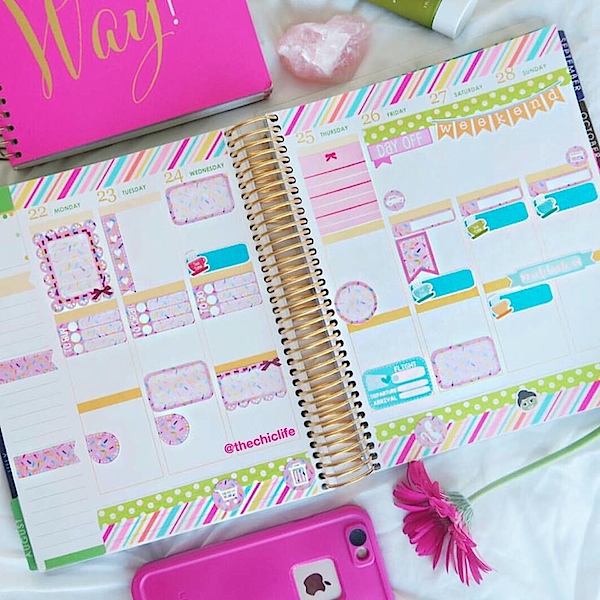 This week was filled with more stickers than normal. Partially because I had a single sheet set to use. Partially because this was the week I went with my sister and her friend Celeste for a classy bachelorette weekend in Asheville, NC. I got really good use out a sheet of coffee/tea stickers when I tracked all the tea outings for the weekend. That was the one thing she wanted to do most: drink tea at Dobra Tea. It's one of my favorite places to go, so it was fun to see how many times we could visit!
Planner Supplies Used:
Sprinkle sticker kit, day off: Planner Chick
Flight: Soda Pop Studio
Full box with bow: Oh So Pretty Planner
Tea mugs: Nicole Hutch Designs
More Planner Blog Posts
Before: July 2016 Erin Condren Weekly and Monthly Layouts
After: September 2016 Erin Condren Weekly and Monthly Layouts (check out my Instagram for the latest on my Planner posts)
Click here for my other Planner posts
Has anyone ordered their 2017 planner yet?