Here's a little bit of fun news to share with you. One of my healthy quiche recipes was recently featured on Dr. Oz The Good Life in a round-up of 13 Healthy Quiche Recipes That Will Make You Want to Eat Breakfast for Every Meal.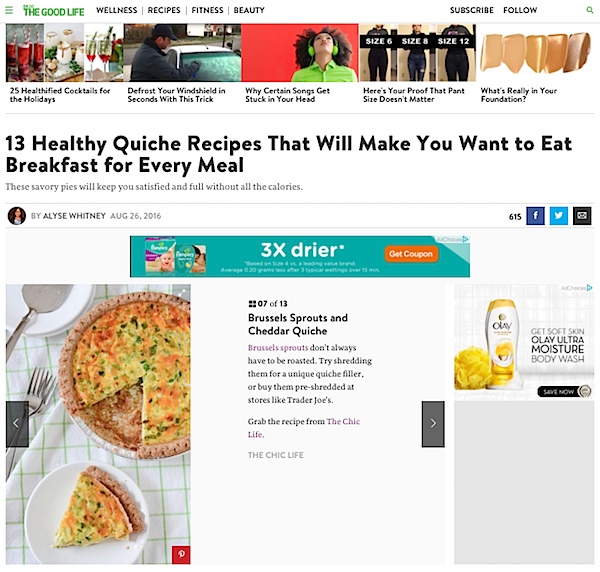 Dr. Oz The Good Life featured my Easy Brussels Sprouts and Cheddar Cheese Quiche Recipe. Because of our kitchen reno and my work travels, I haven't made quiche in quite some time. This is a good reminder of how much I love it. It may be time to bake up a fresh quiche soon. Maybe with some new ingredients mixed in so I can share a new recipe!
Anywho, check out the Dr. Oz round-up for more delicious quiche recipes. The asparagus and feta crustless quiche and potato crusted vegetarian quiche recipes especially caught my eye.
More Breakfast Recipes
Cooking for less people? Try this Individual Spinach and Cheddar Egg Bake.
Want something bite-sized? Try these Turkey Cheddar Mini Frittatas.
Looking for something sweet? Here's an Oil-Free Fruit and Nut Granola.
For a fun baking project, try these Healthier Blueberry Streusel Muffins.
Click here for my full recipe list or here to view my recipes by photo.
Thanks for stopping by!