Hey guys! You'll never guess who I met. I'll share at the end of this post because I want to talk about eats and other blog adventures first.
How to Start a Blog
I had the craziest week, blog-work-wise. For those who don't know, I have another tech blog to help bloggers with blogging. I've learned a lot of great information since 2006, and I started the other blog, Diana Starts, as a way to pay-it-forward. It was a good idea, but since I could barely keep up with TCL, I haven't updated it much. One of the big projects I wanted to do was create something to share my tips for how to start a blog. I've made so many mistakes over the years and want to save others the many hours of re-work I've stressed through. Many people have been talking to me about starting a blog, so I figured, there's no time like the present. So over the weekend, I began drafting a free mini email course. It's now live:  How to Start a Blog in 7 Days. Click here to sign up!
New Tech
I also updated the theme of Diana Starts. And I've begun migrating my email newsletters to a new email service provider (ESP) that will help me give you guys a better experience with emails.
With writing and setting up the email course, updating themes, migrating ESPs, and what not, it's been a busy week! Lots of fun stuff in the works.
Healthy Eating Challenge Update
And if you're an email subscriber, hopefully you saw the dedicated email I sent on Wednesday (around 3pm) about the upcoming healthy eating challenge. I'm so excited to see many people signed up, and I can't wait to see what you guys share in our secret Facebook group!
If you're not an email subscriber, I'll be sharing the details here on The Chic Life soon! Pssst…I'm targeting Sunday if you want to check back.
***
Ok, let's get into the eats!
Breakfast Routine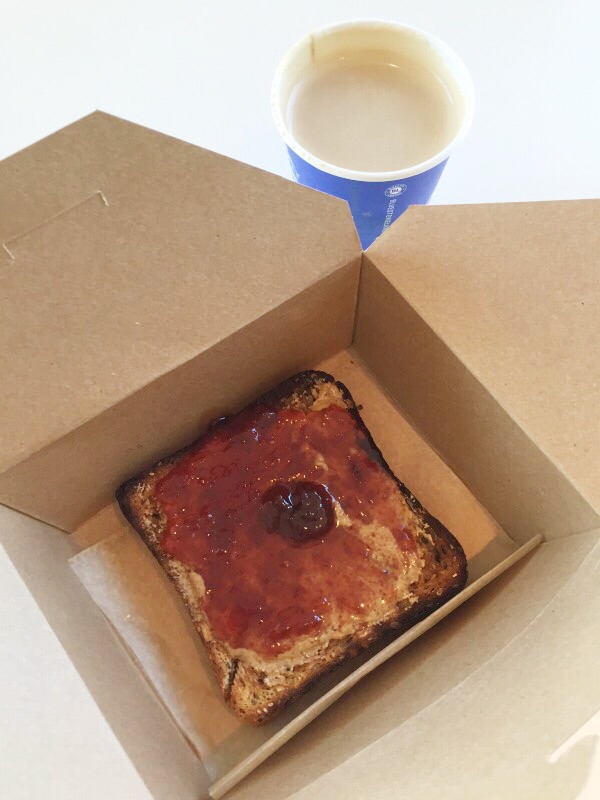 With so much blog work going on, I've relied on tried and true eats. Coffee before work, almond butter toast with jam (Bluestone increased prices! :/), and a flat white. I forgot to take a photo with better lighting and considered using a photo from a previous visit. But besides that feeling not authentic, I thought this flattened out flat white and not-so-great lighting made for a kind of funny photo. Hey, sometimes your eats won't look pretty, and that's okay.
Vegging Up for Lunch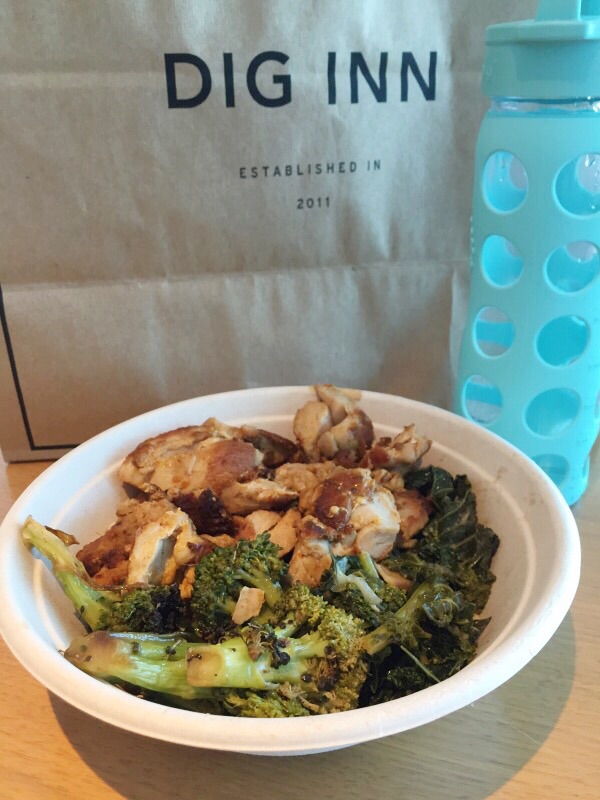 Did I mention I'm going on vacation tomorrow after work? Yup. Tellin ya. Crazy week!
Maybe it's just me, but I often find it challenging to eat as healthfully as I'd like on vacation. My sis and I are renting an AirBnb without a kitchen, so we'll have to rely on restaurants. With this in mind, I decided to load up on veggies while I still can. I got the charred chicken over brown rice with sautéed kale and broccoli. So good!
Look Who I Met!!!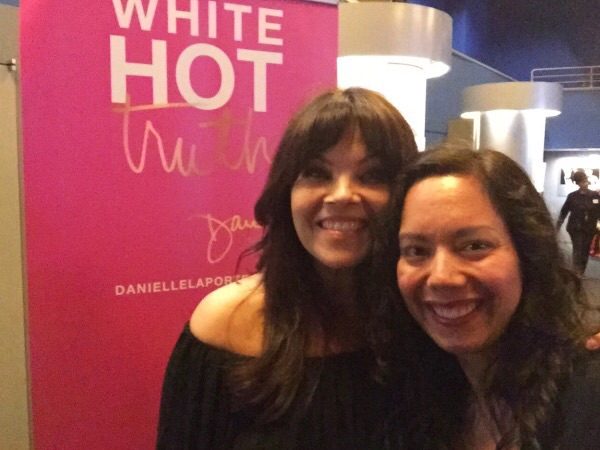 And although I really should have spent the evening packing, I decided to see Danielle LaPorte. She stopped in NYC for her White Hot Truth tour book launch! I'll share a dedicated post on this later, but since this happened on Wednesday, I figured I'd share our selfie. I still can't believe I got to meet her!
Late Dinner…But Worth It
While the thought of take-out sounded appealing, knowing that sis and I are traveling sans kitchen, I decided to whip up a quick recipe for you guys that I can share on Sunday (or Monday). Since many of you are here for the food, I try to share recipes on Sunday or Monday (morning) so they're at the top of the email newsletter and you guys don't have to scroll through my more lifestyle posts.
The show ended at 8:30pm, but I wasn't leaving without meeting Danielle. Luckily, I managed to get close to the front of the line and didn't have to wait too long. After traveling and hitting up the grocery store, I was cooking around 9:30 and eating before 10pm. I was so tired, I forgot to snap a photo, but I basically had the same thing as last week's dinner. But with a different spice blend on the shrimp and different veg side.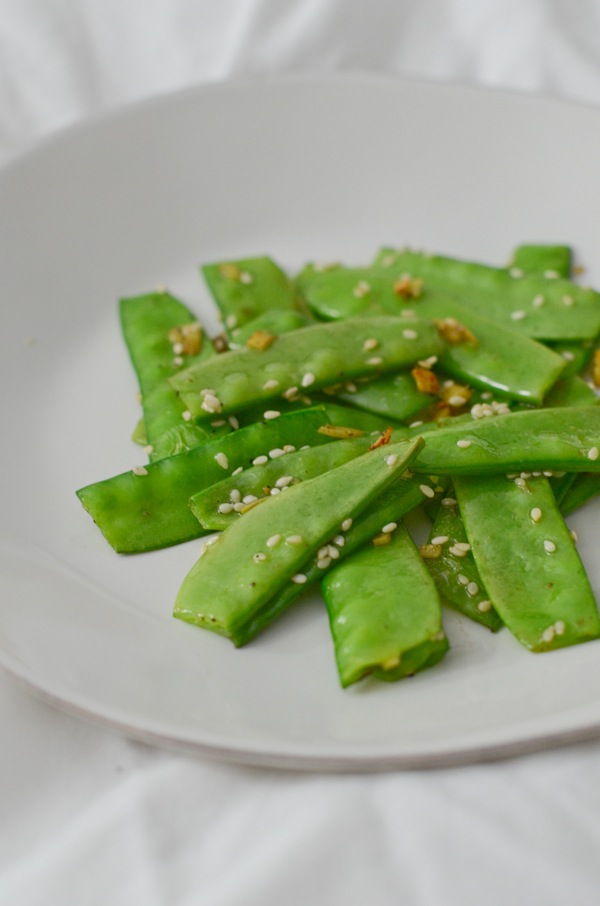 And here's a preview of the new recipe! It's Sesame Ginger Snow Peas. So fast, and so good! I used leftover ginger to make something similar to this Honey Lemon Ginger Tea for a comforting drink.
After dinner, I prepped the photos of the new recipe, packed, painted my nails (gotta be beach ready!), and cleaned up. Phew! It was a long day but all worth it!
Click here for more Eats posts.
Thanks for reading!